Does Santa Claus come to Sapa?
Well, that is an old-time question, isn't it? When we think of snow, mountains and the month of December, we think about Christmas, celebrations and, of course, Santa. It is also a bit of a stupid question. It is obvious Santa comes to Sapa! Santa goes everywhere at Christmas, to share happiness and rewards to all the good people around Vietnam and the world.
You probably won't see Santa though, as he's busy this time of year. However, that doesn't mean that you shouldn't come to Sapa in December. This time of year is very unique to Vietnam. Snow is on the mountains, white rice paddies and a whole range of visual beauty that is both captivating and enlightening. Vietnam isn't a place known for its snow. This makes such a visit to this northern area of Vietnam a rare treat. This is quite the Christmas gift, one to share alongside those you love and cherish.
When is the snow in Vietnam?
The weather in Hanoi in December tends to be fairly mild, whereas the weather in Sapa in December actually varies and shares different temperatures across the region, between mild sunshine to snow and experiences of the bitter cold. The climate of Vietnam in this part of the country is a bit divided along the valley. Some parts stay quite mild during winter. Others can share the snow and coldness, with places even reaching as low as -10c. Whereas the South of Vietnam has two distinct tropical seasons, wet and dry season, the temperature in Sapa, North Vietnam is affected by a four-season cycle, much similar to the cycles experienced across Western Europe and North America.
Vietnam, as a nation, enjoys benefits brought about by the tropical climate, so any snow in Vietnam or snow in the Sapa Vietnam weather is considered a disaster for farmers. Their crops can be destroyed. For the tourist in Vietnam, however, Sapa snow is a rare and exceptionally beautiful sight to behold. The snow offers a mind-blowing yet surreal image to the mind. It is a totally different kind of photo opportunity. This is a nice time generally to visit Vietnam. You can experience the dry season in the south yet get to potentially see a rare moment of beauty in Sapa. Snow and snowfalls tend to occur between the middle of December and early January. They usually last for around 1-2 days. You'll need to have knowledge of the most suitable places to get snow.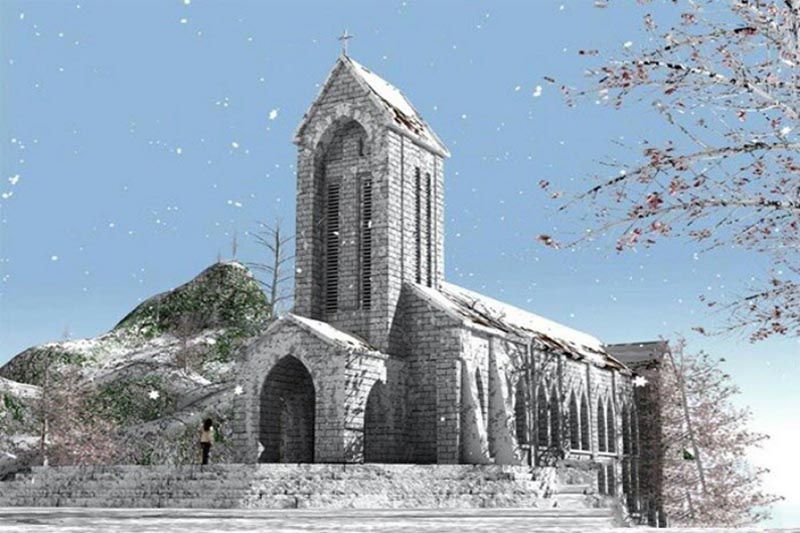 Where is the snowfall in Sapa, Vietnam?
The snow falls in certain places in Sapa, Vietnam, and it is these places where you'd want to be, to get the best opportunity to see Sapa snow. Across Lao Cai, you should make an effort to see Sapa white rice terraces. The recommended route is via the Y Ty Pass, where there is a bigger chance to see some amazing Sapa views created by snow and the winter snowfall. Of course, seeing snow in Sapa Vietnam from the mountain top can offer some long-range views. The Hoang Lien San Mountain is a good are for Sapa snow shots at this time of year. Some of the other popular Sapa sight-seeing areas, such as Heaven Gate and Silver Falls, offer some remarkable views at this time of year. Perhaps travel to Sapa's Bat Xat commune can also offer a new and insightful image of winter for the locals in Sapa. You might notice that they dress a little differently when there is snow in Vietnam.
What should you bring with you to Sapa, Vietnam?
Some of the day's excursions can be long and cold. First of all, it is recommended you take winter clothes with you to Vietnam if you wish to follow the snowfall in Sapa. try to search around for some lightweight clothing, as it will help you on your trek during the snowfall of Sapa in winter. Any warm jackets, scarfs, hat and gloves that are not heavy are a good choice. Keep it waterproof, as the snow can melt and there are chances you might be surrounded by a tantalising damp mist in the mountain areas. Some of the peaks and mountain top areas can become very cold, so be sure to keep warm. Keep some medicine in case you get a cold, or keep a thermos bottle at your side. The locals like to drink rice wine to stay warm in a Sapa winter. You may want to share some of this with people on your trip. Be sure to ask the locals in Sapa town to share tips on getting warms drinks.
Why should you come to Sapa, Vietnam?
The days experiencing winter in Sapa Vietnam offer a truly unforgettable experience. This winter Sapa exploration really is a hidden gem in Vietnam. You'll see some absolutely stunning winter scenery around Lao Cai, and will love the warm hospitality of the local tribes in Sapa Town. Even if you don't see snow in Sapa, it is still a great season to visit. The weather and climate provide some fantastic scenery in this part of Vietnam. The temperature offers room some comfortable trekking days out. You may or may not experience the Sapa snowfall. You probably won't meet Santa. Though, one thing is for sure; you'll love visiting Sapa Vietnam at this time of year. You'll share these travel memories for many years. Want to know more, come and let us share our knowledge with you at Absolute Asia Travel.