Experiencing unique couple-style resort in Ha Giang
Welcome to the world of ultimate luxury and romance at P'apiu, the first all-inclusive adults-only resort for couples in Vietnam. Nestled in the heart of this captivating country, P'apiu is a haven designed exclusively for those seeking an intimate escape.
Imagine a place where you can unwind and indulge in unparalleled tranquility, surrounded by stunning natural beauty. P'apiu offers a seamless blend of opulence and serenity, creating an idyllic setting for couples to celebrate their love. Whether you're honeymooners embarking on a new chapter or newlyweds looking for a romantic getaway, P'apiu promises an unforgettable experience.
Retreat Vacation in Ha Giang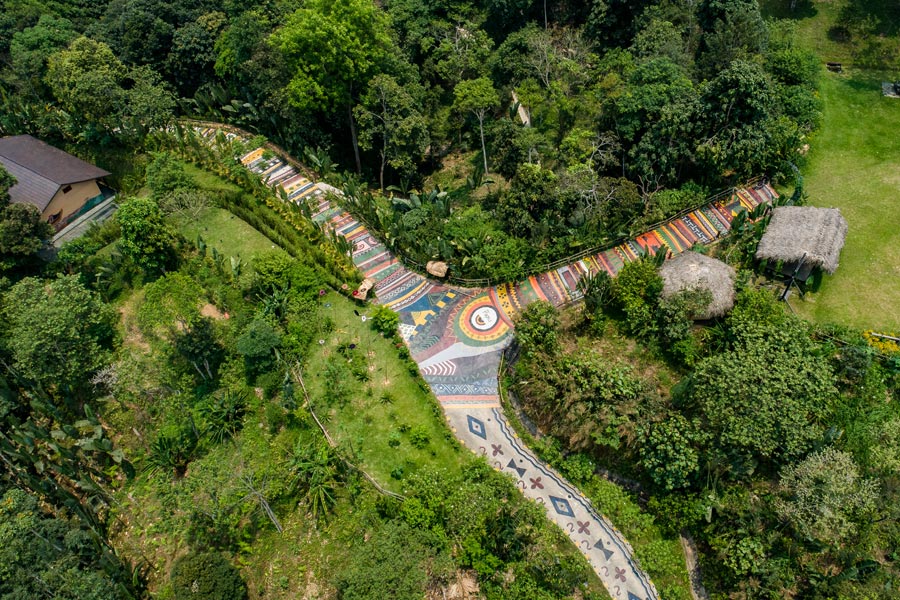 Ha Giang is known for its impressive mountains, stunning plateaus, and traditional songs of ethnic minorities such as the Mong, Nung, and Lo Lo. It also has interesting places like the Khau Vai market. Visitors come to Ha Giang for various reasons, such as exploring flower fields, reaching the northernmost part of Vietnam, or experiencing thrilling adventures on rough mountain roads.
Ha Giang's natural beauty is complemented by the hospitality and kindness of its people. The Mong, Dao, and Pa Then people have faced numerous challenges in areas such as healthcare, education, and access to clean water, but their resilience and determination have allowed them to improve their living conditions.
The famous tourist destinations in the northern region have undergone changes and are at risk of losing their original beauty. Certain locations that were once known for their distinctive architecture and traditional customs are now expanding their tourism industry through the construction of contemporary hotels, cafes, and restaurants in order to increase revenue.
Ha Giang's cultural values remain intact despite the growth in tourism. The local community manages most homestays and businesses, using architecture and services to showcase their cultural heritage to visitors.
Guests have the option to appreciate Ha Giang's natural beauty while staying at a luxurious resort, rather than traveling difficult roads or visiting a distant homestay in a remote village.
Choosing a high-end resort for a short trip to Ha Giang can be a good option, especially during the new normal period.
The high-class resort on the Bac Me mountain
P'apiu is the first luxury resort of Ha Giang, located 18 km from the city, in a little-known mountain in Băc Me District. Surrounded by majestic mountains and forests, P'apiu is an isolated world from the bustling life that brings quietness, privacy, and other things needed for a retreat vacation.
The villas at P'apiu feature diverse styles, providing visitors with various personalized experiences. Additionally, P'apiu boasts several noteworthy attractions, including a 1700m underground resort, a brocade road, and a sunset viewing point on Yolo Mount. The location is also suitable for proposals, wedding ceremonies, and romantic honeymoons.
P'apiu has contributed to developing a new form of tourism and showcasing Ha Giang's potential to establish upscale resort.
The stories behind the first all-inclusive adult only resort in Vietnam
P'apiu is known as the first high-class resort in Ha Giang, with an emphasis on being an "adult only" destination and significant narratives to enhance its appeal.
P'apiu identified a gap in the market for luxury resorts designed for couples, offering unique spaces and high-quality services. They are leading the way in developing this model in Vietnam, where demand for such resorts is high.
P'apiu's location in Ha Giang holds significance as the owners prioritize preserving indigenous cultural values through tourism. They also appreciate the unique beauty of Ha Giang, which has inspired many love stories.
P'apiu prioritizes the core values of a luxury resort over maximizing profits, which sets it apart from the majority.
The process of sharing P'apiu's stories with a wider audience can be a long and difficult journey. Nevertheless, P'apiu remains committed to the development path chosen from the beginning.
Escape to paradise at P'apiu resort, where its doors are always open to welcome you into our world of rich culture and unforgettable experiences. Discover our unique values and captivating stories by contacting us at any time for an unique and personalized travel experiences in Vietnam.