Ethnic markets are trading markets taking place weekly or monthly on specific days. This type of market is distinguished in a number of rural areas in Asian and African countries, usually among minority ethnic groups.
In Vietnam, Lao Cai is among the provinces where ethnic markets are extremely unique and intriguing. This is also a tourist attraction to the province.
Monday – Bản Phiệt market
Ban Phiet market is held in Ban Phiet commune, in the border district of Bao Thang. The market takes place weekly on Monday and adjacent to Highway 4D. As compared to other ethnic markets in Lao Cai, Ban Phiet market is relatively small and not very crowded, however, it is still distinguished as this is the trading place among ethnic communities within the region. The majority of people in this market are from the White H'Mong minority. The market starts very early in the morning when the cold mist is still lingering in the air. As a norm in this mountainous area, people are usually dressed in their most beautiful and colorful clothes to go shopping.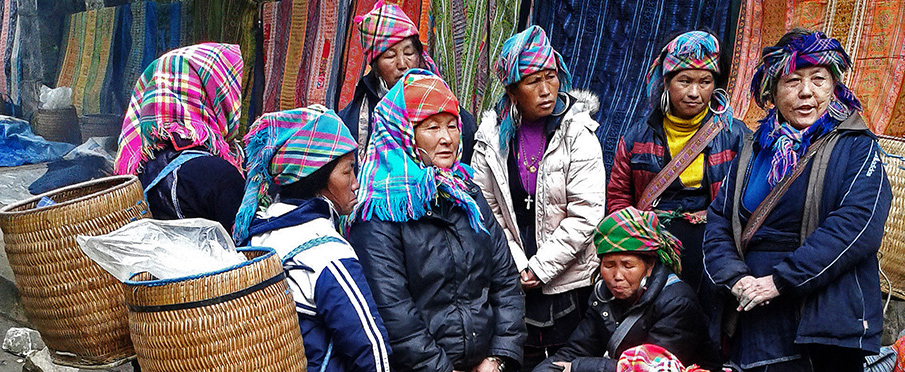 Tuesday – Cốc Ly market
Coc Ly is an ethnic market in the highland district of Bac Ha, taking place every week on Tuesday. The market is divided into separated zones which trade different items, such as: zone of brocade and weaving products, zone of mountainous commodities, zone of cattle, food court, etc. People going to this market are mostly from H'Mong Hoa ethnic, Black Dao ethnic or Nung ethnic. Coc Ly market is famous not only for its 'item for item' practice, but also for its location next to a suspension bridge across Chay River, which becomes one of the most appealing attractions in the area.
Wednesday – Cao Sơn market
Cao Son market locates in Cao Son commune, Muong Khuong district. This is the market of people in H'Mong, Phu La, Dao and the Black Han ethnics who live in the 4 biggest villages of Muong Khuong district. Like Coc Ly, Cao Son market is separated into different zones: zone of fruits and vegetables, zone of cattle and poultry, and especially the zone selling the most famous specialties of these ethnics such as: 'thang co', corn wine from Coc Dam, etc. On the ways to the market, you can easily catch sight of groups of people with utterly colorful dresses eagerly walking towards the market, which creates a vivid picture of this beautiful highland.
Thursday – Lùng Khấu Nhin market
Lung Khau Nhin market in Muong Khuong district is held on every Thursday morning. This is one of the most widely-known ethnic markets in Lao Cai and even in the vast territory of the Northwest mountainous area. Like other ethnic markets in this highland, Lung Khau Nhin is also flooded with the most vibrant colors of dresses and blankets, the charming green of cabbages and the brilliant yellow of tangerine. These dazzling colors are really distinguished among ranges of mountains, and visible even from the top of the slope which is rather distant from the market. Buyers and traders here are usually from H'Monh, Nung, Man or Kinh ethnics.
Friday – Chậu market
Since nineteenth century, many ethnic markets have been held in Muong Khuong district to serve the need to exchange goods of the locals. In addition to some famous markets like Muong Khuong, Cao Son, Pha Long or Ban Lau, Chau market locating in Lung Vai commune has long been the trading center in the eastern area of Thuy Vi. This market is comparatively distinguished as it not only serves the trading purposes, but it also a social meeting where people meet and exchange feelings with the others. When the market takes place, boys and girls from the villages take this opportunity for meeting, talking and even dating with each other. Going to Chau market, tourists stand a unique chance to explore the spectacular Muong Khuong with its rich traditions and cultures which are cherished and passed down to the descendants until now.
Saturday – Cán Cấu and Pha Long markets
Can Cau ethnic market (Si Ma Cai district) takes place on the roadside of Street 153, which is the only raddle road connecting the town of Bac Ha and the borderland of Si Ma Cai. Can Cau market is held among H'Mong, Hoa and Giay ethnics, however, it follows the trading rituals of Dao ethnic. This is also considered as the largest market trading buffaloes in the North highlands.
Pha Long market (Muong Khuong district) is the trading center of local people from some communes of the district such as Pha Long, Din Chin, Ta Ngau Cho, Ta Gia Khau, etc. During the market, people of H'Mong, Lo Lo, Tay, Nung, Giay ethnics congregate for trading and shopping, which creates a bustling and crowded scene among the quite mountains. The area of brocade is the most hectic, humming and eye-catching area in the market. Especially when you go to Pha Long market during spring (on Lunar New Year holiday), it is highly likely that you can join the very famous and interesting Gau Tao fair. Also on Saturday, you can conveniently visit Y Ty market which is also an attractive market near the Vietnam-China border.
Sunday – Bắc Hà, Sapa and Mường Khương market
Among the ethnic market on Sunday in Lao Cai, the most prominent one is Bac Ha market which is voted one of the 10 most unique ethnic market in the South East Asia. Bac Ha market is also the only place in Vietnam where horses are traded in a specific area. Hundreds of horses are traded every time when the market is held.
Sapa market lies in the heart of Sapa center. Every Sunday, there are various products are traded here such as medicines, rare forestry commodities, traditional products of the ethnic minorities here like handmade brocade, ethnic cuisines and other precious forestry products. This is not only the trading time of local people of the highland, but also the opportunity for boys and girls to meet, sing love songs and find their partners through songs, flutes, a special trumpet of the ethnics here and even lip trumpets.
Muong Khuong market locates about 50 kilometers from Sapa, lies right at the center of Muong Khuong district. Normally, Muong Khuong market is similar to other highland ethnic markets for its colorfulness, bustle and hustle. However, what really distinguishes Muong Khuong market from others is the area trading horses, and especially the area trading forestry birds. This market is the destination of 'bird hunters' around the region, making the bird area in the market the most crowded and humming. Birds traded here are usually nightingale caught in the surrounding forests, these birds not only have a strangely wide beauty but their voice is also mind-blowing. On gathering day, tourist can easily see the ethnic men eagerly bring a bird cage heading for the market. They come there to sell, exchange or even fight their birds with the others' in order to prove their talents to their lovers. What an elegant hobby of the H'Mong ethnic!
Besides, you can also choose to visit Lung Phin market (Bắc Hà) or Mường Hum market (Bát Xát) on every Sunday of the week. If you're keen to explore ethnic markets of northwest Vietnam, just contact one of our specialists who will plan an ideal trip for you.
More from Absolute Travel