Myanmar is unlike any other country in Southeast Asia. Extremely rich in intriguing history and tradition, it is also perfect for those seeking a unique travel adventure to a beautiful, exotic locale. Myanmar is often dubbed as 'what Southeast Asia used to be', and now is the best time to get a feel for what travelers on the banana pancake trail experienced 'back in the day'. If there's one thing that travel guide wants to clearly point out, it's to go now before everyone else does!
Travel to Myanmar is currently hot on the Southeast Asia travel trail, but having only opened up to tourism over the past decade, infrastructure can be lacking and traveling can be quite challenging, but this won't be the first Myanmar travel guide to definitively state that exploring Myanmar is totally worth it. Brace yourself for a different kind of travel and don't be deterred by the scaremongering about the steep cost and immense difficulties that are driving people away from this magnificent country.
Myanmar Quick Information
Language
While Burmese is the primary language in Myanmar, there are still around 100 other dialects that are commonly used. Considering the aforementioned fact that the country just recently opened its doors to other nations, the level of English proficiency among the local population is not the same as when touring other countries in Southeast Asia. However, those that work in the tourism industry managed to adapt quickly and are able to converse with ease.
Visa Requirements
If you have a valid passport, you won't encounter any problems entering Myanmar by air or by land. However, your passport must be valid for at least 6 months after your arrival date in Myanmar. If you are a citizen from 100 nations approved by the Myanmar government, you can get your tourist visa online in 3 office days for $50. If you are in a hurry, you can get your e-visa within 24 hours for $56. Note that an E-visa is only for tourists and valid only for 28 days. It is generally advisable to apply for an E-visa at least one month in advance because it often takes 1 day to 1 week for you to receive your visa confirmation. Most ASEAN member states can get a visa exemption that is valid for 14 days, except for Singapore which is valid for 30 days.
Festivals and Celebrations
Much like other Asian nations, the festivals and celebrations in Myanmar are largely related to religious dates and events. With the festivities often including parades and religious activities, chancing upon these special celebrations is a real treat, giving you a sneak peek into the local culture. By far the most popular festival in Myanmar is the Thingyan which is the Burmese New Year Festival that is celebrated from April 13-16. During this festival, people erect bamboo stages along the streets and splash water on passersby. Water pipes are also used to drench people driving by in jeeps and trucks. Everyone joins in for one huge water fight that symbolizes the cleansing of sins.
What to Pack for the Trip
In order to make the most of your time in Myanmar, there are some simple travel tips to follow when packing your belongings. This comprehensive packing list will help make sure you remember everything you need to enjoy your visit to this intriguing and fast-developing country.
Insect spray – Bugs are plentiful in Myanmar and mosquitoes can be a big problem especially at night.
Hat and sunscreen – Myanmar is a tropical country so sunscreen is a must. Bring along a hat or cap as well if you are prone to sunburn.
Long shorts, elephant pants, sleeved T-shirts – Sightseeing in Myanmar mostly involve pagodas and temples where dress codes are strictly enforced. No shoulders and no thighs are the clothing rules and it's important to cover up or risk being turned away from some of the best sites the country has to offer. Elephant pants are available in all the tourist areas.
Flipflops – These are a must because you'll need to take off your shoes whenever you visit a temple. There is nothing more cumbersome than tying and untying laces in the stifling heat every time you enter a sacred site.
Headlamp or flashlight – Street lamps are scanty in cities like Yangon and Mandalay. The sidewalks are a random mix of paving stones and holes which invite you to fall or twist your ankle. In addition, the pagodas and temples where you are sure to spend sunrises and sunsets are teeming with dark stairways.
Hand sanitizer and wet wipes – Your days will be spent climbing temples and walking through monkey poo. Then you'll need to eat. Running water is not always available so you'll definitely need a hand sanitizer to clean up. Wet wipes will also come in handy for washing your feet after a temple visit.
Universal travel adapter – The electrical outlets in Myanmar come in all sizes and shapes, with a standard voltage of 230V. In order to be able to charge all your electronics and mobile devices, pack a universal travel adapter. It will also come in handy on future travels.
Purifying water bottle – Drinking from the tap is risky and while bottled water is cheap, you will most likely need several liters a day to stay hydrated as you'll be walking in the heat.
First aid kit – Antiseptic ointment, plasters, gauze dressings, sterile gloves – all the basics in treating cuts, scratches, and rashes. It is also advisable to bring indigestion and diarrhea tablets.
Getting to Myanmar
Flights to Myanmar are the preferred option for tourists, with regular arrivals from Bangkok. However, if you consider the location of Myanmar, which is bordered by China to the north, Laos, and Thailand to the east, and Bangladesh and India to the west, there are several points of entry by land although not all of them are recommended due to safety concerns.
Nonetheless, you should indicate a 'port of entry' when applying for your e-visa. This specifies how you will enter the country. In your application, you will be given a list and you must pick one of the following:
Designated International Airports:
Yangon (located in the south) – this is the primary hub for domestic flights and there are several services connecting the major cities
Mandalay (located in the middle of Myanmar)
Nay Pyi Taw (located in between Yangon and Mandalay)
Crossing at Land Border Checkpoints:
Ranong/Kawthaung in the southernmost section of Myanmar; this offers options for further travel via buses or flights on to Dawei, Myeik, and then north to Yangon; there are also cruises to the Myeik Archipelago
Mae Sai/Tachileik in the Shan State of eastern Myanmar bordering northern Thailand; Tachileik has airports with flight connections to Yangon and Mandalay
Mae Sot/Myawaddy in the Kayin State of southeast Myanmar bordering western Thailand; this is considered the most practical spot to cross for further travel due to its proximity to the main transport network and tourist attractions like Hpa An, Mount Kyaiktiyo (the Golden Rock), and Mawlamyine
Moreh/Tamu in the Sagaing Region of northwest Myanmar bordering northeast India; the town of Tamu serves as a logistics and transport hub for cross border trade between Myanmar and India; here you'll find several hotels and a variety of restaurants
Zokhawtar/Rih Khaw Dar in the northwest Chin State of Myanmar bordering southeast India; the Myanmar government opened this border crossing to boost the trade flow to Chin State; this mountainous region is quite remote but offers stunning scenery and a unique cultural experience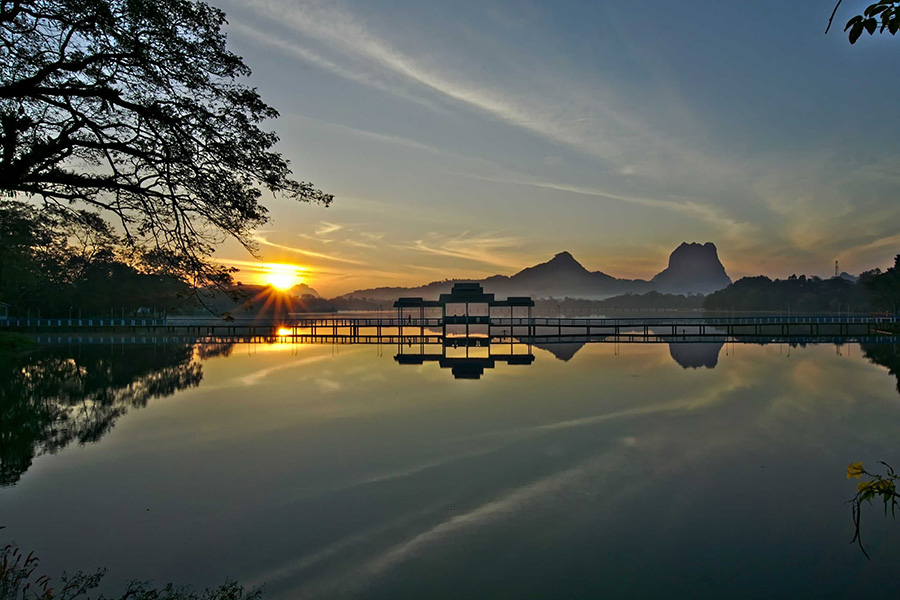 You can actually enter Myanmar at any designated "Port of Entry" but it is advisable to stick to the one that you indicated to prevent any delay in the processing of your visa upon arrival.
Best Time to Visit Myanmar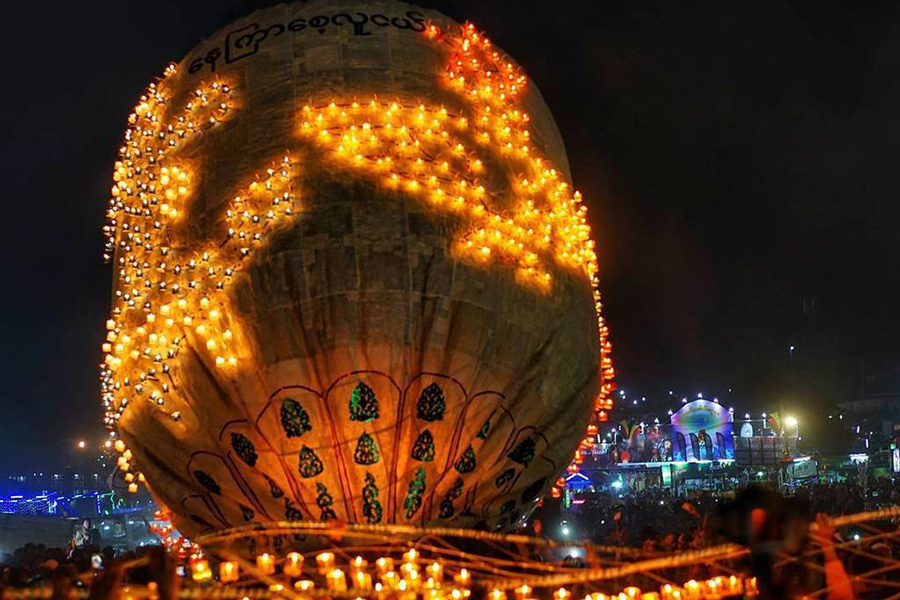 In a nutshell, you can explore and enjoy Myanmar all year round because it has a tropical climate. However, try to avoid scheduling your trip from June to September as this coincides with the wet season. Like most countries in Southeast Asia, Myanmar sees about 200 inches of precipitation annually so it's advisable to plan your travel during the drier months. If you decide to visit during the monsoon season, try to book accommodations in the cooler, drier central and northern regions.
As a rule, the best time to visit Myanmar is from November to February since it is not too hot to walk around. On the other hand, the months of March, April, and May are uncomfortably hot, particularly in the plains close to Bagan and Mandalay. Note that during the peak season, the limited accommodation options become tricky to secure so you'll need to book in advance.
Top Things to See and Do
Visit Yangon
With Myanmar's visa restrictions eased, more tourists are now enjoying Yangon's hospitality and rich heritage. The city is still in its infancy in terms of luxury hotel stays, which is perfect for travelers who wish to steer clear of the typical tourist hotspots. As for its rich heritage, Yangon is home to the spectacular Shwedagon Pagoda, which is at least 2,500 years old, making it one of Asia's oldest Buddhist temples. For landmarks in the last millennia, the city boasts the highest density of colonial period buildings in Southeast Asia.
Go Biking or Ballooning in Bagan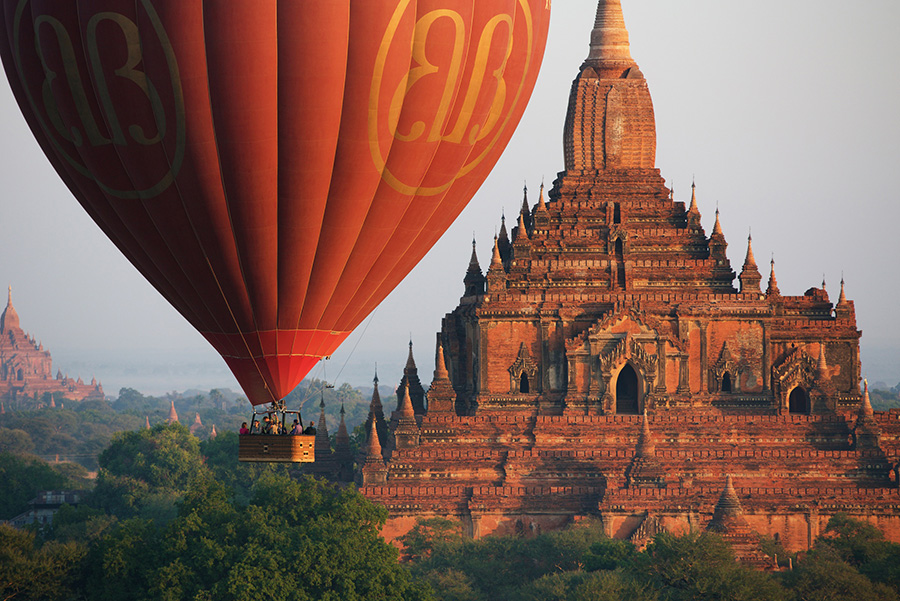 The ancient city of Bagan is one of Myanmar's most popular tourist destinations. There are several ways to explore its many temples, but most travelers prefer sightseeing by bike. The streets are serene and some roads will whisk you to picturesque villages and smaller temples. Rent an e-bike and enjoy a fascinating experience. You can go at your own pace and pull over whenever you want to snap some photos and admire the landscape.
If you have some extra cash to spare, hop in on a hot air balloon and enjoy a birds-eye-view of the more than 2,200 temples and pagodas dotted across the vast greenery plain. When people think of Bagan, it's almost impossible to picture it without the hot air balloons clouding the horizon. The city's iconic balloons have carried scores of tourists on soaring adventures of a lifetime.
Take a Boat Tour in Inle Lake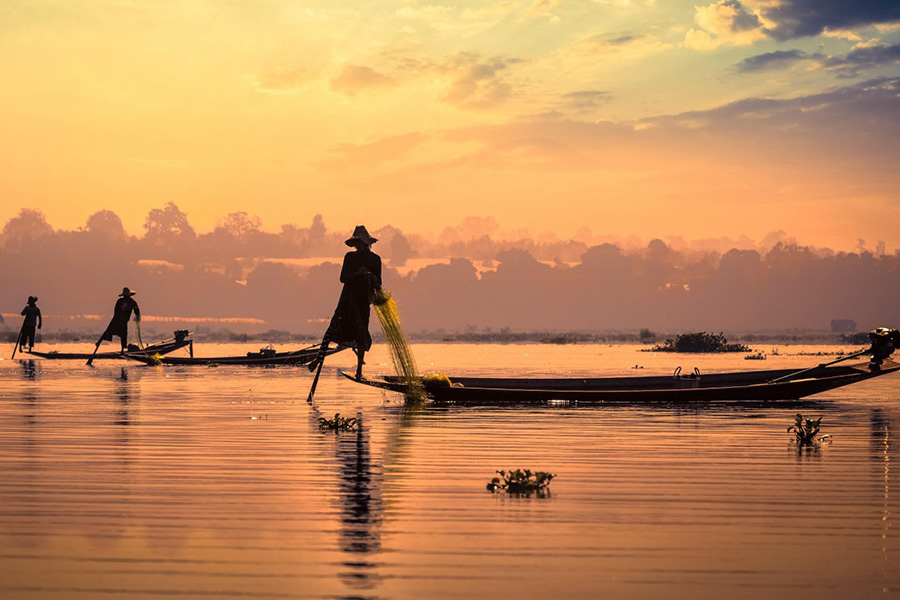 A mere mention of Inle Lake brings to mind breathtaking nature, serenity, and the home of unique traditional practices of leg-rowing and floating agriculture. Located at the heart of Shan Plateaus, this 13.5-mile long and 7-mile wide highland lake is fringed by floating gardens and lush marshes where Buddhist temples and stilt-house villages rise above the sparkling water.
It is the perfect destination that you should not miss when visiting Myanmar. Taking a boat tour will allow you to immerse yourself in the peaceful environment, witness the unique lifestyle of the locals, and feast on their specialty – the tomato salad.
You will also enjoy interesting activities and a collection of sightseeing attractions including the Phaung Daw Oo Pagodaenshrining five images of Buddha; the 200-year old Nga Phe Chaung Monastery; the picturesque Indein Village with thousands of ancient stupas; the scenic Red Mountain Estate, and the Sagar village with its enigmatic 'sunken' stupas. Only a few tourists leave Inle disappointed with what they've seen and done. The lake will surely satisfy even the most discerning travelers.
Explore Mandalay
Mandalay is the second-largest city in Myanmar and serves as home to a number of ancient kingdoms complete with resplendent Buddhist pagodas. Formerly known as Ratanapūra or the 'gem' city, Mandalay still lives up to the moniker and is rich in cultural heritage. It has a unique charm and boasts a myriad of majestic monasteries, splendid markets, gold workshops, and a thriving teahouse culture that offers travelers an opportunity to mingle with the friendly locals.
Note that Mandalay is not only a city of monasteries, temples, and pagodas. It is also a city of royalty as some of its attractions are reminders of the period when Burmese kingdoms reign supreme. It is here where the Royal Palace is located, along with other structures built by kings. However, the top attraction is not man-made. Mandalay Hill is the most popular tourist destination, a necessary stop for any traveler who ventures to this part of Myanmar.
Get to the Mergui Archipelago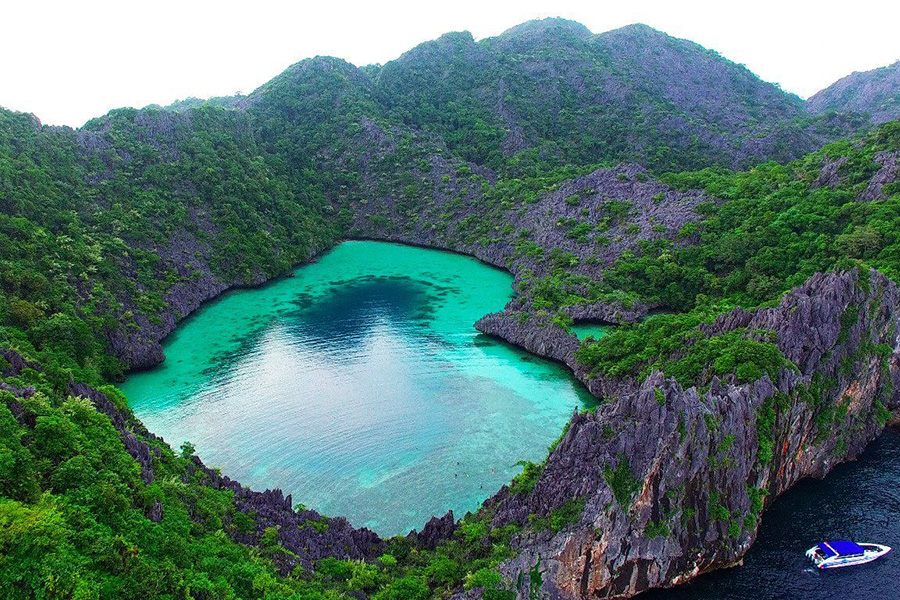 The Mergui Archipelago consists of more than 800 tropical islands stretching west of Kawthaung in the Andaman Sea and extending 300 kilometers up the coast. This slice of paradise is known for its crystal clear water, fiery sunsets, and snorkeling in areas still unspoilt by mass tourism. Only a handful of resorts have been constructed on the islands, so the only way to explore this idyllic place is by boat.
With so few travelers visiting Mergui, and with hundreds of uninhabited islands to choose from, it's easy to feel like you have found your private paradise. Most of the islands are accessed from the town of Yangon, a two-hour flight from the capital Yangon or a 30-minute boat ride through the Kra Buri River from the southern Thai province of Ranong.
Top Attractions in Myanmar
From spectacular Buddhist architecture to idyllic water communities, Myanmar offers visitors the chance to enjoy great beauty that is perfectly supplemented by rich culture and history. To help plan your travel adventure to this up-and-coming tourist destination, here are the must-see attractions in Myanmar.
Shwedagon Pagoda
Officially named Shwedagon Zedi Daw and also commonly referred to as the Golden Pagoda and the Great Dagon Pagoda, the Shwedagon is one of the most sacred religious sites in Myanmar. The main stupa is home to the sacred relics of Gautama Buddha along with the three previous Buddhas. This breathtaking 2,600-year-old gilded monument in Yangon stands 326 feet tall and serves as the defining feature of the city's skyline.
The pagoda itself is encrusted with more than 5,000 diamonds and intricately plated with 21,841 gold bars, making it shine and shimmer in the sunlight. However, most travel pundits claim that the best time to visit is in the evening so you can see its splendor with the sunset in the background and to experience the mystical ambiance with the pagoda lit up by dozens of spotlights.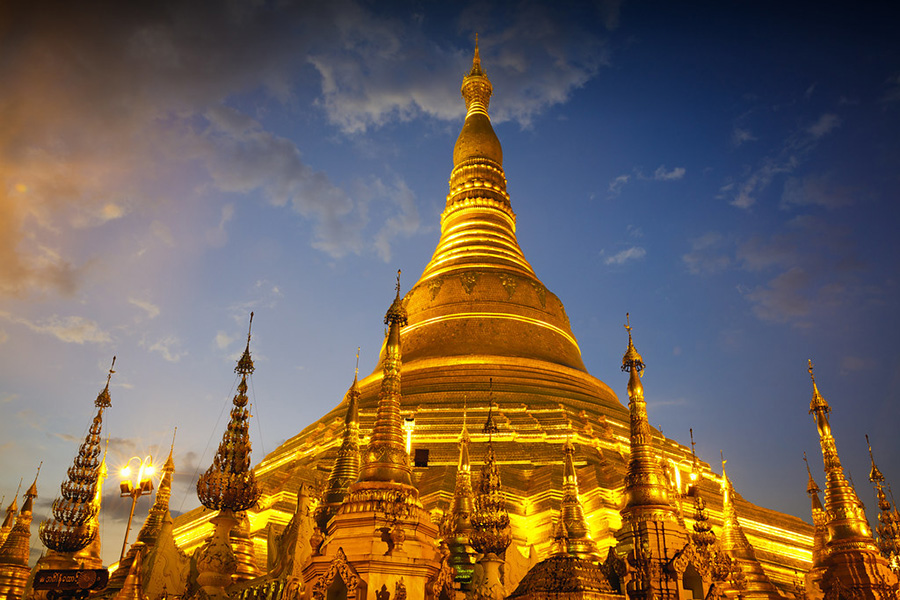 U-Bein Bridge in Amarapura
With a total length of 1.2 kilometers, the U-Bein Bridge is the longest teak bridge in the world. It is constructed from teak that was salvaged from the ruins of the former palace. Curving gently across Taungthaman Lake, the bridge has become renowned for its picturesque beauty and is now one of the most photographed sites in Myanmar.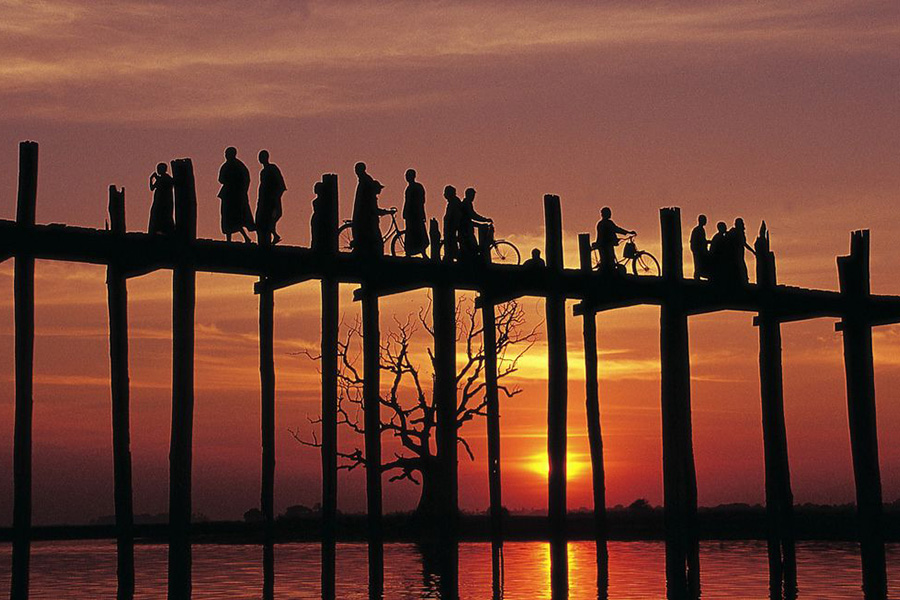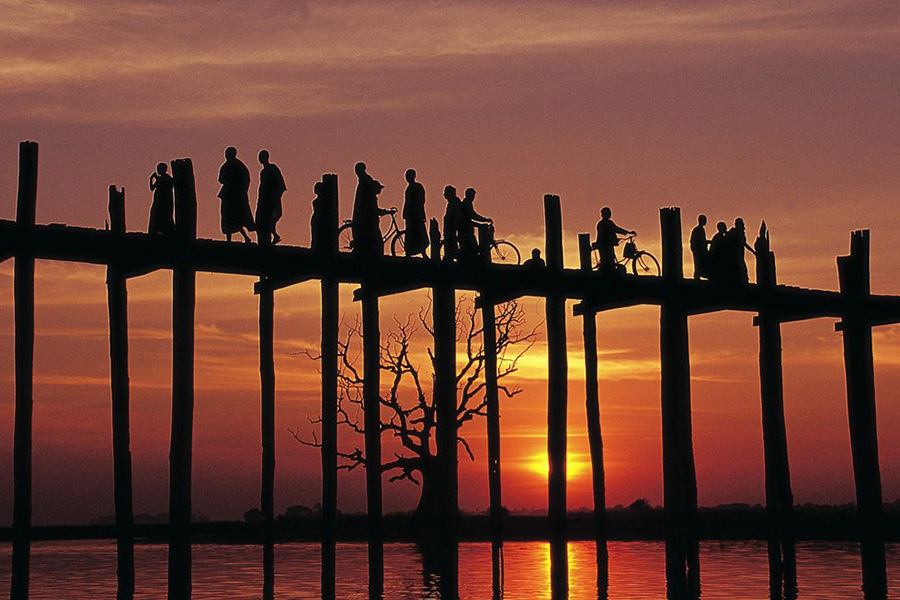 During the dry season, it looks deceptively high and mostly stretches over seasonal vegetable gardens, but following the arrival of summer rains, the area turns into a massive lake and the water rises just below the floor planks. Over time, concrete supports have replaced some of the 1086 poles on which the bridge stands.
A great time to visit is just after sunrise when monks and local villagers commute back and forth across the bridge. The light is best about an hour before sunset, but by then the area is already swamped with busloads of tourists. And while it gets busy and shops hawk souvenirs and trinkets, the views still feel surreal and the ambiance, while far from serene, is definitely unique. An excellent way to take in the view is to hop on a boat and relax while watching the sunset.
Shwenandaw Monastery in Mandalay
This historic Buddhist monastery is famous for its teak carvings depicting Buddhist myths, which embellish its ceilings and walls. It was constructed in the traditional Burmese architectural style and was originally part of the Royal Palace at Amarapura before it was transferred to Mandalay. It now forms part of the northern section of the Hmannan (Glass Palace) and also of the king's royal apartments. The structure is of significant value because it is the single remaining major section of the original Royal Palace today.
There is still some gold plating inside the monastery which was once completely gilded and adorned with glass mosaics. Also inside lies a number of well-preserved carved panels portraying scenes from the Jataka tales – the stories about the previous lives of Buddha. The main image of Buddha is housed in the main room which is located in the center of the monastery.
Inwa Ancient City
Inwa or Ava in the Mandalay Region of Myanmar served as the imperial capital for 360 years – from the 14th to 19th centuries. It is an ancient city with tons of tales to tell. The most popular structures here include the 28-meter tall Nan Myint watchtower constructed in the 18th century, the Bagaya Kyuang Monastery which rests on 267 massive teak stilts, and the Maha Aung Mye Bonzan monastery with its ornate structure adorned with intricate stuccoed sculptures.
Throughout history, the monastery was sacked and rebuilt several times. The city was ultimately abandoned after it was completely destroyed following a series of earthquakes in 1839. It sits on a man-made island located between the Myitnge and Irrawaddy rivers, so the best way to go is by a brief ferry ride. You can explore the ruins on foot, by bicycle, or on a horse-drawn carriage.
World's Largest Book in Kuthodaw Pagoda
This Buddhist stupa in Mandalay consists of a gilded pagoda and hundreds of kyauksa gu or stone-inscription caves, each housing a marble slab inscribed on both sides with a page from the Tripitaka, the whole Pali Canon of Theravada Buddhism. It was constructed in 1859 as a gift for future generations and contains the "the world's largest book", although it doesn't look like any book you've seen before. Its 1,460 pages are carved in marble tablets, with each page measuring 1.07 meters wide, 1.53 meters tall, and 13 centimeters thick. King Mindon commissioned the "book" to be made. Work began in 1860 and took eight years to complete.
Inle Lake in Shan State
This iconic destination is known for its natural beauty and its unique local culture. Picture a vast, serene freshwater lake measuring 13.5 miles long, 7 miles wide and fringed by floating gardens where Buddhist temples and stilt-house villages rise above the water, and local Intha fishers propelling their boats along using their unique leg-rowing technique. That's that typical scene in Inle Lake. Surrounding the majestic lake are sprawling hills that are home to a number of minority groups including Danu, Danaw, Kayah, Pa-O, Shan, and Taung Yo.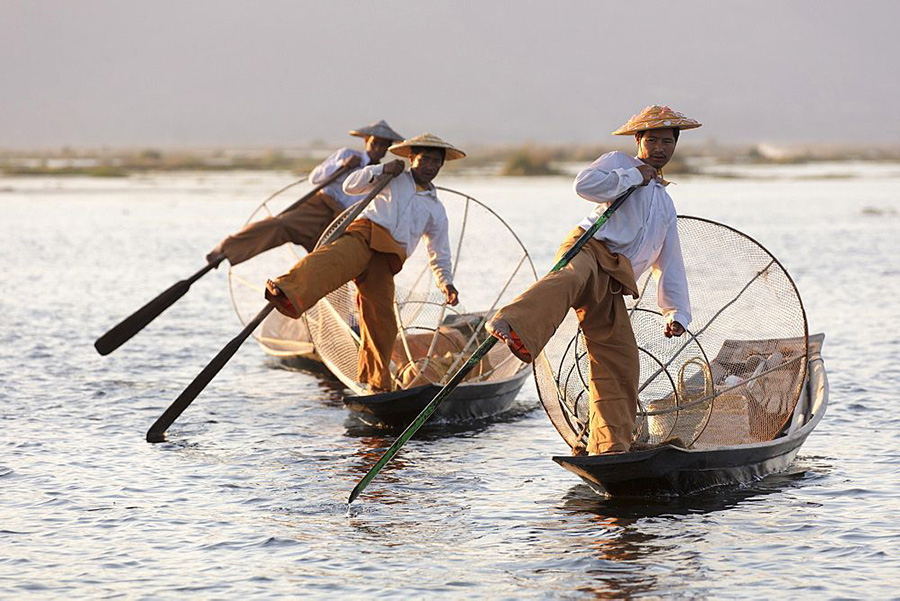 Getting out onto the water is the best way to experience Inle. A flotilla of wooden canoes equipped with long-tailed outboard motors ply the tranquil waters, transporting tourists to natural, cultural, religious and historic sites. Scruffy, busy Nyaungshwe, on the northern edge of the lake, is the main access point and the base for setting out on motorboat tours.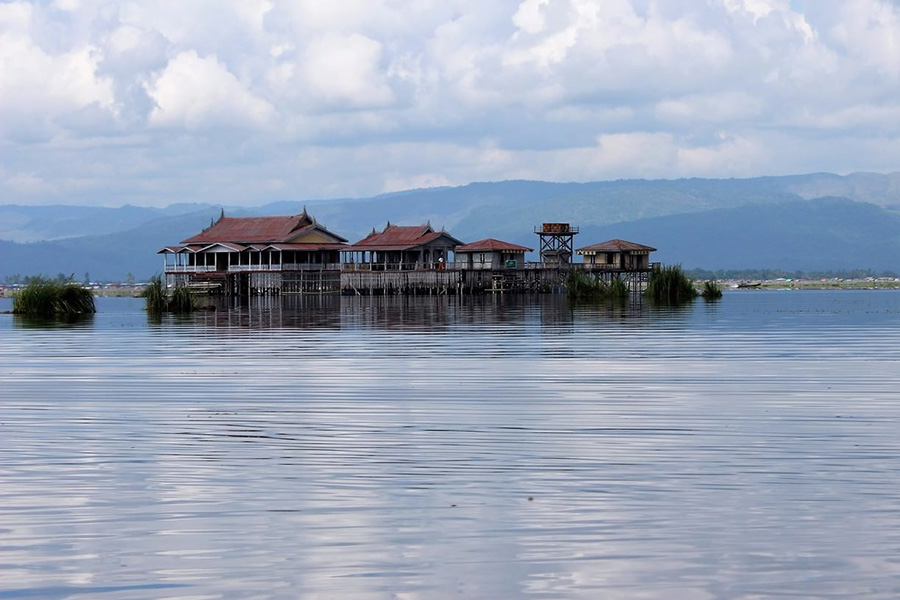 Ananda Temple in Bagan
This architectural wonder is a fabulous fusion of Mon and Indian themes. It is often fondly called the "Westminster Abbey of Burma" because of its sophisticated and awe-inspiring design. Ananda is hands down the best known and most beautiful temple in Bagan. It was one of the first temples to be constructed in the city and is well preserved. It is located close to the Tharabar gate, the only one remaining of the original 12 in the ancient city walls.
The temple's most striking feature is the gilded sikhara, the shining golden spire on top of the pagoda. The reflection of the sikhara can be seen from miles away and is lit up by spotlights at night, creating a beacon in the sky. The Ananda is home to four gold-leaf Buddha statues that represent the attainment of nirvana. Each statue measures 30 feet tall and faces a different cardinal direction: north, south, east or west.
The temple was badly damaged during an earthquake in 1975, but it has been extensively restored since then. Nowadays, it is like a museum displaying all art forms in Myanmar such as stone carvings, wood carvings, stone and grout architecture, murals, earthenware, among others.
Shwezigon Pagoda
Built in 1090, the Shwezigon Pagoda or Shwezigon Paya is one of the oldest and most impressive in Bagan. It is a survivor of natural disasters and has been renovated several times over the centuries. The pagoda used to be gold-plated but it was re-plated with more than 30,000 copper plates during one of the renovations. A prototype of traditional Burmese temples, it features a circular gold leaf-gilded stupa fringed by smaller shrines and temples.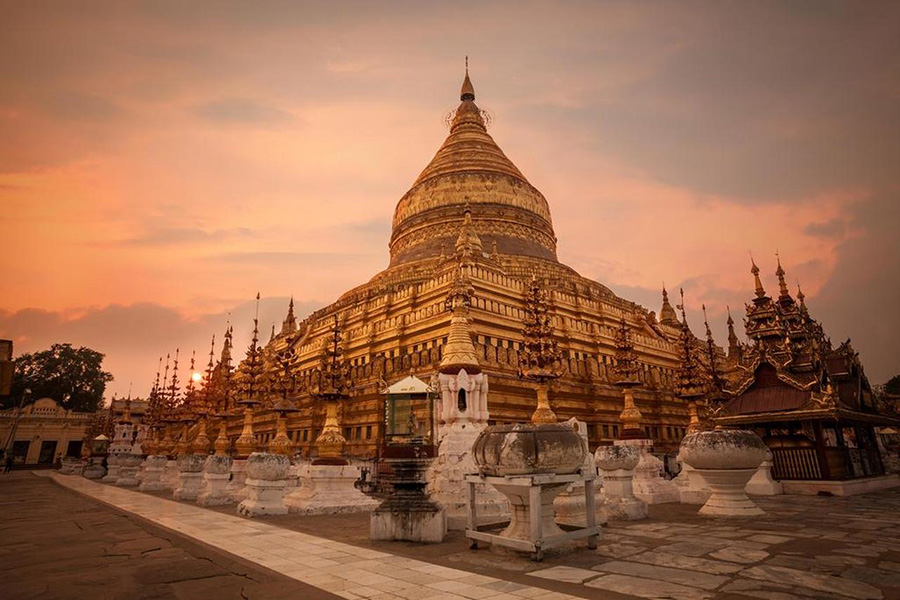 The Shwezigon is believed to house a bone and tooth of Gautama Buddha. Jataka myths are also portrayed on terra-cotta tiles set in three rectangular terraces. The pagoda is a good place to visit and observe the local culture and traditions, as it remains a center for prayer and reflection. Just like the Shwedagon, it is best viewed at sunset when the last rays of sunlight create a beautiful background for the glimmering golden monument.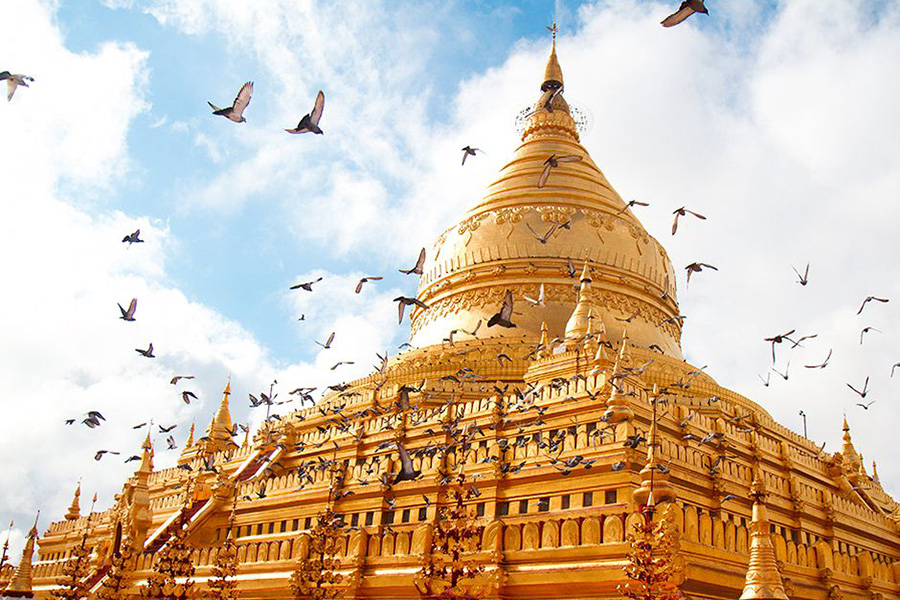 What to Eat in Myanmar
Tea Leaf Salad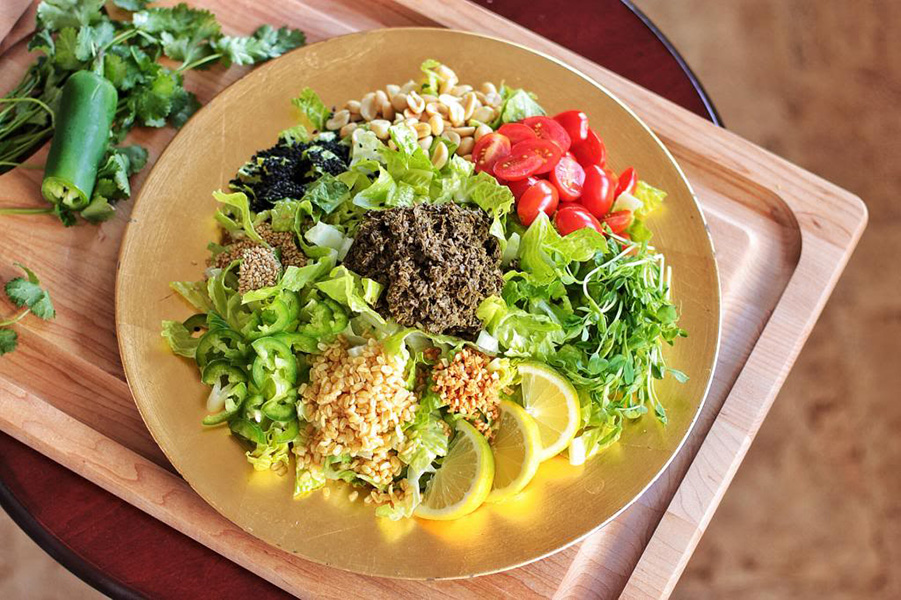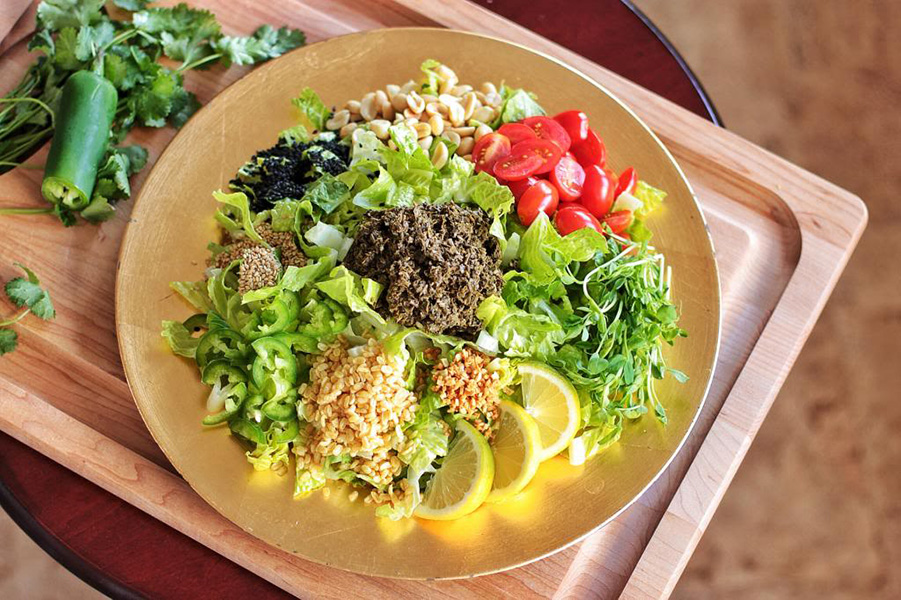 This is locally known as Lahpet Thoke – Lahpet meaning "green tea" and Thoke meaning "salad." It is a unique blend of flavors and textures that includes pickled tea leaves, fried garlic, toasted sesame seeds, roasted peanuts, and other crunchy beans. Some prefer eating it with chopped tomato and dried shrimp. It is served with all the ingredients in separate heaps so you can choose a combination to your own liking every time you grab a handful.
Shan Style Rice
Also known as fish rice (nga htamin), this dish is among the most typical food in Myanmar. It combines rice that's been cooked with turmeric and pressed into a disk with a topping of garlic oil and flakes of freshwater fish. It becomes a sumptuous snack when served with cloves of raw garlic, leek roots, and deep-fried pork rinds.
Shan Style Noodles
Shan style noodles are an easy-to-prepare Burmese dish where chunks of chicken or pork are cooked in tomatoes and served over a bed of thin rice noodles. You can have it with or without broth. Shan noodles are also served with pickled veggies and sometimes with fried chickpea tofu (tohu nway). It is an eccentric and visually intriguing combination, but if you love savory flavors, this one will surely grow on you.
Burmese Curry
This can be served with whatever type of meat you fancy, although beef, fish and chicken are among the most popular. Oily, salty and full of flavor, Burmese curry is often accompanied by condiments, rice, a slightly sour soup to clear the palate, and a large basket of salad. Some of the more popular curries you can try are Chicken and Gourd Curry, Tiger Prawn Curry, and Spicy Eel Clay Pot. Many restaurants offer crisps or peanuts, candies, and tea-leaves as both appetizers and desserts.
Nangye Thoke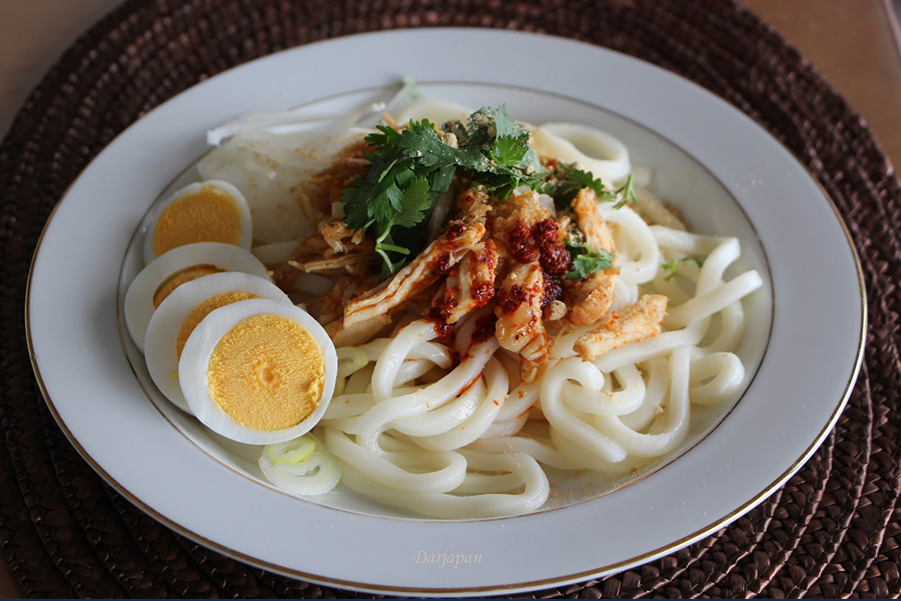 The locals love 'dry' noodle dishes, which are basically noodle-based salads served with broth on the side. Probably the most flavorsome and most ubiquitous is Nangye Thoke. It is essentially a noodle salad topped with chicken, thin slices of fish cake, and bean sprouts. The dish is also often topped with slices of hard-boiled egg and tossed with turmeric and chili oil. It is then served with a bowl of broth and sides of pickled greens.
Monhinga Soup
This is the unofficial national dish of Myanmar. It's a tasty rice noodle soup sprinkled with deep-fried fritters and is a staple breakfast meal for the locals. Optional toppings include akyaw and a sliced hard-boiled egg, deep-fried vegetables, and disks of lentil batter. The soup is seasoned to taste with fish sauce, a tad of lime, spring onions, and flakes of dried chili.
Where to Stay in Myanmar
Yangon
With adventurers, travelers, and tourists all wanting a piece of this historic city, here are some of the top places to stay:
The Strand Hotel
Chatrium Hotel Royal Lake Yangon
Belmond Governor's Residence
Novotel Yangon Max
Pullman Yangon Centerpoint
Sule Shangri-La
Wyndham Grand Yangon Hotel
Yangon Excelsior
Lotte Hotel Yangon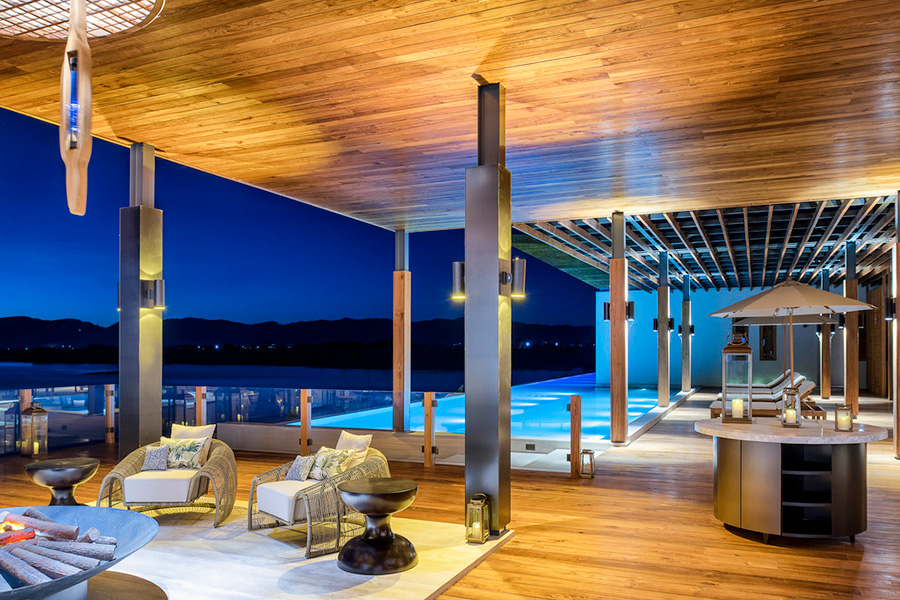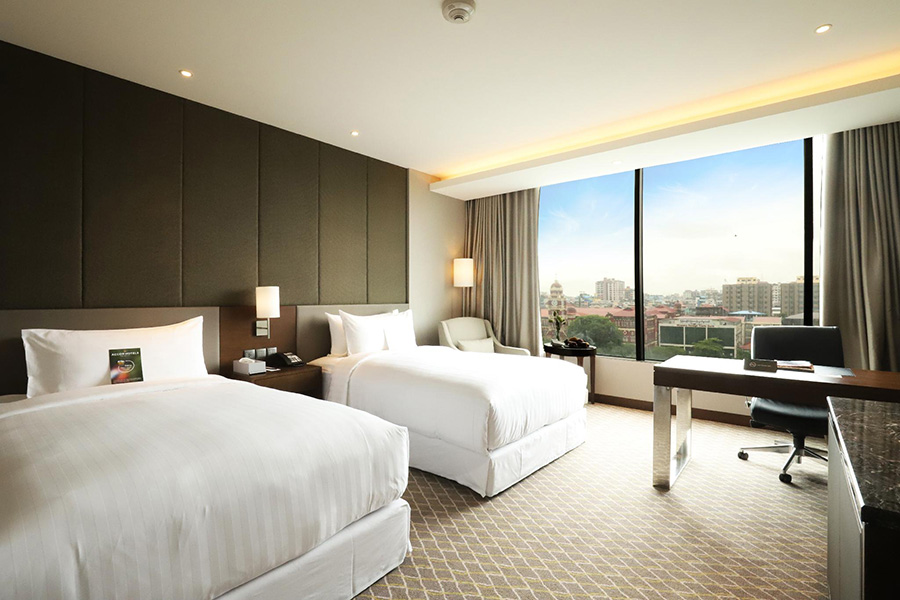 Bagan
To fully experience this ancient city and its thousands of temples, pagodas, and stupas, here is a list of the best places to stay:
Heritage Bagan Hotel
Arthawka Hotel
Bagan Lodge
Bagan Thande Hotel
Bagan Thiripyitsaya Sanctuary Resort
The Hotel at Tharabar Gate
Aureum Palace Hotel & Resort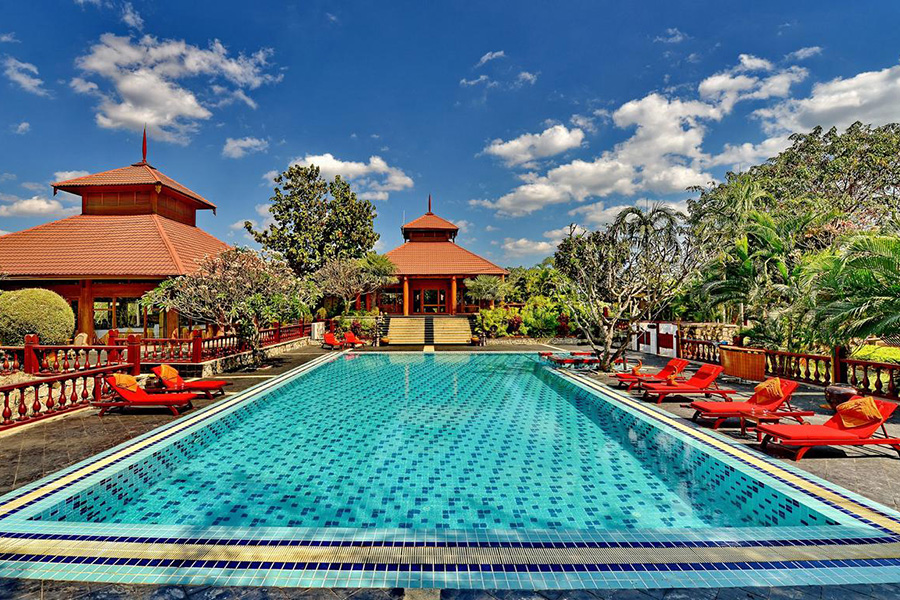 Mandalay
Without further ado, here are the best places to stay in Myanmar's second-largest city:
Pullman Mandalay Mingalar
Hilton Mandalay
Grand Park Hotel
Mandalay Lodge Hotel
Mandalar May One Hotel
Sunset Palace View Suites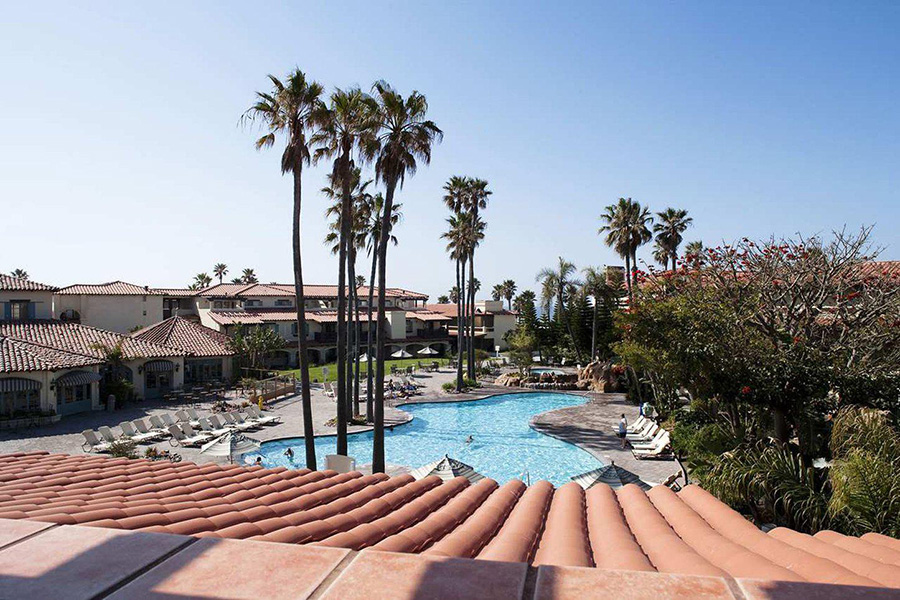 Inle Lake
This is one of Myanmar's most hyped-up tourist destinations, and it never fails to live up to expectations. To help you experience the best of Inle Lake, here's a list of the best places to stay:
Sofitel Inle Lake Myat Min
ViewPoint Lodge & Fine Cuisines
Shwe Inn Tha Floating Resort
Inle Lake View Resort & Spa
Sanctum Inle Resort
Pristine Lotus Resort (Inle)
Aureum Palace Hotel & Resort Inle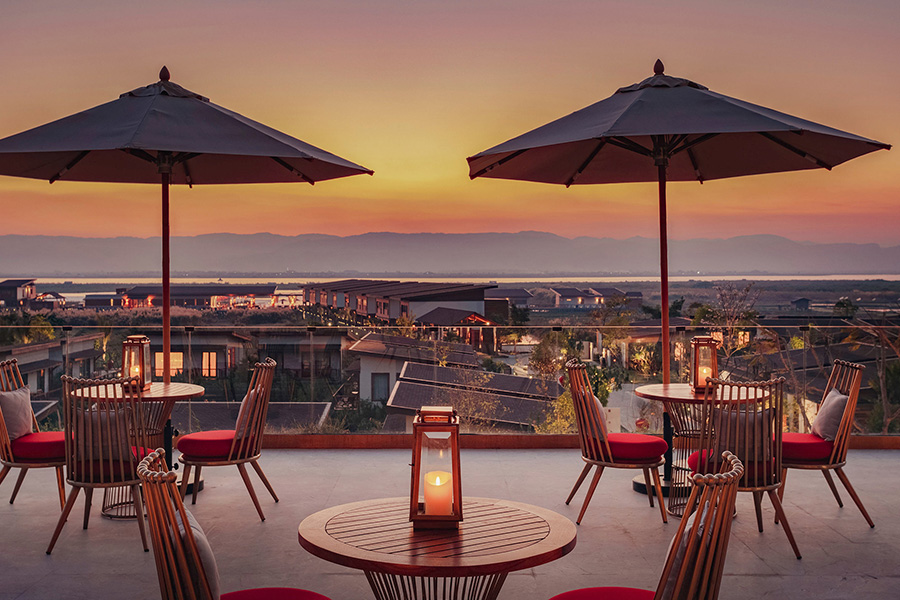 How to Travel in Myanmar
The best ways of traveling in and around Myanmar are by air, bus, boat, and rail. Westerners prefer flying between the major cities, although cruises are also popular. Buses are cheaper and faster than trains, although train travel is exciting and offers a different type of adventure for younger travelers.
Flights Offer the Best Value
Flying in Myanmar is a fast, cheap, and comfortable way to travel long distances, such as between Bagan and Mandalay or Yangon. For instance, the travel time from Mandalay to Yangon is about 1.5 hours by plane, roughly 7 hours by car, and approximately 15 hours by train. This explains why most travelers prefer to fly between key destinations.
The local airlines consist of a number of private companies along with the state-run Myanmar Airways. By far the busiest route is between Mandalay and the former capital Yangon, with a total of eight flights per day. Myanmar has three international airports: Yangon International, Naypyidaw International, and Mandalay International. Other popular domestic airports include Ngapali in Thandwe, Bagan in Nyaung-U, and Inle Lake in Heho.
Buses – the Cheap and Simple Option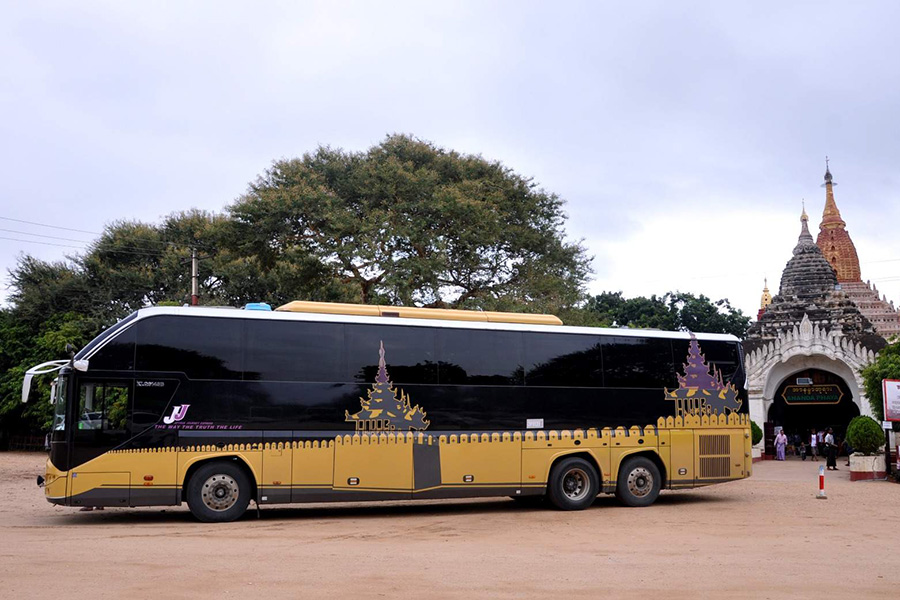 Buses are literally everywhere and for many, it is the main mode of transport to get to almost any part of Myanmar. Traveling by bus is the cheapest and simplest way to get around the country. If you can't hire a private car, hopping on a bus is your only way to get to certain areas.
Let's keep it real. The road conditions are far from ideal, especially in rural areas, and buses often break down. Many of the buses are actually reject vehicles from Japan. The seats can be uncomfortable, there is no TV and toilet, but the cost is low. The good news is that new VIP express buses are now being used on major thoroughfares, as the government continues to develop better provisions for tourists.