With around 40 million tourists visiting the country annually, Thailand is Asia's top travel destination and offers a myriad of places to visit. Home to pristine white sandy beaches, masterfully crafted temples, and rich cultural heritage, Thailand has something for everyone. A great thing about this amazing country is that in spite of the influx of foreigners, it's cultural integrity remains intact. Moreover, Thailand managed to avoid colonization yet it was able to imbibe Western influences while retaining its own rich heritage. It's tough to sum up the diversity of travel to Thailand. Bangkok, is a bustling metropolis with magnificent temples and splendid palaces, while the coastline of the Andaman Sea features picture-perfect beaches. Wherever you travel in Thailand, there's the 'scrumptious food and the friendliness of the locals. Read our Thailand travel guide that highlights what you can see and do in this beautiful nation.
Language
Thai is the official language and is spoken by the majority of the locals. It is sometimes referred to as the Siamese language which originated from Sanskrit, Old Khmer, and Pali. In the Islands, English is much more common because most of the people are in the tourism industry. Most of those who work in hotels, resorts and tour activities will be able to converse fluently with you. In Northern Thailand and in rural areas, you are likely to meet people who don't speak English. No worries though, a game of charades is an excellent way to get to know the locals.
Thailand Visa
Generally speaking, visitors to Thailand must secure a visa, unless they come from a visa-exempt country or a country whose nationals are eligible to secure visas on arrival. Thailand is currently offering visa-free travel to citizens of 64 countries and territories. Citizens of 18 countries can secure a visa on arrival. Travelers from the United States, United Kingdom, and those with European Union passport get a free 30-day visa when they enter Thailand by air and 15 days if they enter overland. Holders of ASEAN passport are given a free 30-day visa upon entry. Please note that more countries in Southeast Asia are now requiring tourists to show proof of onward flights before allowing entry so see to it that you make the necessary booking arrangements.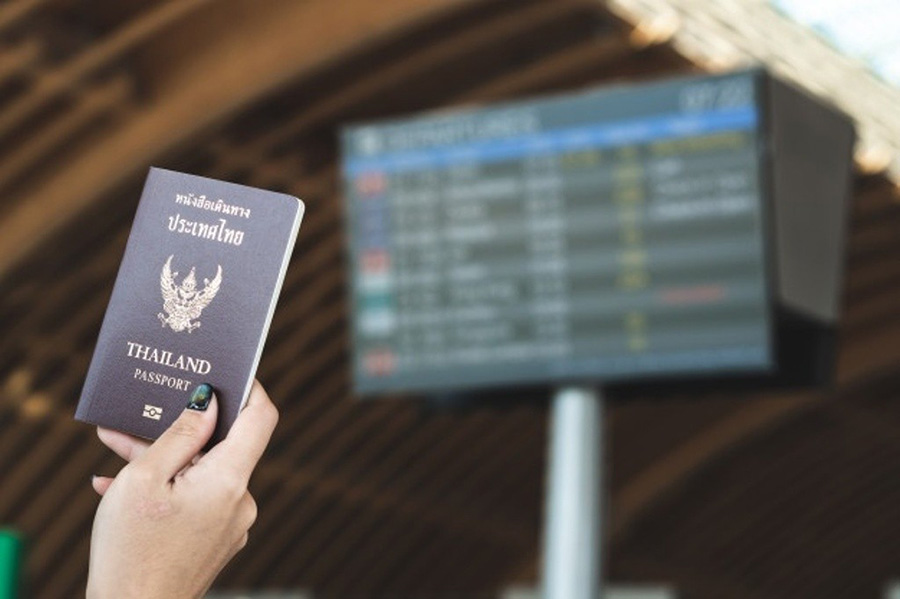 What to Pack for Your Trip
Thailand has different seasons, but in general, traveling around is fairly warm, with the exception of a couple of cooler months in Northern Thailand. Having said that, bring several cool and quick-dry clothing along with a few scarves for visiting temples. Aside from the usual travel essentials, make sure you bring along slip-on shoes, a good pair of travel sandals, a sturdy travel water bottle, sweater or sweatshirt, bug spray, sunscreen, sand-proof beach blanket, bathing suit, and an RFID travel wallet. In case you forget these items, you can easily find most of what you need, especially when you're in Bangkok, Chiang Mai, and Phuket.
When is the Best Time to Visit Thailand?
The weather in Thailand is divided into three seasons: rainy (from May–October) cool (November–February) and hot (March–May). The best time of year to visit is when the weather is cool and pleasant, roughly from November to February. During this period the temperatures are more manageable and there is less rain; the waterfalls are in full flow and the upland flowers are in bloom. Note, however, that it is also the busiest tourist season. If you plan to head north during this period, the temperatures can drop rapidly at night so bring warm clothing.
The rains usually pour between June and August, reaching its peak in September and October. The monsoon usually hit the northern region at the end of May. The rainy season is considered the off-peak or low season for tourists. However, it does not necessarily mean that those months are a no-go. Yes! there are some heavy downpours, but they don't last too long. In the hot season, you are best off going to the beach.
Things to See and Do in Thailand
Get Lost in the Hustle and Bustle of Bangkok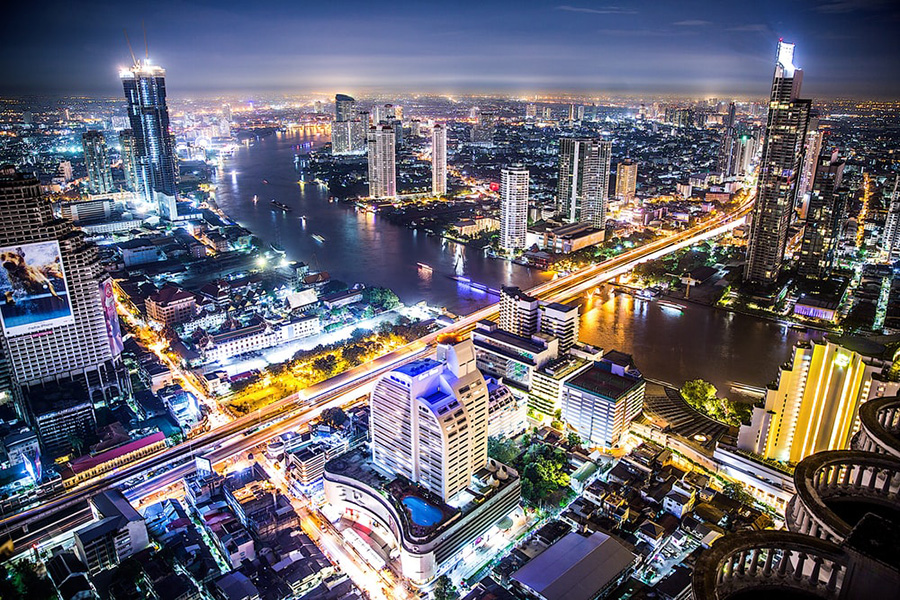 Most visits to Thailand start with Bangkok. This cosmopolitan city is the heart of the nation and is one of the most vibrant cities in Southeast Asia. In its historic center, you'll find majestic temples and scuttling canalside markets. Head downtown and you'll see a slew of skyscrapers and Insta-worthy bars and clubs.
If it's your first time in Bangkok, the city can overwhelm you! Try to ease into the metro by going on an organized tour so you won't have to go through the hassle of traveling all around by yourself. Here are a few recommendations: Ayuthaya Day Tour, Damnoen Saduak Floating Market & Maeklong Train Market Tour, and then treat yourself to scrumptious dinner on the 82nd floor of the Baiyoke Sky Tower so you can take in the spectacular view. When you are already settled down and enjoying the pace of the city, check out the following sites and activities:
Visit the famous Wat Pho Temple and the Grand Palace
Shop in the diverse Chatuchak weekend market
Explore Lumpini Park
Drop by Jim Thompson's House
Take in the view from Wat Arun
Visit the Royal Elephant Museum
Catch a performance at Patravadi
Spend a hip night out in Thong Lo
Visit the Temple of the Golden Mount
Head to the Dusit Zoo
Visit the Vimanmek Mansion
Go to the Bangkok Butterfly Garden & Insectarium
Visit Sea Life Bangkok Ocean World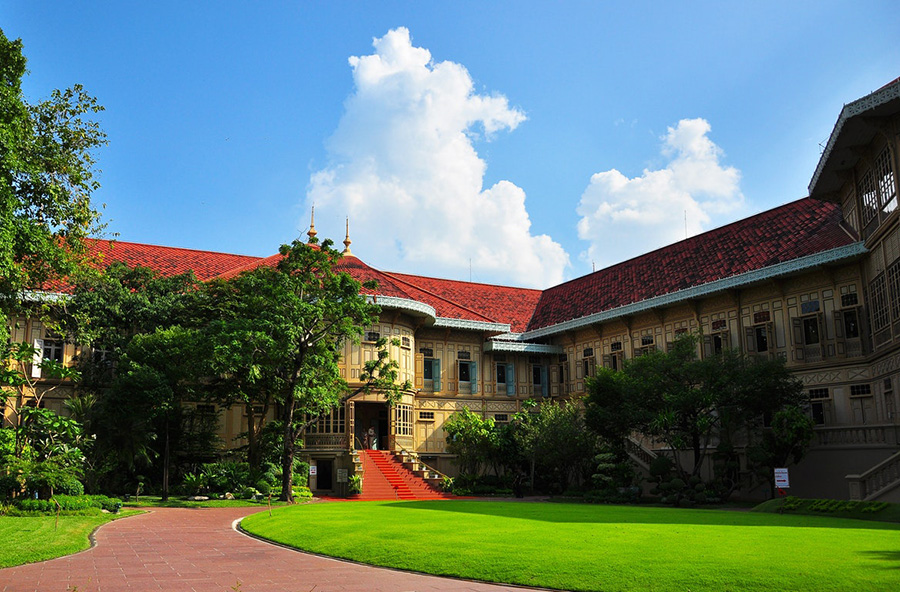 Go on an Adventure Around Chiang Mai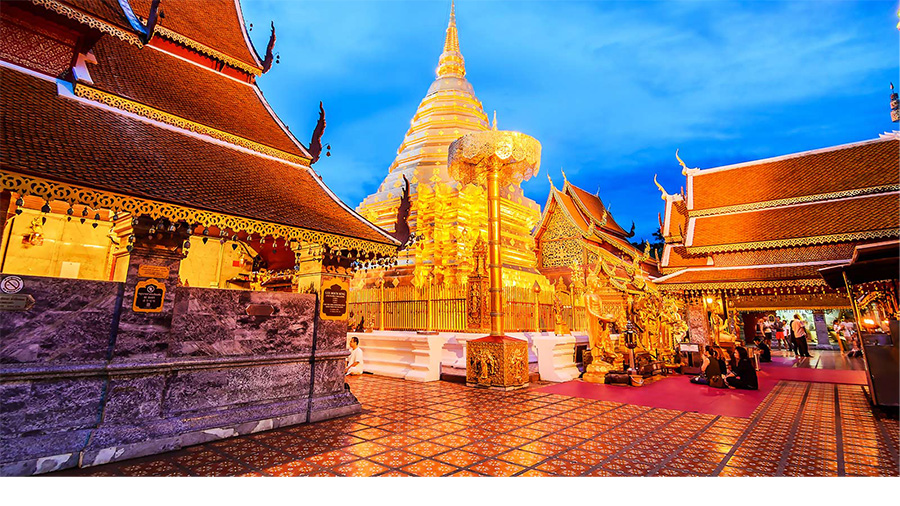 The cultural capital and transport hub of Northern Thailand, Chiang Mai is a haven for temple-spotters, culture geeks, and family travelers. This quaint city is littered with temples from the once autonomous Lanna Kingdom. It also has Thai handicrafts, cooking classes, and fine dining. It's a great place to hang out especially for those who wish to enjoy a break from the hustle and bustle of Bangkok.
Between its numerous ancient temples, mouth-watering street food, and fantastic hikes and treks, Chiang Mai has tons of things to offer. Cookery courses teach tourists the art of Thai cuisine, while the picturesque countryside boasts hill tribes, jungle treks and easy access to wonderful natural attractions. This old city offers superb dining experiences thanks to imports such as Burmese curries and Japanese sushi, plus an array of vegetarian fare home-grown specialties. In a nutshell, Chiang Mai is a melting pot of cultures, traditions, beautiful architecture, and of course, delicious food!
Here are some of the top things to do when visiting Chiang Mai…
Pay a visit to Doi Suthep
Explore Doi Inthanon National Park
Take a Boat Trip on the Mae Ping River
Experience the Loi Krathong Festival
Meet and greet the monks at Wat Phra Singh
Relax At Bai Orchid And Butterfly Farm
Check Out The Ruins Of Wat Chedi Luang
Discover the curative powers of the San Kamphaeng Hot Springs
Experience the Songkran festival
Go Island Hopping
With thousands of beautiful islands in Thailand to choose from, deciding on a route can be tough. It can be overwhelming so we decided to do much of the leg work for you and included in this travel guide which islands to go to so you don't miss out on the best ones.
Top Islands in the Andaman Sea
Phuket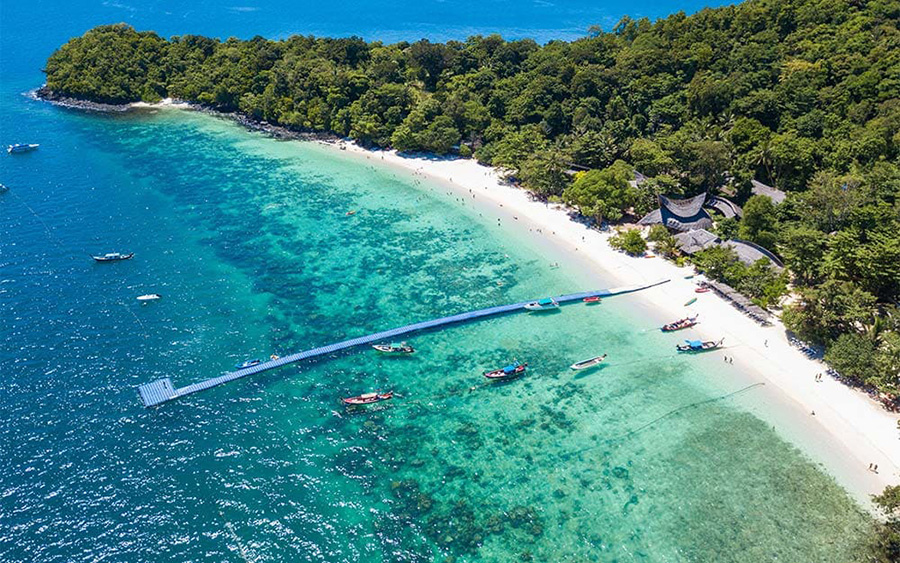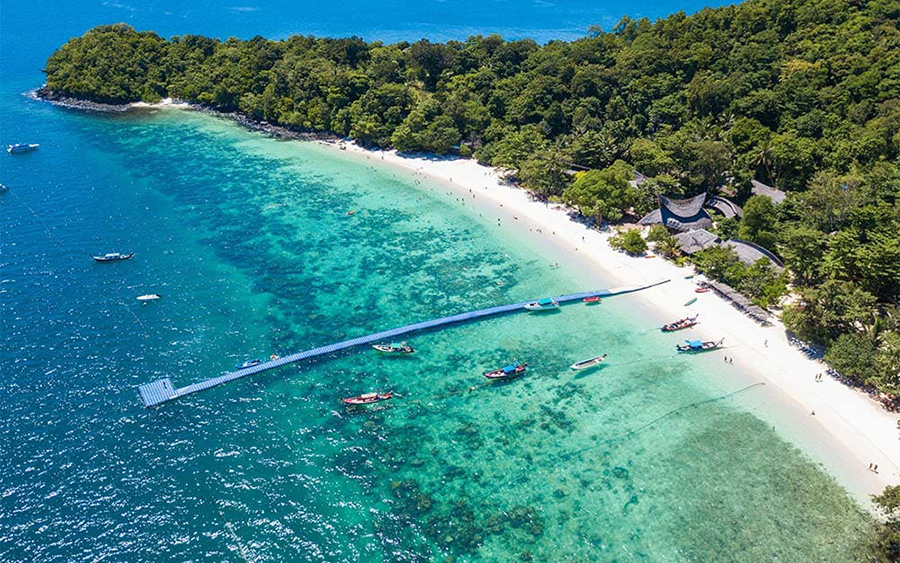 Phuket is the biggest and busiest island in Thailand. It's also one of the world's best destinations, with powdery white sands, stumpy palm trees, emerald waters, and bustling towns. Every island has beaches, but none can compare to those in Phuket. The island is blessed with over 30 fabulous beaches, with Kamala, Karon, Kata and Patong being the most popular. Phuket City, the capital, has buzzing markets and old shophouses. Patong, the main resort town, boasts a number of chic bars, discos, and nightclubs. Head north of the island and you'll find some hidden gems that make for a more romantic atmosphere.
The natural beauty of this rainforested, mountainous island cannot be rivaled, the high-end seaside resorts are so inviting, and the Thai food is just as pleasing as the island's rich history. Phuket has something for everyone, with hundreds of hotels to choose from, and a wide variety of dining and partying options. The dichotomy between luxury and low key, busy and blithe, and nature and adventure will make you fall in love with this remarkable island.
Koh Phi Phi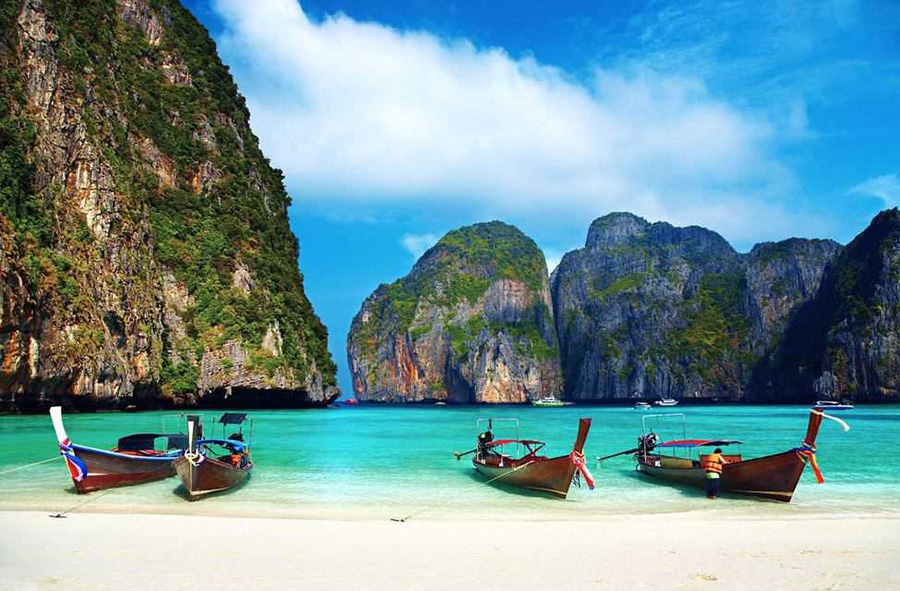 This is another of Thailand's island-superstars. It's most popular as the setting for the critically acclaimed film The Beach, starring Leonardo DiCaprio and directed by Danny Boyle. Amidst all the hype and fanfare, the island doesn't disappoint. It is unspeakably gorgeous, especially where the rolling mountains meet the clear turquoise waters of the Andaman Coast. Koh Phi Phi actually consists of two islands: Koh Phi Phi Don and Koh Phi Phi Leh. Only the former is inhabited and it has all the accommodation and amenities. The latter is home to the world-renowned Maya Bay and receives hundreds of tourists on day trips. Unfortunately, the island has been closed for repair and renovation since October 2018 and will likely remain so until 2021.
Koh Lipe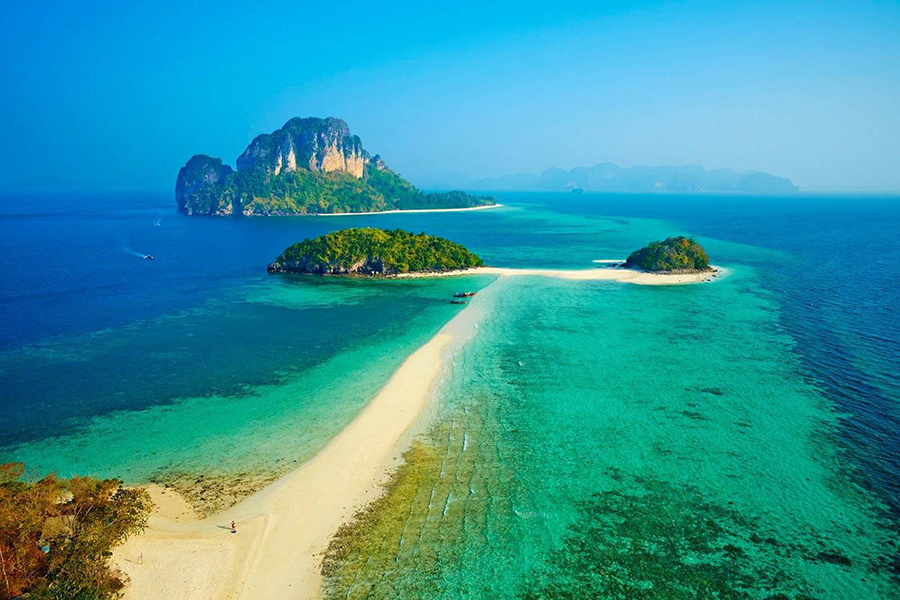 Fastly becoming one of the tourists' most favorite islands in Thailand, Koh Lipe offers clear turquoise waters, paradisiacal local cuisine, and a sense of serenity that is truly unique. Known as the Maldives of Thailand, this L-shaped island is a part of the Adang-Rawi Archipelago, located on the outskirts of the Tarutao National Marine Park. It has three popular beaches namely Sunrise (east), Sunset (west), and Pattaya (south). Just a stone's throw away from these pristine beaches are famous dive sites including the Yong Hua Shipwreck and the 8 Mile Rock pinnacle. What's particularly great about Koh Lipe is that it hasn't been ruined by over-tourism and you can explore it all year round.
Top Islands in the Gulf of Thailand
The Gulf of Thailand is a shallow inlet in the western section of the South China Sea. This region is hot, but the warm weather comes with certain perks such as living a simple life on one of the dazzling islands. To get here, you can take a bus from Bangkok to Pattaya, and then take a ferry to whichever island you wish to visit. For Koh Chang, it's best to go from November to February, but for the rest of the islands you can pay a visit until the end of April.
Koh Chang
Koh Chang is the third largest island in Thailand and also widely considered as one of the best for tourists. Bohemian and laid back, it features lush forests, friendly local people, delectable dishes, and some of the most beautiful beaches with stunning sunset in the Gulf of Thailand has to offer. Once you arrive, you will understand why it is such a tourist magnet. A big plus is that the island has not been over-commercialized though it is very popular.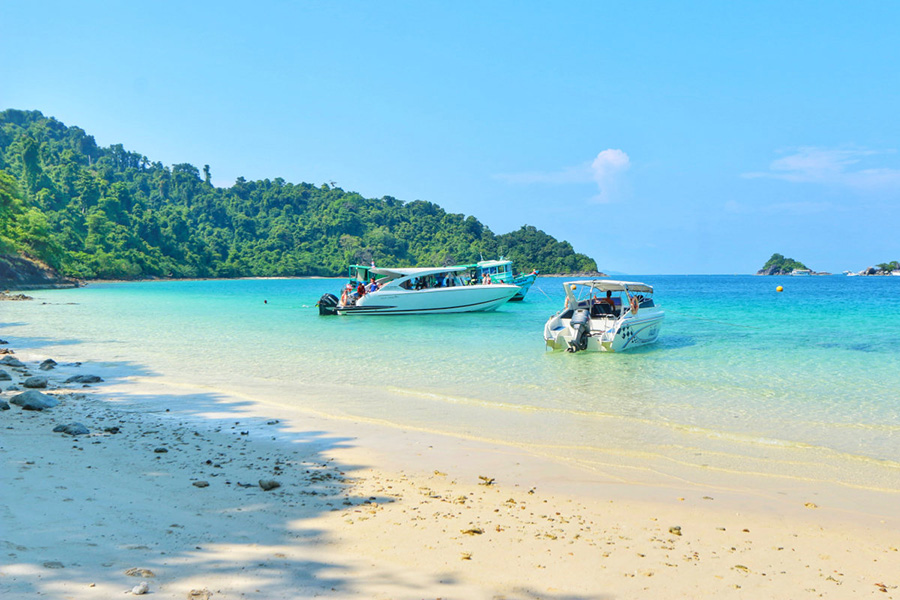 Koh Samet
Named after the 'Samet' trees that thrive on the island, Koh Samet offers all the key elements that make for a fun-filled holiday getaway – crescent bays with powdery white sand, turquoise blue sea, tons of water sport activities, and a pulsating nightlife. The Thai government restricted overnight stays on Koh Samet up until 1981. Since then, the island's nightlife has flourished and cliff-top resorts sprung up like mushrooms. A mere 15-minute speedboat ride from the mainland, it has significantly less rainfall than most other Thai islands, making it the ideal destination to visit all year round.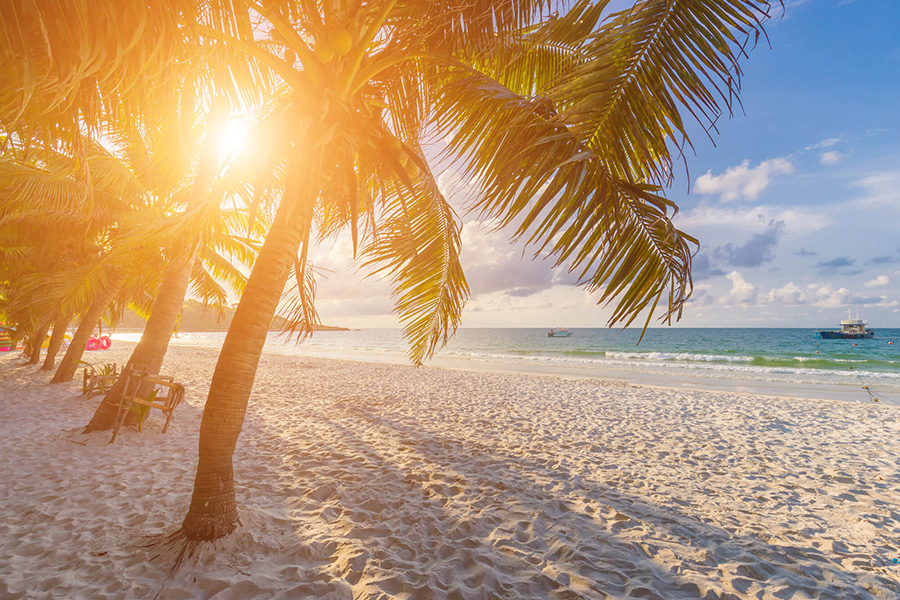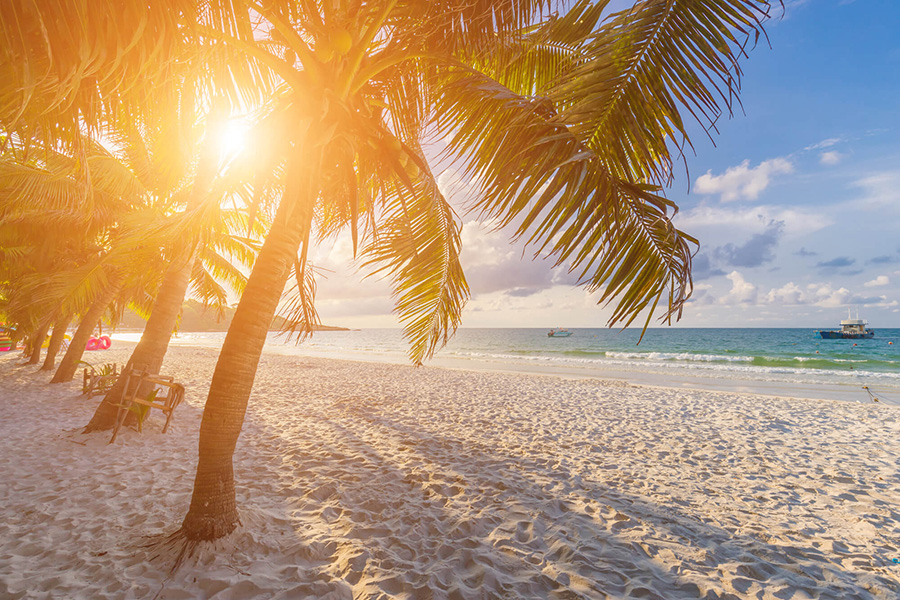 Koh Mak
If you want a laid-back setting along long stretches of white sand beaches, then Koh Mak is the perfect place to visit. Because it is relatively underdeveloped, there will be no fancy bar or any kind of buildings. It is like Thailand from 20 years ago! With its quiet coasts, this tropical island is therefore perfect for families and couples looking for a romantic and secluded vacation. The island is a well-kept secret for most tourists so it's great if you don't want to follow the big crowds.
Top Islands in Surat Thani
Surat Thani is the largest of the southern provinces of Thailand. It is divided into 19 districts that include many islands in the Gulf of Thailand. Some of which are well-known as the most unique islands in the country because of their hidden waterfalls, budding gastronomy scene, and one of the biggest parties on the planet! It is best to visit between December and April because the region receives the least amount of rain.
Koh Samui
This island city is a cosmopolitan melting pot that attracts travelers for extended stays, from beachside bungalows to one of the many luxury resorts or villas on the white sand beaches. From the lively yet laid back atmosphere of Lamai Beach to the hustle and bustle of Chaweng Beach and the timeless appeal of Bophut's Fisherman's Village, Samui is absolutely unique among the Thai islands. It has you covered, whether you want to bask in the sun, doze in a hammock, feast on world-class cuisine, go beach partying or discover wellness in an exclusive spa. With adventure around every corner, the island is perfect for a romantic honeymoon, a chilled-out getaway, and everything else in between.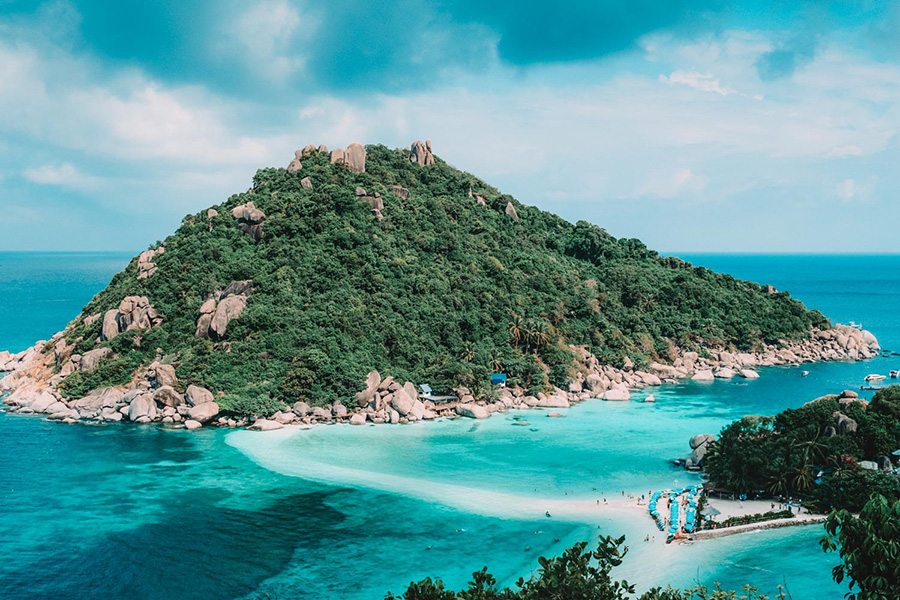 Koh Phangan
Popular for its monthly Full Moon Party, the beer-infused festival on the beach that draws thousands of travelers from across the globe, Koh Phangan is easily the wildest of all the Thai islands. The neon-heavy, night-long celebration draws 10,000 to 30,000 dreadlocked revelers to the island's southeastern peninsula, with most of the festivities centered on Sunrise Beach. There's much to Koh Pangan though and if partying isn't your thing, venture out of the social hotspots and explore the island's bustling night markets, waterfalls, semi-hidden coves, and temples between jungle treks.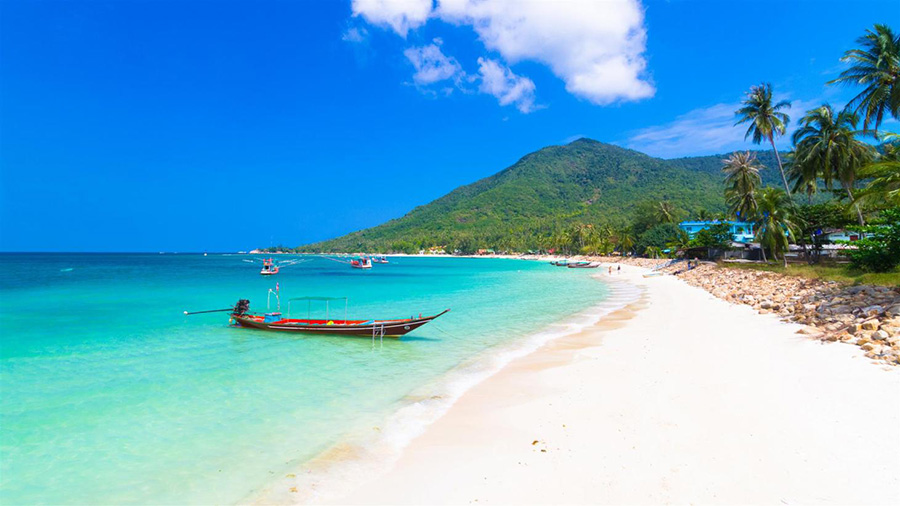 Koh Tao
Koh Tao, meaning 'Turtle Island' – definitely lives up to its name as it has emerged as the premier scuba diving destination in Thailand. It's warm shallow water is perfect for newbies wanting to get their PADI license. The underwater scenery is highlighted by tropical coral reefs and a variety of marine species including rays and whale sharks. Green and hawksbill turtles also gather here to breed. This hilly 21 km² island was only fully explored in the early 1980s, but it has developed rapidly and now hosts restaurants, nightspots, and a wide selection of hotels, from budget beach bungalows and guesthouses to five-star luxury resorts.
Top Attractions in Thailand
Historic City of Ayutthaya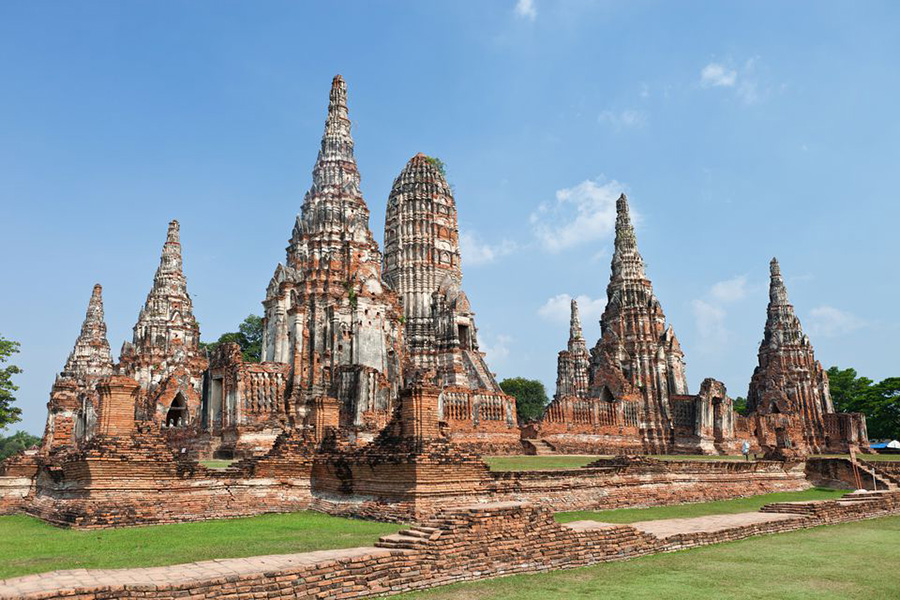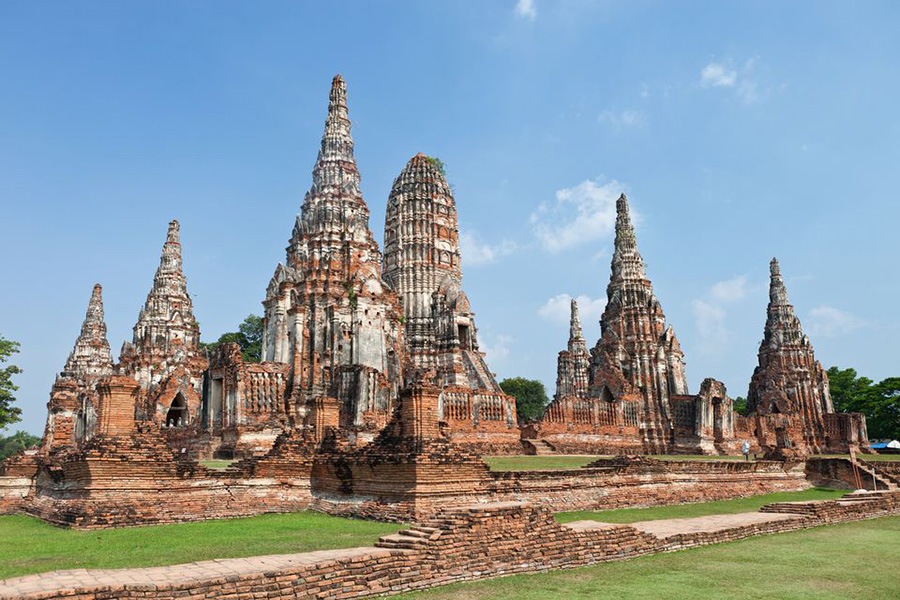 This once affluent Siamese political and trade capital is considered as the most magnificent as well as the most ravaged city in the history of Thailand. Still, tourism is thriving, as the metropolis is buzzing with tales to tell. Founded in 1350, it served as the second capital of the Siamese Kingdom. It prospered from the 14th -18th centuries, when it became one of the biggest and most cosmopolitan urban areas in the world, and a center of global commerce and diplomacy.
At the heart of Ayutthaya is the Ayutthaya Historical Park which was declared a UNESCO World Heritage Site in 1991, and the most visited site in the area. The park sits on an island enclosed by three rivers where four majestic temples of the early Ayutthaya period stand amidst a dense canopy of ancient trees. To the west lies the Royal Palace and the Royal Chapel – the political and spiritual center of the bygone kingdom.
Apart from understanding Ayutthaya's rich history and exploring its breathtaking temples, your trip can be made extra special with something more recent as regards to the cultural contexts like the Ayodha Floating Market, the Ayutthaya Boat Museum, the Bang Sai Royal Folk Art and Crafts Center, and the Krirk Yoonpan's Million Toys Museum. The city's proximity to Bangkok makes it a popular destination for tourists from the capital.
Grand Palace
This architectural marvel is the busiest tourist stop in Bangkok. Its 2.35 million square feet of space encompasses over 100 structures that represent 200 years of royal history. The grounds are literally swarming with tourists who crave for some Thai history and culture. Considered as the birthplace of Bangkok, the palace forms part of a larger complex that also includes the hallowed Wat Phra Kaew temple which is home to the famous Emerald Buddha. The palace was constructed in 1782 and for 150 years it served as home for the King of Thailand, the Royal court and the administrative seat of government. Today, it is exclusively used for ceremonial occasions.
Travel Tips: Dress in long skirts/trousers and sleeved shirts (no tank tops). If you're wearing flip flops or sandals, you must wear socks (no bare feet.). Guides can be hired at the ticket kiosk. Tickets are sold from 8:30 am to 3:30 pm and the price includes entry to the Abhisek Dusit Throne Hall and Vimanmek Palace.
Jim Thompson House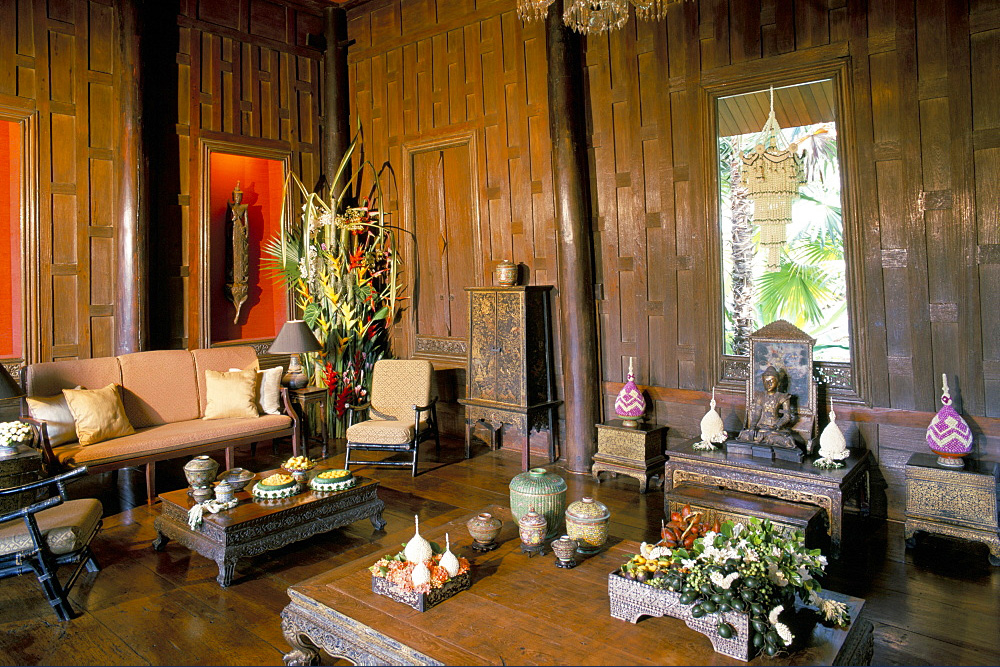 This is the former home of James Harrison Wilson "Jim" Thompson, the American entrepreneur and art collector who founded the world-renowned Jim Thompson Thai Silk Company. Born in Delaware in 1906, Thompson served briefly in the Office of Strategic Services in Thailand during WWII. After the war, he settled in Bangkok where he developed a passion for Southeast Asian art and antiques. His interest was piqued by his neighbors' handmade silk and he later decided to send samples to fashion houses in London, Milan, and Paris. Over time, he managed to build a steady worldwide clientele and was ultimately acknowledged as the man who revitalized the silk industry of Thailand. Thompson's house is now home to a magnificent collection of Asian and Southeast Asian paintings, ceramics, sculpture and object d'art.
Wat Pho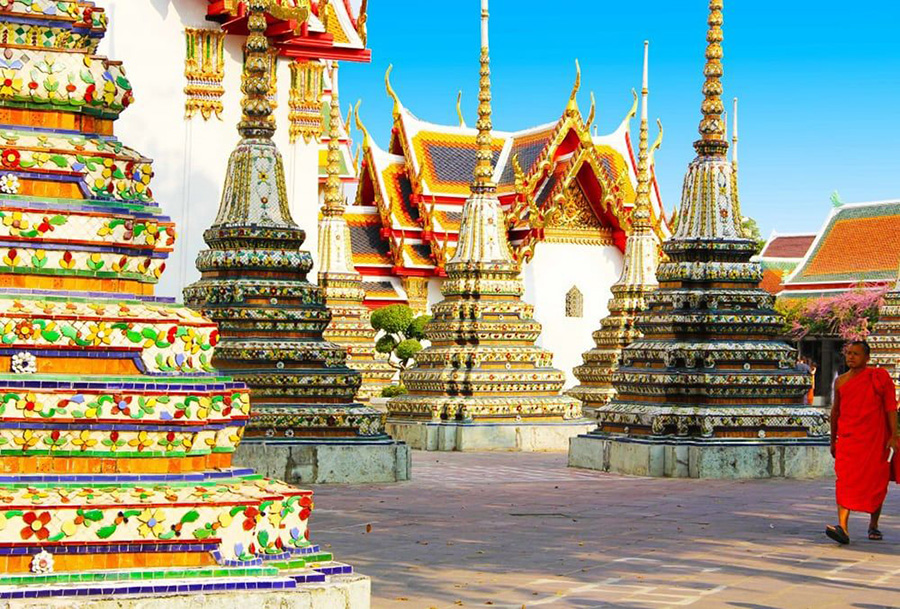 This is the biggest and oldest temple complex in Bangkok. It's famed for its enormous reclining Buddha that measures 15 meters high, 46 meters long and covered in gold leaf. Hence, it is also known as the "Temple of the Reclining Buddha". Wat Pho is a must-see for first-time visitors in Bangkok because it features a host of superlatives including the first public university in Thailand and the country's largest collection of Buddha images. After a stroll around the complex, try to get a soothing foot or head and shoulder massage. Wat Pho is the birthplace of Thai massage so it will be a good idea to experience it, especially if you've never tried it before.
Travel Tips: The temple complex is open daily from 8 am to 6:30 pm. The reclining Buddha is revered image, all visitors must take off their shoes before entering the temple. A strict dress code also applies: no exposed shoulders or skin above the knee.
Sukhothai Historical Park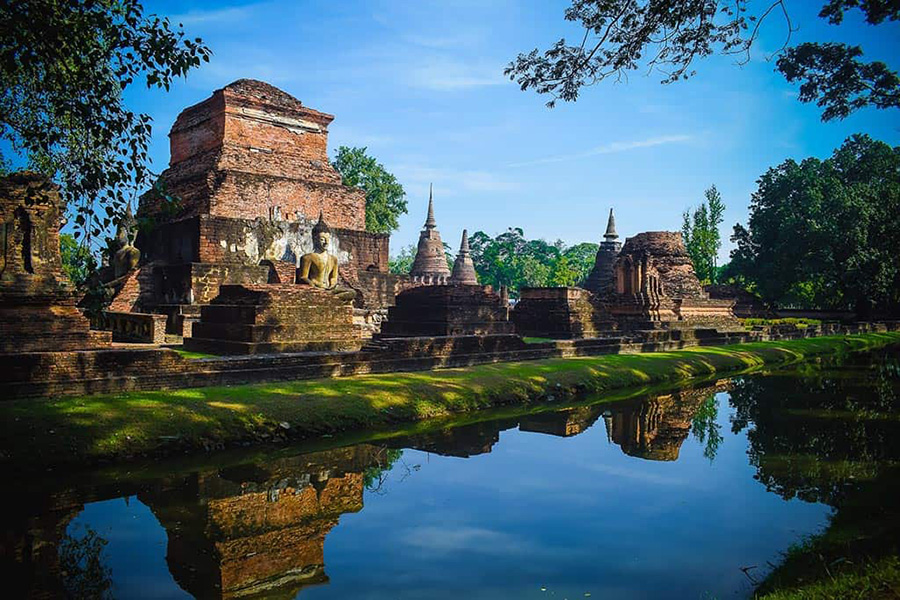 This walled city houses the ruins of Sukhothai, the capital of the Sukhothai Kingdom in the 13th and 14th centuries. The entire city is surrounded by a moat and walls fringing an area of 2 km long and 1.6 km wide. There are 193 ruins, including the remains of 21 historical sites, on 70 km2 of land. The park is highlighted by the remains of the royal palace and 26 temples, the biggest being Wat Mahathat. The whole compound is maintained by the Fine Arts Department of Thailand with assistance from UNESCO, which declared it a World Heritage Site in 1991.
Travel Tips: The park opens daily from 8:30 am to 6 pm. It consists of five zones that each charge an entrance fee of 100 Baht. Cars and motorbikes are no longer allowed inside the park. Some of the most impressive ruins are located outside the city walls, so you may need to rent a bicycle to fully appreciate everything. Electric buggies can also be rented to get around and free maps are available at the ticket office.
Erawan National Park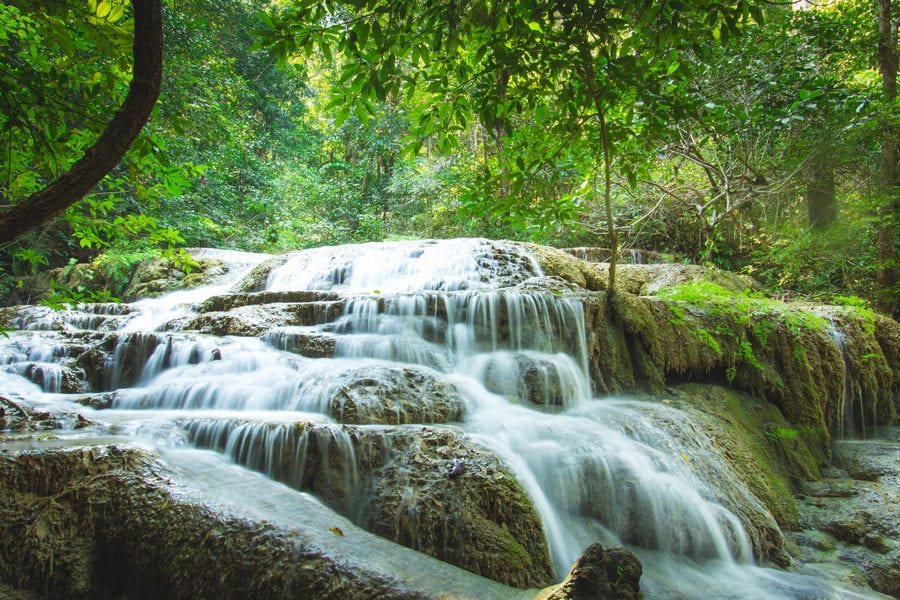 This very popular 550-sq-km park is located in the Tenasserim Hills of Kanchanaburi Province. It was founded in 1975 and became the 12th national park in Thailand. The highlight of the park is bathing in the emerald-green pools under the seven-tiered Erawan Falls, a waterfall named after Erawan, a three-headed white elephant of Hindu mythology. Conquering the first three tiers is easy, but for the succeeding ones, you'll need walking shoes and some endurance to complete the 2-kilometer hike.
There are several caves in Erawan National Park, but four are worth noting: Mi, Phartat, Reua, and Ta Duang. You can visit them and escape the crowds near Erawan Falls by taking a ranger-led hike on the Khao Hin Lan Pee Trail which takes you through the forest to the fifth tier of the falls.
Travel Tips: Bring a swimming costume and beware of monkeys as they have been known to snatch swimmers' belongings. You can't bring food beyond level two and while water bottles are allowed, you'll need to register them and leave a 20-Baht refundable deposit.
Wat Phra That Doi Suthep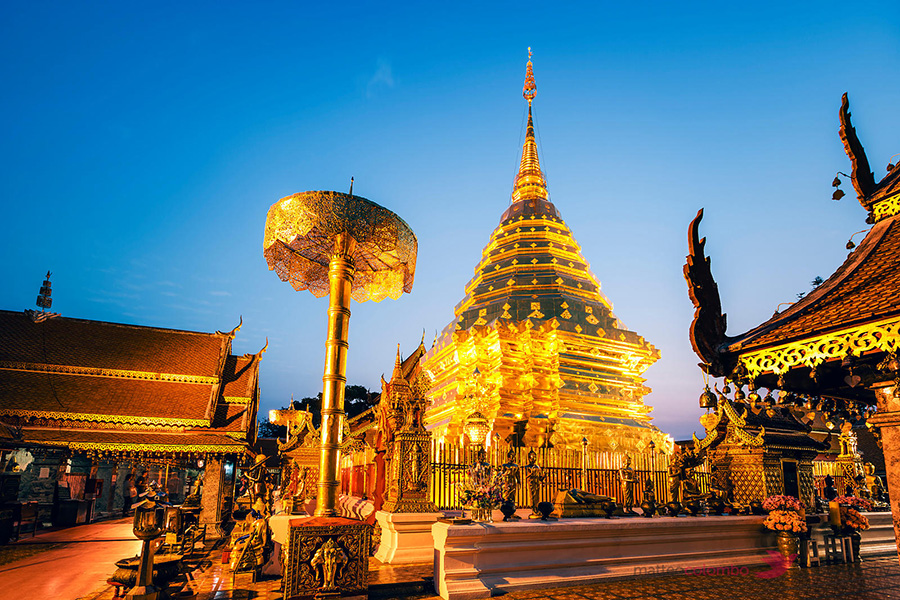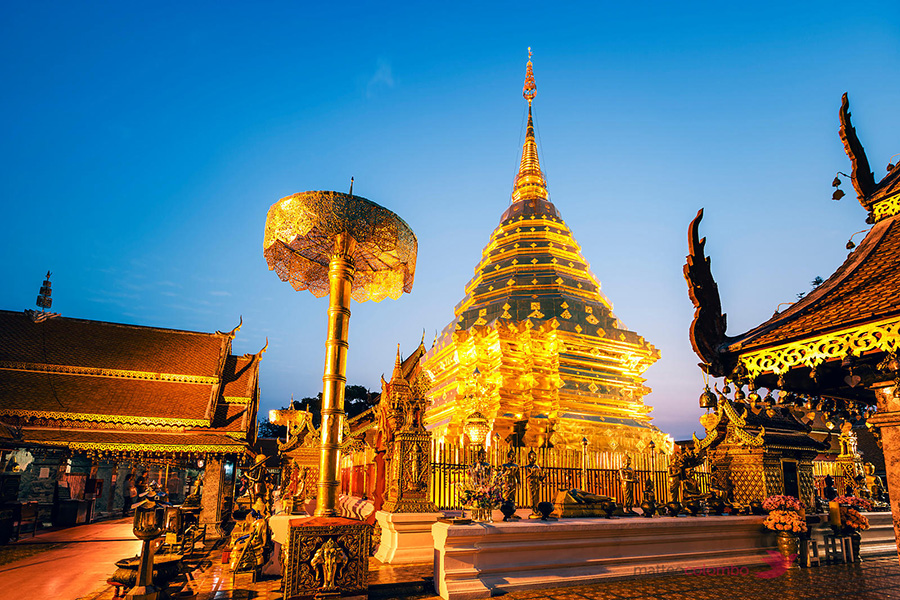 Overlooking Chiang Mai from its mountain throne at an elevation of 1,073 meters, Wat Phra That Doi Suthep is one of the most sacred temples in Northern Thailand. Construction of the temple started in 1386 and legend has it that it was built to house a bone from Gautama Buddha's shoulder. Unfortunately, the bone broke into two pieces. The smaller fragment was enshrined at Wat Suan Dok, while the other was placed by King Nu Naone of Lan Na on the back of a sacred white elephant which was released into the jungle and climbed up Doi Suthep. The elephant stopped near the summit and trumpeted three times, then it gently laid down and passed away. The spot where it lay became the site where Doi Suthep temple was founded.
Travel Tips: Entrance to the temple costs 50 Baht. Once inside the temple grounds, you must remove your footwear and be appropriately dressed. The area can get very busy, so try to time your visit as early as possible during the day. The temple also has a meditation center where you can learn and practice meditation.
Khao Sok National Park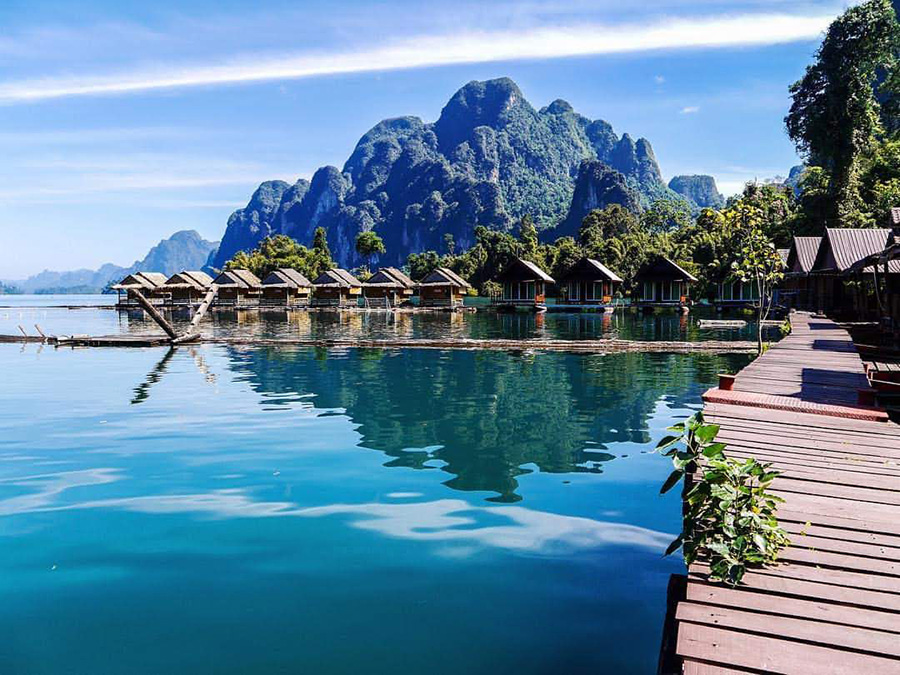 Covered by the largest expansion of virgin forest in Thailand and the world's oldest evergreen rainforest, Kao Sok National Park is perfectly located on the mainland between Phuket, Krabi, and Koh Samui, the most sought after destinations in Southern Thailand. But if you've had your fair share of beach-bumming, venture inland to the 738-sq-km park and immerse yourself in the natural beauty of Thailand.
Khao Sok's expansive terrain makes it one of the last suitable habitats for large mammals. More than five percent of the animal species in the world can be found in this park, which also features soaring waterfalls, networks of dirt trails, and a beautiful lake. During the rainy season you may spot bears, boars, gaurs, gibbons, tapirs, wild elephants and if you're lucky, even a tiger. You'll also find more than 300 species of birds, 38 species of bats, and the world's largest flower, the Rafflesia kerrii.
Travel Tips: Animal spotting aside, the best time to visit is during the dry season which runs from December to April. During the monsoon season (June to October), the trails get slippery and there are plenty of leeches. Plan your trip well because there are lots of things to do and the park is extremely vast.
What to Eat in Thailand
Any visit to Thailand won't be complete without a taste of its world-famous dishes. Aside from being aromatic, Thai cuisine is also characterized by a unique mix of flavors and textures as it perfectly blends the five essential flavors: sweet, salty, sour, spicy, and bitter.
Thai food is one of the major reasons for the nation's popularity with tourists. The capital Bangkok and the city of Chiang Mai are the primary culinary centers, offering the best gourmet selection from street food to the delectable dishes served at the finest Thai restaurants. Make no mistake about it though, you can enjoy a gastronomic treat in even the smallest and remotest towns, many of which offer specialties. Let's break it down region by region…
Food in Northern Thailand
In the north, much of the food differs from the rest of Thailand because of the region's distinct climate, which is generally cool, making it ideal for a number of different herbs and vegetables. The food also bears the culinary influence of neighboring countries like Laos, Myanmar, and even China. The two flavors that are present in most dishes are bitter and sour. Note that seafood is not in abundance in this region so the food is not salty.
Khao niaow, meaning *sticky rice, is the staple of the diet in the north, instead of white rice. One of the most popular dishes to pair khao niaow with is som tum* (papaya salad). Noodles are also common in the region. Khao soi, one of Thailand's most popular dishes, has a mix of deep-fried crispy egg noodles and boiled egg noodles. Some of the other more popular dishes in the region include gaang hang lair (curry), larb (meat salad), and sai oua (sausage).
Food in Central Thailand
The cuisine in Central Thailand is by far the most unique. The region draws culinary influence from all of its surrounding geographic neighbors. The specialties from both Northern and Southern Thailand are often used in central Thai cuisine, so chefs and cooks are able to tweak dishes since many of the ingredients are readily available. Thai meals here usually consist of four to five different courses, including a type of soup, a curry, a fried dish, a spicy salad, or some type of vegetable. In Bangkok, the locals normally order a signature Thai dessert to go along with this full course. Some desserts in this region you definitely should try are thong yip and thong yod, which are popular for supposedly bringing good luck to the diner.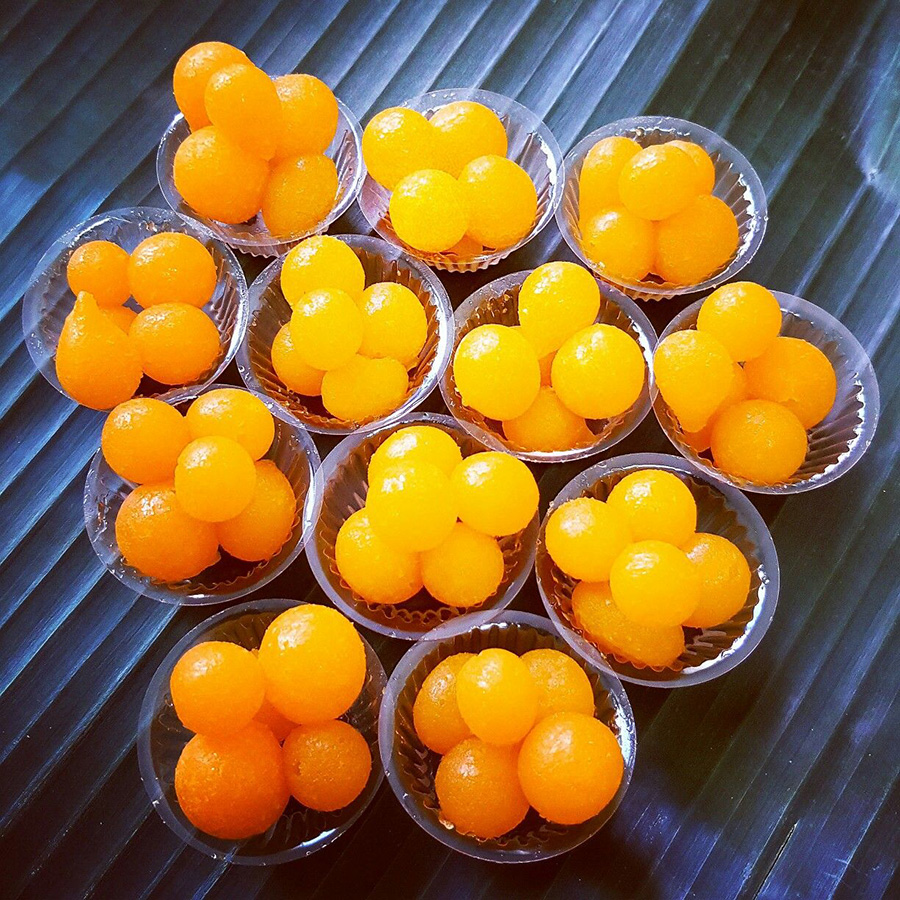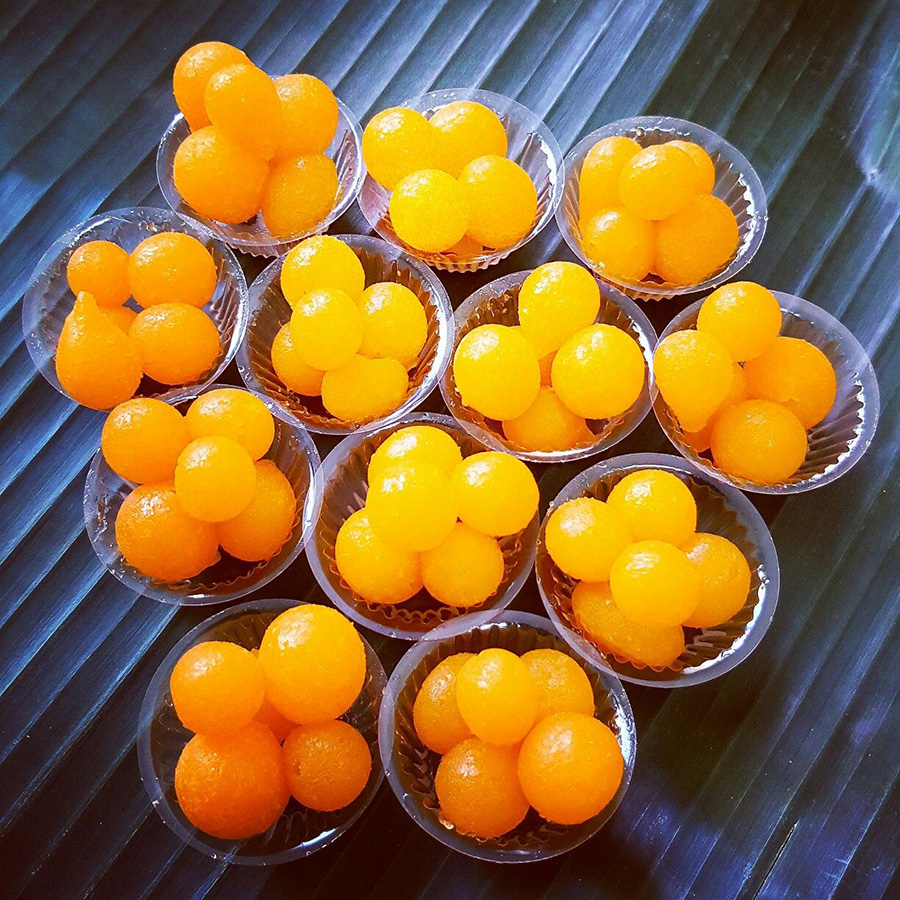 Food in Southern Thailand
As you head to the South, the food changes as radically as the landscape. Fish sauce is commonly used in most of the dishes. The cuisine in this region is often overlooked when compared to the dishes in the north, but its salads, soups, and spicy curries give its central and northern counterparts a run for their money. If you are fond of intense flavor, please don't hesitate to visit Southern Thailand with a wide variety of seafood. The dishes here are not only the saltiest but also the spiciest.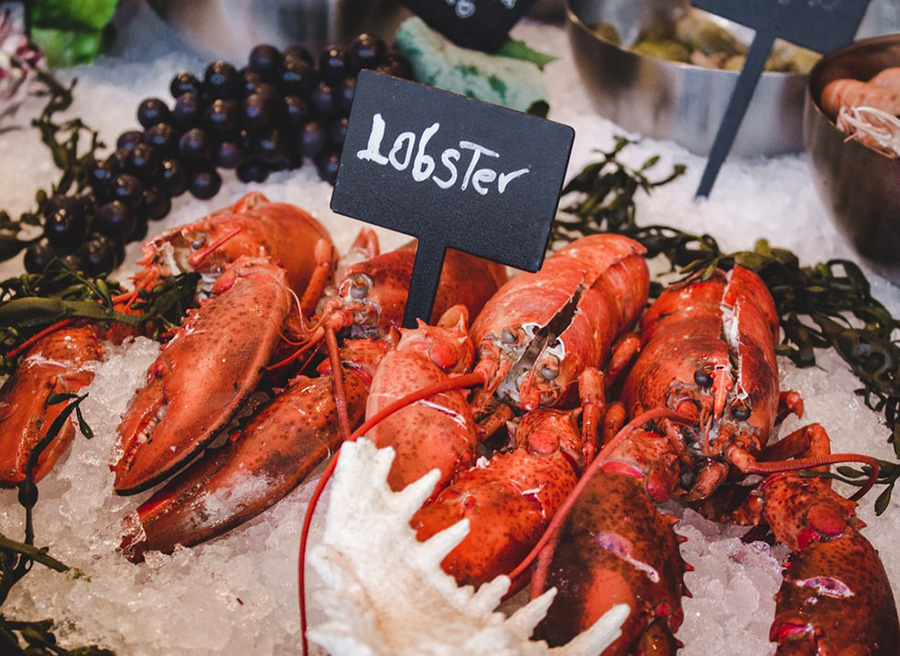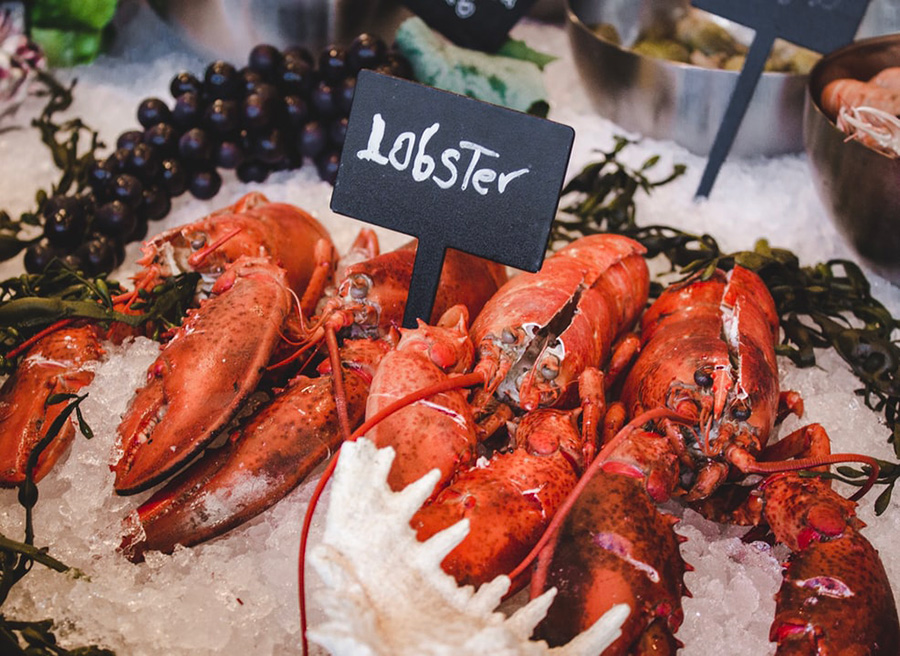 Curries are very popular in Thailand, but the most scrumptious ones are found in the south. The curries here are very thick, flavorful, and remarkably spicy. This region also draws upon flavors from neighboring countries. For instance, it uses flavors and ingredients from Indonesia and Malaysia. Coconut is likewise used in most dishes as it is readily available. Coconut milk is used in cooking some of Southern Thailand's signature dishes, including soups and curries. It is often used as an alternative to different types of cooking oils, and it makes the dishes creamier and thicker. Aside from coconuts, pineapples also thrive in the climate, making them a common ingredient in dishes as well.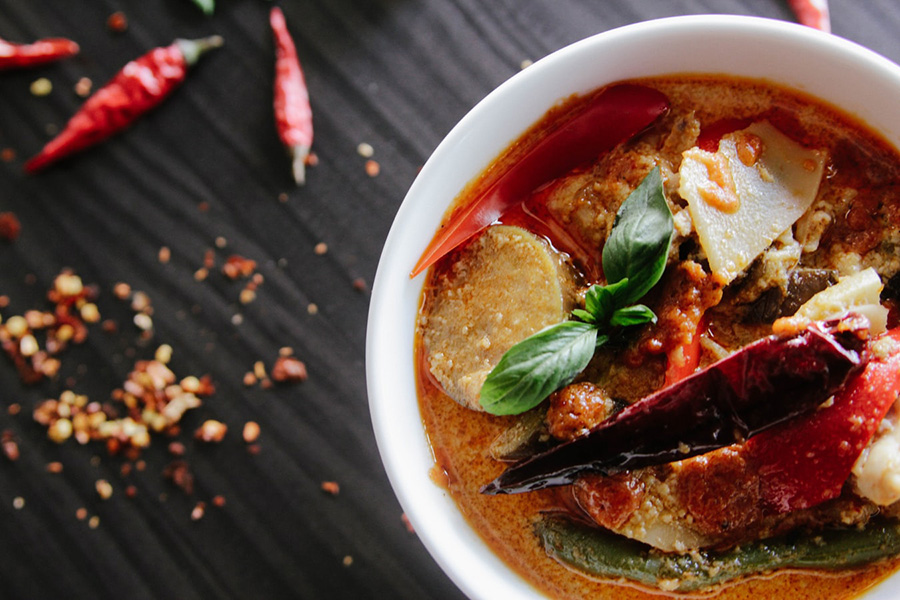 Getting Around Thailand
There are always a lot of options when it comes to travel logistics so there's no need to worry. You can book a trip either at the reception desk of your hotel or travel agencies. They can take care of your needs so there will be easier for you to have combination tickets including transfers.
Traveling around Thailand is generally cheap and efficient. The country has different modes of transport that come in different shapes and sizes. However, these sizes and shapes often vary in smaller towns and cities compared to those in Bangkok. Anyway, this travel guide covers everything from the world-renowned Tuk Tuks to trains, inter-town buses, and Songthaews.
The Popular Tuk Tuk
The tuk-tuks are the most indigenous mode of transport in Thailand. They are the 3-wheeled motorized rickshaws that you usually see in travel-related photos of Southeast Asia. These vehicles are unique to Thailand and have become one of its national icons. The drivers give their beloved vehicles colorful paint jobs and decorate them with dangling trinkets to make each one unique. They give tourists a sense of adventure and make for some Insta-worthy photos. Note that because of their popularity among tourists, the fare in a tuk-tuk is often the same or more expensive than in metered taxis. But if you can, you should certainly take at least one ride during your visit in Thailand.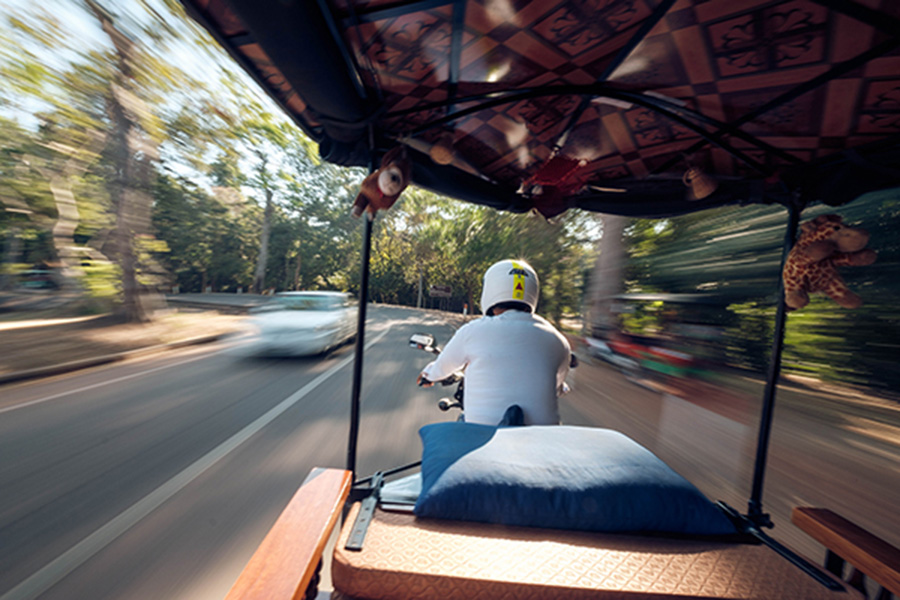 Inter-Town Buses
Buses are one of the cheapest and most convenient means to get around Thailand. They come in four categories in terms of cost, speed and level of comfort: ordinary buses (not air-conditioned and usually orange-colored) and three types of air-conditioned bus (usually blue); second-class, first-class and VIP.
Ordinary and a number of air-con buses are operated by a government-controlled transport company called Baw Khaw Saw (BKS), while privately owned air-con buses also ply the most popular long-distance routes. On most routes, including almost all trips leading out of Bangkok, second class air-con buses have already replaced ordinary buses as the primary workhorses of Thailand's bus system, although there are still plenty of the latter plying shorter routes in the more remote areas of the country.
First-class and VIP ****buses offer express services with fewer stops. These are the best option for long-distance trips because passengers are allotted specific seats, there's a toilet, and on the longest trips passengers are given snacks, blankets, and nonstop DVDs. The first-class buses have fewer seats and more legroom than second-class. VIP buses have the least number of seats and the most legroom.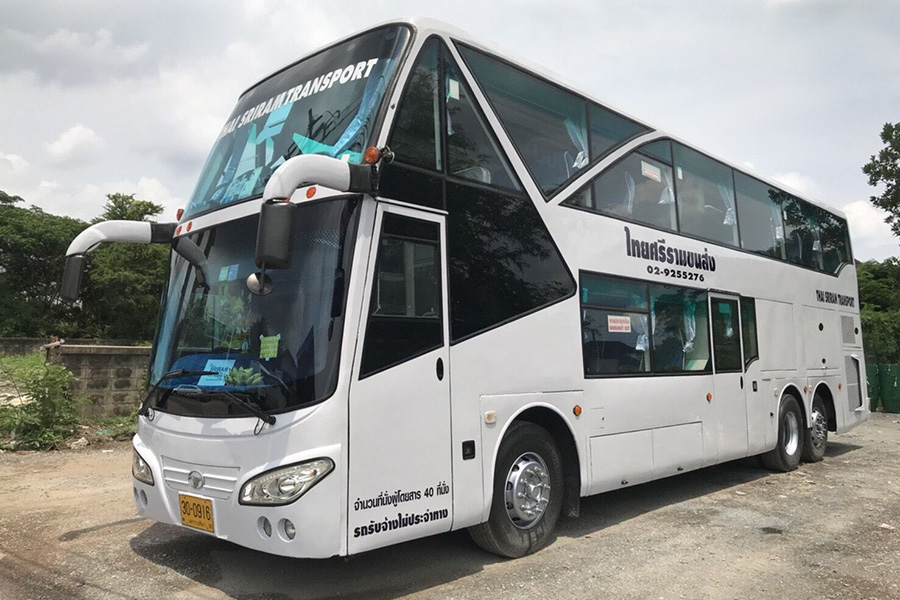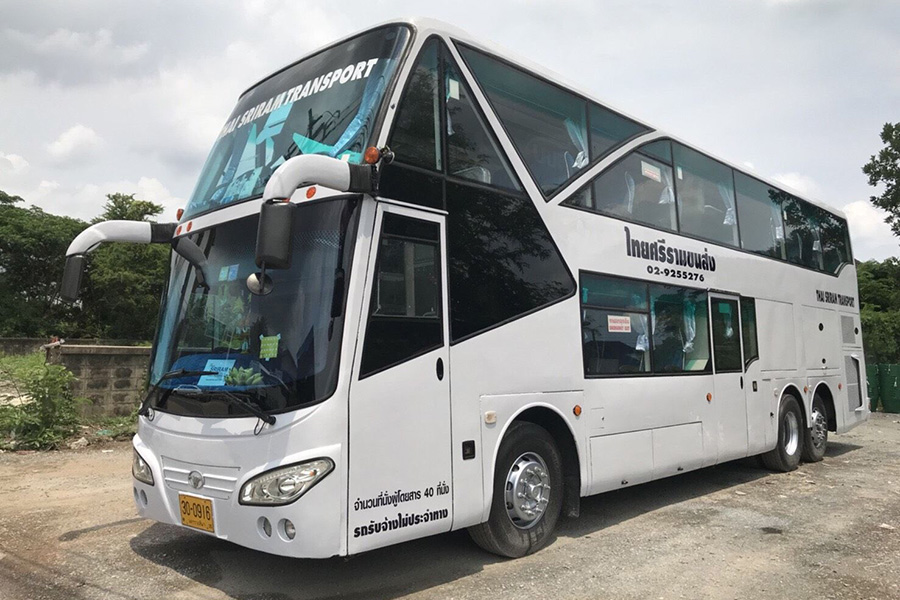 Songthaew and Air-conditioned Minibuses
In the rural areas, buses are often supplemented by songthaews, which are open-ended vans or pick-up trucks onto which the drivers pack as many passengers as possible on two facing rows of seats. If you don't mind waiting 10-15 minutes for a ride, then this is an excellent mode of transport and it's a cheap way to get from one side of a town to the other. In most towns, the songthaew 'terminal' is located near the market. If it's time for you to get out, just press one of the stop buzzers on the roof and the driver will pull over for you.
In the deep south, the major towns are connected by the so-called 'share-taxis', although they are being replaced by air-conditioned minibusses. They cover the distance faster than full-size buses, but they can be uncomfortably cramped when full. Hence, they are not ideal for travelers with large luggage or rucksacks. In most cases, long-distance songthaews and air-conditioned minibusses drop off passengers at the exact address if the drivers are informed far enough in advance.
Trains
Thailand has one of the world's best meter-gauge railway system. Traveling by train is easy to get around and explore the country. It's cheap, comfortable, and safe. Unlike taking a bus or a flight, it is a genuine Thai experience that makes the journey a part of your trip as much as the destination.
The rail network of Thailand is composed of four main lines. The Northern Line links Bangkok to Chiang Mai via Ayutthaya, Lampang, Lopburi, and Phitsanulok. The Northeastern Line divides splits into two after Ayutthaya, with the more northerly branch connecting Bangkok to Nong Khai via Khon Kaen and Udon Thani. The lower branch runs eastwards to Ubon Ratchathani via Khorat and Surin. The Eastern Line also has two branches, one links Bangkok to Pattaya and Si Racha, while the other runs from Bangkok to Aranyaprathet. The Southern Line is the longest railway line in Thailand. It extends via Chumphon, Hua Hin, and Surat Thani, with secondary lines to Nakhon Si Thammarat and Trang to Hat Yai, where it splits: one line runs down the eastern section of the peninsula to Sungai Kolok, while the other line continues down the west coast of Malaysia via Butterworth.