Vietnam has many things to offer as a tourist attraction and it attracts many people every year. Every tourist will have their own unique reason to travel to this beautiful country.
Seeking the most beautiful parts of the earth is what triggers some of us to find new destinations. Vietnam is right on top of our list of beautiful destinations and if our list of 5 luxury off the beaten track destinations doesn't show you why, then we don't know what will.
These secluded gems are celebrated by credible travel magazines and websites notably for their beautiful architecture, pristine beaches, and award-winning spa facilities.
While focused on wellbeing and privacy in the comfort of five-star luxury, visitors will be able to experience the wilderness with the consciousness of nature protection, explore marine life at your doorstep, and the humbleness of local communities as they go about their day. A unique experience unlike any other.
Escape your busy everyday routines and worries, these places offer you to appreciate what nature has to offer. When you return home you will be different.
1. SIX SENSES CON DAO
Address: Dat Doc Beach, Ba Ria – Vung Tau Province , Con Dao District, Vietnam
Phone: +84 254 3831 222
Email: reservations-condao@sixsenses.com
Website: https://www.sixsenses.com/en
Con Dao is one of the archipelagos located in southern Vietnam. This beautiful island is a getaway destination to escape your busy routines, a gate to explore the wilderness and colonial history. 80 per cent of Con Dao's land area is under National Park preservation. Six Senses Con Dao allows you to explore the island through activities and guided tours coupled with the ultra comfort of the resort accommodation.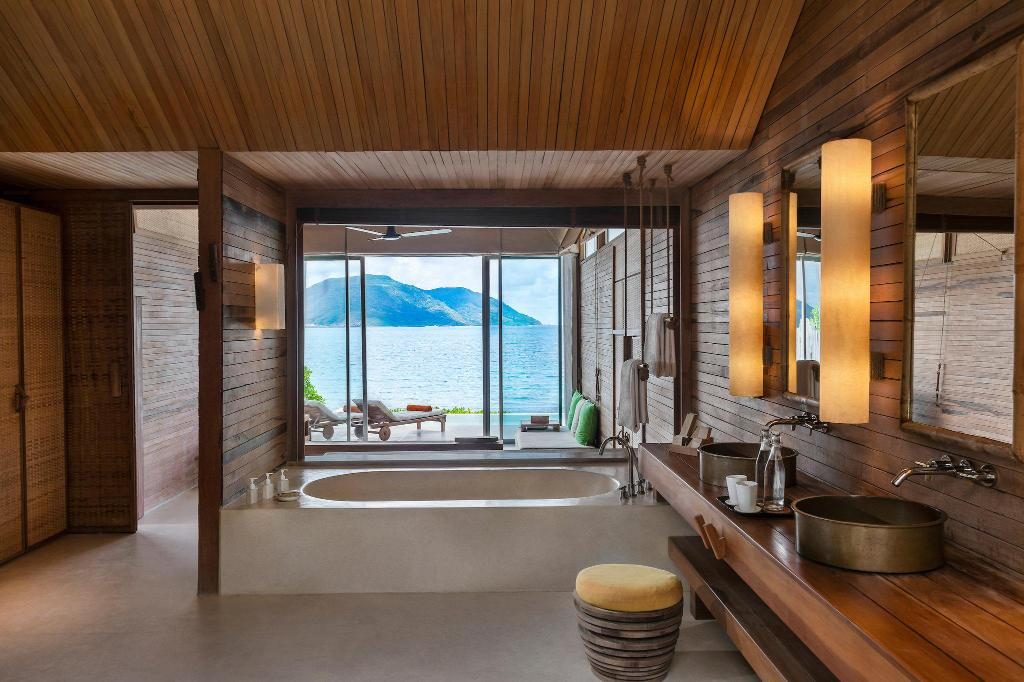 It's a 45 minute flight from Ho Chi Minh City to the Con Dao airport, and after a 10 min drive from the airport you will step into Six Senses Con Dao's world of seclusion and exclusivity. Escaping the norms of formal hotel structures, including marble or granite finishes, the hotel is sans a main hotel building or lobby giving room to it's peculiar wooden architecture, eco friendly and elegant. The rustic chic villas blend seamlessly with their natural surroundings, and if you managed to nab a beach front villa, your doors will open directly onto the sandy white beaches.
Your days will include lazing on white sandy beaches or floating in warm crystal like waters. Chasing sunsets made of cotton candy skies is not uncommon. They will only inspire photo opportunities allowing you to create memories to last a lifetime.
There certainly isn't a shortage of activities to keep you busy from sunrise to sunset. Usher in the new day with Hatha yoga techniques in the heart of nature, followed by detoxifying spa treatments. Unwind with your favourite novel at the poolside. You'll have your pick of indoor or outdoor pools.
Nothing beats a day of cruising the ocean with the wind in your hair. Head to Bay Canh or Cau islands by speed boat and explore the diverse marine life beneath the surface while trying your hand at snorkelling or scuba diving. Discover hundreds of different species and the most beautiful coral formations.
Vacations are for indulging, and the cuisine at Six Senses Con Dao encourages just that. From easy grazing at the poolside, to contemporary international cuisine or better yet authentic traditional Vietnamese cuisine prepared by Chef No, the inhouse chef. For something a bit more exclusive have your pick from a selection of private dining options including Destination Dining, a self-curated romantic dining experience at a nearby destination of your choice. If you can dream it, Six Senses can make it happen.
2. AMANOI RESORT, VINH HY BAY
Address: Vinh Hy Village, Vinh Hai Commune, Ninh Hai District, Ninh Thuan Province, Vietnam
Phone: +84 259 377 0777
Email: amanoi@aman.com
Website: https://www.aman.com/resorts/amanoi
This tranquil beach resort is situated within Nui Chua National Park, overlooking the Vinh Hy Bay, one of the most beautiful bays of Vietnam. This little corner of the world has a unique microclimate where the sun shines all year long. Nui Chua National Park is a natural conservation site with a diverse ecosystem and home to 160 birds, 60 mammals, 1500 plants and 307 coral species. You'll feel as if you're in the wilderness.
Explore the national park's local plants and species by guided hiking and trekking tours throughout wilderness. The finish point of the Wild Cat trek overlooking the exotic landscape will take your breath away. Rock Park trek is another alternative track where you can see different rock formations by the deserted beach and turquoise water.
The big lotus lake amid the property is a real tranquility spot for meditation. There are two exclusive spa houses set on the shores of lotus lake offering visitors private and holistic treatment. Amanoi villas and pavilions are spotted on rolling green hills of tropical forest embraced by the national park on a pristine 32 km coastline. Architecture blends into nature with natural materials and style of contemporary and traditional Vietnamese composition. Amanoi resort provides privacy, natural beauty and comfort.
Join cooking classes and try to cook some authentic tastes. Learn how to make a Vietnamese pancake "banh xeo" or "banh can" which is a rice delight cooked on a clay pot of the Cham ethnicity. Don't miss the Gong Fu tea ceremony which is a way of mindfulness meditation. In the five start resort's restaurant try the specialty dish "Cha kho to" Vietnamese braised fish cooked in a clay pot with local herbs.
3. THE ANAM, LONG BEACH, CAM RANH
Address: Long Beach, Northern Peninsula Cam Ranh, Khanh Hoa, Vietnam
Phone: +(84) 258 398 9499
Email: info@theanam.com
Website: https://www.theanam.com/contact
A mere 20 min drive from the Cam Rahn International Airport on Cam Ranh's Long Beach is a beautiful little haven otherwise known as The Anam. Take off your shoes and stroll in the green grass under the swaying palm trees. Enjoy the sunsets in the infinity pool while one of The Anam's talented chefs are preparing to present you a meal of Vietnam's finest fare.
A daily visit to the Anam spa will keep you sufficiently rejuvenated throughout your vacation. Between a series of delicate skin, nails and hair treatments, your pick from a multitude of Asian massages, coupled with your choice of jacuzzi, sauna or steam room, you'll feel like a different person by the time you leave.
The Anam villas have Indochine architecture and charm with private pools. We see here yet another architectural elegance which combines the contemporary and Indochine charm of discrete nature.
The four restaurants offering international and Vietnamese cuisine offer a wide range of savoury choices which will have you heading back for seconds every time.
4. PRINCESS DA NAM RESORT AND SPA KE GA BAY
Address: Hon Lan, Tan Thanh Commune, Ham Thuan Nam District, Binh Thuan Province, Vietnam
Phone: (84 252) 3682 222
Email: reservation@princessannam.com
Website: https://www.princessdannam.com
Princess D'Ân Nam is situated in the Binh Thuan province, 150 km northeast of Ho Chi Minh City welcomes you with its all-villa boutique concept. This luxury resort experiences its rightful pride by being the first all-villa concept with its 57 villas designed under three exclusive suit options, an award winning spa, and two restaurants and a bar offering exquisite delicacies. You will feel the serenity and relaxation in the heart of beautiful Kê Gà Bay. The heliconia and ginger gardens of the resort add a final idyllic touch to this dreamlike atmosphere. Don't miss an early morning walk on the coast overlooking a 100 year old Ke Ga Bay lighthouse, one of the most beautiful lighthouses of Vietnam.
The three suite options have their own unique exterior and interior architectural designs. You will be greeted by the combination of elegance and home comfort which will make you feel like a royal. The exquisite architecture and design overlooks the beautiful Ke Ga Bay.
Mandarin Suites: These semi detached villas have private balconies. You can enjoy your evenings in a privacy while having your drinks. Balconies are surrounded by tropical trees overlooking resort's two swimming pools which you can easily access.
Princess Villas: These villas include private garden and pool. Its romantic interior design and terrace overlooking to exotic garden elevates you to a royal life of a princess. These exotic flowers and tropical trees of garden make you feel the serenity and privilege.
Empress Villa: Offers private terrace overlooking to the mesmerising Ke Ga Bay and ginger garden of the resort. These stunning views with dizzy of the ginger smells and breeze will make you feel the paradise.
The Dining room and Terrace offers you tantalising delicacies. From ca kho to (cá kho tộ) to bo kho (bò kho), you'll taste all recipes of the Vietnamese cuisine.
5. AN LAM RETREAT, NINH VAN BAY
Address: Ninh Van Bay, Nha Trang
Phone: (+84) 258 390 1000
Email: rsvn.nvb@anlam.com
Website: https://anlam.com/ninh-van-bay/nvb-our-retreat/
There is nothing quite as peaceful as a Vietnamese sunset overlooking An Lam, Ninh Van Bay while indulging in a beautiful dinner on the pier. An Lam Retreat is located on a jungle peninsula surrounded by tropical trees overviewing Ninh Van Bay. One of the most beautiful bays of Vietnam blessed with natural beauty and fresh seafood. An Lam's Sen restaurant has a supply of fresh and delicious seafood of the bay along with its organic garden which supplies fresh ingredients used in dining. Feel the tropical vibes, relax and unwind while you enjoy a most beautiful holiday.
Monkey island tour is one of the most famous one guided by An Lam. You see the monkeys in their natural habitat. You can choose other activities among hiking, traditional fishing, safari, Cai river tour, Hon Ba park, Yang bay waterfall, Lam spring, snorkelling and so on.
The jungle provides an array of activities and tours to keep you busy from sunrise till sunset. The springs, streams and waterfalls only add magic to this beautiful paradise. Famed for its guided monkey tours, visitors will be able to see the wild monkeys in their natural habitat. If that a bit of monkey business doesn't tickle your fancy, try your hat at hiking through a tropical jungle, traditional fishing with a local guide, or meander down the Cai River, just to mention a few of the many activities.
These 5 exquisite off the beaten track luxury resorts are just a few of the hidden gems in Vietnam. With natural beauty stretching from the tip of the north right down to the south, you are certainly in for an adventure of a lifetime.