THE COMPLETE TRAVEL GUIDE TO TRAVEL TO VIETNAM
Over the past years, Vietnam has emerged as a premier tourist destination in Southeast Asia, with an estimated 18 million international arrivals in 2019. The number is only expected to rise – and for a number of good reasons. The country is renowned for its colorful history, diverse culture and quintessential natural landscapes.
If you are planning to visit, an illustrated guide will prove handy. This post is packed with all the important information so you don't have to spend a lot of time researching online and browsing multiple websites. We have done much of the work for you and we are extremely proud of this comprehensive article as it will serve as a valuable resource to anyone who wishes to visit Vietnam.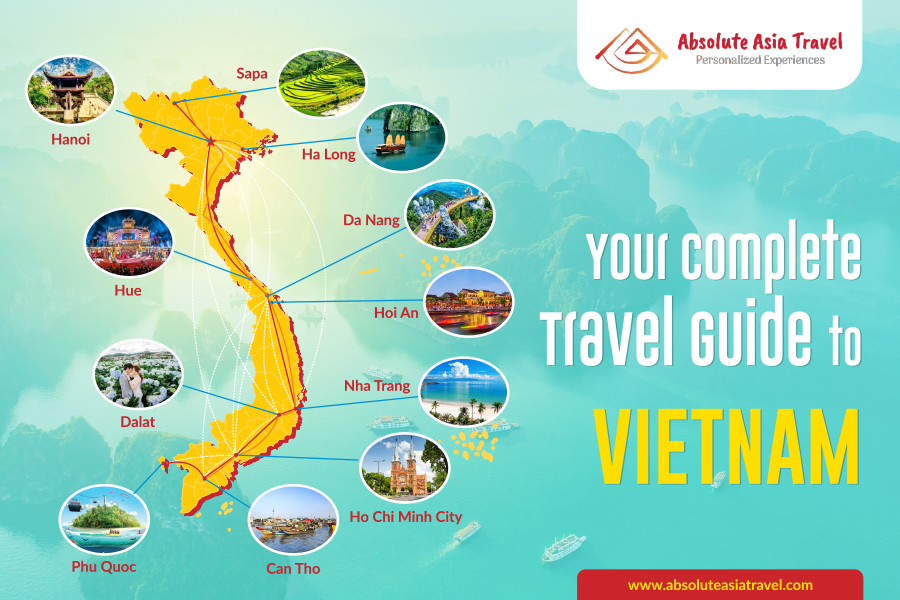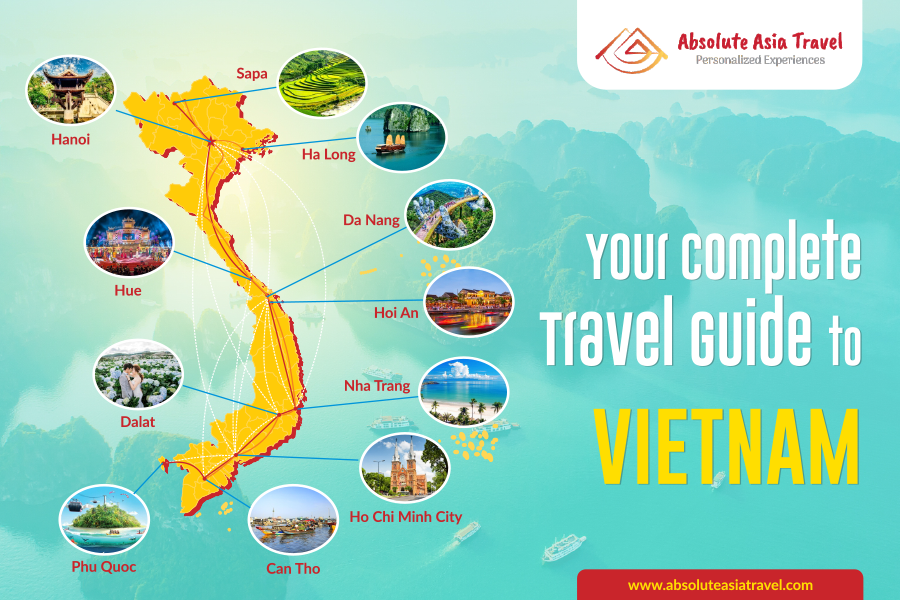 Part I. Travel Visa
Recent visa policy changes – officially
approved on 14 August 2023 as below:
3 month multiple entry visas will be available from 15 August 2023.

Citizens from all countries are now eligible for the e-visa program.

09 more ports of entry have been added to the list of eligible Entry/Exit points.

Effective from 15 August, 2023, regular passport holders of 13 countries will be exempt from visa requirements for Vietnam for 45 days instead of 15 days.
1. Do you need a Visa to go to Vietnam?
Vietnam offers visa exemptions to tourists from 13 countries and e-Visas to tourists from all countries. Travelers can also apply for a visa on arrival online or in person at a Vietnamese embassy or consulate.
2. Visa Exemptions
Vietnam's new visa policy effective from 15th August 2023 extends stay duration for 13 countries enjoying unilateral visa exemption from 15 days to 45 days, regardless of passport type and entry purpose. The 13 coutries include: Germany, France, Italy, Spain, the UK, Russia, Japan, Republic of Korea, Denmark, Sweden, Norway, Finland and Belarus.
Below is the full list of 25 countries +Kazakhstan that are exempted from visa requirement:
Brunei, Myanmar, Belarus, Denmark, Finland, France, Germany, Italy, Japan, Norway, Russia, South Korea, Spain, Sweden, The UK, The Philippines, Cambodia, Indonesia, Kyrgyzstan, Laos, Malaysia, Singapore, Thailand, Chile, Panama.
Notes on Exemptions:
The exemptions listed above are valid until Dec. 31, 2025.
Pro Tip:
+ All nationalities traveling directly to Phu Quoc Island can visit for 30 days visa-free. You just need to show an outbound ticket on arrival in Vietnam.
+ If you enter Phu Quoc and then travel to the mainland, you will need to apply for an e-visa/visa to Vietnam. The best way is to apply for evisa/visa in advance and you will need to show your e-visa/visa on arrival at Phu Quoc International aiport for eligible stamp on your passport to visit the mainland later on. If you fail to do so, you might have to apply for a different visa and the procedure would be more complicated.
3. e-Visa Requirements
The e-Visa is one of several visa types offered by the Vietnam Immigration Department to foreigners entering the country. It is valid for 90 days and single entry and multiple entry. It costs US$25 for single entry and US$50 for multiple entry for card payments and requires at least three working days to process.
Foreigners with e-visas are allowed to enter Vietnam via

13 international airports: Noi Bai (Ha Noi), Tan Son Nhat (Ho Chi Minh City), Cam Ranh (Khanh Hoa), Da Nang, Cat Bi (Hai Phong), Can Tho, Phu Quoc (Kien Giang), Phu Bai (Thua Thien Hue), Van Don (Quang Ninh), Tho Xuan (Thanh Hoa), Dong Hoi (Quang Binh), Phu Cat (Binh Dinh), Lien Khuong (Lam Dong).
16 land border gates: Tay Trang (Dien Bien), Mong Cai (Quang Ninh), Huu Nghi (Lang Son), Lao Cai, Na Meo (Thanh Hoa), Nam Can (Nghe An), Cau Treo (Ha Tinh), Cha Lo (Quang Binh), La Lay and Lao Bao (Quang Tri), Bo Y (Kon Tum), Moc Bai and Xa Mat (Tay Ninh), Tinh Bien and Vinh Xuong (An Giang), Ha Tien (Kien Giang).
13 sea border gates: Hon Gai and Cam Pha (Quang Ninh), Hai Phong, Nghi Son (Thanh Hoa), Vung Ang (Ha Tinh), Chan May (Thua Thien Hue), Da Nang, Nha Trang (Khanh Hoa), Quy Nhon (Binh Dinh), Dung Quat (Quang Ngai), Vung Tau (Ba Ria – Vung Tau), Ho Chi Minh City, Duong Dong (Kien Giang).
Vietnam e-Visa Requirements:
A passport with six (6) months' validity
A photo in .jpg format of your full passport data page
A passport photo in .jpg format (4×6 cm, white background, without glasses)
A valid international credit or debit card
An email address for support purposes
A temporary address in Vietnam
Your entry and exit dates and entry and exit points/airports
How to Apply for Vietnam's e-Visa:
Step 1: Prepare the required materials
Step 2: Open the official website for Vietnam's e-Visa Application
Step 3: Upload your .jpg images (passport data page and passport photo) and fill out the required fields on the form.
Step 4: Pay the e-Visa fee of US$ 25 for single entry visa or US$50 for multiple entry visa using any of the payment methods offered. Copy the document code provided. This fee is not refunded if your application is refused or your visa letter contains any wrong details that have been provided by you in the application form.
Step 5: Within three working days you will receive an email about your e-Visa application. Use your document code to locate your e-Visa online. Download and print the e-Visa in two copies for safety.
ProTip: Tourists with an e-Visa do not need to queue at Visa on Arrival counters. You can go directly to the immigration counter at your point of entry.
3. Vietnam E-visa official website
The Public Service Portal – Ministry of Public Security is the official website for Vietnam evisa.
The eVisa for Vietnam will be applied through either of the following 2 official links, depending on who submits the application:
Other websites with evisa service are commercial ones that will work on your information, submit your evisa application via this official website, speed up your evisa processing (if required), track your evisa status, download the evisa letter, and send it to your email.
4. Vietnam Visa on Arrival
If you want a multiple-entry visit or a stay that would last more than 30 days, you may want to apply for a visa on arrival. You will need the following:
A 4×6 passport photo (white background and no glasses)
A fully filled-out visa application form
A passport or substitute ID valid for six (6) months from the date you plan to visit Vietnam
Payment (US$25 per person for single entry or US$50 per person for multi-entry) for visa fees
A Letter of Approval from a Vietnamese embassy or consulate (if you will pick up your visa at the airport)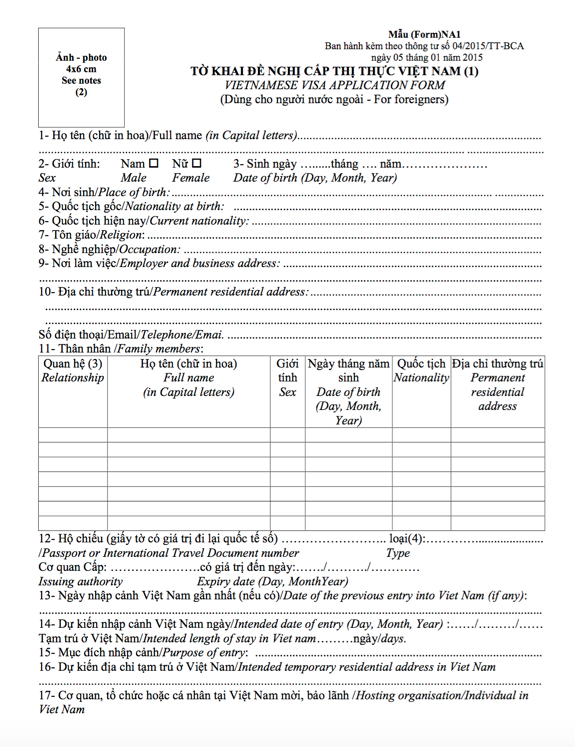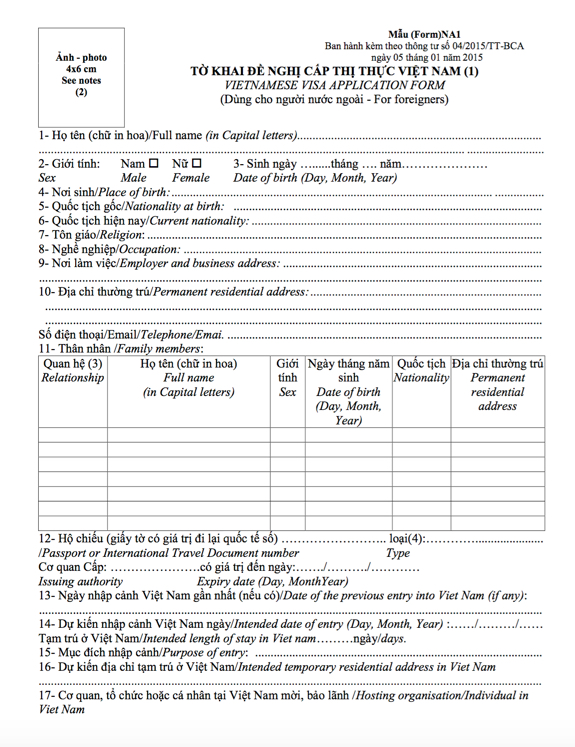 If you are located close to a Vietnamese embassy or consulate, you may submit your application form, passport, photo, and visa fee in person.
If you are short on time or a Vietnamese embassy is far from your location, there are reputable online services that can provide a valid Letter of Approval for a fee. Bring this letter along with your visa application form and other documents to the Visa on Arrival counter at the airport when you arrive.
Part II. Best Time to Visit
There is really no right or wrong time to visit Vietnam because for much of the year there's both sunshine and rain in different quantities. Vietnam has more than 2000 miles of coastline and three varying weather systems. You can think of the country as having three separate tourist destinations when it comes to the weather.
In Hanoi and the north, May to October is hot and humid, while November to April is cool and dry. In Central Vietnam, the weather is hot and dry between January and August when temperatures can rise to mid-30°C. Heavy rains tend to pour in the months of September, October and November. The southern region is generally hot and dry from November to April, and a bit warm and wet between May and October, with high precipitation in June, July and August.
1. Weather by Region and Season
Far North (Sapa, Bac Ha, Mu Cang Chai, and Ha Giang)
The climate in Sapa and the northwest region is divided into two seasons: the wet season runs from April to September, while the dry season lasts from October to late March. It can get extremely cold in December and January, especially in the evening.
The best time to visit the northeast is during the dry season, which runs from October to April. December and January can get very cold. Try to avoid travel during the rainy season, from May to September.
North Vietnam (Hanoi, Halong Bay, Cuc Phuong, Mai Chau and Ninh Binh)
North Vietnam, including the capital Hanoi, has a summer and winter season. The latter is generally cool but mostly dry and lasts from November to April. The coldest months are January, February and March, with average temperatures of 17-22°C .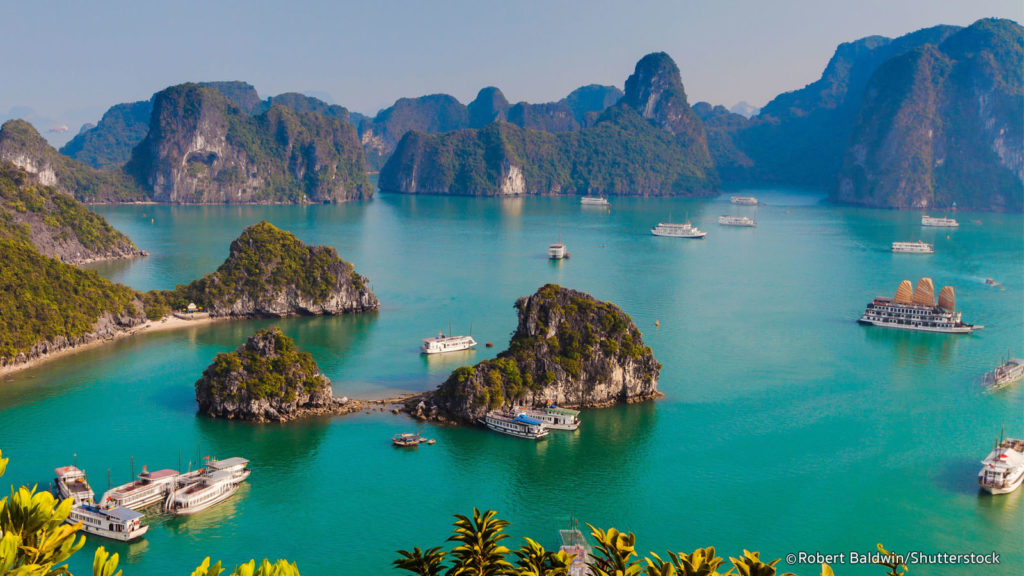 Summer is from from May to October. It is hot and humid, and it is during this time when the region has its highest rainfall. July to September are frequently the wettest months, during which inclement weather can prevent cruises in Halong Bay.
**Central Vietnam (**Danang, Dalat, Hoi An, Hue, Nha Trang and Quy Nhon)
Danang, Hoi An and Hue have hot and dry weather that lasts from mid-January to late August. During this period temperatures often rise to mid-30°C. Winter sees an increase in rainfall, with October and November being the wettest.
Hue is usually cooler than Hoi An, particularly early in the year. The coastal city of Quy Nhon shares a similar weather pattern to Hoi An but the dry season lasts a little longer because of its proximity to the southern system.
Dalat, in the Central Highlands, is wet from June to October. It is far drier from November to May, and cold from December to January.
The coastal resort city of Nha Trang in the far south of Central Vietnam has a longer dry season that runs from January to September. The rainy season lasts from October to December, with approximately 50 percent of the annual rainfall pouring in October and November.
South Vietnam (Ho Chi Minh City, Phu Quoc and Con Dao, The Mekong Delta, Phan Thiet and Mui Ne, Ho Tram and Long Hai)
Temperatures remain constant throughout the year, usually ranging from 25 to 35°C. The climate is split into two seasons: wet and dry. The latter starts in November and ends in April or early May. It is slightly hotter and more humid from late February to May. The wet season lasts from May to November, with June, July and August receiving the most rainfall.
In the far south, Phu Quoc and Con Dao often see sunny days so both islands can be enjoyed year-round.
Part III. Holidays & Special Events
1. Tet Nguyen Dan – the Vietnamese Lunar New Year
Tết is the most important celebration in Vietnamese culture. It is also known as the Vietnamese New Year, Vietnamese Lunar New Year or Tet Holiday. It is the shortened form of Tết Nguyên Đán, which is the Sino-Vietnamese term for "Feast of the First Morning of the First Day".
Tết marks the arrival of spring and generally takes place from late January to mid-February. Since a lot of people return home to celebrate the holiday with friends and family, the busy cities clear out and become almost like ghost towns.
Tết can be an exciting time to visit Vietnam, but it is also the busiest time of the year to be there. The festivities will definitely have a huge impact on your travel plans. Markets and shopping malls become busier and hotels get booked. Popular beach destinations and tourist spots like Hoi An have more sightseers than usual.
It can become incredibly noisy though. Cities will have fireworks everywhere, people will be making noise by banging gongs, ringing bells, and lighting firecrackers to scare away evil spirits that bring bad luck. The revelry typically lasts for three days, although in some areas it could drag on for more than a week. The first day of Tet is normally spent with family, the second day is for catching up with friends, and the third day is dedicated to teachers and visiting temples.
Traveling during this holiday season can pose some difficulties. Buses and trains are sold out in advance so travel itineraries can't wait until the last minute. Museums, shopping areas, and other commercial establishments can be closed for up to five days and this can affect sightseeing plans. See to it that you have things to do to keep you occupied.
Pro Tip: Plan well in advance as hotels and domestic flights might be fully booked already. Please bear in mind that tour guide fee and transportation fees are often increased during this period due to high demand.
Dates for Tet in Vietnam:
2022: February 1-4
2023: January 22-26
2024: February 10-14
2. Hue Festival
This is a big biennial festival that takes place in the city of Hue, where you can enjoy a wide variety of games, cultural events, and performances held for more than a week. It was created in 2000 with the goal of preserving traditional customs that date back to the Nguyen Dynasty. Since then it has been observed in the months of April, May and June every two years. During this period special showcases are held like the Hue Poetry Festival, Ao Dai Fashion Shows, Dialogue of Drums and Percussions, and sporting activities such as boat racing, kite flying and human chess. There are also movie screenings, street performances and art exhibitions.
In addition, a number of ancient sceneries of the Nguyen Dynasty are reproduced to give tourists a sneak peek into the feudal era of Vietnam. Some of the typical events include the Xa Tac Offering Ritual, the Nam Giao Offering Ritual, and the Royal Refined Music of Hue which was recognized by UNESCO in 2003 as a Masterpiece of the Oral and Intangible Heritage of Humanity.
3. Mid-Autumn Festival
This magical festival is celebrated on the 14th and 15th day of the lunar month. Also known as the Harvest Festival, Full Moon Festival and Children's Festival, it features an array of activities like lion dances, children carrying paper lanterns, and food booths selling sticky rice, mooncakes, fruits and sweets. During the night of the festival, families set up their ancestral altar upon which they display offerings honoring the full moon.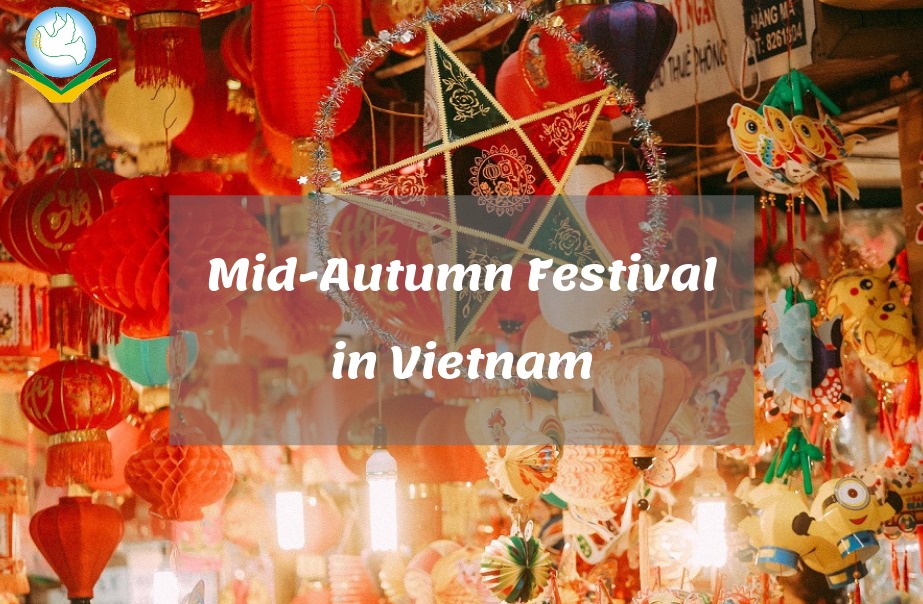 The Mid-Autumn Festival is best observed in the UNESCO-listed town of Hoi An, where locals kick the festivities up a notch. There's plenty of lantern processions, street performances and art shows. Kids are encouraged to participate in drawing, coloring and essay writing contests, while tourists get to enjoy the awesome sights of brightly colored paper lanterns lining the Japanese Covered Bridge and the banks of the Thu Bon River.
Part IV. Getting Around Vietnam
Vietnam is a sinuous, serpentine nation, slithering 1,025 miles down along the eastern seaboard of Indochina. This is probably the reason why imaginative ways of transportation are a fascination. From being pedaled along in a bicycle rickshaw known as the cyclo to an exhilarating ride on a motorbike taxi , transportation runs as big a gamut as you'll find elsewhere in the world.
If you wish to traverse the entire length of the country with side trips to Hanoi and Ho Chi Minh City, you have quite a handful of transportation options. The big question is which ones should you choose? Well, the answer depends on your time, budget, and sense of adventure.
If you're short on time, travelling from north to south by plane makes a lot of sense. If you plan to visit the more remote tourist destinations such as the Northern Highlands, hiring a taxi or taking the train are the best options. If you're on a budget but have plenty of time and patience, then the bus system will do. Or, if you're the adventurous type, you may just have to hop aboard a motorcycle!
1. Vietnam by Plane
Vietnam has more than 20 airports. Quite a big number for a relatively small country. The reason behind this is that most of the airstrips constructed during the Vietnam War were converted to peacetime airports.
To date, majority of international flights land in Hanoi and Ho Chi Minh City, with daily arrivals coming from Asian hub cities. Bangkok, Guangzhou, Hong Kong, Phnom Penh, Siem Reap, Singapore, and Seoul have the most number of flights. Some international flights also head to Danang and Nha Trang.
Major international airline companies include Vietnam Airlines, China Southern Airlines, Hong Kong Airlines, Korean Air, Singapore Airlines, Thai Airways, Jetstar, and AirAsia.
Vietnam Airlines, Bamboo Airways, Vietravel Airlines, VietJetAir, Jetstar and VASCO operate domestic flights.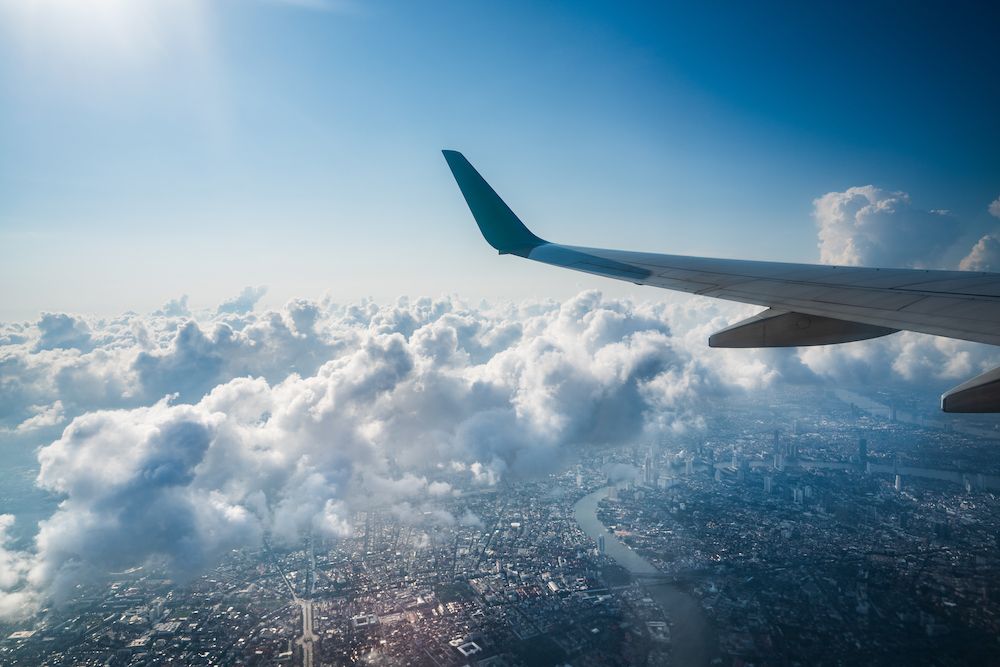 A lot of tourists explore Vietnam by making their way north from Ho Chi Minh to Hanoi, and then they do the other leg by plane. This will only take two hours, but if you take other modes of transport, the journey could take days, weeks, or even months.
The other key cities are also well connected. Whether you need a flight from Can Tho, Da Nang, Da Lat, Hai Phong, Hue, Phu Quoc or Nha Trang – flying to these areas from Hanoi or Ho Chi Minh is easy because of the range of available domestic flights.
2. Vietnam by Train
Vietnam has 1,600 miles of railway, with the main line called Reunification Express providing an all-in encounter with the nation's amazing beauty, people and history. The rail line runs from Hanoi to Ho Chi Minh City. It has multiple stops including popular tourist destinations like Danang, Hue and Nha Trang. Note, however that the whole trip takes more than 40 hours! Moreover, trains are generally more expensive than buses, but the comfort level is well worth it.
Book an overnight train so you can sleep your way through most of the travel time inside an air conditioned sleeper berth. There are several classes on Vietnamese trains, but try to go for the highest level that you can afford. For overnight travel, there are hard-berth and soft-berth compartments, with six and four bunks, respectively.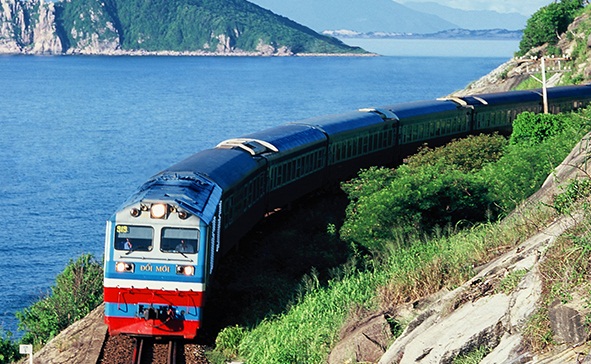 Vietnam is currently upgrading its train system, but even today, you can rest assured that traveling by train is one the best experiences you can have in this southeast Asian nation. Make sure you purchase your ticket in advance, especially during peak season.
Another option is to engage the services of a private company, which links more luxurious carriages to standard trains. A lot of tourists prefer this when they are going from Hanoi to Lao Cai in the Northern Highlands. A number of companies, including Fanxipan, Chapa Express Train, Sapaly Train, and Victoria Hotels, operate luxurious private carriages called Victoria Express Train. While the Victoria cars are regarded as the most comfortable on this route and travellers don't need to book Victoria Hotel Sapa to travel on Victoria Express Train like before.
3. Vietnam by Bus
If you have lots of time and comfort is not your top priority, going around Vietnam by bus is a good option. Majority of the cities are served by a bus route, but a word of caution, travelling along the country's rickety roads may not be for everyone. For instance, a 172-mile bus ride from the Mekong Delta to Ho Chi Minh City will take approximately 8 hours.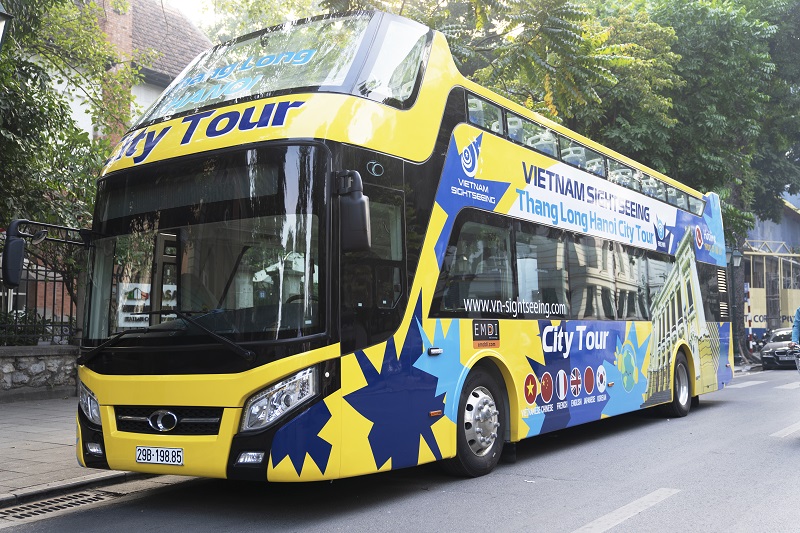 For tourists and those on a budget, the best bus options are the privately operated vehicles called 'open tour' buses. The fares are cheap and they cover all the top destinations. You can purchase an 'open' ticket so you can ask the driver to stop if you see something interesting along the Hanoi-Saigon route. However, some prefer to keep their options flexible by purchasing individual tickets as they go.
The open tour buses are better than national buses because they are air-conditioned and operate on fixed schedules with a limited number of passengers. State-run buses can be the exact opposite so beware. Research any private bus company before buying a ticket and see to it that you bring along some snacks and drinks for the ride.
4. Vietnam by Boat
Ferry services can whisk you to the major islands. One thing that you should never miss is a cruise in Halong Bay – the top boat destination in Vietnam. There are dozens of private ships plying the emerald waters, taking tourists to marvel at the magnificent karst island formations. You can choose from day trips and overnight excursions, with a full range of vessels, from bare-bones to the most luxurious.
Boat tours are also offered in the charming city of Hue where local households try to earn a few bucks from passing gappers. Lunch trips, fishing, and snorkeling are available from Hoi An, Phu Quoc, and Nha Trang to the nearby islands.
You can also go on a river tour along the Mekong Delta, on board a private company's river cruise. For tourists who are traveling to both Vietnam and Cambodia, a popular itinerary that links the two neighboring countries is a ride on a fast boat from Phnom Penh to Chau Doc.
5. Vietnam by Motorcycle or Motorbike
For the adventurous, motorbike or scooter rentals are offered in most major cities. You can also find motorcycle rentals, especially in Dalat. Carefully inspect the bike before you roar off and remember that there is a helmet law in Vietnam.
If you are not ready to roll on your own, you may opt for the Easy Rider Adventures in Dalat. It is quite a popular tour company so beware of the imitators. They offer short rides, bespoke, and multi-day trips.
6. Vietnam by Local Transportation
You've got three options: taxi, cyclo or the xe om. Metered taxis are cheap by international standards. However, dubious taxis with tampered meters ply the streets of Hanoi and Ho Chi Minh City. Only hire taxis from reputable companies like Mai Linh and Vinasun.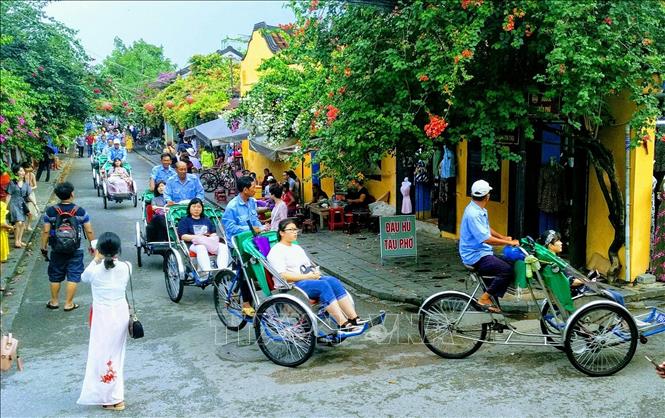 The cyclo is a three-wheel bicycle taxi. They first appeared during the French colonial period following a failed attempt to introduce rickshaws. This mode of transport is dying out, but is still available in some key cities. Cyclo drivers usually hang out near markets and major hotels. Remember to negotiate the fare before going anywhere.
The xe om is a motorbike taxi. Literally translated, xe means motorbike, while om means hug, so now you have an idea on how it works. Going around by xe om is okay as long as you are traveling light and don't have a lot of luggage. There are lots of xe om drivers hanging around bus stations, hotels, and street corners. Just like with cyclos, negotiate the fare before you hop in.
Part V. Best Places to Stay in Vietnam
When it comes to accommodation in Vietnam, affordable luxury is the name of the game. You get to bask in sheer comfort and convenience in Indochina for what you would normally spend for a cracker-box suite in the United States and major European cities. Pay a little over US$100 and you are treated like royalty! If you plan to visit, go for a luxury room and you can rest assured that it's worth every single penny.
Check out our mini ebook for additional information so it will be easier for you to pick which hotel perfectly suits your needs and preferences…
Part VI. Top Destinations/Attractions in Vietnam
Vietnam is country of staggering natural beauty, with its islands and beaches considered as among the very best in Southeast Asia. It's a land of cultural complexities and its cuisine is arguably the most sumptuous in the region**.** More than 20 years have passed since the country was formally unified, and during that period, it has done an exceptional job of mending its wounds. Today, this proud country is a superb travel destination. You can't go wrong – it's both exotic and compelling!
1. Hanoi
Hanoi is chock full of history and culture, particularly in the Old Quarter, which is the tourism hub of the city with its bustling market streets, pulsating nightlife and some of the best local cuisine in the country. If you plan to visit, here are the other destinations that you shouldn't miss:
Imperial Citadel of Thang Long
Water Puppet Theatre
Ho Chi Minh Mausoleum
Hoan Kiem Lake and Ngoc Son
Dong Xuan Market
Ba Vi National Park
Hanoi Opera House
Temple of Literature
2. Sapa
This picturesque town has both culture and breathtaking natural beauty rolled into one enticing package. It is home to a number of ethnic groups and has grown significantly over the past years. What was once a quiet mountain town is now a tourist hot spot. Try to find a homestay in one of the villages or if the weather permits, climb Fansipan which is the highest mountain in Indochina. Check out this list of fun things to do in Sapa to spice up your itinerary…
Trek and visit the captivating tribal villages
Take a leisurely stroll near Sapa Lake
Marvel at the majestic and romantic Love Waterfall
Take a cable car up to lofty Fansipan
Gaze in awe at the green rice terraces of Muong Hoa Valley
Bask in the splendor of Thac Bac Waterfall (or the Silver Falls)
Enjoy a traditional textile experience at Cat Cat or Ta Phin Village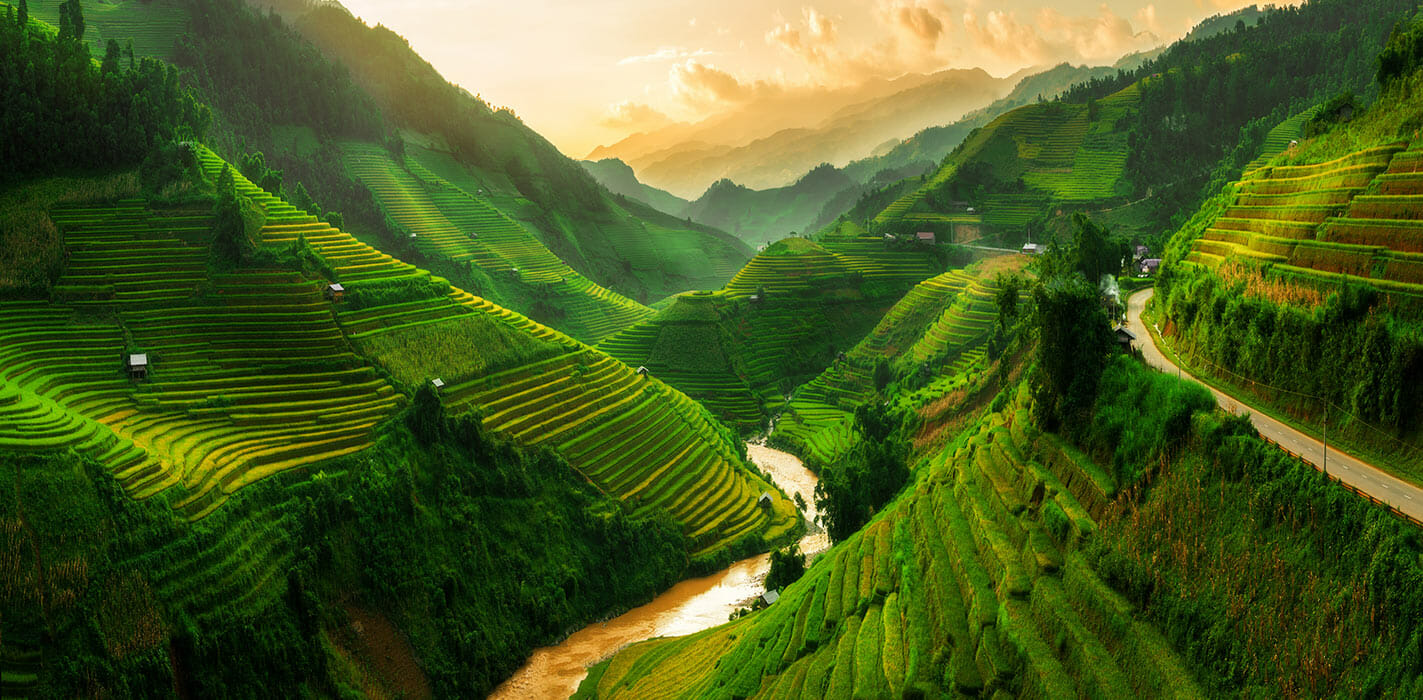 Experience the hustle and bustle of the Sapa market
Snap photos amid the colorful sights of Ham Rong Flower Garden
Discover history and culture at Sapa Museum
Go off the beaten track and trek through authentic villages along Muong Hoa Valley
Stay overnight in one of the homestays in remote villages of Ban Ho or Thanh Phu
Go ecofriendly by staying overnight in one of the ecolodges near Sapa: Topas Ecolodge, Utopia Lodge
Visit one of the colorful ethnic markets near Sapa: Coc Ly market on Tuesday, Can Cau Market on Saturday, Muong Khuong, Bac Ha markets on Sundays
3. Halong Bay
No trip to the northern region of Vietnam is complete without a visit to Halong Bay. Declared as a UNESCO World Heritage Site in 1994, Halong Bay's towering limestone islands are a sight of ethereal beauty. It's therefore not surprising that it is northern Vietnam's premier tourism hub.
The entire Halong Bay or sometimes referred to as the Gulf of Tonkin, covers an area of approximately around 1,500 square kilometers. Experts claim that it took roughly 500 million years to form Halong Bay to the 1,969 islands and islets made from karst limestone. Humans have inhabited the area since time immemorial but inflicted no damage to the natural wonder. The magnificent landscape has definitely added unique cultural values to this unique spot.
Things to do in Halong Bay
Sign up for a day boat cruise or better, spend a night on a traditional wooden boat
Kayak around the karst formations, explore fishing villages and hidden lagoons
Get up early to participate in a Taichi Class on the sundeck and see the Sun rising
Go spelunking at Hang Sung Sot Cave
Go squid fishing at night
Have a bird's eye view of the landscape on board a seaplane
Take an excursion to Cat Ba Island and explore one of the caves (Hospital Cave, Trung Trang Cave)
Bicycling to Viet Hai Village
Enjoy the serene surroundings at Lan Ha Bay
Check out Virgin Cave in Bon Hon Island
Travel to Monkey Island and stay at the secluded Monkey Island Resort
4. Hoi An
Located in the central coast of Vietnam, Hoi An is popular for its well-preserved Ancient Town that is traversed by canals. The city is a melting pot of history as clearly reflected by its architecture, a blend of different eras and styles – from French colonial buildings to Vietnamese tube houses, wooden Chinese temples, and the Japanese Covered Bridge with its iconic pagoda.
Things to do in Hoi An
Explore the UNESCO Heritage Sites including Hoi An Old Town
Snap amazing photos at the iconic Japanese Covered Bridge
Enjoy a gastronomic treat at the popular restaurants
Soak up the sun at An Bang Beach
Get your bicycle and explore the village paths and countryside
Sharpen your bargaining skills at the Hoi An Central Market
Take a tour at the Museum of Trade Ceramics
Enjoy a day of scuba diving and snorkeling at Lao Cham Island
Have some special tea at Reaching Out Tea House
Attend a Cooking Class at Sabirama Cooking School
Go for a stroll to the Lantern Market
Sit down and learn to make silk lanterns at a local house
Sip a cup of coffee or cool drink at Faifo Cafe with panoramic view from the rooftop
Further afield: visit My Son Sanctuary for a half day; spend a full day on Ba Na Hills to explore the viral Golden Bridge and the Amusement complex on the Ba Na Hills with round trip transfers by cable car; trek the Bach Ma National Park
5. Nha Trang
Located in Vietnam's south-central coast, Nha Trang is a traveler's paradise. This resort city offers you miles of of white sandy beaches against a backdrop of verdant mountains, lots of beautiful islands, plenty of historical sites and long hours of sheer relaxation. In addition, there is a menagerie of other captivating activities that will leave you asking for more!
In case you are wondering what to do in Nha Trang, then take a look at the list below.
Engage in adrenaline pumping water sports, scuba diving and snorkeling
Embark on sailing trips to neighboring islands
Take a trip to paradisaical Doc Let or Bai Dai beaches
Go on excursions to Ponagar Cham temples and the 19th century Long Son Pagoda
Check out Vinpearl cable car, the world's longest oversea cable car
Visit Vinpearl Amusement Park and spend a full day to experience unparalleled fun for kids
Visit Yang Bay Eco Park, a charming nature park just a stone's throw away from the town centre
Kick back and relax Vietnamese style at the Thap Ba Hot Springs and Mud Baths
Explore the National Oceanographic Museum of Vietnam
If you love photography, make sure to drop by the Do Dien Khanh Gallery
Explore the countryside by bicycle or by boat
Rafting the Cai River
6. Dalat
Known as the "City of Eternal Spring" because of its temperate weather, the town of Dalat has been one of the most popular destinations in southern Vietnam's Central Highlands for getaway holidays. A lot of people call it 'Le Petit Paris' and this hill town even has a mini-replica of the Eiffel Tower in its centre! It is also a preferred location among domestic honeymooners, hence it's also called 'The City of Flowers' and 'The City of Lovers'
Dalat is renowned for its wide variety of flowers, fruits, and vegetables from its farmlands. It's equally known for its pristine nature sites, beautiful landscape, and minority villages. There's certainly something for everyone, but here some of the things that you should try if you visit this remarkable place…
Explore the summer palace of Emperor Bao Dai, the last emperor of Vietnam
Visit Da Lat Railway, one of Vietnam's oldest railway stations and known for its art deco architectural style
Marvel at the unconventional and fairytale-like architecture of the Hằng Nga Guesthouse, also known as the 'Crazy House'
Go on a cable car ride to Truc Lam Pagoda, a complex featuring traditional Asian architecture
Mingle with over 100 monks and nuns at the Truc Lam Pagoda (a Buddhist Zen monastery)
Take in the stunning vistas atop Lang Biang Mountain
Allot a few hours and make a trip to Pongour Waterfalls
Stroll through elaborate floral displays at the Dalat Flower Gardens
Go on a drive outside the city and visit Lang Biang Mountain and the Elephant Waterfalls
Head to a village of K'Ho ethnic minority to learn about local life, Vietnamese coffee and enjoy a cup of freshly brewed coffee by the farm owner/local host
Discover how weasels and coffee come together at the Trai Ham Da Lat Weasel Coffee
Find cute gifts and haggle for inspired goods at the lowest prices at the Dalat Night Market
Trek on the quite path through the pine forest, coffee and persimmon plantations up to Pinhatt Mountain in order to enjoy the fabulous, picturesque view of Tuyen Lam Lake.
Hit the road on two wheels and head off to Lak Lake
7. Ho Chi Minh City
Commonly called Saigon, Ho Chi Minh City is known for its French colonial landmarks, including the 19th-century Central Post Office and the Notre-Dame Cathedral, which is entirely constructed of materials imported from France. From the cheapest guesthouses to world class hotels, the tastiest of street stalls to the classiest restaurants, the scrum of the markets to the finest boutiques, Ho Chi Minh City is a high-octane conurbation of commerce and culture.
Without further ado, here are the top things to do in Ho Chi Minh City:
Crawl through the Cu Chi Tunnels
Savor the flavor of a bowl of Pho
Visit the Giac Lam Pagoda, the oldest temple temple in the city
Enjoy a romantic dinner on Bonsai River Cruise
Explore the War Remnants Museum
Tour the Reunification Palace
Visit the Central Office which was designed by Gustave Eiffel, of Eiffel Tower fame
Grab a cup of coffee in Tao Dan Park
Have a drink and enjoy the nightlife in Pham Ngu Lao or Bui Vien Street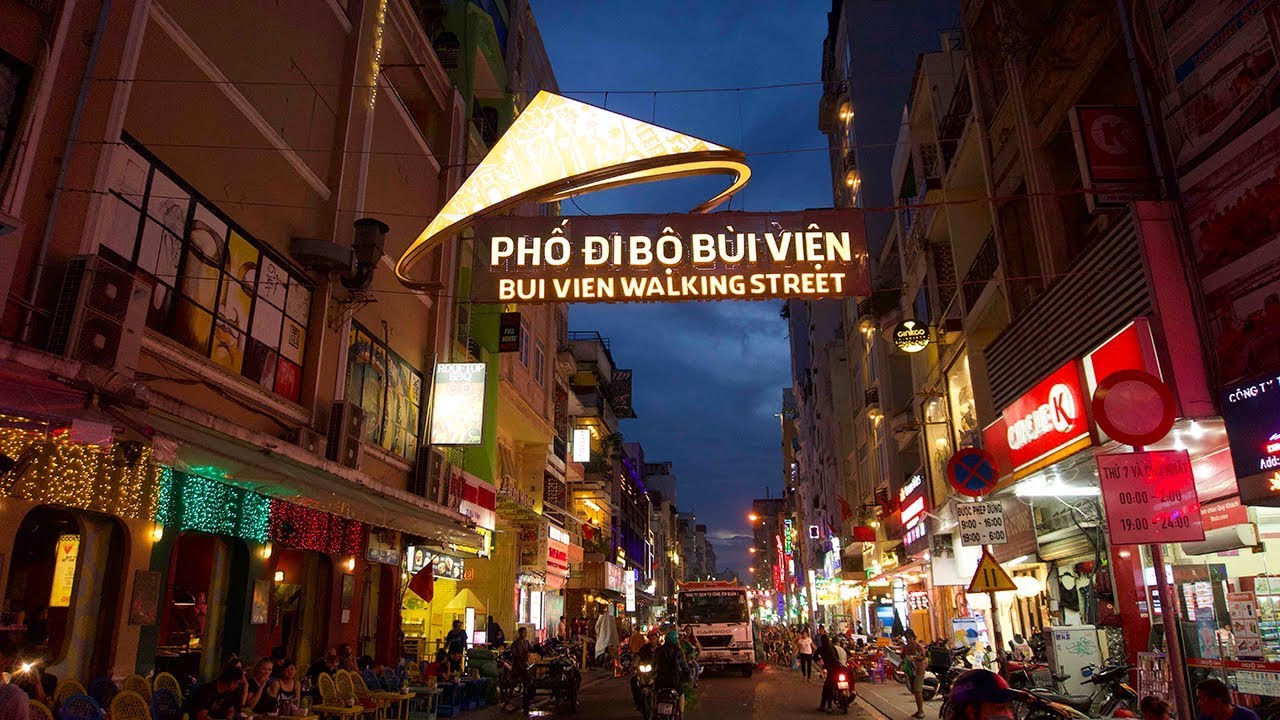 Tour the History Museum with artifacts dating 4,000 years
Say a prayer at the Notre Dame Cathedral
Marvel at the splendor of the Cao Dai Temple
Scale the Bitexco Financial Tower
Snap some amazing photos at the Phuoc An Hoi Quan Pagoda
Visit the Jade Emperor Pagoda, one of the fanciest temples in the city
Tour the Ho Chi Minh City Museum
Explore the Fine Arts Museum
Admire the caramel-colored Cha Tam Church
Shop till you drop and dine at the Ben Thanh Market
Shop like a local at the Binh Tay Market
Head to an organic farm in the outskirt of Ho Chi Minh City to learn about herbs, pick up ingredients for the cooking lesson.
8. Mekong Delta
The Mekong Delta in is the 'rice bowl' of Vietnam. It is a water world with its vast maze of rivers, canals, swamps, and floating markets. You'll also find ornate Khmer pagodas, Buddhist temples, and communities surrounded by rice paddies. Boats are the primary means of transportation, and tours of the region typically start in Ho Chi Minh City or in Can Tho, a bustling city in the heart of the delta.
Embark on a Sampan Cruise in My Tho. Regardless where the cruise starts, the boat will take you to Dragon (Con Tan Long), Tortoise (Con Quy) and Unicorn (Con Thoi Son) islands
Visit the Vinh Trang Pagoda and the Bat Pagoda
Tour the Cai Be Fruit Orchard, the largest of its kind in the delta
Visit floating markets and experience the daily life on the Mekong River
Pick up a bicycle to ride along peaceful village paths in deeper Mekong Delta
Sample a bowl of noodle soup at Cai Rang floating market
Come to the Tra Su Cajuput Forest to see what the wetlands look like
See the process of traditional silk making in Tan Chau Silk Village
Go bird watching at Tram Chim National Park
Scale the Sam Mountain and enjoy a grand view at the peak featuring Cambodia on one side and Vietnam on the other
Be more daring at Dong Tam snake farm, dubbed "The Kingdom of Snakes"
Visit Hon Phu Tu – Father and Son Island off the coast of the Cave Pagoda strait
Part VII. What to Eat in Vietnam
Vietnam may have a varied landscape but all of its cuisine features the balance of aromatics, sourness, sweetness, and fish-sauciness. Just like other Asian cuisines, it is all about striking that perfect blend: the sweet and the salty, the fresh and the fermented. Another thing that's remarkable about Vietnamese cuisine is that it ain't complex by any means. In fact, most of the popular dishes can be prepared and cooked just as well on the roadside as in a first-rate restaurant. It's this simplicity, the fresh ingredients, and the subtle variations by region, that makes the food special and keep tourists coming back for more.
Up north, the food has a heavy Chinese influence with its noodle-based soups ands stir-fries. As you head south, there's more blending of flavors with neighboring Cambodia and Thailand. Down south, the tropical climate nourishes more rice paddies, herb gardens, coconut groves, and jackfruit trees. The food is usually sweeter: savory dishes have more palm sugar and pho has sweeter broths.
It's tough to talk about Vietnamese food without mentioning French influence. Evidently, colonization had a lasting effect on the entire nation including the land, the people, and the flavors. Perhaps the most distinct is the banh mi, which refers to the French baguette used to make this delectable Vietnamese sandwich. However, the locals have taken this sandwich to a whole new level and made it their own with fish patties, sardines, grilled pork, cilantro, chili-spiked pickled carrots, among other fillings.