Bonjour, Bienvenue à Hanoi! Welcome to Hanoi, the Capital city of Vietnam!
That would have been the standard welcome back in the days of Colonial French Rule in this vastly diverse metropole that has a mix of modern, French Colonial and ancient Vietnamese architecture, in addition to a fused mix of Vietnamese culture moving along with both Eastern and Western tastes surrounding streets around this city. The locals visit, the nationals visit, foreign tourists and even celebrities are seen around this area from time to time. There really isn't enough time to experience Hanoi and its popular districts unless you have a quick guide that can be helpful. Here are a few things that serve as a starting point. Let's begin with the Old Quarter, Hanoi:
The little lake with the island, showing a bit of Hanoi French:
 You'll have to find a map. In the age of smartphones, Google Maps is a useful tool or a map from the hotel will be fine. You just need a guide to help you get around. The first experience is to walk around the Hoan Kiem lake. The lake is very much like a centre point to help navigate the Hanoi French Quarter. This lake has the most beautiful shot in this part of Hanoi, where you can get a photo in front of the lake and the famous Turtle Tower. The lake area is best observed during the weekends when all roads are for foot passengers only. This is time to see local life very much in play around the lake. You'll see some fascinating street performances; you'll see locals dancing and playing local instruments; you'll see children playing a game. For sure, you'll see lots of locals dressed up in their Ao Dai, local dress. Have a look at some of the impressive colonial buildings around and feel the unique ambience of Hanoi Vietnam. This is the best time to see Hoan Kiem in its element. Best of all, it's free!
Architecture a la France and Vietnam!
The Hanoi French Quarter is surrounded by ancient East-Asian style small streets, with a mix of local and French architecture. One big stop in this area is at St Joseph's Cathedral, a must-see in the Hanoi French Quarter. This is a picture you'll see in a lot of travel reviews. This is an old cathedral with European decor, surrounded by traditional buildings you only see in this country. Another cultural icon in the French Quarter Hanoi is the Water Puppet Show. Performed in a traditional venue, you can experience an illuminated performance that has entertained people throughout Vietnamese history. You'll only find a show like this outside of Vietnam.
Sip coffee and dine like a Local
You'll find it worthwhile to sit, relax and have a nice drink or eat at a good restaurant around Hoan Kiem. An area I like Dong Kinh Nghia Thuc Square. There are food and drink areas with a range of cuisine on offer within this plaza. It is here you can observe some of the most exquisite architectural views of the Hanoi French Quarter. You gaze lazily at the hustle and bustle of Old Quarter street life or take in the scenic views of Hanoi Vietnam from above. Getting a coffee and head to the terrace. There are some incredible photo opportunities in this spot.
Don't forget to think about the other food and drink spots around the French Quarter Hanoi. Pho, a light noodle soup with beef or chicken, is the staple for any local person and is a must-try, whether you like it or not. There are Banh Mi street stalls and eateries everywhere, with Banh Mi 25 a recommended place to eat as part of your trip. This bread place is a metaphor for the Hanoi French Quarter, with a range of European style fillings fused with a sandwich-making style known throughout Vietnamese history since the late 19th century. Another highlight is sitting to share an experience with a Hanoi egg coffee. You can try it at Cafe Giang, reasonable prices and the taste is a different class to other coffees around. This is a proper Vietnamese coffee!
For the party-goers and night owls, the French Quarter has a famous bar district, Ha Tien. You can sit in this area, have a few drinks and beer snacks from Vietnam, and watch the street party come alive during the evening. Have a look around for the locally brewed bia hoi, a speciality in these parts.
Shop until you drop, or cool down!
For those who want a memory piece to commemorate their incredible journey to Vietnam, you can visit Trang Tien Plaza. On the edge of the French Quarter and in the Trang Tien area, you can loom at a range of designer and local goods and will very possibly brush shoulders with the elite of Hanoi. This mall has class; Old French-style architecture standing out in the French Quarter Hanoi. Even if you don't buy designer brands, you'd still want to have a camera ready for some designer pictures. Take a stroll along Trang Tien Street and indulge yourself with some famous local ice cream. Kem Trang Tien is renowned for having some very luscious ice cream around Hoan Kiem. You can cool down with a Trang Tien ice cream while looking at some very well-made local arts and crafts on display. Walking down this street offers a mini show of the diversity of Vietnamese culture, where you can see people making crafts everywhere and bicycle sellers offering all kinds of gifts. Get your timepiece of Vietnam here.
Visit the Maison Centrale
For a more extensive view of Hanoi, you can move out of the French Quarter Hanoi and into other parts of the city, where you will find a few must-see places while you are in Hanoi. Just outside the French Quarter, is Hoa lo Prison. This prison is famous for keeping former US Senator John McCain as a prisoner during the Vietnamese civil war. Lo prison was built by the French between 1886-1889 and was named 'Maison Centrale' by the French authorities. The prison housed some notorious people. Hoa Lo Prison was originally built to hold Vietnamese prisoners, particularly ones who strived for independence during this period. Prisoners would buy food outside through the holes in the walls to survive. However, the prison was often overcrowded and became recognized as a place for colonial exploitation. Hoa Lo Prison also held US prisoners of war, who were caught and brought to Hanoi during the civil war. Prior to that, many members of the Communist Party of Vietnam are known to have spent time in Hoa Lo Prison. Called the Hanoi Hilton by US Veterans doing service during the Civil War, it is a place full of history and captivating stories. Hoa Lo is a French Colonial architecture that should not be missed. Be sure to make a visit!
The Hanoi Opera House
Another place to see is the Hanoi Opera House. Ballet and opera performances take place at the Hanoi opera house every night and tickets can be available at reasonable prices. A range of opera and other performances are available at various times of the year. Tickets are easily accessed through agents or directly on the website. The grand design of the Hanoi Opera House is something to behold, with magnificent Greek-style decor making up the outside of this building. You can check out the Opera House via a guided tour, or even book tickets to the opera before you visit. One thing is for sure, go to see the Hanoi Opera House. This is the place to be when a new opera premieres in the nation, so if you're lucky you might catch a new opera show. Go visit the Hanoi opera house, to see the opera or just to admire the wonderful building.
For those interactive bookworms
There are a plentiful amount of museums on the outskirts of the French Quarter. There is the Museum of Vietnamese History in Hanoi. The Museum of Vietnamese history gives you a real perspective of the highs, lows, joys, sorrows and struggles of Vietnamese history. Originally built by the French as an archaeological site research centre for the Far East, this museum is now a centre illustrating history about Vietnam. Along with the National Museum, these are the two museums to look out for while in Hanoi. Of course, for the more creative types, there is the Museum of Vietnamese Fine Art. You should consider a visit to the Woman's Museum and check out some of the most prominent women to shape Vietnam. Another, more prominent place to visit would be to see Ho Chi Minh himself. You can see him at the Mausoleum anytime early morning. Make sure you are dressed for this occasion; bare legs and arms cannot be shown for such a solemn occasion.
Things for the intrepid explorer
For the independent travellers who like to explore sights on the fringes, to explore places that only a few manage to grab you could check out Long Bien Bridge, where Hoan Kiem and Long Bien connect. This was considered a masterpiece of French civil engineering in the early 20th century. Long Bien bridge can only be crossed by walking, bicycle and train. This area has some smashing sunset views to enjoy. For trainspotters, the train street in Hanoi centre has a train track running through old housings. Don't walk past the gate into the housing area though, as the police won't be happy! Some risk has rewards and the view alone provides some surreal photo opportunities. Another place to look out for is the Mosaic Wall. This is in the Guinness Book of Records for being the longest painted mural in the world and has received contributions from artists and nations from all over the world.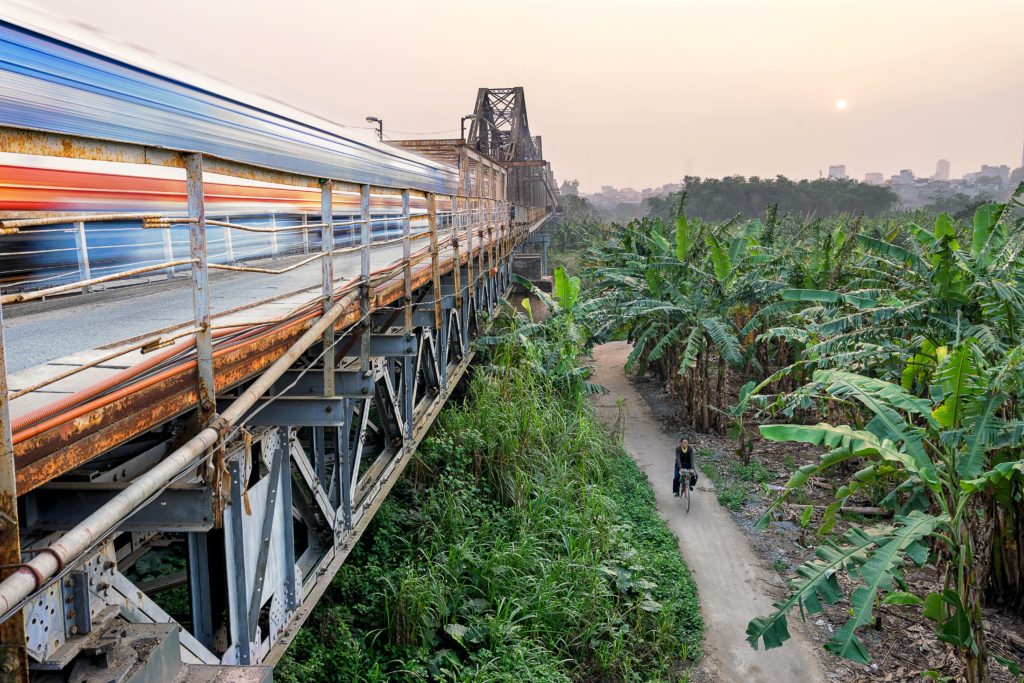 You could also check out celebrity eat-outs, for example, the Bun Cha Huong Lien where former US President Barack Obama and Top Chef Anthony Bourdain ate lunch together in 2016. You can eat next to their table, displayed in a glass cabinet. You won't find this place to be a regular celebrity eating hole, however. As in any Capital City, Hanoi has food and tastes to suit all kinds of budgets and you'll find plenty of options to suit your style and budget. For an authentic experience, you could try the Hung Snake Restaurant. This is a short trip outside of Hanoi, but one that is a very localised and unforgettable experience. For exploring party-animals, there are plenty of nightclub and local bars to explore around Hanoi. In addition to the bars in and around the French Quarter, the West Lake Hanoi has several ex-pat bars and restaurants that can cater to all kinds of tastes. You can find the traditional style of bia hoi, or locally made craft-beer, around the city. Dropping into one of Hanoi's numerous coffee houses is definitely recommended. Sit and watch the life of Hanoi take place while you bask in the Sunshine and watch local life hustling around you.
10 things to do in Hanoi
As there are lots of activities to do in Hanoi, you can't really do everything. There isn't a right or wrong experience either. Here are 10 activities you should do while in Hanoi, as you may not experience them anywhere else. Just a guide, though, rights reserved on these opinions:
Walk around Hoan Kiem lake (during the weekends if you can) and take a picture in front of the turtle tower. The lake is a great spot in Hanoi and a place to spend time around.
Try the local food and drink – this is particularly important. Try the Bun Cha (mixed pork patty with noodles), com ga (chicken rice), Banh Mi and drink an Egg Coffee while you are in Hanoi.
See old architecture – Hanoi has many French buildings dating back to the late 19th Century and many are still in use today. Have a look at the Government Buildings still being used in the city today and see the similarities and differences of two different eras.
Go to see a local performance – this could be a small intimate gathering, to watch the famous Water Puppet Show or a grand moment of indulgence at the Hanoi Opera House.
Visit the Hoa Lo Prison – the stories, information and visual aspects here are unlike anything you'll ever experience. You will see, hear and smell what it was like to be an Old Vietnamese Prison. Feel captured in the morning and spend five minutes in an old prison cell. It is truly frightening!
See a museum and Ho Chi Minh – there are so many museums in Hanoi and you won't get the opportunity to visit the range of museums available anywhere else in Vietnam. The National Museum is a good place to begin. Try to pay respects for Vietnam's great leader, Ho Chi Minh, while in Hanoi.
See Ha Tien bar street – the old entertainment area of Hanoi is still full of bars and restaurants. Get some local beer with chicken wings or perhaps go a little upmarket with a local craft-brewed beer and succulent ribs. For the non-drinkers, it's worth a stroll through this area, at the very least.
Try some shopping – a lot of this is available around the Trang Tien area. Go window shopping to see the latest Ao Dai, walk along the streets and you'll see hand-made goods being produced to the left and right of you. Grab a souvenir to remember your journey to this city.
Walk around the French Quarter – this is a definite experience. See streets of local businesses, bustling motorbike traffic, coffee houses bursting full of people surrounded by the 19th-century buildings that make up this area.
Take photos – keep your camera or phone charged and keep taking photos of Hanoi. Rent an Ao Dai and do as the locals do, turning good dress sense into good pictures. There are hours of snapshot opportunities everywhere, so be ready for a pose. Don't forget to post on Instagram!
Where to stay:
This city caters for a range of tourists who have a diverse range of budgets. Hanoi has many budget guesthouses and a few hostels in the Old Quarter. As they are small enterprises, not LLC, names change frequently so it is good to look at a link such as Hanoi Wikitravel for updates. This site's content is updated regularly. For the people who are looking for more amenities and rooms to suit international standards in global cities, hotels like the Sofitel Legend Metropole Hanoi is the place to stay. A place with the right address for your tourist needs and a hotel well endowed with class, this is definitely worth considering for your extra USD.
Getting there and back
There are international flights coming in and out of the airport every day. To travel to/from places in Vietnam, domestic flights are in abundance as well as numerous trains and coaches available. Travelling around the city is accessible via the main taxi companies, VinaSun and Malinh, or by using the shared-ride apps such as Grab.
What to do now:
Putting your plan into action is easy. Read this post and make your 'to do' list for your visit to Hanoi. Then follow us for an unforgettable journey around a capital that has years of history and many stories to tell. Hanoi is a must-visit destination for anyone in Vietnam.