You are looking for few suggestions to combine some or get off the beaten track routes? Here is a list that will allow you to experience the raw beauty of the country. Check out these fantastic destinations all over Vietnam!
Ha Giang
Ha Giang is Vietnam's northern-most province, 320 km away from Hanoi. The mysterious landscape along the Chinese border – a mythical combination of conical limestone peaks and deep, craterous valleys – is probably the most striking in the country. In the last few years, road conditions between Ha Giang, Dong Van and Meo Vac have improved, making access to this remote part of the country relatively easy. There are basic accommodation in main towns and remote areas but it's worth roughing it. It's the region to go to if you want to experience 'the real Vietnam' and meet local people; and its famous Dong Van Rock Plateau is a UNESCO-protected geological park worthy of a visit in its own right.
What to do:  road trip through the regions combining with Ba Be, Bac Ha and Sapa if you have more time, hiking and visiting local villages, capture the most stunning view over Twin hills in Quan Ba and Ma Pi Leng Pass .
Insider Tip: Don't miss one of the colorful ethnic markets on Sundays (Quan Ba, Yen Minh, Dong Van Meo Vac. Avoid June to August as those months fall into rainy season and it's not safe for traveling.
2.  Mai Chau
While all of the Western tourists flock to Sapa, the Vietnamese go to Mai Chau.  Just four hours from Hanoi, this foggy valley of rice paddies is the closest place from the city to find ethnic tribes.  Mai Chau and the nearby villages are in a valley, nestled between two towering cliffs and surrounded by emerald green paddies, it is an enchanting sight as you approach down the windy cliff side road and the villages and surrounding countryside present an idyllic rural scene that could easily charm you into staying longer than intended. Don't expect elaborate costumes – most are wearing tracksuits these days.  However, you might join the locals at cultural dances that end in communal dancing and drinking.
What to do: hiking or cycling to visit different villages in the valley, bamboo rafting, boating along Ma River, staying overnight in a traditional stilt-house of Thai minority, mingling with the colorful hill-tribes at Sunday market at Pa Co, some 40km from Mai Chau, trekking into Pu Luong Nature Reserve.
Insider Tip: The best time to visit Mai Chau is between October and April, as outside of these times Mai Chau can become unbearably hot, particular in June through to August, and if you're staying in a homestay you'll find little respite from the heat as electricity doesn't come on until the evening. That said, some good deals can be had on the pricier hotel options out of season.
3. Bai Tu Long Bay
Everyone heads to Ha Long Bay, not many know about Bai Tu Long Bay. Bai Tu Long Bay is just to the north – it has much the same geography as Ha Long, but is less visited thanks to its harder-to-reach location and fewer accessible caves.
Bai Tu Long Bay occupies three quarters of Halong Bay World Heritage site, as well as many islands in Van Don, Cam Pha District. Travelling to Bai Tu Long Bay is off the beaten track and promises to deliver many unique experiences, far from the heavily touristic sites.
In this big area, visitors can find pristine natural landscapes. Even now, Bai Tu Long remains an extensive unexplored area. In some ways it is actually more stunning than Halong Bay, since it is only in its initial stages as a destination for travelers. Bai Tu Long has many attractions to visit: Cong Do area, Vung Vieng fishing village, Da Xep Park, Cong Dam area, Thien Canh Son cave and Tra Gioi beach. There are also some populated islands; Quan Lan, Ngoc Vung, Cong Dong, and Cong Tay with many beautiful beaches. In addition, Bai Tu Long Bay National Park is rich in biological diversity, home to many different flora and fauna.
What to do: Swimming on secluded beaches, kayaking through fishing villages and hidden lagoon, visiting less visited ancient caves, visit fishing village by rowing sampan, trying night squid fishing, enjoying candlelit dinner in a cave in the middle of the bay.
Insider Tip: There are fewer boat companies who offer overnight cruises to this area compared with Ha Long Bay, so it's a place to avoid the crowds. It might get pretty cold from December to February, and from September to November the bay is subject to occasional typhoons.
4. Phong Nha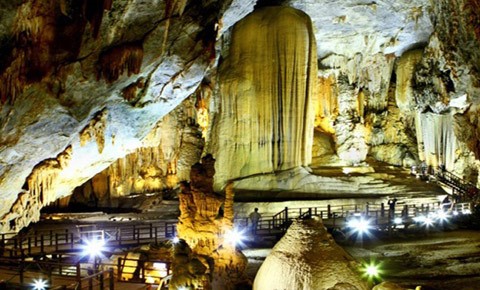 Nestled at the foot of limestone cliffs that began formation 400 million years ago, Phong Nha is the gateway to Phong Nha-Ke Bang National Park, home to a series of world record-breaking caves. Situated 45 kilometres northwest of the provincial capital of Dong Hoi and built along the Son River, the small village of Son Trach (also referred to as Phong Nha) is growing to meet the growing number of tourists flocking to explore these underground worlds.
Phong Nha Ke Bang National Park was listed as a World Heritage Site in 2003. Covering more than 800 km (497 miles), it's thought to be one of the most distinctive examples of karst landforms in Southeast Asia, with more than 300 caves and grottoes including Son Doong, the world's largest cave, only discovered in 2009 by Mr. Ho Khanh.
What to do: Visiting Phong Nha Cave, Tien Son Cave, Thien Duong Cave, Walk the Nuoc Moc Ecotrail, Trekking to Tu Lan Cave, Hang En Cave or the World Largest Son Doong Cave, Kayaking the Phong Nha Cave or Dark Cave.
Insider Tip:  The best months to visit for trekking and caving are March, April, and May, before the draining humidity of summer kicks in. From the end of September, Phong Nha can get very wet with the chance of typhoons. Some services wind down during October and November as caves can be flooded, and roads become thick with mud, making it difficult to get around.
5. Phu Quoc Island
Phu Quoc might not be the secret it used to be, but there is still enough deserted white sand to spare on Vietnam's largest island.  The exterior is awash with untouched reefs, while the interior boasts protected forests and dirt roads that beg to be explored on motorbike.  Phu Quoc is one of the pricier places in Vietnam, but affordable beachfront accommodation can be found.
What to do: The snorkelling around the island is pretty stunning along with renting a motorbike to explore the island. With a dense forest and local fishing villages to explore, driving around here would definitely entertain you.
Insider Tip: Get there soon because Phu Quoc is gearing up to become Vietnam's next big tourist destination.