Water puppetry is one of the most indigenous cultural traits of Vietnam. Being closely associated with the community village culture, there's hardly any other form of art that all Vietnamese can relate to. Let's join us for a quest to this prevalent yet mysterious tradition.
It all began in the rice field
The wet rice civilization of Northern Vietnam was believed to be the cradle of nurturing this traditional art form. Being born as a communal performance during harvest time for farmers, water puppet shows gradually progressed as an entertaining activity for the royals. That's an intriguing adventure from the rice field to the citadel stages.
The water pavilion
This special stage requires a chest-deep pool of water. This water pavilion called "thủy đình" ("thủy" means nước, "đình" is a communal house) is where the journey of the puppets carried out. A puppet is carved out of fig wood, then polished and decorated with meticulous details. Most of the puppets look cheerful and symbolic with vivid colors to emphasize their own characters. For example, "Chu Teu" is the most so-called character in the water puppet world. He is very talkative and cheerful just like any typical northern farmer. Therefore, he sometimes acts as a narrator, sometimes as a commentator to warm up the audience.
Behind "Y Môn"
"Y Môn" means a screen which separates 2 different worlds. One is our daily life, the other one only exists inside the water pavilion to worship the spirit of water puppets. The puppeteers bear an important mission to breathe a new life into every action of the puppets not only by using bamboo rods and string mechanism hidden beneath the water surface, but also by their excellent storytelling skills.
The stories they told
These Vietnamese folktales capture the essence of agricultural society: ritual to pray for rain, harvesting, fishing, silk weaving, dragon dance, buffalo fight, wrestling, boat racing… A typical performance always comes with old-fashioned music played on authentic instruments like drums, wooden bells, bamboo flutes… In short, this is a time travelling voyage to the old days of the rich Tonkin culture. Through time the farmers-artisans community grew vastly and formed many guilds in all over Vietnam.
Where to enjoy this precious intangible asset of Vietnam
There is a variety of choices who crave for this artistic aspect. The most professional shows operate mostly in tourist centers like Hanoi, Saigon, Hoi An, Hue.
Here comes the important parts- suggestions from our experts:
Hanoi
Thang Long Water Puppet Theater
Situated at the heart of Hanoi and facing the iconic Hoan Kiem lake, this world-famous theater makes it convenient for all wanderers to get a taste the art.
Add: 57B Dinh Tien Hoang, Hang Bac, Hoan Kiem
Vietnam National Puppet Theater
Tucked at a quiet area of Hanoi, the largest water puppet theater in Vietnam offer shows on both outdoor and indoor water stages.
Showtime: everyday at 17.00- 18.30
Add: 361 Truong Chinh, Nga Tu So, Thanh Xuan
Vietnam Museum of Ethnology
After learning about 54 ethnic minorities in Vietnam, still in the mood for educating yourself a bit more?
Showtime: everyday at 10.00, 11.30, 14.30, and 16.00 (except Monday)
Add: Nguyen Van Huyen, Cau Giay
Bong sen water puppet theater
This is an elegant blend of French and Vietnam architecture for indulging yourself in this peculiar show.
Showtime: everyday at 14:45; 16:00; 17:15 and 18:30
Add: 16 Le Thai To (79 Hang Trong), Hoan Kiem
Water Puppet and Traditional Art Theater, Hue (upcoming in the end of 2019)
This imperial city creates a favorable surrounding for art to thrive. Being settled by Nhu Y river, the future theater will definitely be adding some poetic rhythm to the conventional performances.
Hoi An Theater
Like other things in this charming little town, Hoi An Theater is a cozy setup which happens to amplify every details of the show. After a leisure day, what could possibly be a better ending than getting a taste of cultural heritage in the most cheerful way?
Showtime: Tuesday, Friday and Saturday at 18.30
Add: 548 Hai Ba Trung, Tan An
Saigon
A nostalgic break should be strongly recommended after a day in the hustling vibe of this city, or at anytime during the day.
Museum of Vietnamese History
Showtime: Everyday at 9.00- 10.00- 11.00- 14.00- 15.00- 16.00
Address: 2 Nguyen Binh Khiem Street, Ben Nghe Ward, District 1, in Ho Chi Minh City
Golden Dragon Water Puppet Theater
Don't miss a chance to treat yourself a cultural feast to the eyes and the ears in the busiest area of this youthful city
Showtime: Every night at 17h00 – 18h30 – 19h45
Add: 55B Nguyen Thi Minh Khai Street, Ben Thanh Ward, District 1
Shorter performance: 15 minutes
For avid traveler who has all the time in the world
Got a day spare to discover more about this authentic art form? Take a trip back to where it all started. Like we've said earlier, the water puppet guilds are not that hard to find.
Dao Thuc Village, Dong Anh, Hanoi
Just a 20-km ride from Hanoi
Dong Ngu village, Thuan Thanh district, Bac Ninh
25 km away from Hanoi
Hong Phong Water Puppetry, Hai Duong
80km away from Hanoi
Yen Duc Village, Dong Trieu, Quang Ninh
80km away from Hanoi
Private shows on a mini stage at Puppeteer Phan Thanh Liem's house
Kham Thien street, Hanoi
What they offer here is the transform of daytime farmers becoming water puppeteers when the night falls. At the end of the day, you will not only leave with the folktales on stage but also the stories of how these unique guilds have preserved this unique art inherited from their ancestors. Each of them possess their own unique styles and secret techniques which draw a colorful picture of the water puppetry in Vietnam. Needless to say, it takes more efforts to arrange a show in these villages. Therefore, it's better to contact our experts for further assistance.
Attention, cultural foodies
Holding the passion of spreading this art form to the world, some restaurant owners in Saigon set up indoor mini stages to offer free shows during the dining time. Although these shows are often short and irregular, this unique combination of Vietnamese cuisine and arts is highly appreciated.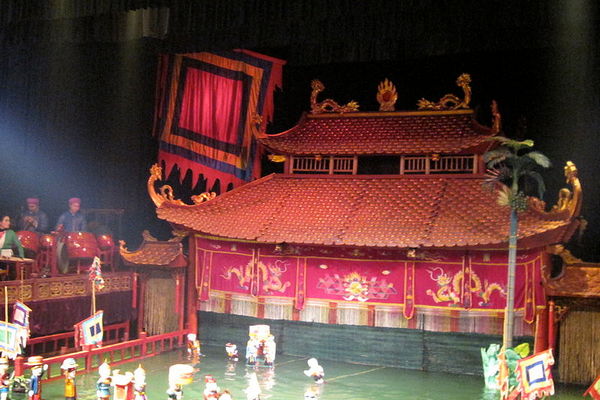 Ngon Restaurant
Add: 195 Nguyen Van Huong, Thao Dien village, District 2, Saigon
Showtime: Every Saturday from 19.30–20.00
Đậu (Tofu) Homemade
Add: 6 Hong Ha, Ward 2, Tan Binh District
Nguyen Van Trang, District 1
45A Hoa Lan , Ward 2, Phu Nhuan District
Notices:
– Performances on request are also available if visitors would like private space.
– Most of the shows come without English subtitles, however the puppet gestures are obvious enough to keep the audience enthralled
– The ticket price varies from 2-8USD.
– The cheerfulness puppets' characters bring can guarantee to get children excited. Don't hesitate to take kids with you.
– To get the event calendar of all these performances, please feel free to leave us a message.