Are you ready? Let's have a look at our top 5 destinations for honeymoon in Vietnam.
We all have different ways to define romance. It could be letting the night fall with a nice cocktail by the picturesque beaches or savoring a dish of tasty food which is gracefully decorated. However, it's really not the matter of where, when or what, the most crucial part is whom you are with. Now that you solved that question, our experts would love to give you some suggestions for an ideal escape of two in Vietnam. With its favorable nature, nostalgic charm, harmonious paradoxes of culture, tempting cuisines, Vietnam has been emerging as one of the most sought-after honeymoon places in Asia.
1- BAI TU LONG BAY
Yes, you heard it right, it's Bai Tu Long Bay, not Halong Bay. Being a part of the World Nature Wonder complex, Bai Tu Long Bay has all the things its famous neighbor offers except the crowd (which we believe not many couples enjoy). The bay wows honeymooners by the splendid network of limestone islets and a wealth of stunning grottos with stalactites and stalagmites. The most romantic way to explore this wonderful place is an overnight cruise in which you get to join a wide range of interesting activities on-board and off-board such as cooking class, Taichi, kayaking, paying a visit to fishing villages…
Highly recommended experience: a special dinner for two with a customized setting and menu upon your request on a private beach can be arranged. Make your sweetheart surprised.
2- HOI AN
Even though there is no official title for Hoi An as a honeymoon spot but it's undeniably the most charming town in Vietnam. This ancient port town will make you feel like being in the famous movie "In the mood for love." The classic music on the small alleyways, flowers climbing on the roofs, the nostalgic vibe from lanterns and the ancient architecture greatly create the romantic ambience. When the night falls, Hoi An changes to an even more beautiful gown with the magic glow from thousands of colorful lanterns. Just simply walk around the town with your other haft, hand in hand and appreciate the everlasting beauty of Hoi An as it has been centuries ago.
Highly recommended experience: Work on your tan on An Bang Beach, enjoy the live music in the beach bars, have some coffee by the riverside and catch the gorgeous sunset on the Hoai river or a private dining experience in the middle of rice paddies.
3- PHU QUOC ISLAND
Couples surely don't want to miss this charming spot. Phu Quoc boasts the breathtaking natural beauty and pristine beaches which creates a perfect setting for love. A honeymoon in this island will be filled with stretches of silver sand, warm turquoise waters and the prosperous marine life. A highlight is "Starfish Beach"- the most beautiful one in Phu Quoc with shady coconut trees and a vast range of karst cliffs lying towards the sea. The waves here are so soothing and tranquil that you might want to take a nap and have an ocean dream.
Highly recommended experience: Do some gentle trekking on the jungles or mountains, touch base with the marine life to see the corals or indulge yourself in some wonderful treats from one the best wellness resorts like Fusion Resort or La Veranda Phu Quoc with world-class services.
4- DA LAT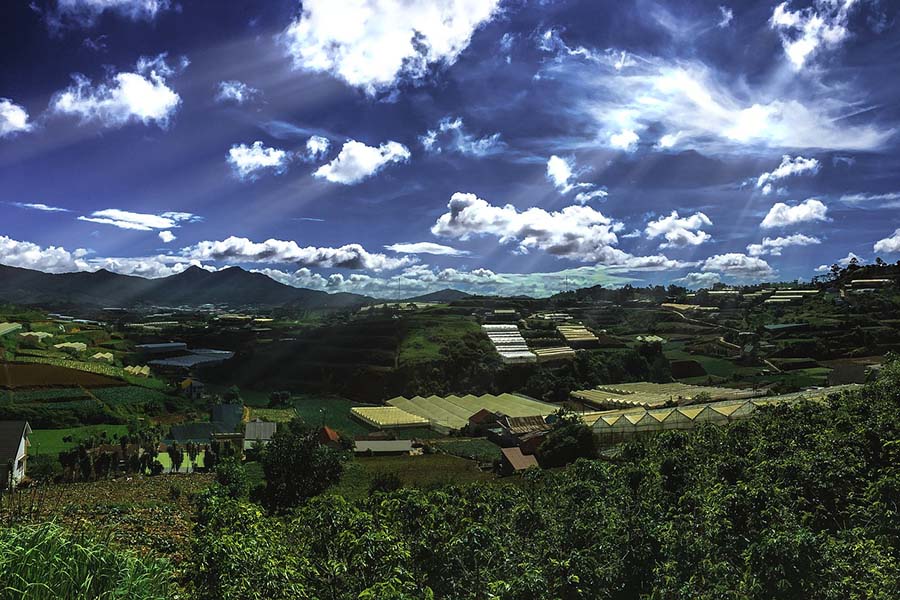 When you search for this place, one of the first things came out is the title "The city of love." Be prepared for an overdose of romance here. Located in the Vietnam Central highlands, Da Lat features the vast of rolling mountains and picturesque valleys filled with pine trees. Experiencing the weather swings of 4 seasons in 1 day is not a thing you get to see often. There is a plenty of attractions in Da Lat City that you don't want to miss such as Valley of Love, Da Lat Flower Park which is home to a variety of flowers and bonsai trees. Honeymooners can also rent a motorbike to ride around and challenge the hilly terrains. If you love nature and you love each other, this is the place to come.
Highly recommended experience: Paddle swan-shaped boats which were designed for two in Xuan Huong Lake, simply stroll hand in hand through flowers in the Valley of Love or canyon Datanla waterfall for some adrenaline rush together.
5- HANOI
What's so attractive about the capital city of Vietnam? Needless to mention the popularity of Hanoi, everyone wants to visit it when they come to Vietnam. It takes time to discover the mysterious beauty of this city. The charm of Hanoi lies in its history heritage and the unique blend of modern and traditional culture, architecture and lifestyle like no other. Apart from the bustling Hanoi Old Quarter ,there are also many interesting spots to go with your beloved ones such as The Temple of Literature, Ho Chi Minh Complex, Tran Quoc Pagoda, West Lake, Long Bien bridge (sunset on this bridge is the most poetic scene ever)… What else? It must be the outstanding cuisine which can feed not only your stomach but your soul.
Highly recommended experience: Take a time-travelling journey with the cultural show My Village to relive the poetic Vietnamese rural lifestyles, indulge in some couple spa therapies to recharge your energy.
The above list certainly is not complete, there are many other great ones for honeymoon holidays throughout this beautiful country. Due to Vietnam's flourishing nature, great hospitality and wonderful cuisine, why not make it your choice to celebrate the very first page of your marriage. We would love to hear more about your definition of a perfect honeymoon.