In this article, we would love to suggest a list of Vietnam's off-the-beaten-track destinations which caters to adventurous travelers who want to jazz up their journeys and get off the touristy places during their holiday. Here comes our top 5 for under-the-radar areas where you can experience Northern Vietnam the way it really is.
1. Mai Chau
Located in the west of Hoa Binh and about 140km from Ha Noi, Mai Chau valley is attracting more and more travelers every year for its perfect blend of the natural beauty and the cultural life of ethnic minorities.
The climate of Mai Chau is strongly influenced by the Northwest monsoon, with its tropical flair. Average annual humidity reached 82%. Mai Chau features two distinct seasons which are rainy season and dry season. The best time to travel extends from September to May with great temperatures for cycling tours or gentle trekking to explore this stunning valley. It can be cold during the winter from November to the end of February. Other than that, the nature is favorable with majestic mountains, protected jungles.
In addition, Mai Chau valley has been hiding plenty of scenic spots such as Khoai cave, Lang cave, Chieu cave, Suoi cave, Lac village (Chieng Chau), Pom Coong village, Hang Kia…
2. Pu Luong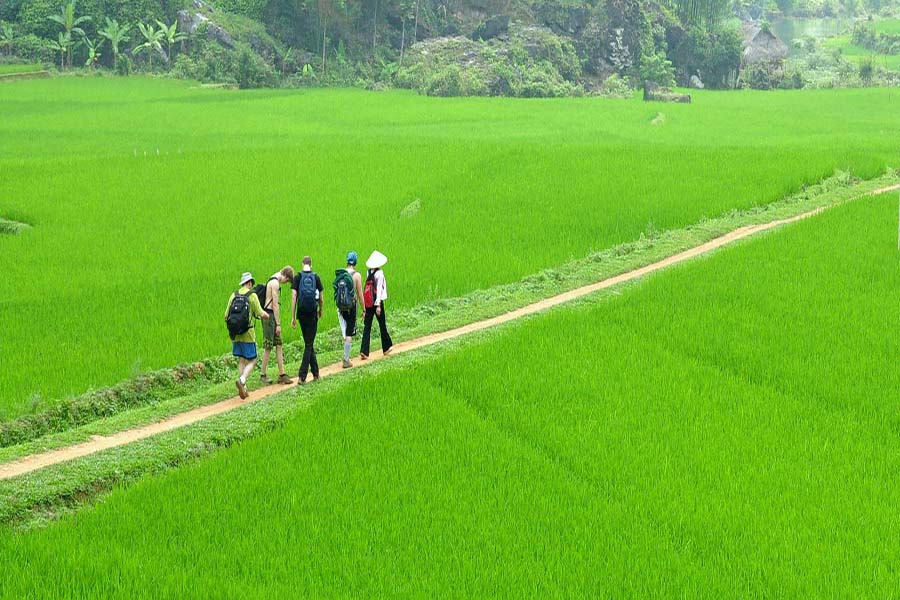 Located about 150 km from Hanoi, it takes approximately 4,5 hours to get there. You can make a stop in Mai Chau along the way. The Pu Luong Nature Reserve is the reason to come here. Trekking is surely the best way to take in the natural splendor of Pu Luong at its finest. Making your way up to the peak of Pu Luong mountain or doing a multi-day trek through the entire reserve are just two out of multiple options here for adventure lovers.
In addition to boundless mountains, fruitful valleys and untouched jungles, this delightful valley is also the ethnic Thai people's home. Their rich culture and peaceful pace of life add another good reason to visit.
3. Ba Be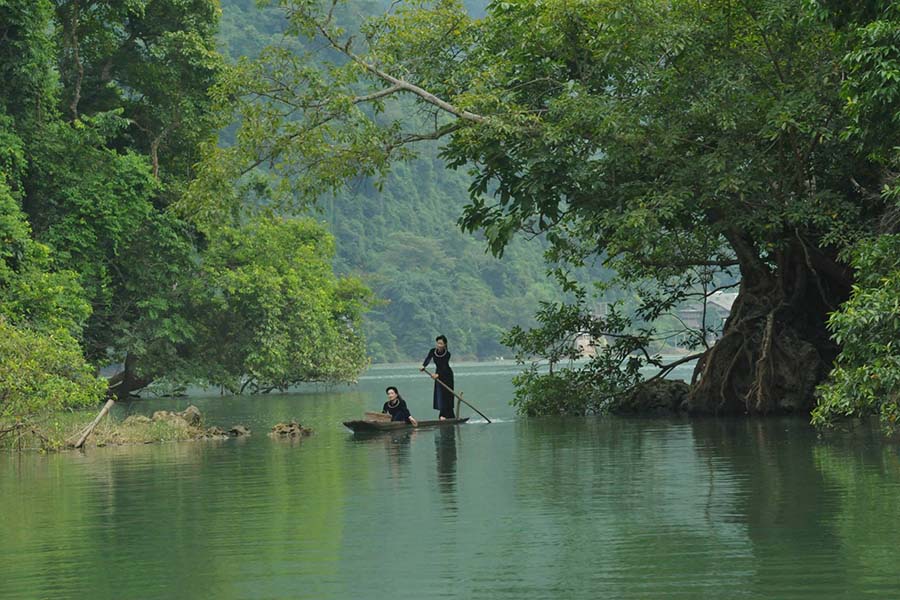 Located in Bac Kan Province, about 260 km from Hanoi, Ba Be National Park is home to a large fresh-water lake also named Ba Be, waterfalls, caves and rivers. In Vietnamese, Ba Be lake means "three Seas" since it comprises 3 giant lakes like the sea, this is one of the 100 largest natural fresh water lake in the world, stretching about 8 kilometers in the north-south direction.
First established in 1992 as a reserve, Ba Be National Park provides tremendous opportunities for getting closer to nature and participating in adventurous activities such as trekking and kayaking. The park itself is surrounded by soaring mountains which are up to 1,554 meters high. Statistically, there are over 550 plant species, and 300 species of wildlife live in the forest. The surrounding areas are the habitat of the Tay minority with their stilt houses and rice fields. On the Ba Be Lake, travelers will have chance to sit on row-boats, observe the pristine surroundings with its tranquil yet exotic beauty.
4. Bac Son
Locate at the Northeast region of Vietnam, 160 km away from Hanoi, Bac Son has what it takes to become an interesting destination for tourists from all parts of the world.
One of the attractive aspects about this valley is its vast range of mountains which are about 500-1200 meters high. Along with the paddy fields intertwined with beautiful rivers, it boasts an epic landscape which inspire the adventurer in you. Climbing to the peak of a mountain is a must to get the magnificent panorama view of the whole district.
Apart from the flourishing nature, Bac Son valley is home to a community of ethnic minorities where you get to learn more about their culture and lifestyles such as rice cultivation methods or simply joining scenic hiking or cycling.
5. Hoang Su Phi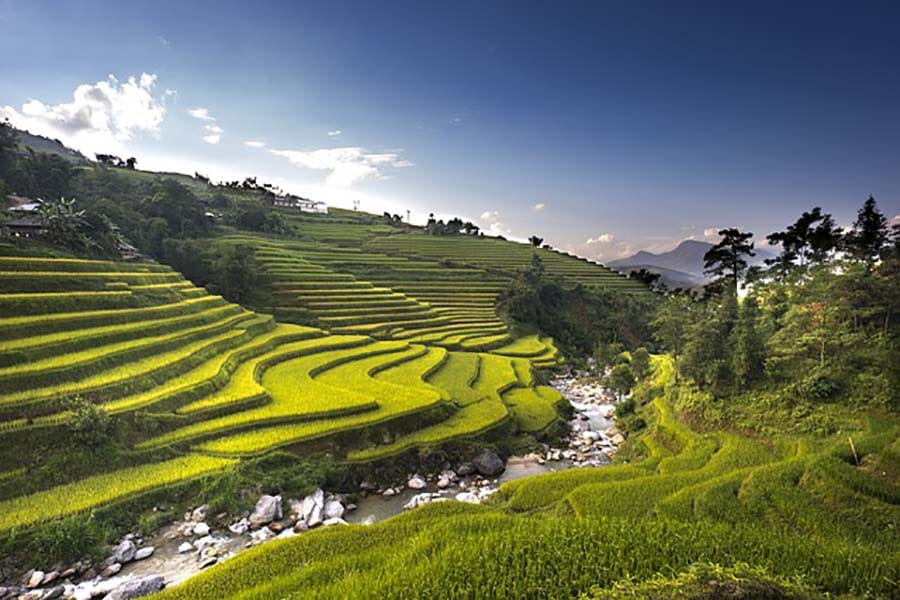 Hoang Su Phi is one of the most untouched area of Ha Giang, Vietnam. This region has been isolated from the mainstream culture until lately. The capital city of Hoang Su Phi District is 60km from Tan Quang City and 100km from Ha Giang city central.
The pristine beauty of the mountain landscapes and precious wild life can win all travellers' hearts at first sight. Apart from that, the local ethnic minorities such as Nung, H'mong, Tay and Ha Nhi People is another nice brush of the whole picture. Hoang Su phi market on Sunday is one of the must do when you pay this wonderful land a visit. For ethnic communities, the markets capture every little details of their daily life as well as cultural traits.
The most favorable time to visit Hoang Su Phi is summer time. It's also the harvesting season. The water pouring period actually starts at the beginning of May and it covers everything with a unique coat. No one wants to miss this special time, particularly photographers for you will find plenty of interesting corners of lights and the water. Another ideal time for photographers to come is September and October because rugged mountains, lush valleys, endless skies and terrace rice fields are what you will get.
Whether you are a nature lover or a cultural seeker, Hoang Su Phi of Vietnam's Ha Giang province definitely hits all the right notes.