The Top 5 Family-Friendly Restaurants in Hanoi's Old Quarter or… how to avoid a hangry wolf pack while visiting Hanoi's most popular tourist destination.
There's always been a multitude of choice when it comes to eating in Hanoi. Much of what we now know as Vietnamese cuisine has its origin in the capital. Dating back to the beginning of the Ly Dynasty (1010-1225), the Old Quarter, set inside the city's Hoan Kiem District, began life as a cluster of craft workshops, and has grown to become the city's main business district and more recently, its most popular tourist hotspot. As a result, this bustling old town is a living showcase of Vietnam's world-famous food culture, with street-side vendors feeding workers and traders here for hundreds of years.
Since the 1990s, the area has been diversifying, slowly at first, but with more pace in recent years. Restaurateurs have been chief among those leading the change, either by modernising Vietnamese classics or adding something entirely new. These days, while humble roadside seating is still commonplace, as is the waft of char-grilled pork and the sound of clinking bia hoi's, it's down the Old Quarters' myriad side-streets and alleys that a veritable clutch of cosmopolitan eateries has sprung up. Unsurprisingly, many of the best are Vietnamese, offering a version of what you've just seen on the street in an environment your whole family can relax in. Others offer a fusion of modern Asian flavours, while some are a genuine taste of home, for whenever your tribe needs it.
To help you avoid a hangry wolf pack, here's our list of five of the best family-friendly restaurants in Hanoi's Old Quarter, all within easy walking distance of Hanoi's hotel and shopping district, Hoan Kiem Lake and Bach Ma Temple.
1. Quan An Ngon: 18 Phan Boi Chau Street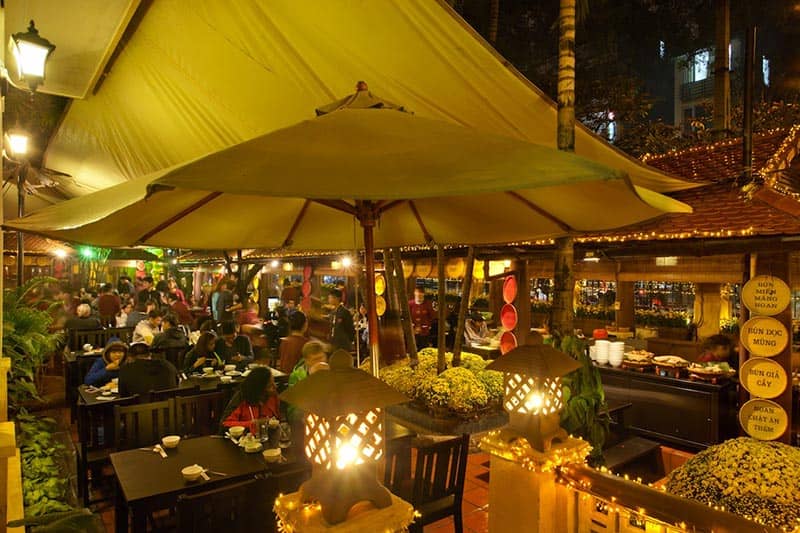 This is a lively family-style Vietnamese restaurant not far off the beaten track on Phan Boi Chau, a street that connects two of Hanoi's main shopping and dining arterials; Hai Ba Trung and Ly Thuong Kiet. Spread out across an open pavilion within the garden of a French-colonial villa, Quan An Ngon presents diners with its' own concept of authentic, street-vendor style Vietnamese cuisine; think Vietnamese pancakes, cold rolls and seafood for starters. To include everyone, the menu has a broad range of Korean, Chinese and Japanese items, meaning plenty to choose from for young and old. If you need evidence of its popularity, it's with the locals, who have been enjoying the venue's casual atmosphere, cheap beer and outdoor patio setting since it opened in 2005 — light-years ago in restaurant terms. Lanterns and tree lights when the sun goes down make for an inviting ambience, too, with a large, happy crowd of regulars. On value-for-money, the food is good — everything is reasonably priced and well made — and the staff is attentive and friendly. Lunch and dinner are most popular, but a limited Vietnamese menu is also available for breakfast. The only word of warning about Quan An Ngon is that its' success can also be its' biggest drawback; waiting for a table is not uncommon here. Get in early to avoid the rush!
2. Duong's 2 Restaurant: 101 Ma May Street
Duong's 2 Restaurant on Ma May Street is an example of modern Vietnamese and Vietnamese-French fusion brought to life in the heart of the Old Quarter. Catering to local and international food lovers, it's owner and chef, Hoang Duong, is somewhat of a celebrity, having performed well on Vietnamese TV in Ironchef Vietnam and Top Chef Vietnam — where he finished 4th in 2014. Duong has two family-run locations in the area, and this one is just a short walk away from the must-see Old City Gate, the last remaining original entrance to the Thang Long Citadel. Attached to all three of Duong's locations (he runs a third in Saigon) is a well-repped cooking class, and taking part in one of these is highly recommended for families. Not only will you get your hands on some of the best local produce, you'll also get the chance to emulate some of Duong's visually spectacular meals. With two four-course set-menus to choose from, the overall atmosphere here is relaxed fine dining, with an emphasis on flavour. The restaurant itself is a cosey two-storey eatery that features a leafy upstairs balcony to really escape the hustle. If you're lucky enough, Mr. Duong himself will be on hand to meet you, and encourage you to relax and be waited on by his enthusiastic and professional young staff. Again, this restaurant is popular, so give yourself every chance by booking ahead – they also do really great street food tours!
3. Ngon Villa: 10 Tong Duy Tan (closed)
Ngon Villa could be your family's all-you-can eat 'destination meal' inside the Old Quarter. This fully restored French-colonial home, built in 1889 for a French army captain, is a step back in time through Vietnam's fascinating history. With private rooms and even private floors bookable for up to 60 people, there are multiple seating areas spread throughout its heritage floors. These include a spacious outdoor patio, and intimate balcony settings. Also in possession of a celebrity Executive Chef, (Chef Nguyen Thanh Tung won an episode of Ironchef Vietnam in 2012) Ngon Villa's concept is all about discovery, allowing their diners to pick and choose small plates from an extensive menu of Vietnamese favourites. All of it comes highly rated on TripAdvisor, of course, and this is reflected in the price you'll pay, making it as much of an experience as it is a meal. As per the competition, Ngon Villa offers a 3hr cooking class that includes a market visit with Chef Tung himself, which is possibly one of the best opportunities you'll get to make street food like a master. Bookings recommended for this place.
4. Al Fresco's restaurant: 19 Nha Tho Street (closed)
Consider this your beacon of western salvation. When you've done all of the above, there's absolutely no reason to feel guilty about you or your pups hankering for a taste of home. Al Fresco's were way ahead of the curve when they set up in Vietnam in 1996 and their restaurants have done well to corner a growing family niche that has seen locals drawn to a western menu for the first time, and travellers and expats seek comfort in its familiarity. Fortunately, the food served at Al Fresco's is of a high quality, particularly if you love wood-oven baked pizzas, Australian steaks, fish and chips, and a range of gastro-pub style fair. There's no chance of a cooking class here, but the cafe grill vibe is relaxed and the outdoor patios make Al Fresco's a great place to regroup with your mini-me's with a smoothie or even a dessert. With regular happy hours designed to tempt your fate, chances are there'll be a big screen playing your favourite sport, too, just to make it even harder to leave. This particular location in the Old Quarter is just seconds away from St. Joseph's Cathedral, Hanoi's oldest church, and half a block the other way from the banks of Hoan Kiem Lake, right in the heart of the action. Prices are comparable to what you'd pay at home, although there are often daily specials.
5. Green Tangerine: 48 Hang Be
The Green Tangerine is another classic French Villa serving upmarket brassiere-style Vietnamese and French haute cuisine in the middle of Hanoi's Old Quarter. One of the city's original bastions of this type of food preparation, founding French-Vietnamese chef, Stephane Yvin, was actually a biological engineer prior to opening the restaurant's doors in 2003. Today, it still occupies the same refurbished 1928 property it did then, with it's exposed brickwork, antique furnishing and spiral staircase delivering a French ambience that comes highly rated online. Much-loved by travelling foodies and by an expat heavy crowd of regulars, Green Tangerine says it welcomes diners who seek a 'unique gastronomic experience.' Its' menu is a reflection of this — lavish — and customers have the option of either going a la carte, or a choice of a 2 or 3-course set. Unsurprisingly, what's on it has less to do with Vietnamese street or western comfort food, and everything to do with the finest imported ingredients to make the finest available food. For example, if a 'mille feuille' of spinach and salmon, followed by a beef carpaccio cooked with kumquat and orange pepper sounds like your deal, this is the place for you. Another short walk from Red Bridge, bookings are essential here.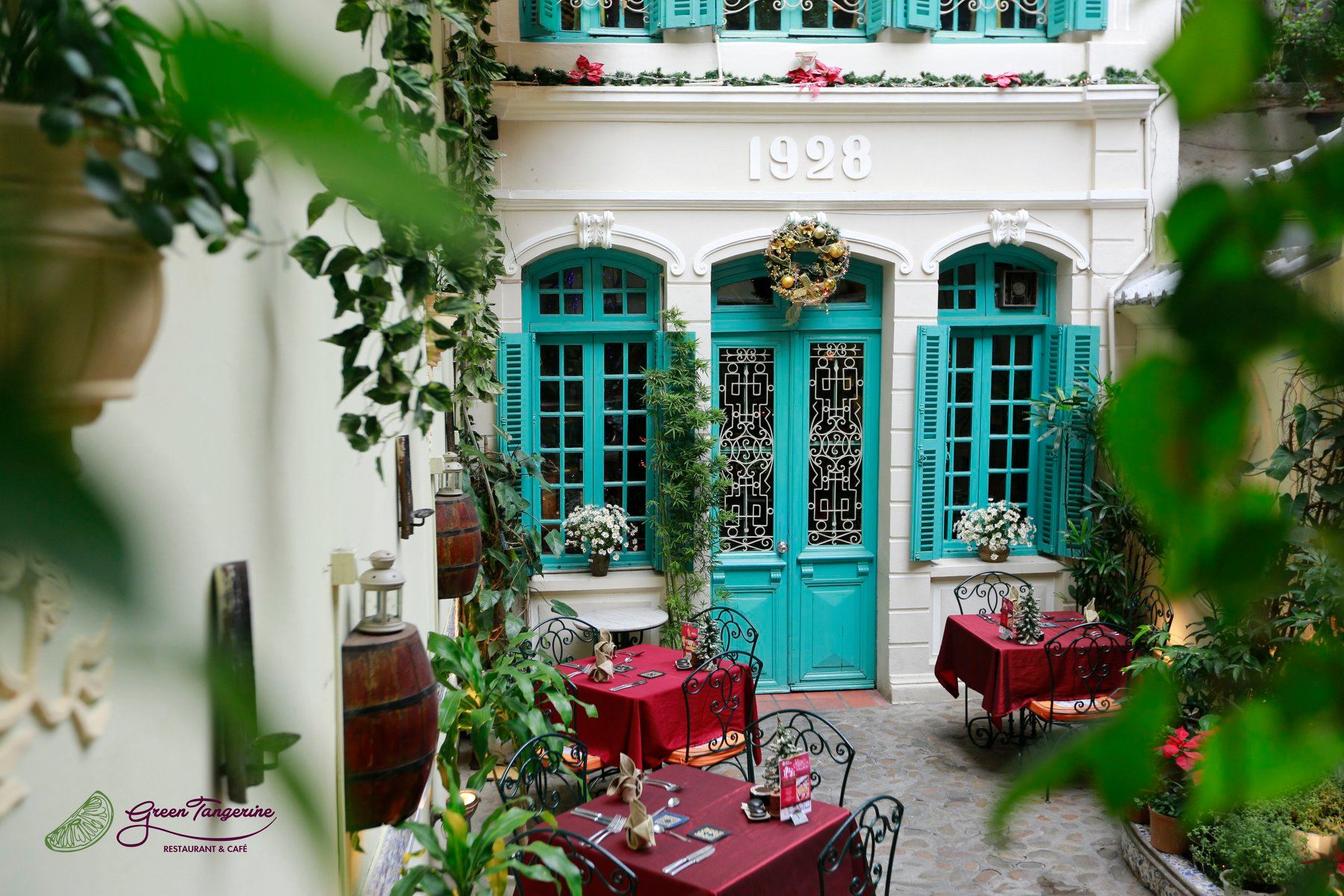 For more information about any of the above restaurants, Vietnamese cuisine or what other activities you and your wolf pack can get up to in the Old Quarter, please get in touch with us at our website and fanpage.