Good day everyone, and welcome to our blog! We want to give you some practical information about Sapa weather, December – but let's start with Sapa Town itself. Sapa is a small mountain town in the region of Lao Cai. It is in Northern Vietnam and borders Southern China. It is a town made up of many different ethnicities, such as the H'Mong, Dao and other local tribes that reside around this mountain area.
The Sapa as we know it
Let's tell you more about Sapa in December. You'll need to know what to prepare and what to expect. We'll recommend places for you to visit and stay at this time of year. We'll also look at certain special events that usually take place during the holiday season during late December. Sit down, have a read and get ready to make a few notes.
Sapa is a very quaint town, full of very hospitable and gregarious people. They always want to show you a good time. You'll see them hustling and bustling on market days here. You'll also see them doing various activities around the church and lakeside during the evening. You should try some of their local food, as the BBQ is delicious! Get that with a nice iced tea and beer and you'll be well away in the moment.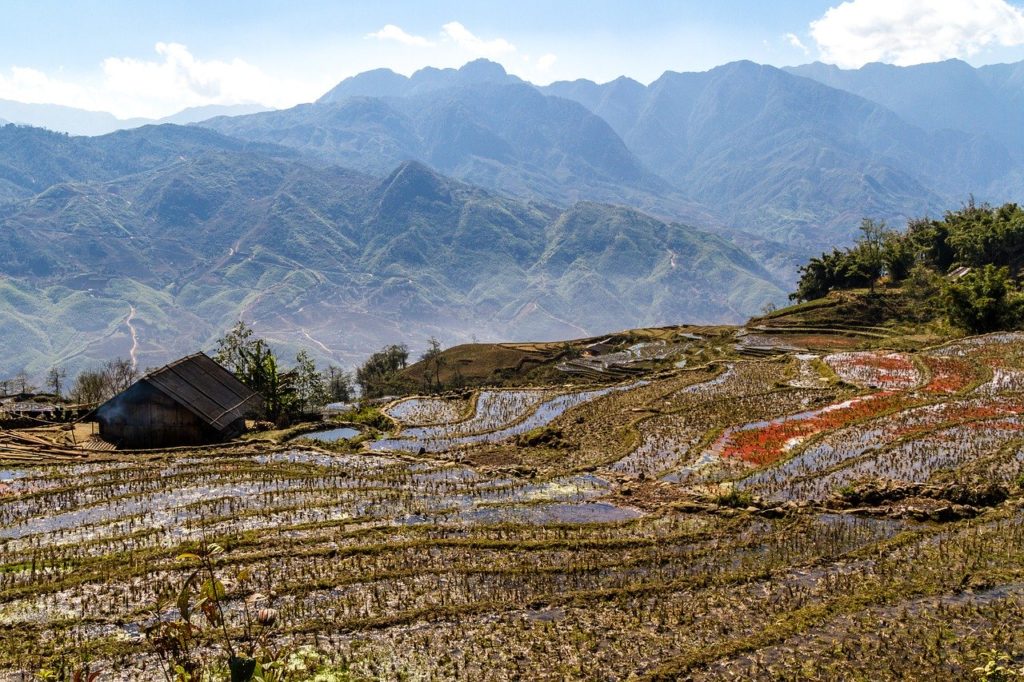 So, what's the atmosphere like in the Sapa weather, December?
Well, you might want to think twice about having cold drinks in December. You see, Sapa can get very cold during this time. You might not want to sit outside, even though you'd want to as it is beautiful this time of year. You'll be amazed at how the rice paddies and the mountainous landscape gets covered in fine white silk at times. Snow usually falls anytime between the 15th December to the 2nd January and lasts for 1-2 days. For the rest of the time, the fresh air and rugged terrain make the Sapa area feel like it is taking a breather and cooling down after a busy year. 
Although cold, with some biting winds, the Sapa weather, December, can get very busy. It depends. It is peak season at this time of year across Vietnam. You might find some places to be extremely quiet, as they don't want to face the cold mist.
Other places can become very busy, especially lodges, bars and restaurants on the main town road during the late afternoon and early evenings. Christmas and the Gregorian New Year are popular times to visit Sapa and Vietnam in general. Try to book your transport ahead where possible. We can help you at Absolute Asia Travel. 
How can I prepare for Sapa weather, December?
As mentioned, it does get cold in Sapa. You should take some warm clothes with you, but not too heavy. You can get insulated, lightweight clothes at hiking shops around the world. If you forget, you will be able to pick up some clothes at the Sapa market.
Another thing to prepare might be some hiking items, like a hiking stick and torch. That's because they are useful, even on day trips. You'll be doing a bit of walking up and down hills through the villages and to the scenic points in the Sapa area. A first aid kit, with some bandages and medicines, are also useful. There are pharmacies in town, but you might not be able to pick up any brand you are familiar with. Sapa weather, December, looks beautiful but it can also be a little dangerous, as it is quite slippery on the roads. It is better to be safe than sorry at this time of year. 
Another thing that is becoming a must is a mobile phone SIM Card. You can usually pick one up at the airport on arrival. If not, ask your hotel for help. This will let you use internet data while you are travelling.
Don't forget a bit of extra money, to get food or gifts for some of the locals. The scenery is nice for us, but it isn't good for their farms or income. Bring your Christmas Spirit to Sapa and offer kindness to those who would appreciate it so much more than usual!
Places to visit, around town and in the valleys
You'll need to see if you can fit in the time to see all places in Sapa, the nature spots around Sapa, plus the villages. There is so much to see. We recommend you book a tour guide, which we can offer at Absolute Asia Travel. Here are a few we'd recommend. We've had such great times in these places!
The Sapa Church – Holy Rosary Church
Many a local always came up to us to tell us about their church. This is their church in Sapa. It looks magnificent when covered in snow when in Sapa, weather, December. It is built by stone and is over 100 years old. To add a local touch, the church is decorated with sand, lime and molasses in its structure and is surrounded by some exquisite gardens. Check out the local's activities around the church every Saturday night, and come visit over Christmas to give your special thanks and gratitude. It's a sight worth seeing. They have a very special evening arranged on December 24th, to bring in Christmas.
The Sapa Lake
This lake has wonderful views all year round and is a must-see during your time in Sapa. Come take a walk around and check out the local life around this area. Don't forget to bring your camera, as you won't want to miss out on some incredible photo shots to be had.
The Hoang Lien National Park
This National Park is home to the highest mountain around Sapa, the Fansipan Mountain. It is a plethora of nature, with flora, fauna and luscious greenery encapsulating the area for most of the year. During December, the rice paddies and mountains command the scenic views, with white sprinkled tops and mist-driven hilltop areas being the places to see and visit. Hoang Lien National Park has been a source of focus for many geologists in recent years and valid reason; it has so much to explore, even in December. You have got to visit this place while staying in Sapa. It is a must!
Mount Fansipan
Located in Hoang Lien National Park, this is a tour to take to make the most of your experience of the Sapa weather, December.  This is worth a hike or a trip to the top on the cable car, purely for the enchanting views created by the mist and foggy areas encompassing the landscape. Mountain Fansipan is a marvel that stands aloof of the other mountains in the rooftops of Southeast Asia. This is a Christmas gift to treat yourself while experiencing the Sapa weather, December.
The ethnic minority villages
To check out some of the picturesque hillsides and iconic rice terraces from the ground, you should check out some of the villages around Sapa. Go along the Muong Hoa Valley and check out the Cat Cat Village and waterfall to see the local life at this time of year. You'll be able to purchase some unique gifts from the local H'Mong tribes here. The Ta Phin and Ta Van village are also recommended during this time in Sapa, weather, December. These places glitter with snowflakes when the snowfall comes along.
Places to stay
We can offer the home comforts and warmth outside of the cold in one of our finest hotels here. For those who want to experience a more localised Christmas, we can offer homestays or eco-lodges around the Sapa and Lao Cai area, offering their very popular Christmas Eve BBQ Specials. Come ask us at Absolute Asia Travel for recommendations and availability.
Hope we have guided you a bit…
We hope you can some useful information in this blog post guide. We want to make sure that you are safe in Sapa. We want to make sure that you make the most of the Sapa weather, December. Most of all, we want to make sure you have the most amazing and unforgettable December and Christmas you can ever have in Sapa and Vietnam. Come and chat with us for some more information at Absolute Asia Travel. Have a great holiday!