Embarking on a journey from Mongolia to Vietnam is a thrilling adventure that offers a unique blend of cultural diversity, natural beauty, and historical significance. From the bustling streets of Hanoi to the serene landscapes of Halong Bay, Vietnam has much to offer. In this guide, we will walk you through the entire process of traveling to Vietnam from Mongolia, ensuring that your trip is both memorable and hassle-free.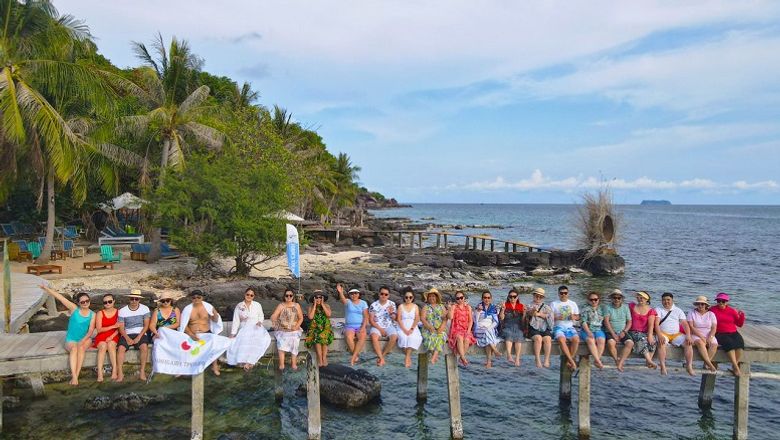 Traveling to Vietnam from Mongolia
Traveling from Mongolia to Vietnam is a rewarding experience, but it requires careful planning and preparation. Here's a step-by-step guide to help you make the most of your journey.
Choosing the Best Time to Visit Vietnam
When planning your trip, it's crucial to consider the time of year. Vietnam's climate varies significantly from north to south. In the north, the best time to visit is during the dry season, which is from October to April. In the south, the dry season is from November to April. This ensures that you can explore the entire country without being hampered by weather conditions.
Obtaining a Visa
Mongolian citizens typically require a visa to enter Vietnam. However, it's important to note that visa requirements can change over time. As of 3 Nov 2023, Mongolian citizens can apply for a tourist visa through the Vietnamese embassy or consulate in Mongolia. It's essential to apply for your visa well in advance to avoid any last-minute complications.
Pro Tip: Currently, the Vietnamese government is working on reciprocal visa policies, and it's expected that in the near future, Mongolian citizens will enjoy visa exemption for a certain period when traveling to Vietnam. For the most up-to-date information, please check with the Vietnamese embassy or consulate in Mongolia.
Visa Options: E-Visa and Visa on Arrival
Vietnam offers two popular visa options: e-visa and visa on arrival.
E-Visa: The e-visa is a convenient option for many travelers. You can apply for it online through the official Vietnamese government website. The processing time is relatively quick, and you will receive an electronic visa, which you can print and present upon arrival in Vietnam.
Visa on Arrival: The visa on arrival (VOA) is another option. You can apply for a VOA letter through a trusted agency before your trip. Upon arrival at a Vietnamese international airport, you will receive your visa after submitting the VOA letter and required documents.
It's essential to check the specific requirements and procedures for both e-visas and visa on arrival before making your choice. Ensure you have all the necessary documents and fees ready to expedite the process.
Booking Flights from Mongolia to Vietnam
There are several options for flights from Mongolia to Vietnam. You can choose to fly directly from Ulaanbaatar to Hanoi or Ho Chi Minh City or Danang or Phu Quoc, or opt for a connecting flight through nearby countries. Be sure to compare prices and schedules to find the most convenient and cost-effective option.
Pro Tip: Starting from December 15th, Vietjet offers direct flights between Ulaanbaatar and Nha Trang on a weekly basis. This new route provides an excellent opportunity to explore the beautiful coastal city of Nha Trang in Vietnam.
Accommodation in Vietnam
Vietnam offers a wide range of accommodation options, from budget hostels to luxury resorts. Depending on your budget and preferences, you can book your stay in advance through various online platforms or choose to explore and book upon arrival.
Exploring Vietnam
Once you arrive in Vietnam, you'll be greeted with a plethora of incredible experiences. Here are some must-visit destinations and activities to make the most of your journey.
Hanoi: A Glimpse of Vietnamese Culture
Hanoi, the capital city of Vietnam, is a captivating blend of history and modernity. Explore the Old Quarter, visit the Ho Chi Minh Mausoleum, and indulge in the flavors of Vietnamese cuisine at local street food stalls. Don't forget to witness the unique Water Puppet Theatre, a traditional art form that has entertained audiences for centuries.
Halong Bay: A Natural Wonder
Halong Bay, a UNESCO World Heritage Site, is a breathtaking destination known for its emerald waters and thousands of limestone karsts. Take a cruise through the bay, go kayaking, and spend a night on a traditional junk boat to fully experience the magic of Halong Bay.
Danang: Coastal Beauty and Culture
Danang, located in central Vietnam, boasts beautiful beaches and a rich cultural heritage. Visit the Marble Mountains, relax on My Khe Beach, and explore the ancient town of Hoi An, just a short drive away.
Nha Trang: Tropical Paradise
Nha Trang is a coastal city known for its stunning beaches, vibrant nightlife, and a wide range of water sports. Relax on the beach, take a boat trip to nearby islands, or explore the local markets.
Phu Quoc Island: A Slice of Paradise
Phu Quoc Island, located in the Gulf of Thailand, is a tropical paradise with pristine beaches and lush jungles. Enjoy snorkeling, visit the Phu Quoc National Park, and savor fresh seafood in local restaurants.
Local Cuisine and Street Food
Vietnam is renowned for its delectable street food. Don't miss the chance to taste the diverse dishes that vary from region to region. Try a bowl of pho, indulge in fresh spring rolls, and savor the flavorful banh mi sandwiches.
Cultural Etiquette
Respecting local customs and traditions is essential. Greet people with a friendly "Xin chào,"
and remember to remove your shoes when entering someone's home. When visiting temples and pagodas, dress modestly and cover your shoulders and knees.
Safety and Health
Ensure you have the necessary vaccinations before traveling to Vietnam. It's also wise to carry mosquito repellent, as certain areas may have a risk of mosquito-borne diseases. Always drink bottled water to avoid waterborne illnesses, and exercise caution when crossing busy streets in cities.
Absolute Asia Travel: A Remarkable Travel Experience
If you're looking for a truly immersive and unforgettable journey in Vietnam, consider exploring the services offered by Absolute Asia Travel. This reliable local DMC and tour operator with Head office in Hanoi, has been making waves in the industry, providing travelers with unparalleled experiences and insights into Vietnam's rich culture and landscapes. Their customized tours and exceptional guides ensure that your trip is nothing short of exceptional.
Frequently Asked Questions (FAQs)
Q: Is it safe for a Mongolian traveler to visit Vietnam?
A: Vietnam is generally a safe destination for travelers. Exercise the usual caution you would in any foreign country, and you'll have a safe and enjoyable trip.
Q: How can I handle currency and payments in Vietnam?
A: The currency used in Vietnam is the Vietnamese Dong (VND). You can exchange your money at local banks or ATMs. Credit cards are widely accepted in cities, but it's a good idea to carry cash for small purchases and in more rural areas.
Q: What's the best way to get around in Vietnam?
A: Vietnam has an extensive network of buses, trains, and domestic flights, making it easy to get around. Taxis and ridesharing services like Grab are also readily available in urban areas.
Q: Are there any specific cultural taboos I should be aware of when visiting Vietnam?
A: Yes, when visiting temples and pagodas, it's essential to dress modestly and remove your shoes before entering. Public displays of affection are considered inappropriate in Vietnam.
Q: What's the best souvenir to bring back from Vietnam?
A: Vietnamese silk, handicrafts, and traditional clothing are popular souvenirs. Additionally, Vietnamese coffee and local spices make for unique and flavorful gifts.
Conclusion
Traveling to Vietnam from Mongolia is an adventure that promises diverse experiences, from exploring ancient history to indulging in mouthwatering cuisine. By planning ahead, understanding the local culture, and taking necessary precautions, your journey can be not only safe but also incredibly rewarding. So, pack your bags and get ready to discover the beauty and richness of Vietnam, a destination that will leave you with lasting memories and a sense of wanderlust for more. If you are a travel company in Mongolia, please contact us for the best confidential tariffs to promote Vietnam as a new travel destination.