Discover the Best of Thailand: Bangkok, Chiang Mai, and Koh Samui Itinerary
Thailand, with its vibrant culture, breathtaking landscapes, and warm hospitality, has long been a cherished destination for travelers seeking an immersive and unforgettable experience. Nestled in Southeast Asia, this enchanting country offers a rich tapestry of history, spirituality, and natural beauty that beckons visitors from around the globe. Among the myriad of treasures that Thailand has to offer, three destinations stand out as must-visit highlights: Bangkok, Chiang Mai, and Koh Samui.
Bangkok, the bustling capital city, is a vibrant metropolis where ancient traditions seamlessly blend with modernity. With its gleaming temples, bustling markets, and tantalizing street food, Bangkok offers a kaleidoscope of experiences for every traveler. From the opulent Grand Palace and the glistening Wat Arun to the colorful floating markets and the bustling Khao San Road, the city exudes an energy that captivates the senses.
Chiang Mai, nestled in the verdant mountains of northern Thailand, is a cultural gem renowned for its serene temples, lush landscapes, and laid-back atmosphere. Steeped in history, the city's ancient walls house a treasure trove of temples, such as the revered Wat Phra Singh and the majestic Doi Suthep. Chiang Mai's vibrant night bazaars, traditional festivals, and authentic Thai cuisine provide visitors with a glimpse into the heart of Thai culture.
Koh Samui, a tropical paradise in the Gulf of Thailand, offers a serene retreat with its idyllic palm-fringed beaches, crystal-clear waters, and luxurious resorts. This enchanting island boasts attractions like the iconic Big Buddha Temple, the stunning Ang Thong Marine Park, and the unique Hin Ta and Hin Yai Rocks. Whether you seek relaxation on pristine shores, adventurous water sports, or indulgent spa treatments, Koh Samui is a slice of paradise that caters to all tastes.
In this blog post, we will delve into the allure of Bangkok, Chiang Mai, and Koh Samui, providing you with a roadmap to navigate these captivating destinations. From must-visit attractions and enriching experiences to practical tips for a smooth journey, this itinerary will help you make the most of your time in Thailand's remarkable trio of cities. So pack your bags and get ready to embark on an extraordinary adventure through the heart and soul of Thailand.
I. Bangkok: The Vibrant Capital City
A. Overview of Bangkok
With a history dating back to the 15th century, Bangkok has evolved from a small trading post into a bustling metropolis that beautifully blends tradition and modernity. The city's cultural significance is evident in its majestic temples, ornate palaces, and vibrant festivals. As the political, economic, and cultural heart of Thailand, Bangkok boasts a cosmopolitan atmosphere that attracts visitors from all over the world.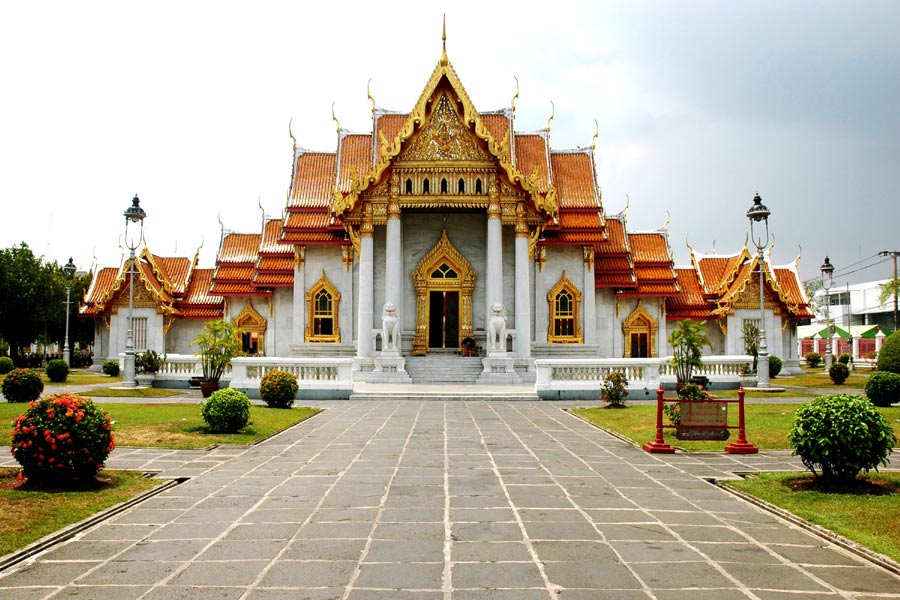 B. Must-Visit Attractions
Grand Palace and Wat Phra Kaew: The Grand Palace, a sprawling complex of stunning buildings, was once the residence of Thai kings. Within its grounds lies Wat Phra Kaew, the Temple of the Emerald Buddha, which houses one of Thailand's most revered Buddha statues.
Wat Arun (Temple of Dawn): Standing majestically on the banks of the Chao Phraya River, Wat Arun is known for its impressive spires and intricate architectural details. Climbing to the top offers breathtaking views of the city skyline.
Floating Markets: Immerse yourself in the vibrant atmosphere of Bangkok's floating markets, such as Damnoen Saduak or Amphawa. Here, you can experience the traditional way of trading as vendors sell fresh produce, local snacks, and handicrafts from their boats.
Chinatown: Yaowarat, Bangkok's vibrant Chinatown, is a treasure trove of cultural experiences and culinary delights. Explore its narrow streets, visit its temples, and indulge in a gastronomic adventure with an array of Chinese and Thai street food.
Khao San Road: Known as the backpacker hub of Bangkok, Khao San Road offers a lively and energetic atmosphere. From street food stalls and quirky shops to bars and live music venues, it's the perfect place to soak up the vibrant nightlife.
C. Experiences and Activities
Thai Street Food and Local Cuisine: Bangkok is a paradise for food lovers. Don't miss the opportunity to savor authentic Thai dishes at local street food stalls or indulge in gourmet experiences at renowned restaurants. Try the iconic Pad Thai, spicy Tom Yum soup, or the flavorful green curry.
Exploring the Bustling Markets: Bangkok's markets are a treat for the senses. From the sprawling Chatuchak Weekend Market to the colorful and eclectic Talad Rot Fai Night Market, you can shop for everything from clothing and accessories to antiques and art.
Traditional Thai Massage and Spa Treatments: Take a break from the city's hustle and bustle and indulge in a rejuvenating Thai massage or spa treatment. Bangkok is home to numerous spas and wellness centers where you can pamper yourself with ancient Thai healing techniques.
D. Tips for Navigating Bangkok
Public Transportation Options: Bangkok offers a range of convenient transportation options. The BTS Skytrain and MRT subway systems provide easy access to key areas of the city, while boats along the Chao Phraya River offer a scenic mode of transport. Taxis and tuk-tuks are also readily available.
Suggestions for Accommodation Options: Bangkok caters to all budgets and preferences when it comes to accommodations. From luxury hotels along the riverside to budget-friendly guesthouses in the city center, there are plenty of options to suit every traveler.
Safety Precautions and Cultural Etiquette: As with any travel destination, it's important to be mindful of your safety in Bangkok. Take precautions such as keeping your belongings secure and being aware of your surroundings. Additionally, respecting Thai customs and traditions, such as covering your shoulders and knees when visiting temples, will ensure a culturally sensitive experience.
As you embark on your exploration of Bangkok, immerse yourself in the city's rich history, awe-inspiring attractions, vibrant markets, and delectable cuisine. With careful planning and an open mind, your visit to this vibrant capital city will be an unforgettable journey into the heart of Thailand.
II. Chiang Mai: The Cultural Gem of the North
A. Overview of Chiang Mai
Chiang Mai, nestled in the mountains of northern Thailand, is a city with deep historical and cultural significance. Once the capital of the ancient Lanna Kingdom, Chiang Mai is renowned for its well-preserved temples, traditional festivals, and tranquil atmosphere. The city's laid-back vibe and stunning natural beauty make it a captivating destination for travelers seeking an authentic Thai experience.
B. Must-Visit Attractions
Doi Suthep Temple: Perched on a mountain overlooking the city, Doi Suthep is Chiang Mai's most iconic temple. The ornate golden pagoda and stunning views make it a must-visit attraction. Be sure to climb the 309 steps or take a cable car ride to reach the temple.
Old City and its Temples: Within the ancient walls of the Old City, you'll find a treasure trove of temples, including Wat Chedi Luang and Wat Phra Singh. These magnificent temples showcase exquisite architecture and offer insights into Chiang Mai's rich history and religious heritage.
Elephant Nature Park: For an ethical and responsible encounter with elephants, visit the Elephant Nature Park. This sanctuary provides a humane environment for rescued elephants, allowing visitors to observe and interact with these majestic creatures without riding or exploitation.
Night Bazaar and Sunday Walking Street: Experience the vibrant atmosphere of Chiang Mai's night markets. The Night Bazaar is a bustling hub of shops, stalls, and street food, while the Sunday Walking Street transforms the old town into a lively market offering local crafts, artwork, and delectable treats.
C. Experiences and Activities
Thai Cooking Classes: Discover the secrets of Thai cuisine by taking a cooking class in Chiang Mai. Learn to prepare popular dishes, visit local markets to source fresh ingredients, and savor the fruits of your labor. It's a fantastic way to immerse yourself in the flavors of Thailand.
Trekking and Exploring the Nearby Mountains: Chiang Mai's surrounding mountains offer breathtaking landscapes and opportunities for outdoor adventures. Embark on a trekking expedition to explore lush jungles, visit hill tribe villages, and witness stunning waterfalls. Nature lovers will find solace in the beauty of the region.
Participating in Local Festivals: Chiang Mai hosts vibrant festivals throughout the year, offering unique cultural experiences. The Yi Peng Lantern Festival, where thousands of lanterns are released into the night sky, and the exhilarating Songkran water festival are just a few examples of the festivities that allow you to fully immerse yourself in local traditions.
D. Tips for Exploring Chiang Mai
Transportation Options: Getting around Chiang Mai is convenient with various transportation choices. Tuk-tuks, red trucks (songthaews), and motorbikes are popular ways to navigate the city and its surroundings. Alternatively, cycling or walking within the Old City allows for a more leisurely exploration.
Recommendations for Accommodations: Chiang Mai offers a wide range of accommodations to suit different preferences and budgets. From luxurious resorts to cozy guesthouses, you'll find options that provide comfort and proximity to the city's main attractions.
Insight into Local Customs and Traditions: Respecting local customs is important to fully appreciate the culture of Chiang Mai. Observing proper etiquette, such as dressing modestly when visiting temples, removing shoes before entering sacred spaces, and being mindful of cultural sensitivities, ensures a harmonious and respectful experience.
As you delve into the cultural riches of Chiang Mai, allow yourself to be enchanted by its ancient temples, immerse yourself in traditional festivals, and indulge in the natural beauty of the region. Chiang Mai offers a serene and authentic escape from the bustling urban centers, leaving visitors with lasting memories of its unique charm.
III. Koh Samui: Tropical Paradise in the Gulf of Thailand
A. Overview of Koh Samui
Koh Samui, an island nestled in the Gulf of Thailand, beckons travelers with its pristine beaches, turquoise waters, and lush greenery. This tropical paradise offers a serene and idyllic escape from the hustle and bustle of everyday life. With its picturesque landscapes and welcoming atmosphere, Koh Samui is a haven for those seeking relaxation and natural beauty.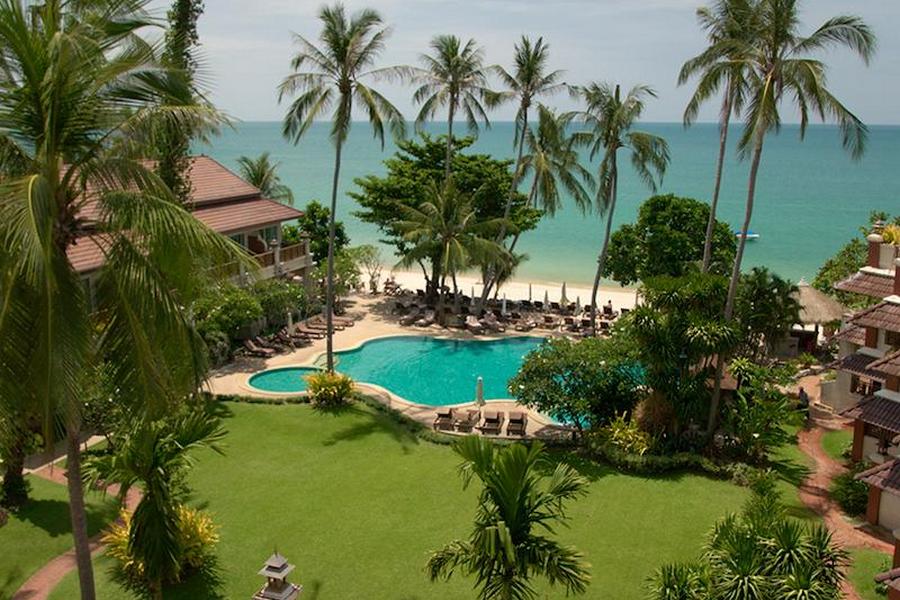 B. Must-Visit Attractions
Ang Thong Marine Park: Embark on a day trip to Ang Thong Marine Park, a stunning archipelago consisting of 42 islands. Explore emerald lagoons, hidden coves, and limestone cliffs while snorkeling, kayaking, or simply basking in the breathtaking surroundings.
Big Buddha Temple (Wat Phra Yai): Koh Samui's iconic landmark, the Big Buddha Temple, features a majestic 12-meter tall golden Buddha statue. Climb the steps to the temple's terrace for panoramic views of the island's coastline and nearby islands.
Hin Ta and Hin Yai Rocks (Grandfather and Grandmother Rocks): These peculiar rock formations, resembling male and female genitalia, are not only a natural curiosity but also a symbol of fertility and good luck. Visit these unique landmarks and enjoy the stunning ocean views.
Fisherman's Village in Bophut: Take a stroll through the charming Fisherman's Village in Bophut, where traditional wooden houses have been converted into boutique shops, restaurants, and bars. Enjoy the laid-back ambiance, sample fresh seafood, and browse local handicrafts.
C. Experiences and Activities
Beach Hopping and Water Sports: Koh Samui boasts a variety of beautiful beaches, each with its own charm. From the vibrant and bustling Chaweng Beach to the peaceful and secluded Maenam Beach, there's a shoreline to suit every taste. Engage in thrilling water sports such as snorkeling, diving, kayaking, or paddleboarding to explore the vibrant marine life and crystal-clear waters.
Luxury Resorts and Spas: Pamper yourself at one of the luxurious resorts and spas that dot the island. Indulge in rejuvenating spa treatments, unwind by infinity pools overlooking the ocean, and savor delectable cuisine prepared by world-class chefs. Koh Samui offers the perfect setting for relaxation and indulgence.
Sunset Cruises and Boat Tours: Set sail on a sunset cruise or boat tour to witness the stunning beauty of Koh Samui's coastline. Marvel at the vibrant colors as the sun dips below the horizon, enjoy a romantic dinner on board, and soak up the tranquility of the ocean.
D. Tips for Enjoying Koh Samui
Transportation Options: Getting around Koh Samui is convenient with options like rental cars, taxis, motorbikes, or even hiring a private driver. However, exercise caution when driving motorbikes and ensure you have the necessary licenses and insurance.
Recommendations for Accommodations: Koh Samui offers a range of accommodations, from luxurious beach resorts to private villas and budget-friendly guesthouses. Consider staying at a beachfront property for easy access to the island's stunning beaches and amenities.
Practical Information: Familiarize yourself with the local weather conditions and plan your visit accordingly. Be mindful of safety precautions, such as swimming within designated areas and following instructions for water activities. Respect the local customs and traditions, such as dressing modestly when visiting temples and showing courtesy to the local community.
Immerse yourself in the beauty and tranquility of Koh Samui as you explore its pristine beaches, indulge in luxury, and embrace the island's tropical charm. With its stunning natural landscapes and endless opportunities for relaxation and adventure, Koh Samui promises an unforgettable tropical getaway.
In conclusion, a journey through Bangkok, Chiang Mai, and Koh Samui offers an incredible opportunity to experience the diverse and captivating destinations that Thailand has to offer.
In Bangkok, immerse yourself in the rich history and vibrant atmosphere as you visit iconic attractions like the Grand Palace, indulge in delicious street food, and navigate the city's efficient public transportation system.
Chiang Mai welcomes you with its cultural heritage, serene landscapes, and opportunities for adventure. Explore ancient temples, participate in local festivals, and embark on trekking expeditions to discover the natural beauty of the surrounding mountains.
Lastly, Koh Samui provides the perfect tropical paradise with its pristine beaches, luxury resorts, and breathtaking marine parks. Engage in water sports, pamper yourself at spas, and witness mesmerizing sunsets while cruising along the coastline.
As you plan your trip, remember to book accommodations and activities in advance to ensure a smooth and unforgettable journey. Whether you're a history enthusiast, an adventure seeker, or a beach lover, Thailand's trio of Bangkok, Chiang Mai, and Koh Samui promises a truly remarkable experience. So pack your bags, embrace the allure of these incredible destinations, and get ready to create memories that will last a lifetime.