The Laos climate is mainly tropical, with a seasonal monsoon and this means the weather is warm, humid and there is a lot of rain in the wet season.
The average temperature is around 29°C (84°F). During the warmest months the temperature can rise to 40°C (100°F+). In cooler months the temperature often drops to 15-20°C (58-68°F) at night in lower land like Vientiane and it can drop to below freezing in the mountainous areas. Days are usually warm and sunny almost all year round. Here is the weather forecast I often refer to.
Seasons in Laos
There are two main seasons in Laos. The below will give you a general idea of the kind of weather for each season in Laos.
Rainy Season
Runs from May to October, is characterized by a downpour for a few hours every few days rather than all day rain.
During the wet/rainy season the humidity is much higher than normal that tends to make the temperature to feel much higher than it is and it can be uncomfortable to travel around. However, this usually lasts for just a few days because when the humidity and temperature are at their peaks it is usually followed by a downpour. After heavy rain you'll appreciate cooler, fresher and cleaner air, beautiful clear blue sky and sometimes a colorful rainbow after an afternoon rain.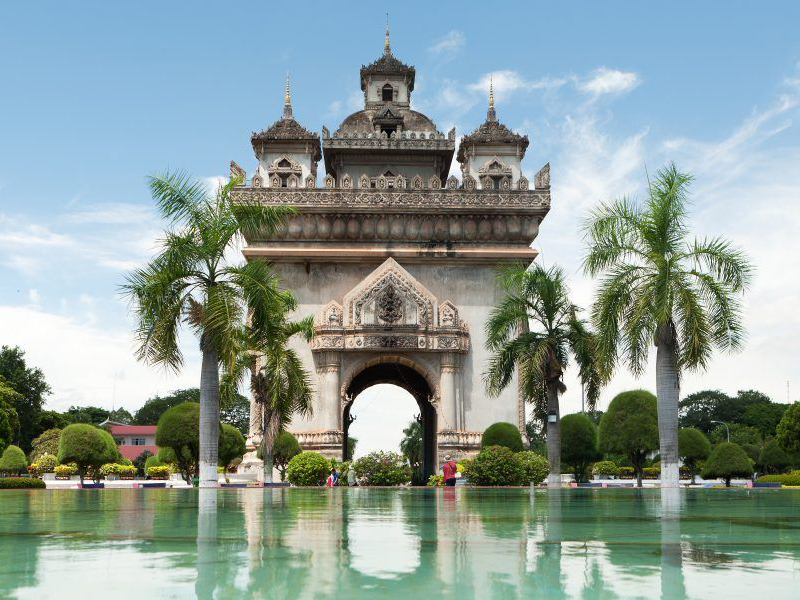 Dry season
Runs from November to April or early May, can be further sub divided into two distinct seasons: November to February is the cool dry season and March to April or early May is hot dry season.
The former is the most comfortable time to visit Laos particularly in November and December, the rivers are high enough to make river travel a breeze. However it's more expensive to travel in Laos during this period as it is the peak season.
While the time around April might not be as comfortable a period to travel in Laos as far as the weather in Laos is concerned, it might be more interesting for visitors who want to observe Lao culture because it is a festival season.
Lao New Year, is one of the country's most significant festivals and takes place in the fifth lunar month which is around mid-April every year. This is a three-day holiday, when Lao people go out to celebrate. Towns and villages all around the country are lively and colorful with streets full of people splashing water on each other and there are big parades in the town of Luang Prabang. And another fun festival is the rocket festival that takes place in the sixth lunar month (around early May) and is a truly local event.