Many guests have been asking us before their departure date that "What is a must item to pack for a great trip to the northern Vietnam?". If the question is for this time of the year, it'd be a no-brainer, a memory card is what it takes. Starting this month, the ethnic groups in the northwestern mountains will step into their harvest season. Terraced rice fields are at their primes in term of beauty, covering the whole area in golden shades. In case you're still looking for another reason to head north this autumn, let us give you some sneak peaks of what's happening there right now. You might want to write them all down to prevent any regret for missing out the good parts.
Mu Cang Chai– The barren land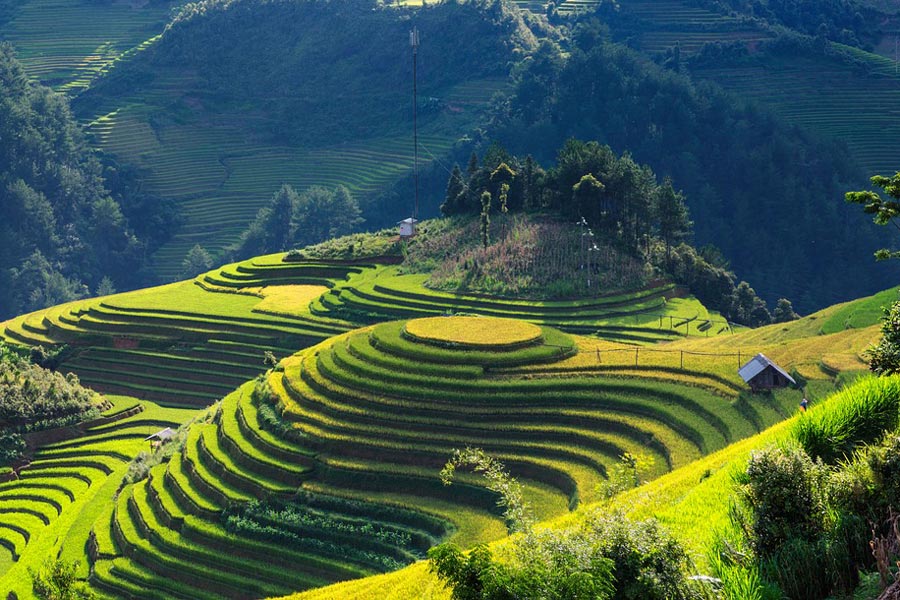 Mu Cang Chai might be a strange name for foreigners. However, it's quite a big name for Vietnamese backpackers, and especially photographers. In other words, the people who are in search for spectacular moments of life regularly come here from September to early October. The Mu Cang Chai we see today is truly a masterpiece of Hmong people for many generations. In Hmong language, Mu Cang Chai means the barren land or having no hope of cultivation. But after years of taking efforts to carve into the mountains to create traces of life, layers of rice fields have appeared as what they are today. The yellow paddies, the green jungle and the cozy brown of the ethnic minorities' houses absolutely made up a singular palette of Mu Cang Chai these days.
2. Sa Pa- A trekking hub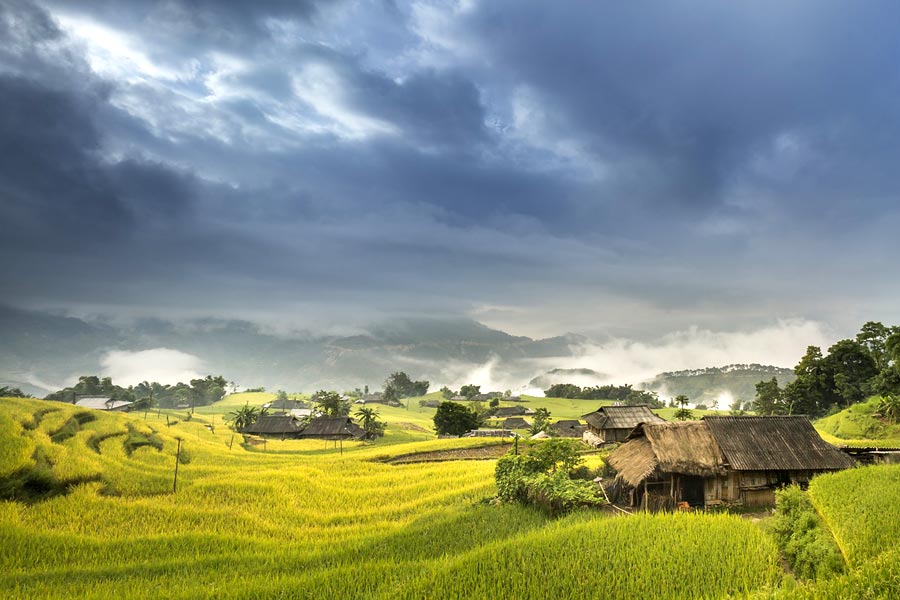 Sapa is undoubtedly well-known in the world tourist map. But if you happen to be in Sapa this falls, call your self a lucky person as you just catch Sapa at its glorious peak. Apart from being listed as one of the most spectacular rice terraces in the world by Travel and Leisure, Sapa has unofficially claimed the title for best place to admire the beauty of rice terraces. Surfing around social media such as Instagram or Facebook, you'll see what we meant. It's not hard to find a place to indulge yourself in pleasant weather and stunning terraced fields in Sapa. It's pretty much everywhere. However, if you can go further to Ta Van and Lao Chai village, you will be in awe of the glorious terraced fields. There the paddies is believed to be the most yellow and also the largest one in Sapa. A good friend of ours who is also a great photographer living in Sapa said that the key to a great photo of this season is to manage the ratio of the sky, the land and the rice terraces within one frame. And if you do not mind climbing rough passes and roaming through matrix streams, let's make your "rice terraces trip" a once-in-a-lifetime trekking journey in Sapa.
3. Y Ty- The cloud hunting spot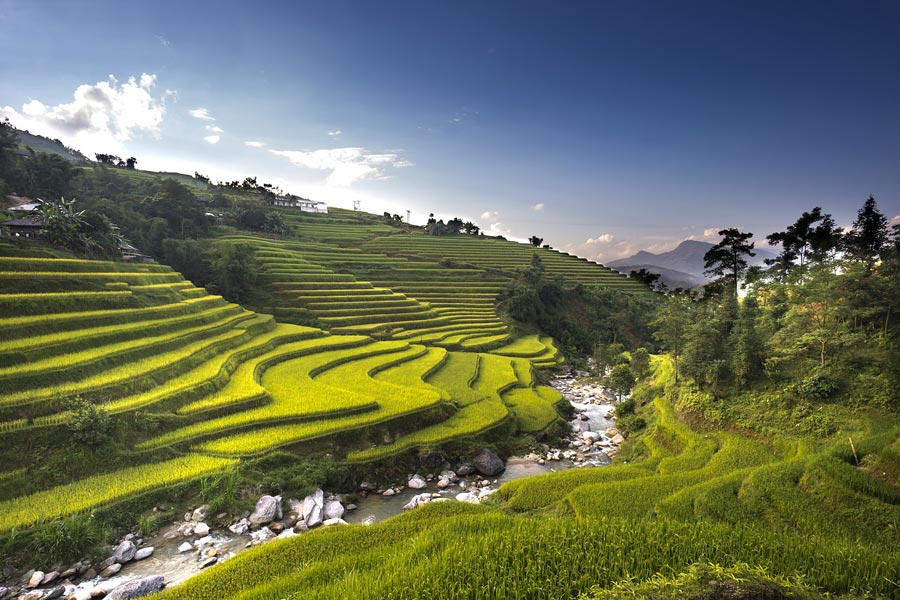 For those who might find Y Ty an unfamiliar name, this is a fascinating spot for many photography enthusiast to hunt the clouds. Just about 100 km from Lao Cai city, Y Ty is a humble and quite untouched commune in Bat Xat district. With the approximate height of 2000 meters, the clouds sometimes are barely visible at your feet. The rice terraces in Y Ty and surrounding communes like A Mu Sung, A Lu, Ngai Thau…crawl around the precarious mountain ranges, cascading into the valley make a picture of endless golden sea. An iconic photo of Y Ty is the majestic mountains drowned with golden shades of paddies blend with the sea of white clouds. It will promisingly be the best feeling ever in life. Happy hunting!!!
4. Hoang Su Phi- The sleeping beauty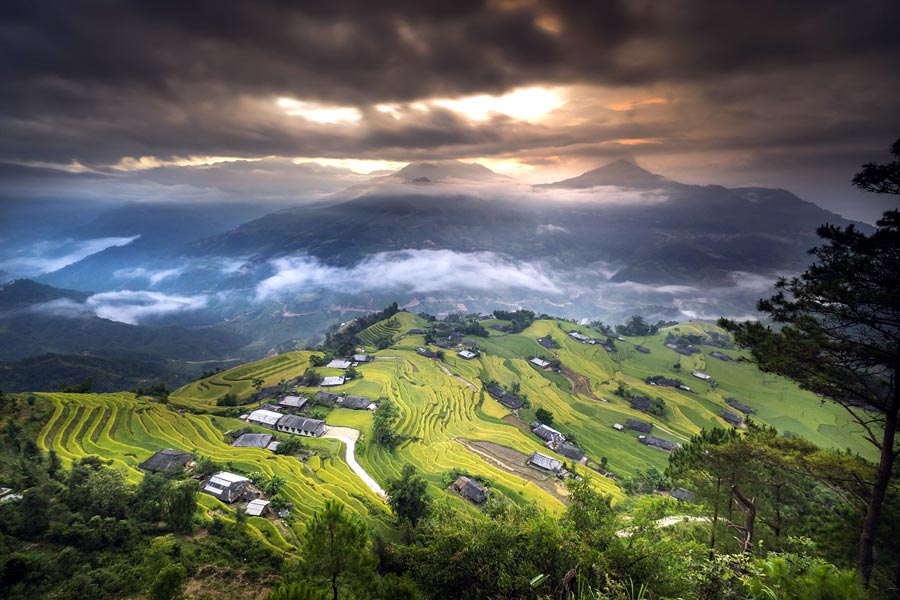 At the west of Ha Giang province, by the base of the Tay Con Linh mountain lied Hoang Su Phi district. This is a good backup plan for anyone who can't catch up on time with the normal harvesting season or just have some days to spare in your schedule for the northwestern parts of Vietnam. The reason is that the rice here ripens later than other places. In fact, it is at its best around the middle of October. For professional "rice terraces hunter", this is normally their happy ending for "a rice voyage" in the northern areas. Despite being less famous comparing to Mu Cang Chai and Y Ty, Phung and Luoc village here are known for boasting the highest terraces in Vietnam. Apart from that, Thong Nguyen, Ta Su Choong are great spots for wanderlust souls to discover as well. Ready for waking the sleeping beauty up?
Good moments don't last forever. Fortunately you have a chance to capture those. Have a quick chat with our experts for more information on how to catch up with the golden season of the northern Vietnam.