1. What is Puluong Retreat?
– Puluong Retreat is an eco-lodge, an ideal choice for those who love nature, want to escape from modern life, humming to search for a place to relax and really peaceful harmony with earth and nature.
There is no air conditioning, TV, refrigerator, MODERN ENTERTAINMENT SERVICES – The eco-lodge is a place separated from the noisy, bustling, modern World.
However, you still have WIFI so you can still connect with outside World by capturing and sharing scenic photos with your friends while staying here.
– It's only 200km from Hanoi, without having to take Mu Cang Chai or Sapa, you can still admire the spectacular terraced fields
– You will be visiting numerous waterfalls, caves rich in this place without having to go to Ninh Binh, Cao Bang.
– You will drive through curves like in Ha Giang
– You will discover a land of very few tourists, you will find a secret haven for yourselves.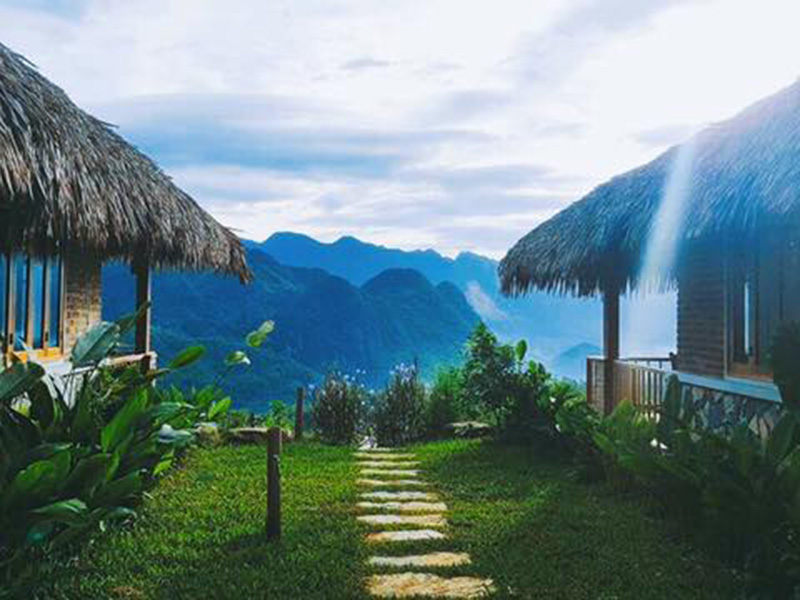 2. Where is Pu Luong?

– Puluong Retreat adjacent highway 15C, under the Don, Thanh Lam commune, Ba Thuoc district, Thanh Hoa province.
– Approximately 190km from Hanoi
– About 45km from Mai Chau
– About 32km from Mai Hich
– About 125km from Ninh Binh
– The center of Thanh Hoa province is 130km from Pu Luong
3. How to get to Retreat Pu Luong Retreat?

– Currently it is easy to reach Puluong Retreat. All are asphalt, flat, easy to find and easy to travel by car of less than 35 seats.
– Puluong Retreat currently offers no shuttle service but there might be service in the next two months from Now (July 2016).
4. Accommodation at Puluong Retreat?
– Puluong Retreat has 3 types of rooms: the stilt-house, Deluxe Bungalow, and Suite Bungalow
– The stilt-house can accommodate up to 19 people with single bed, double bed.
– There are 8 Deluxe Bungalow, 3 of them can add extra bed.
– Suite Bungalow is a Double room which is the most beautiful thanks to the panoramic view and outside shower.
* All room rates is inclusive of breakfast *
5. Amenities of Puluong Retreat?
– 1 water overflow pool with natural water sources – No chemicals, safely and naturally. – Swings bed, Bilac, ponds, parking area by the hillside
6. Catering

– Meals are served in the Set Menu, is a combination of local ingredients and exquisite cuisine, professional tourism standards.
– Children under 6 years is free of charge, children aged 6-11 at half the adult price
– All meals must be reserved at least 24 hours prior to arrival because it should take time to purchase ingredients and prepare.
7. Activities organized by Pu Luong Retreat?
Pu Luong Retreat can organize a lot of activities for guests of 1-5 days without being repetitive.
– Kayaking on stream
– Bamboo Rafting on the river
– Trekking through the traditional villages and terraced fields
– Mountain cycling – from amateur to professional levels
– Visit the giant water wheel area, natural waterfalls, caves and lots of great offers majestic views
If you need any further information or wish to book a trip with overnight at Pu Luong Retreat, just drop us an email at sales@absoluteasiatravel.com