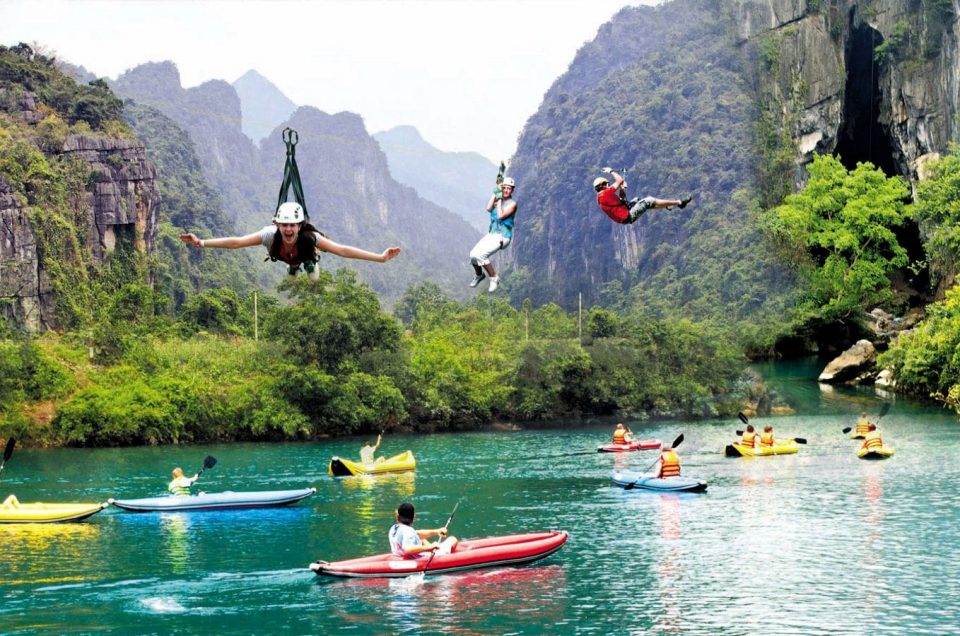 Vietnam is a sensational destination on all fronts thanks to its colorful history, rich culture and breathtaking landscapes. The country has a lot to offer, from kids to the kids at heart. The world quickly took notice and now you'll see 'Vietnam adventure holidays' and 'Vietnam adventure tours' being advertised all over the web…and for good reasons…
In Hanoi, you can lose yourself in the Old Quarter, the city's ancient shopping district. Take a hike around Hoan Kiem Lake or explore the iconic Ho Chi Minh Mausoleum. Head north and take a leisurely cruise in Ha Long Bay, a World Heritage Site and one of the Seven Wonders of the Natural World.
Enjoy the pristine beaches of Nha Trang or take a boat ride down the slithering waterways of the Mekong River. Take a break in Hoi An then head south to Saigon and explore the subterranean network of the Cu Chi tunnels. From north to south, Vietnam offers an outstanding diversity of adventures, so whichever you choose, you're in for something that you'll cherish forever!
Canyoning
This is one of the fastest growing adventure sports in the world. If you've ever been canyoning, you know for sure that it's nothing short of a thrill ride! Where's the best place to experience it in Vietnam? If we do a poll right now, it's most likely that the unanimous choice would be Dalat. This picturesque town is the ideal place to learn and master the art of canyoning. You'll discover colossal canyons and muster the courage to face the challenges of rugged gorges.
Caving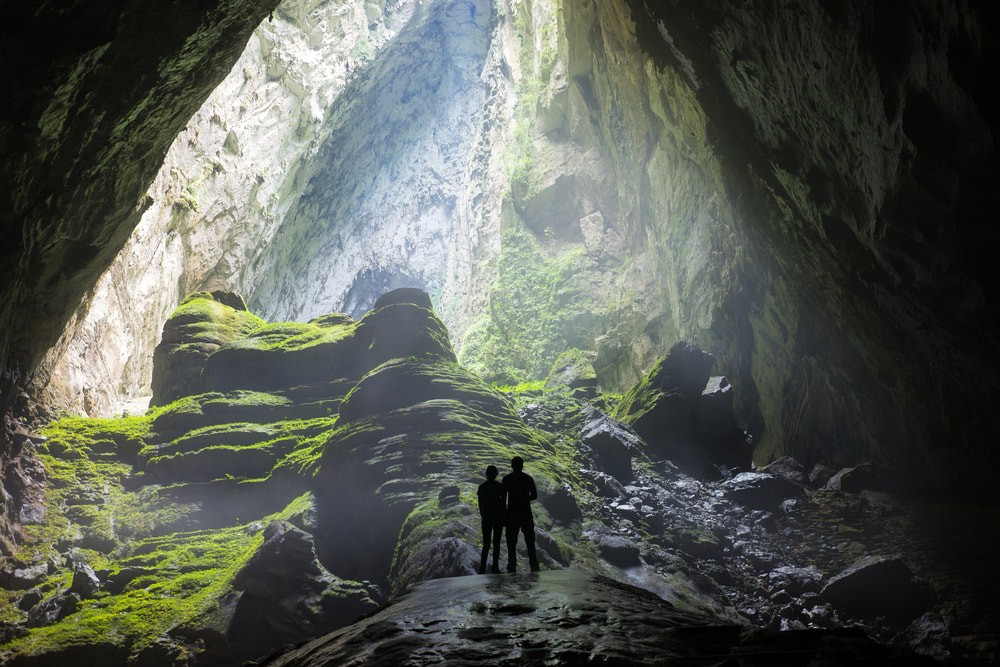 There's a plethora of caves in Vietnam, but if you ask us the best one for caving, it would be the legendary Hang Son Doong in Phong Nha-Kẻ Bàng National Park in Quảng Bình Province. Why? Because it is the largest cave in the world…so huge that a Boeing B747 can fly through the biggest chamber and can accommodate an entire block in New York City! Exploring this unique cave is truly a once in a lifetime experience, one that is reserved for avid adventurers. So if you wish to get a sample of Vietnam adventure holidays, caving should certainly be among the activities on top of your list!
Cliff Jumping
If you want to experience one of the most stunning landscapes in the world while getting your blood pumping and heart racing, cliff jumping in Vietnam is the way to go. Head to the seaside town of Nha Trang, also referred to as the Riviera of the South China Sea.
The best place in Nha Trang to check out for this daring adventure is Ba Ho Falls. Cliff-jumping is the highlight of every visit to this hike-through forest hideaway with a variety of warm, crystal-clear turquoise water pools. One of them even boasts a 37-foot jump for the daredevils!
Kayaking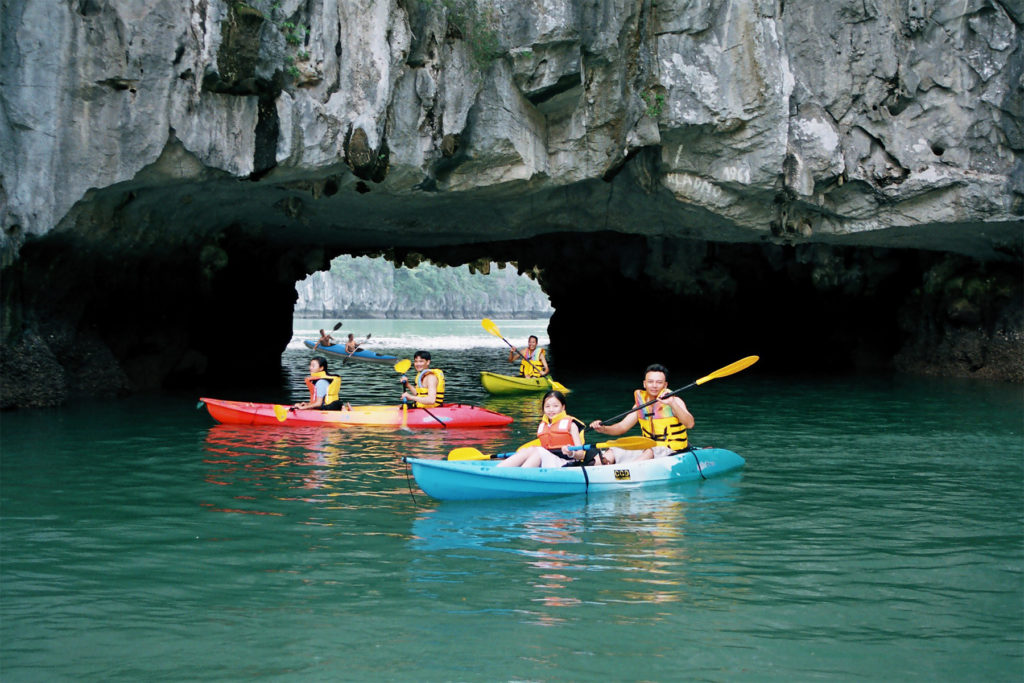 If you love kayaking, there's no better place to do it in Vietnam than in Ha Long Bay which is listed in the world's 25 best places for kayaking. You can paddle your way to the fishing villages or through narrow waterways into caves littered with sparkling stalactites that take on various shapes and forms.
You can also explore the sea arches and hidden lagoons in the vast archipelago, swim in the azure blue waters and relax on the white-sand beaches. While certain areas have become jam packed with tour boats, there are still many secluded spots on the outer fringes of the bay. Other places that are excellent for kayaking include Dalat, Hoi An, Nha Trang, and Phu Quoc Island.
Kitesurfing
Vietnam is now considered as the kitesurfing capital of Asia. Do we need to say more? Well, this ought to be part of your Vietnam adventure holidays in case you do come and visit this amazing country. Kitsesurfing is an action sport combining features of wakeboarding, windsurfing, paragliding, and sailing into one exhilarating sport.
If you have ever seen a kitesurfer performing some adrenaline-fuelled flights and high-octane acrobatics through the air, then you know quite well how extreme it is. Take on the challenge and try it out! The kitesurfing season in Vietnam generally peaks from December to February.
Motorbiking
Anyone who has visited Vietnam knows that the simple act of crossing the road is an adventure in itself. Don't subject yourself to that dilemma and just rent a motorbike and freely explore the country as the locals do! With more than 10,000 kilometers of blazing trails that stretch from the sea to the sky, it's certainly a top-nocth adventure that you'll never forget!
Motorbiking ought to be part of any Vietnam adventure holidays because aside from giving you the ultimate freedom in exploring the country, you'll get to experience the sights and sounds at your own leisurely pace. There's nothing like zooming down country roads with captivating scenery around you!
Mountain Biking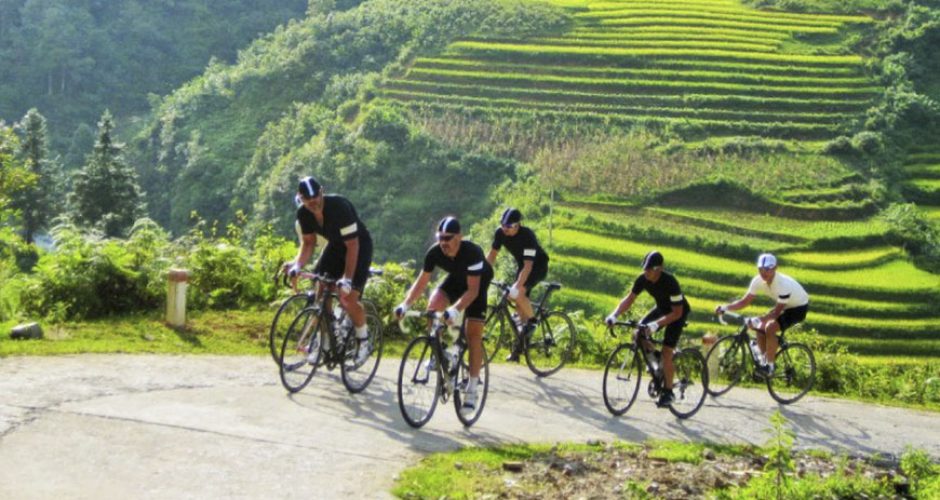 If you enjoy mountain biking you'll certainly fall in love with Vietnam. You'll get to immerse yourself in the rural sections of the country where ancestral customs and traditions have been well preserved. You'll be able to explore Vietnam as you've imagined it – majestic mountains, bright green rice fields that wind along cascading rivers.
Sapa, for instance, is an area that is littered with green rice paddies that are perfect for exploring by bike. Other notable places include Hoi An, Dien Bien Phu, Fansipan, and Lai Chao. Whether you are an amateur cyclist or a pro, there are lots of Vietnam adventure tours or DIY routes available, be it a fancy a day out or a grueling 14-day ride from Hanoi to Ho Chi Minh City.
Rappelling
Also known as abseiling, rappelling refers to a controlled descent off a vertical drop using a rope. It's the ideal adventure for adrenaline junkies and it's a staple in any cave or temple exploration. Just imagine yourself hanging over the edge of a cliff face and descending into a pitch black cave. Definitely not for the faint of heart, but if you have the guts to try it out, head to Da Nang or Hoi An.
Sand Boarding
The coastal resort town of Mui Ne is widely regarded as Vietnam's adventure sports capital. It guarantees excellent adventure activities for everyone. Our top pick? Only one thing comes to mind…sandboarding! This combines the concepts of surfing, snowboarding and skateboarding into one exhilarating sport. It's relatively new in Southeast Asia but is fast finding its way into Vietnam adventure tours.
You'll feel the rush of getting up early in the morning and heading straight to the sand dunes. Pick one with a gentle slope and when you get the hang of maintaining your balance while rolling down the incline, take on the bigger, steeper dunes. Check it out, it's heaps of fun and you'll surely have a great time.
Scuba Diving
Vietnam is not just a paradise for non-divers; it's also a haven for diving enthusiasts. With its crystal clear waters and spectacular coral formations, Vietnam is becoming more and more popular for diving*.* It offers a wide range of opportunities that even non-divers won't be able to resist!
Nha Trang is the undisputed scuba diving hub of Vietnam, boasting over 20 dive operators. The prime spots are Moray Beach and Madonna Beach, both of which are popular for beginners who wish to get certified in its calm waters.
Phu Quoc Island is also a superb scuba diving destination, particularly Dry Island and the Nudibranch Gardens. Visibility is not always perfect due to the run-off from the Mekong River, but the nutrient-rich waters encourage plenty of coral growth while drawing marine life of all shapes and sizes.
Trekking
Vietnam is a Mecca for trekkers and hikers because of its remarkable landscape – imagine high rolling mountains, tiers of rice paddies, and plunging highland valleys creating a patchwork of contours. There are endless trekking opportunities, from half-day hikes and gingerly walks along well-trodden paths to conquering the lofty Fansipan.
Northern Vietnam is your best trekking bet. Its mountain trails and interesting minority culture are always a huge draw. Sapa is one of the top spots for trekking in the region because it is home to Mt. Fansipan and it has a plethora of mountain trails that overlap and interconnect with each other. You can therefore create your own path depending on your experience level.
Elsewhere, nature reserves and national parks have established trails such as those in Cuc Phuong National Park, Cat Tien National Park, and Ba Be National Park to name a few.
All of the aforementioned activities make Vietnam such an enticing country to visit. You can book your trip anytime of the year, but in general, the best time to visit is from December to February when temperatures are pleasant and rain is minimal. A lot of people have already checked Vietnam adventure holidays off their bucket list. Perhaps it's time for you to come and visit too! You won't regret it because Vietnam is truly awesome!