Phu Quoc, the largest island in Vietnam, is bestowed with jaw-dropping beaches accompanied by various specialties. When you visit this wonderful coastal city, not surprisingly, seafood is a must.
Sea urchin
Sea urchin is a world-class delicacy that only appears in the menus of top restaurants. In Phu Quoc, however, you can find sea urchin almost everywhere from the night market to extravagant restaurants. But here is one secret. The freshest and most tasty uni (sea urchin) dishes can only be found right on the boats. It is advisable to take a snorkeling tour to either the northern or southern side of the island. While enjoying the colorful corals, you can also find a bunch of sea urchins lie peacefully on the seabed. Be careful as their spikes cause itches. Instead, the sailors will take them on board and prepare the freshest uni dish for you. The dish is quite simple as they only grill them timely on the oven then add a little local pepper and lime, but you will definitely be astounded by that unique taste.
newly roasted sea urchins
Squid
Just like sea urchin, you can directly catch your dish right on the boat. First you need to book a night squid fishing tour and start your tour at 5 p.m. When on board, lights are lit to attract the squids under water. You will be carefully instructed on how to catch these squids. You will dine with what you can catch, including extremely fresh fishes and squids. Generally speaking, squids are grilled, or fried with rice, or even steamed with bear!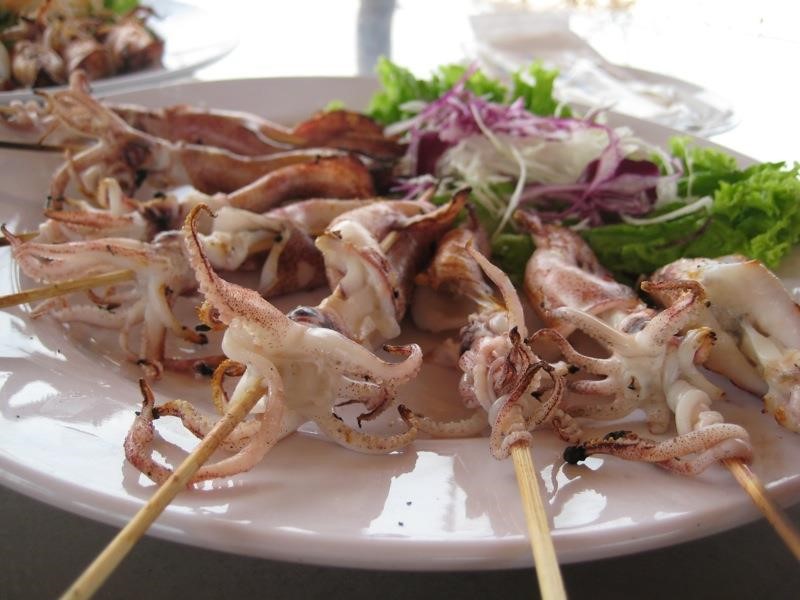 Phu Quoc Squid
Scallops
Scallops are quite popular. In Phu Quoc, you can find the cheapest and freshest scallops at Dinh Cau night market. Scallops are laid on the tables, all you have to do is to look around and pick up the ones you like. The waiter grills them right away, flavors them with the famous fish sauce of Phu Quoc and green onion. The dish is then ready to be served, hot and wild.
Fish
Due to geographical characteristics, fishes in Phu Quoc are not as diverse as those in the middle region of Vietnam. However, thanks to their freshness, fishes in Phu Quoc can still amaze even the toughest tourists. Particularly speaking, Phu Quoc is especially famous for its herring salad.
Fresh herrings are caught by boats and brought to the wharf where they are bought by restaurants. When you order the dish, kitchen staffs ripen them with lime and a little salt then add some flavors such as onion, herbs, chili and finally roasted peanuts. When eating, you need to spread the rice paper on the dish, add the raw vegetables, then the herrings and finally the scraped coconut, and roll the rice paper. Eat this roll with the sweat and sour fish sauce, you must be astounded by the wonderful combination of these tastes!
Seaweed
In Phu Quoc, seaweed is widely cultivated and exploited. Not only is it tasty, but it is also a healthy dish. When visiting Phu Quoc, you can choose seaweed as a gift for your friends. Seaweed is commonly roasted with garlic and chili and a little salt, which serves to remain the nutrients and sweat of fresh seaweed.
In general, Phu Quoc is definitely the most spectacular choice for your vacation. Thanks to its dazzling beaches, pristine natural habitats, breathtakingly tasty delicacies and exceptionally hospitable residents, Phu Quoc will be one of the unforgettable memories in life.