The very best beaches in Myanmar rival any in the whole of Southeast Asia. In many ways, the country is the undiscovered gem of the region. Remaining a closed country for decades, it only opened up to tourism in 2012 and has such a lot to offer for those in search of pristine beaches. Myanmar has 2000 kilometers of coastline and it's likely to become the next popular beach holiday destination, so best to visit now before it gets too crowded.
In many ways, Myanmar is reminiscent of the Thailand of the late 20th century. With several completely unspoiled beaches, it is a tourist haven waiting to be explored. The sandy stretches along the Andaman Sea and the Bay of Bengal are prime examples of this. They face west, so prepare to witness glorious sunsets while dipping your toes in the warm crystal-clear water.
The best time of year to travel to Myanmar for the beaches is between December and April. Most of the resorts close their doors between May and October. Thingyan is the Burmese New Year and usually takes place in the middle of April. This is a Buddhist festival similar to Songkran in Thailand. The festivities last four to five days and culminate in the New Year. The beaches are the best places to be during this period.
Accommodation in Myanmar is surprisingly expensive considering the phase that the country is in its development. There are, however, always less expensive alternatives available, if you know where to look. For even cheaper stays, some choose to camp directly on the beaches.
Myanmar is still a very conservative country. The locals wear jeans, shorts or pajamas to bathe. It is changing but slowly though. Tourists are given more leeway to wear bathing suits, but thongs and topless bathing are severely frowned upon.
So without further ado, here are the 9 Best Beaches in Myanmar…
To give you a point of reference each beach is described in its relative position and distance from Yangon, as it is more than likely that the old capital will be your point of arrival.
Ngapali
The beach sits on the Bay of Bengal, 250 km to the northwest of Yangon. Legend has it that an Italian moved here years ago and, while feeling homesick, named the beach after his hometown of Naples. By plane the travel distance is only 250 km, but by road it is a 400 km drive through the mountains. The trip by bus takes around 15 hours. The rewards though are worth it.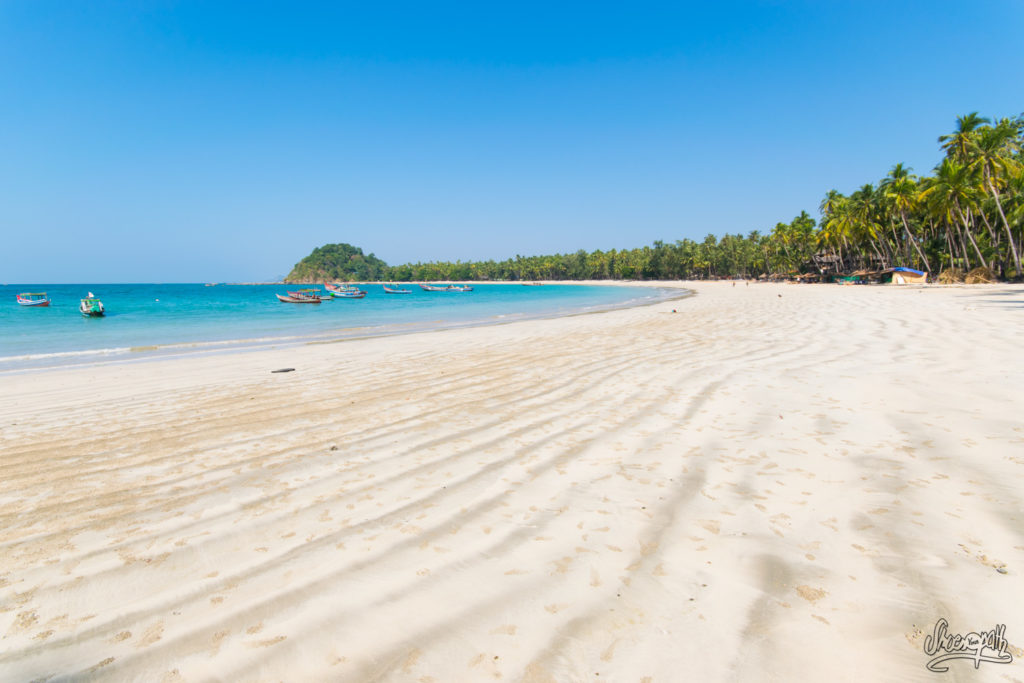 The beach is stunning, with 7 kilometers of powdery white sand, fringed with towering palm trees. Not for nothing is Ngapali the most popular beach in Myanmar. The sea is immaculate with crystal-clear turquoise waters.
The area is developing but not in an aggressive way. Although this is extremely popular, it's easy to find a quiet spot on the beach. There is plenty to do here. Water sports like snorkeling, scuba diving, and kayaking are excellent and safe. In addition, the area is great for cycling and golf is popular. There is a stunning 9-hole course right on the edge of the beach with spectacular views of the sea.
Ngwe Saung
The name means silver beach, named after the 15 kilometers of silver sand. It is located to the south of Ngapali about 190 kilometers west of Yangon. It's about a 6-hour drive and there are tolls. By plane, it's 35 minutes. However for a really interesting trip, take a boat from Yangon to the town of Pathein, about 30 kilometers from the beach. The scenery is really captivating and the boat trip takes about 16 hours.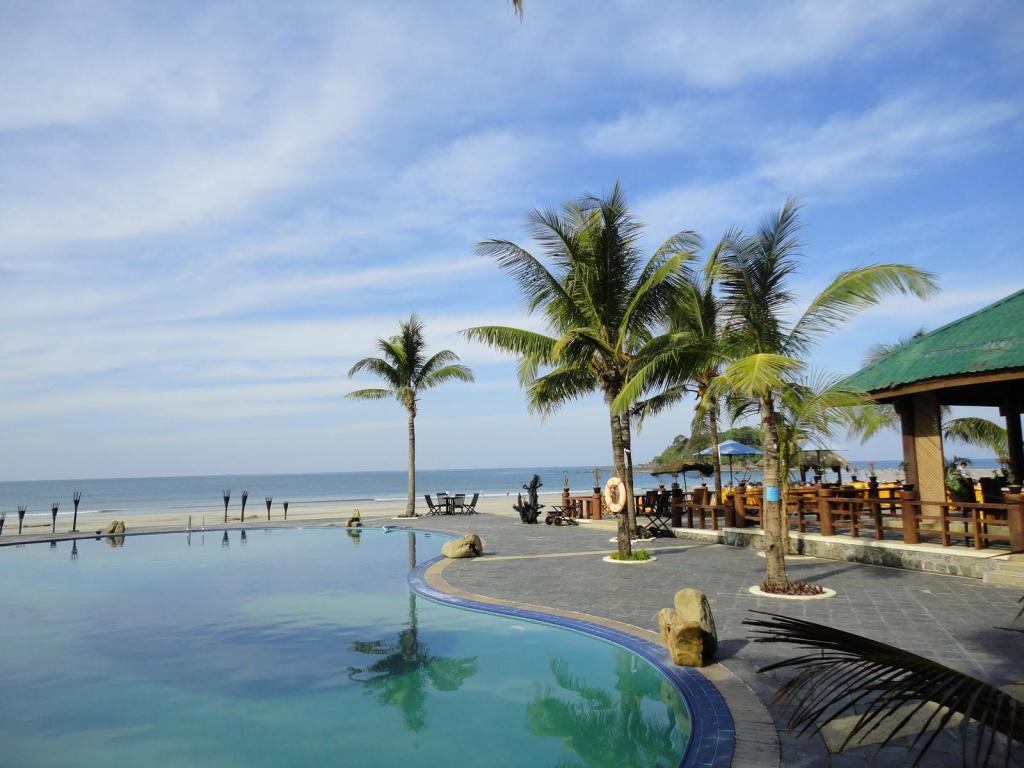 This is a fairly new area with regards to tourism and as such there are inexpensive options available. The beach is very calm, making it the ideal spot for those who like peace and quiet and are not expecting all the finest amenities. There's not a lot to do in the evenings apart from watching the majestic sunsets over the Bay of Bengal.
Ngwe Saung is also great for scuba diving and snorkeling, the clarity of the water making it especially enjoyable. Parts of the beach consist of hard-packed sand, which is great for riding a motorbike. If you get hungry, check out the exceptional seafood. The local fishermen arrive early in the morning with their catches, which are snapped up and prepared by the local restaurants. Delicious lobster, crab, shrimp, and fish dishes abound.
The beach gained more prominence after it hosted beach volleyball and sailing events in the 2013 Southeast Asian Games.
Chuang Tha
On the southernmost tip of the Bay of Bengal, before it turns into the Andaman Sea, you will find Chuang Tha Beach. It's 180 kilometers due west of Yangon, just a dozen or so kilometers from Ngwe Saung Beach.
Because it is the nearest beach to Yangon, it is popular with local middle-class families who often come for weekend getaways. They really do consider this as one of the best beaches in Myanmar. While it doesn't have the beauty and charm of Ngwe Saung or Ngapali, it still is well worth a visit. The sand is not as immaculate and the seafront has developed without much attention to detail. It's a bit of a mishmash of hotels.
The northern section is the quieter part, and as you travel south it gets busier and noisier with lots of young people playing and toying around. In the holiday season, especially national holidays, it is very busy, so bear this in mind. However, you can hire a boat to take you out to one of the nearby islands and get away from the crowds. Snorkeling is excellent around the islands, but there is no provision to hire snorkels, so make sure you bring your own.
Kanthaya Beach
This golden sanded beach lies 100 kilometers south of Ngapali and about 300 kilometers northwest of Yangon. It is a little over a 5-kilometer strip with a gentle slope into the sea. The beach is in a tiny sheltered bay and is a picturesque spot. While the sand is not as fine and pristine as some of the other beaches, it is nonetheless excellent for sunbathing and swimming.
Kanthaya is one of the least developed of the beaches along the Bay of Bengal. There is little by way of beachside shops and there are no water sports here. However, if you want complete rest and relaxation this is a terrific spot. Hotels don't seem to have advance booking systems in place, but you will be able to find a room for sure.
The very name Kanthaya means "pleasant beach''. This genuinely is an area of outstanding natural beauty where people come to relax and get an authentic taste of Myanmar coastal life. The area is dotted with oriental styled local huts and houses, constructed of hand-woven mat walls.
The main attractions here are the small offshore islands and reefs, which you can reach by boat. For lovers of wildlife, there are different types of tropical birds to spot and the local seafood is superb.
Nabule Beach
Nabule Beach is located south of Yangon on the Andaman Sea coast. It is 350 kilometers by air and a full 600 by road. There are about a half dozen daily flights to the area. The beach is just a few kilometers north of the airport. The drive from Yangon is a good 12 hours and there are tolls to consider. If you are doing a multi-country trip, it is worth remembering that this beach is only 275 kilometers from Bangkok.
Nabule is a 10-kilometer long strip of absolute perfection. It is completely deserted most of the time. If you are looking for solitude in one of the most beautiful settings imaginable, this is just the place for you.
The nearest town is Dawei, the capital of Taninthayi. It features adorable architecture from the British colonial era. The dwellings consist of wooden, thatch-roofed bungalows and some brick and stucco mansions. It used to be called Tavoy and occasionally you will still hear it referred to as such.
At the north end of Nabule there is a lovely hillside pagoda and close by there's a small restaurant. This offers amazing views along the beach and looking out to sea. Local tuk tuks will take you wherever you want to go.
Maungmagan Beach
In the same area as Nabule, you will find Maungmagan. It is about 12 kilometers to the northwest of the town of Dawei, It's the second oldest established beach in Myanmar after Ngapali.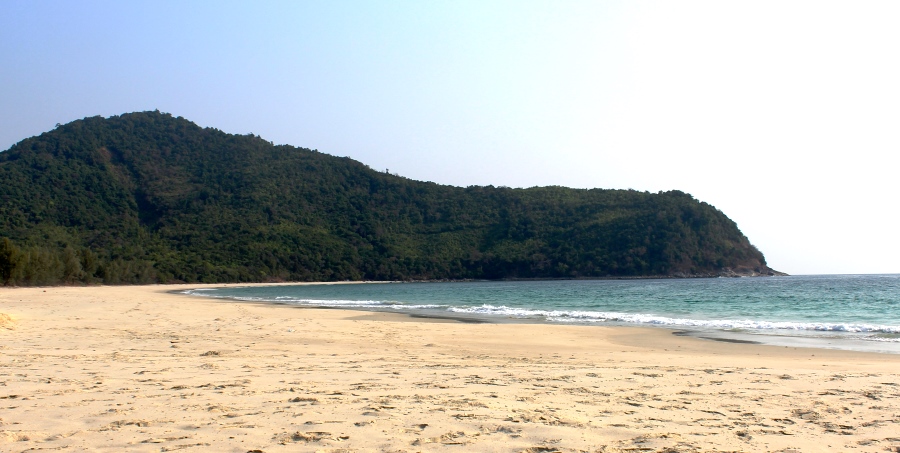 This was an extremely popular destination before the establishment of Chaung Tha, which is much closer to Yangon. The beach and surrounding areas here are being redeveloped by the Myanmar government. This is due mainly to its proximity to Bangkok and the tourists arriving in the country through the Phu Nam Ron border gate, which opened in 2013. Together with Nabule and San Maria Bay, it is expected that Maungmagan Beach will become stopovers for the much-promoted ecotourism to the Myeik Archipelago.
Maungmagan itself is unlike the more touristic beaches in the Bay of Bengal. The people here are mainly locals and as such are very reserved. Foreign tourists wearing the types of swimwear that they are accustomed to will be frowned upon. But the people in Myanmar are very polite and will probably simply comment in a friendly way, but it is better to wear shorts and a T-shirt.
Sin Htauk Beach
In the same area is Sin Htauk Beach, lying a little over 400 kilometers southeast of Yangon. Sin Htauk is a natural sanctuary of a little horseshoe-shaped bay with white sand and pristine azure waters. It is surely one of the best beaches in Myanmar. The beach is fringed with hills and lush tropical vegetation. A local company here has built simple ecologically friendly beach huts. Ideally suited for lovers of tranquility, there is no Wifi connectivity or 3G. This is nature as Mother Nature intended.
Grandfather Beach
A two-hour motorbike ride, if you are experienced enough to hire a bike from Dawei, you'll find the Grandfather Beach. Regarded by many as one of the absolute best beaches in Myanmar, it is idyllic and tranquil. It is yet another beach of picturesque beauty, white sand, and gorgeous sea.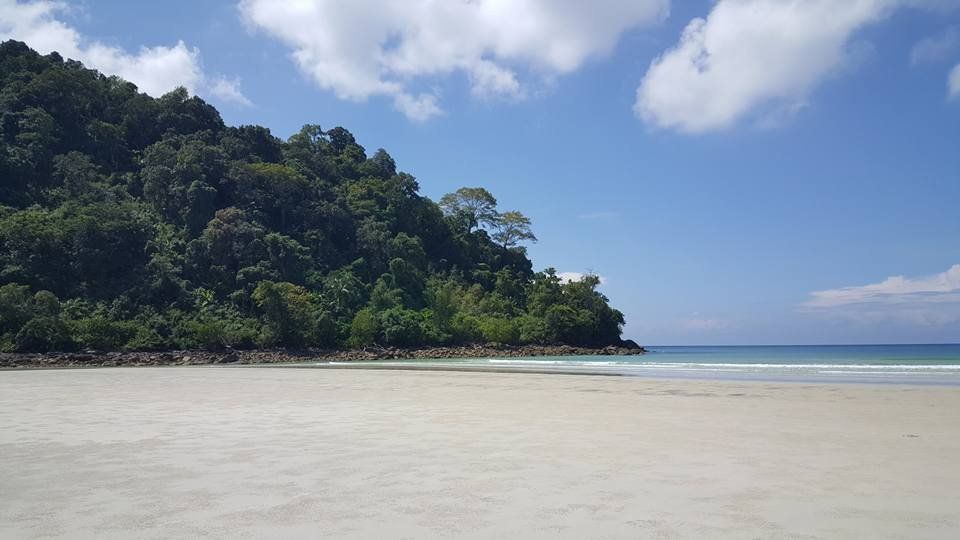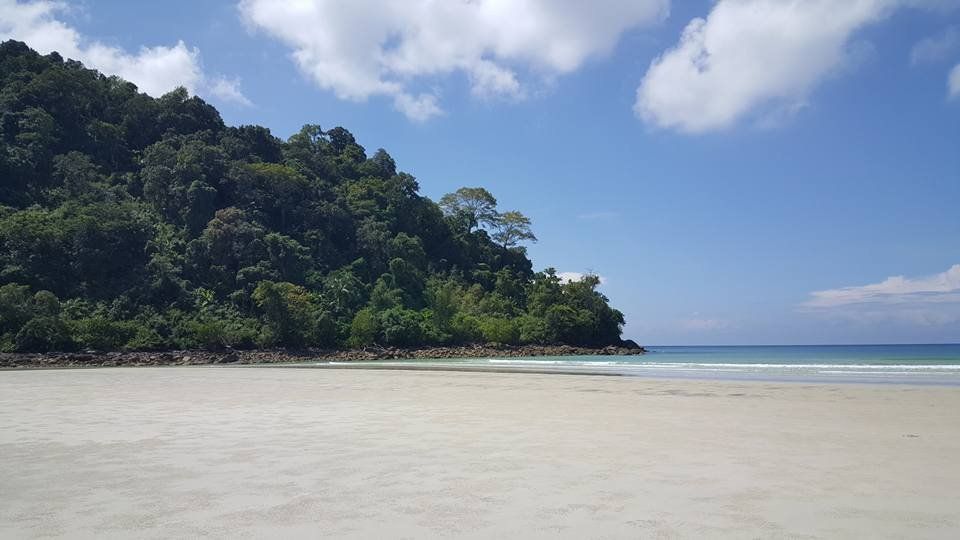 It sits at the southern end of the lovely horseshoe bay, which has Sin Htauk Beach at its northern end. When the tide is out you can ride a motorbike between the two beaches. They are just 6 kilometers apart. However, check local tide times. There are boat companies in the area that specialize in beach and island hopping. The local Nyau Pyin fishing village is also worth a look.
The beach is super clean. A few small shops are selling succulent seafood and there are places to change and shower when bathing. Visitors are not allowed to camp on the beach, though there is inexpensive local accommodation in the area. The beach is very different at weekends to what it is during weekdays. Because it is so beautiful it is getting busier at the weekends. However, during the rest of the week it is quiet, a great place to sit and watch the sun go down, while sipping from a freshly plucked coconut; idyllic! This is undoubtedly one of the best beaches in Myanmar for peaceful evenings with glorious sunsets.
Mergui Archipelago
Rounding up our list of the best beaches in Myanmar is not a single beach but an area of countless beautiful beaches. The stunning Mergui Archipelago off the west coast of the Malay Peninsula that separates the Andaman Sea from the Gulf Of Thailand is unbelievably beautiful. The 800 islands that make up the peninsula is one of the least visited areas in the world. To put it into context, location-wise, it is only 150 kilometers due west of Hua Hin the popular Thai seaside resort and a similar distance south of Yangon. A sign at the local airport in Kawthaung instructs locals to "warmly welcome and take care of tourists." Local hospitality is highly commendable indeed.
The islands vary in size, tremendously. Some are no more than a spit of rock while others consist of hundreds of square kilometers, complete with townships inhabited by Malay people known as the Pashu. It is an area of superb natural beauty. Limestone rocks are covered with tropical vegetation including rainforests. The coastlines are peppered with gorgeous beaches and areas of mangrove.
The Mergui Archipelago has been all but isolated from tourism and as such it has an amazing diversity of flora and fauna. The presence of whale sharks and dugongs makes it an unbelievable good area for scuba diving and snorkeling. In addition to the indigenous population of Bryde's Whales, the area is also known for the occasional visits of migrating species like Blue Whales, Killer Whales, Longman's Beaked Whales, and Strap-Toothed Whales, as well as dolphins, finless porpoises, and even Irrawaddy Dolphins. On land, you can see monkeys, deer and wild swine.
This area opened up before the rest of the country but still has only been a tourist destination since 1997. The Myanmar government had negotiations with Thai dive operators based in Phuket to encourage diving. This is such an isolated area that much of it still has not been explored. Best dive conditions are between December and April, although whale sharks and Manta rays visit between February and April.
The best beaches in Myanmar's Mergui Archipelago are on islands that are named Kyun Phi Lar, Nyaung Wee I, Lampi Island, and Macleod Island, though many of the unnamed ones have incredibly beautiful beaches as well. It really is a case of just getting here, hiring local people to sail you between the islands.
The beaches are simply adorable. Beautiful white sand, crystal clear turquoise waters, picture-postcard palm trees and wooden houses for the indigenous population. Think of your ideal desert island getaway and you'll get the picture.
Summary
So for sun, sea and sand lovers, the best beaches in Myanmar are absolutely some of the best in the whole of Southeast Asia. A country that is relatively new to tourism, is working hard to develop things in a natural way. For sure over the years some of these places will get overdeveloped as more and more people realize the astonishing natural beauty here. However, for now, it is still a truly wonderful place to come for beach lovers. There has never been a better time to experience this whole country and in particular its beaches.