Although Laos is a lot less visited than its neighbors, it is definitely a beautiful, friendly and exotic country that deserves a spot in every traveler's list. This landlocked country is steeped in nature, culture, history, and religion. Its beauty lies in its landscape featuring incredible karst and limestone mountains, lush jungles, hidden caves, terraced rice paddies, and lovely hill tribe villages. Top these off with top-notch food, majestic temples, and exhilarating adventures like cave tubing, trekking, rock climbing, and kayaking, Laos can then be considered as one of the most beautiful and interesting countries in Southeast Asia.
This travel guide will walk you through the best places to visit, how to get around, where to stay, what food to try, among other travel essentials. It will also help you plan the best trip so you can get the most out of this amazing country!
Laos Quick Information
Language
The different ethnicities of Laos use more than 80 languages. However, the official and most widely spoken is Lao, which is sometimes referred to as Laotian. It is closely associated with Thai, so much so that if you can speak Thai, you will be able to get by in the country just fine. Many of the locals speak a little English, so even if you don't know Thai, you will still be able to manage on your own during your visit. They are also quite fluent in French. In fact, Laos is home to the second biggest Francophone population in Southeast Asia.
Laos Visa
Getting a visa for Laos is easy and convenient. You can get a visa directly upon arriving at the airport or on arrival at one of the land border posts. All you need to do is fill in a form, pay, and you'll receive a 30-day tourist visa. Citizens of ASEAN member states, Japan, South Korea, Russia, and Switzerland can get a free visa on arrival.
The tourist visa costs $30 to $42, depending on which country you're from. The visa on arrival process is straightforward and won't take more than 10 minutes. Please note that you'll need a passport with at least 6 months validity, two photos in passport format, and a visa application sheet that you can get right at the border.
Make sure you save the slip that serves as an exit form. You'll fill it out and turn it in upon leaving Laos. If you wish to seek an extension for your tourist visa, simply show up at one of the Immigration Offices in Vientiane or Luang Prabang.
In July last year, Laos launched its tourist eVisa service, a move that the government said will make it more convenient for tourists planning to visit the country. Here is the link to the official website for the eVisa application: https://laoevisa.gov.la
The eVisa is applicable for visitors entering Laos through Wattay International Airport, Lao-Thai Friendship Bridge I, Luang Prabang International Airport, Lao-Thai Friendship Bridge II, and Pakse International Airport. The visa is valid only for a single visit. You can file for a 30-day tourist visa online with pre-payment via credit card. You'll need to upload a copy of your passport bio page, a recent photo measuring 4 x 6 cm in jpeg or png file format. Both files must not exceed 2 MB.
After processing your application, a QR code approval will be sent to you via email. Print it for presentation to immigration officials at the checkpoints. Make sure that the QR code is clearly readable. It takes one to three days to receive the approval notification email. Payment can be made with VISA, JCB, MasterCard, and UnionPay.
What to Pack for the Trip
This packing list will help you bring along the right clothing, footwear, and other essential items to make your travel enjoyable in this fascinating and fast-developing country.
Lightweight, light-colored clothing to reflect heat and sunlight
Comfortable shoes, sandals, and flipflops
Hat, sunglasses and SPF 30+ sunscreen to avoid sunburn
Refillable water bottle to stay hydrated
A bottle of DEET mosquito repellent to keep bugs away
A power bank and universal travel adaptor
Unlocked smartphone for use with a Lao sim car
Sanitary pads, tampons and toiletry bag
Binoculars, flashlight, and extra batteries
Jacket or raincoat if traveling during the rainy season
Dry pack for water-based activities like kayaking, rafting or river tubing
Getting to Laos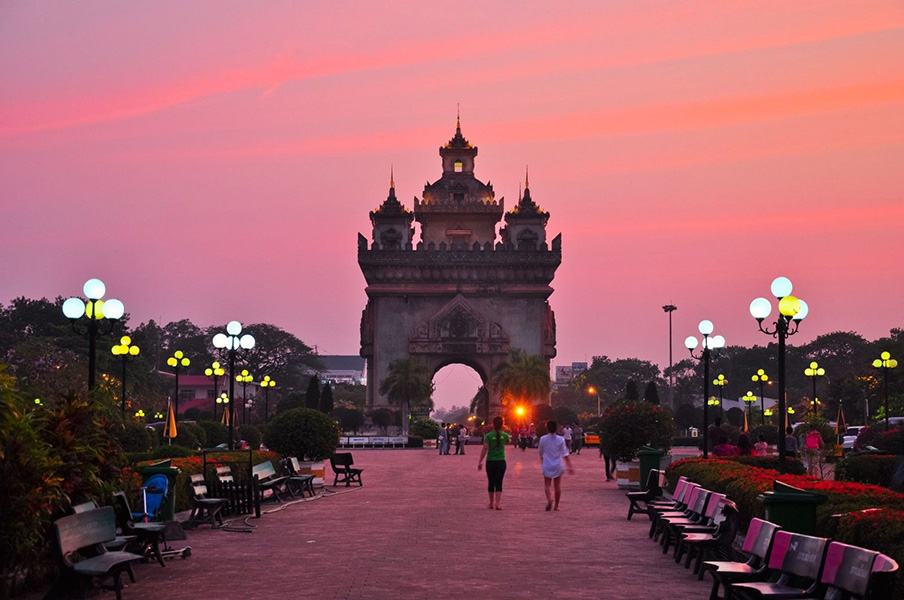 Laos is frequently part of a wider trip to the southeast so most tourists prefer to travel there overland. Laos has more than a dozen international overland border crossings. They allow overland travel from Cambodia (via one crossing), Vietnam (via six crossings), and Thailand (via seven crossings).
To date, there are still no direct flights to Laos from outside of Asia, so most travelers fly via Bangkok, from where it takes more than an hour to reach Vientiane, and roughly two hours to reach Luang Prabang. Connecting flights are also possible from Kunming (China), Siem Reap (Cambodia), Kuala Lumpur (Malaysia), Hanoi and Ho Chi Minh City (Vietnam), and Chiang Mai and Udon Thani (Thailand).
Best Time to Visit
With year-round attractions, there is really no right or wrong time to go. Regardless of the time of year, you plan to travel to Laos, you'll learn that each season paints this wonderful nation in a different color. However, for the coolest weather and for getting the best out of the outdoor adventures, the best time to visit is November to January.
During this period, the temperature seldom rises above 26°C and there is little to no rain. It is also the best time for river travel as high water levels from the previous months' rainfall make passage easy along the mighty Mekong River, Laos' main waterway. You can also go tubing and swimming in rivers and waterfalls, or explore the mystical Buddhist shrines and enigmatic caves.
Normally, the weather is at its coldest in the northern and eastern sections of the country during this time. Vientiane and Luang Prabang see average temperatures of 24°C, while other parts of the southern region rise to around 30°C.
In general, the cool season runs from October to February. The warmest months are March, April, and May (with temperatures as high as 40°C), and from May to June the rainy season starts.
What to See and Do
Visit Vientiane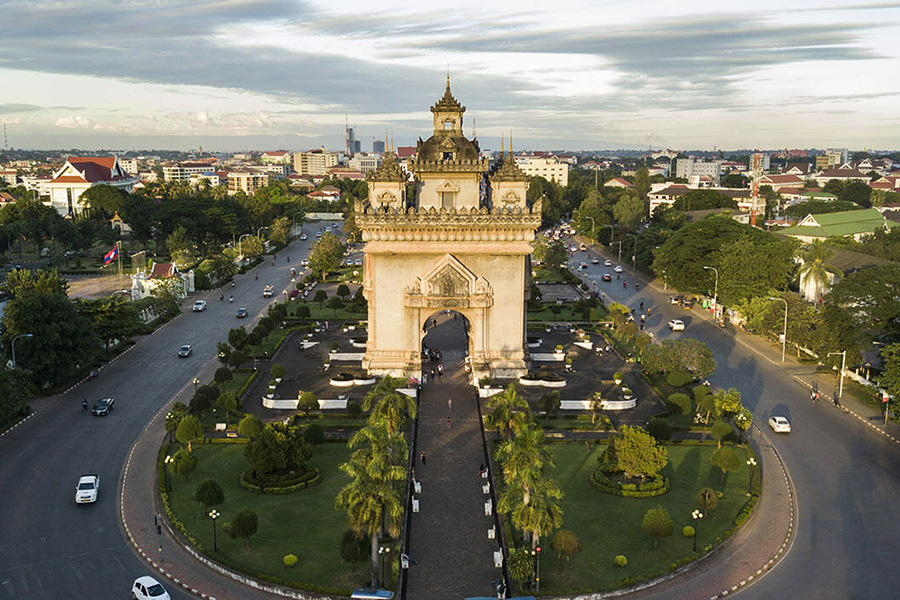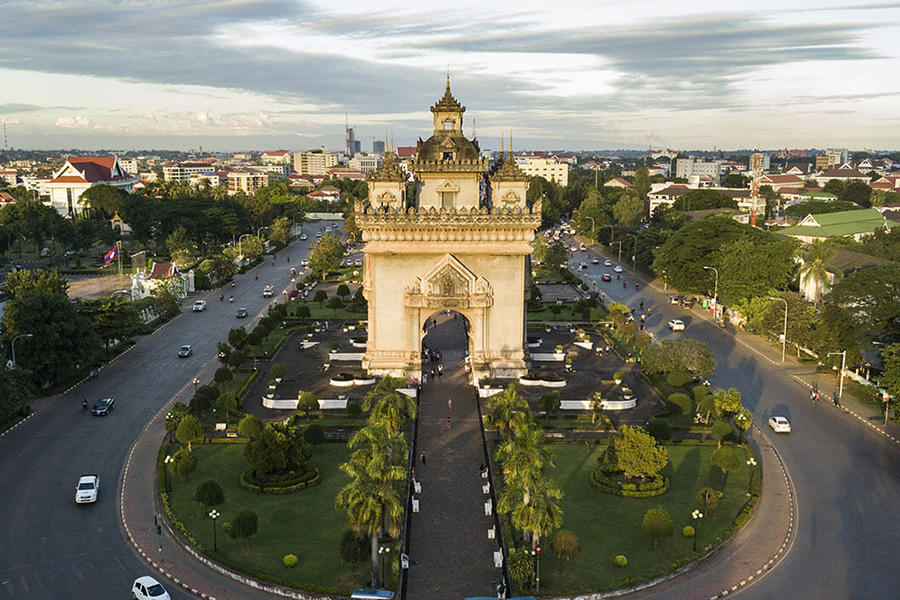 The capital and biggest city in Laos is packed with national monuments and majestic temples, like the Pha That Luang (Great Stupa), Haw Phra Kaew, and the Wat Sisaket. While in this laid back city, make sure to drop by Buddha Park, a garden littered with giant Buddha statues. Vientiane is the most cosmopolitan city in Laos, and you will find bustling markets and a burgeoning foodie scene here.
Go Tubing in Vang Vieng
Vang Vieng is a small town that sits in a perfect spot between Vientiane and Luang Prabang. It is located along the banks of the Nam Song river and is best known as the best site for tubing. You just need to rent a tube for 55,000 kip (~$7) plus 60,000 kip deposit (~$7.50) and enjoy the stunning scenery from the comfort of a river inflatable.
About a decade ago tubing in Vang Vieng was crazy, even fatal. After mounting fatalities that were related to alcohol abuse, drugs, and minimal safety precautions, the government cracked down on the scores of backpackers partying in the idyllic town. Today, while tubing is still one huge party, it is also gradually rebranding itself as a premier adventure activity.
Relax in Luang Prabang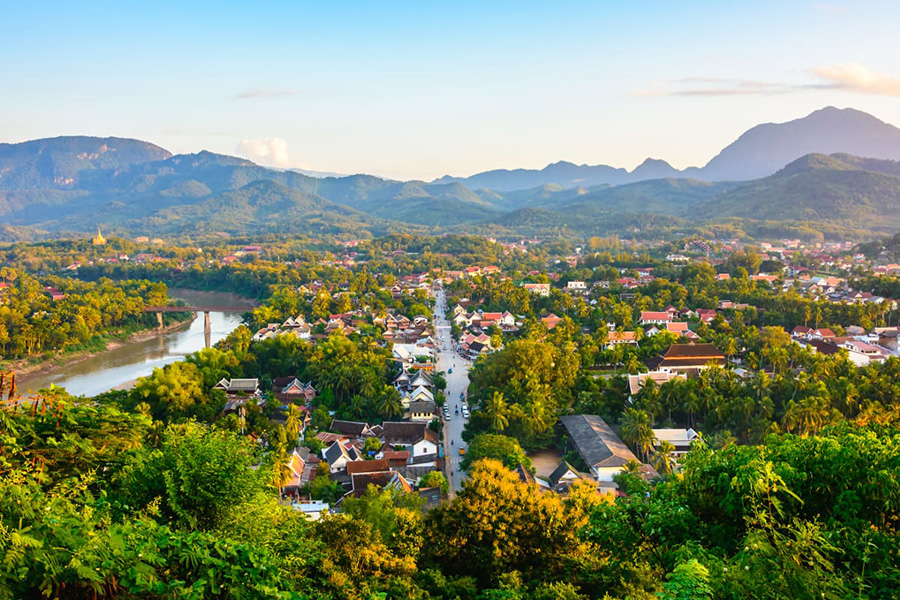 Luang Prabang is a city that never rushes its visitors. Once you arrive, it lets you kick back, relax, and unwind every step of the way. Inscribed into the prestigious list of UNESCO World Heritage Sites in Laos in 1995, it is dotted with tranquil Buddhist temples and monasteries that provide peace and serenity to scores of travelers. There is a lot to do here, but the ones you shouldn't miss include enjoying gorgeous sunsets over the Mekong River, shopping at the night market, experiencing a cool dip at the Kuang Si Waterfalls, hiking at Mount Phousi, taking an exhilarating boat ride to Pak Ou Caves, and witnessing Tak Bat or the alms giving ceremony.
Visit the 4,000 Islands
Located in southern Laos, the 4,000 Islands is an enchanting little gem of a place nestled in the Mekong River close to the Cambodian border. Officially known as Si Phan Don, this riverine archipelago, most of the islands are uninhabited and become completely submerged when the mighty Mekong is in flood. You'll have to take a boat from the city of Pakse to reach the islands.
Key features include the remnants of the Don Det-Don Khon railway, the first railway in Laos which was constructed by the French to skirt the Khone Phapheng Falls and allow ships and freight to travel along the Mekong River; the endangered Irrawaddy dolphins that can be seen off Don Khon island; and the aforementioned Khone Phapheng Falls – a series of raging rapids that form the widest waterfall in the world.
Try the Gibbon Experience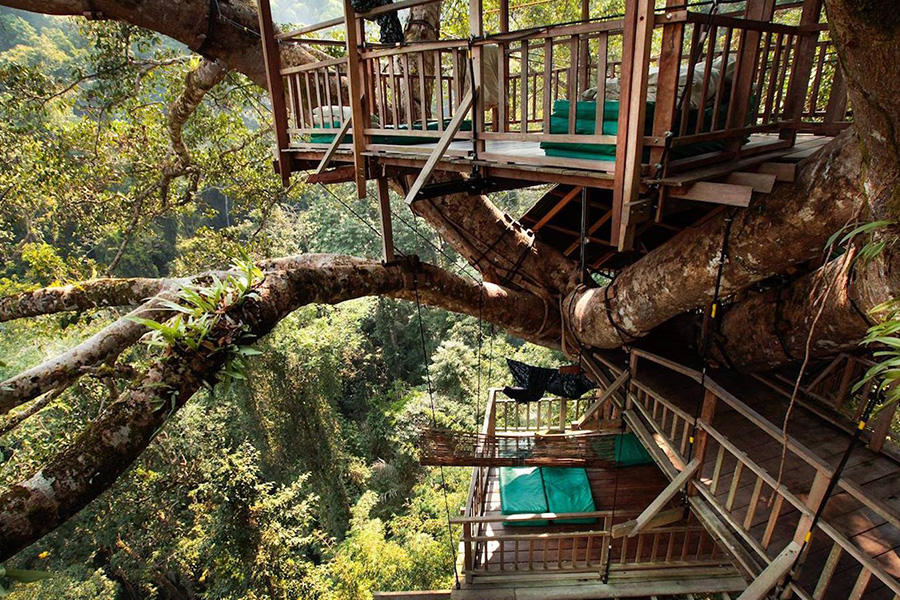 This is considered by many as one of the best adventures in Laos. It is a succession of zip lines linking the highest tree houses in the world – up to 40 meters above the ground! This unique activity in the Nam Ka National Park lets you stay overnight in the towering tree huts and cruise above the forest canopy through a combined 15 km of zip lines.
During your stay, you'll be completely off the grid – there is no internet and there is not much to do at night but to simply enjoy a leisurely chat with your companions, or play some card games. Food will come when you get hungry – you'll have family-style meals delivered via zipline. In the morning, you'll wake up surrounded by elusive gibbons as you take in some spectacular vistas of the lush tropical rain forest with mist creating layered silhouettes. It's definitely an incredibly special travel experience that you won't find anywhere else.
Attend the Almsgiving Ceremony in Luang Prabang
Sai Bat or "Morning Alms" is a 600-year-old tradition in Laos Buddhist culture. The devotees offer food (usually sticky rice) to monks every morning. The daily ritual starts at around 5:30 am when saffron-robed monks and novices set out from their monastic temples with their alms bowls ('bat'). Awaiting them are the locals who have already prepared sticky rice and other offerings like fruits and sweet treats. The ceremony is observed in complete silence and is certainly a sight to behold.
The austere beauty and cultural significance of the almsgiving ceremony has made it a must-see tourist attraction in Luang Prabang. It is typically observed by tourists in the old city center, specifically along Sakkaline Road. Note, however, that this area can be jam-packed so you may want to consider witnessing the ceremony in one of the quieter streets in the town.
Visit Some of Laos' Most Impressive Waterfalls
Waterfalls are plentiful across Laos, and no trip to this amazing country is complete without visiting some of these cascading streams of water plunging over steep cliffs. Many of these waterfalls double as swimming pools and have been developed into tourist attractions with amenities, restaurants, and cabanas for picnicking. Here is a roundup of the most spectacular:
Kuangsi and Tad Sae in Luang Prabang
Tadfane and Tad Tayicsua in Bolaven Plateau
100 Waterfalls along the Nam Ou River in Nong Khiaw
Khone Pha Pheng, Nam Tok Katamtok, and Li Phi in Champasak
Pha Suam in Bachieng District
Nam Kat in Xiangkhouang Province
Hike Among the Hill Tribes in Nam Ha Reserve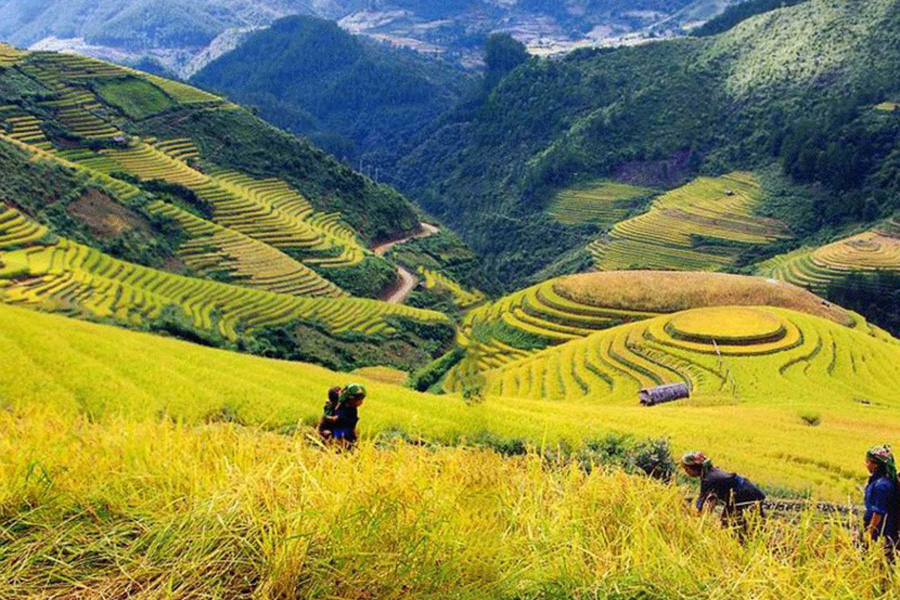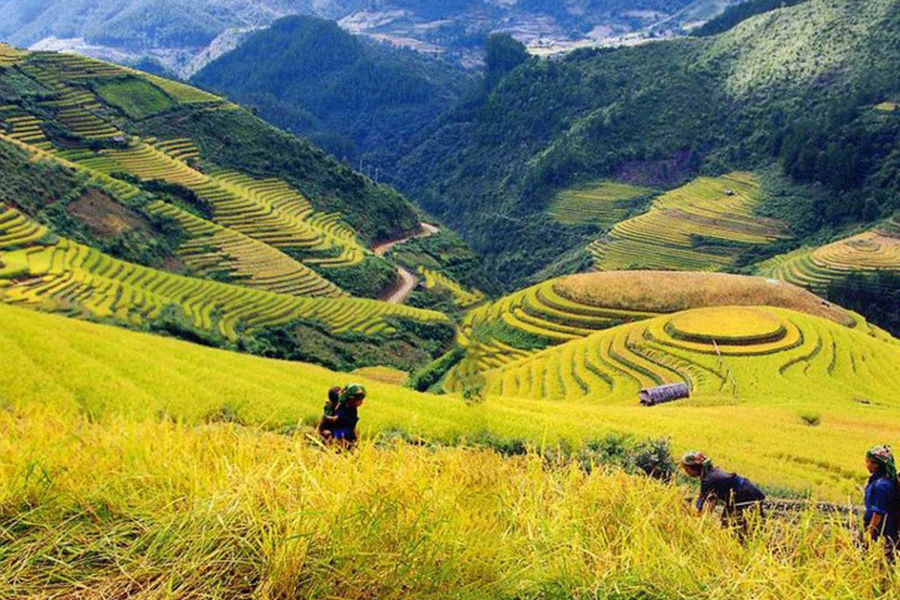 The Nam Ha National Reserve or the Nam Ha National Protected Area in Luang Namtha Province was established in 1993 and covers 222,400 hectares. Ethnic villages have existed before then and the tribes continue to thrive in the area. The activities here range from day trips to multi-day hikes with the choice to do homestays with the Akha, Khmu, Lanten, Lao Huea, and Tai Dam people. It's a once-in-a-lifetime experience as you get to learn about their unique culture, tradition, and lifestyle. Aside from hiking, you can also kayak down the Nam Ha River or arrange a combo tour that includes both.
Visit the Night Market in Luang Prabang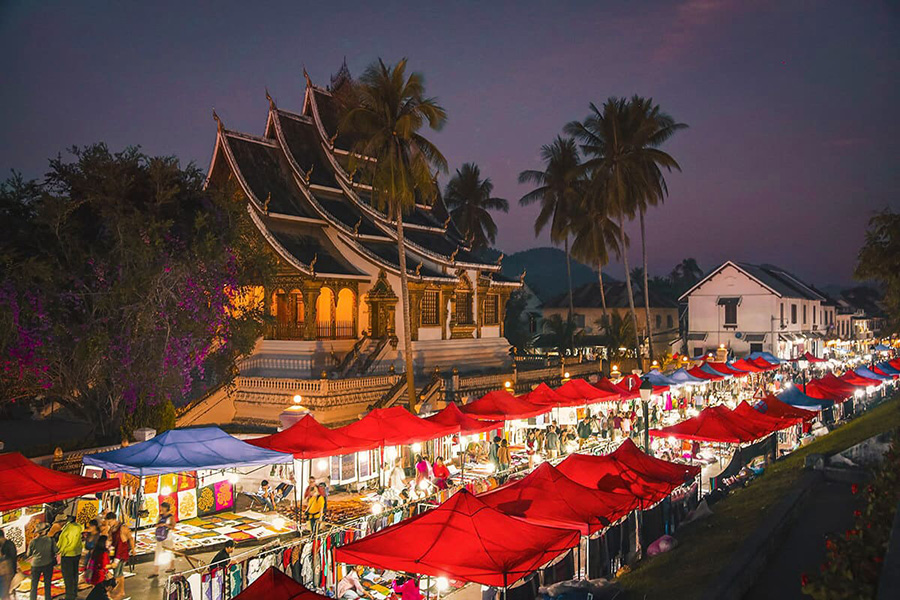 No visit to this picturesque town is complete without visiting the night market. It is located right at the heart of Luang Prabang at Sisavangvong Road, starting at the post office and ending just after the National Museum. From 4 pm to 11 pm, this stretch of road is blocked to traffic and transforms into a place where tourists and local vendors come together to chat, shop and dine all in one spot.
Around 300 Hmong and Tai vendors bring hand-woven indigo-dyed fabrics while town folks counter by bringing silks and handicrafts. Some shops sell "lao-lao" rice liquor, served from bottles with scorpions and snakes pickling in the liquid. Other enterprising crafters salvage metal from bombs and another munition leftover from the Vietnam War. They recycle them into unique accessories, bottle openers, and assorted novelties and souvenirs.
The wide range of local and imported goods on offer include paintings, silver jewelry, pottery, wood carvings, coffee beans, spices, toys, bags, shoes, T-shirts, skirts, local fabric, among others. All of them are surprisingly cheap, fetching price tags that are easily half that of comparable items in night markets elsewhere.
Float Down the Mekong (from Thailand border to Luang Prabang)
The mighty Mekong River is the lifeline of Laos. It flows from the Tibetan Plateau down to China's Yunnan Province. It then slithers its way south, creating the boundary between Laos and other countries in Southeast Asia.
One of the highlights of a trip to Laos is taking a slow boat down the Mekong. A slow boat is long, and narrow, and floats right on the surface of the water. The captain is in front and the engine is at the back. The trip usually starts at the Thai-Laos border, specifically in the Lao town Huay-Xai. From there it is a two-day cruise, ending in Luang Prabang.
You will be sailing through pristine forests, and the landscape is simply captivating. It's an incredibly scenic journey that should be added to any Laos itinerary. Skip it and you would be missing out on something extraordinary.
Popular Attractions
Laos, the Land of a Million Elephants, has long been isolated from the outside world. Only recently has it started to open up and unveil its beauty and splendor for the world to see. With an increasing number of roads, bridges and other vital infrastructure being built, the breathtaking tourist attractions in the country are becoming more and more accessible. Here are some of them…
Plain of Jars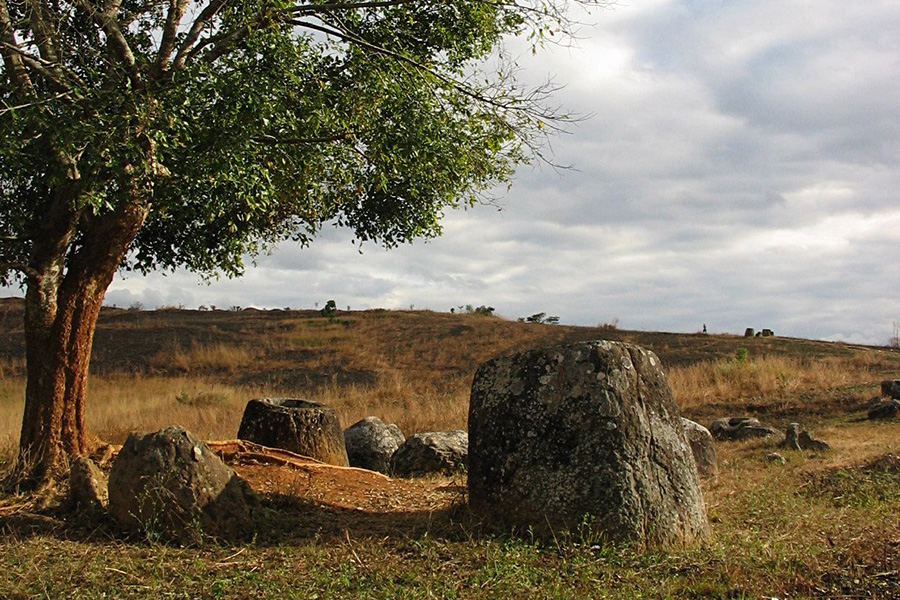 One of Laos' most bizarre landmarks, the Plain of Jars features thousands of stone urns dating back to the Iron Age. The jars are scattered in random locations across hundreds of square kilometers in the mountains surrounding the town of Phonsavan in southeastern Laos. Calling them jars is actually a bit of a stretch since many reach huge dimensions – from 3 to 10 feet tall and weigh well more than a few metric tons. Human remains, stone lids and discs have also been discovered in the area. What purpose the stone jars served and who made them remains a 2,500-year-old mystery. It is definitely a unique place to visit!
Wat Xieng Thong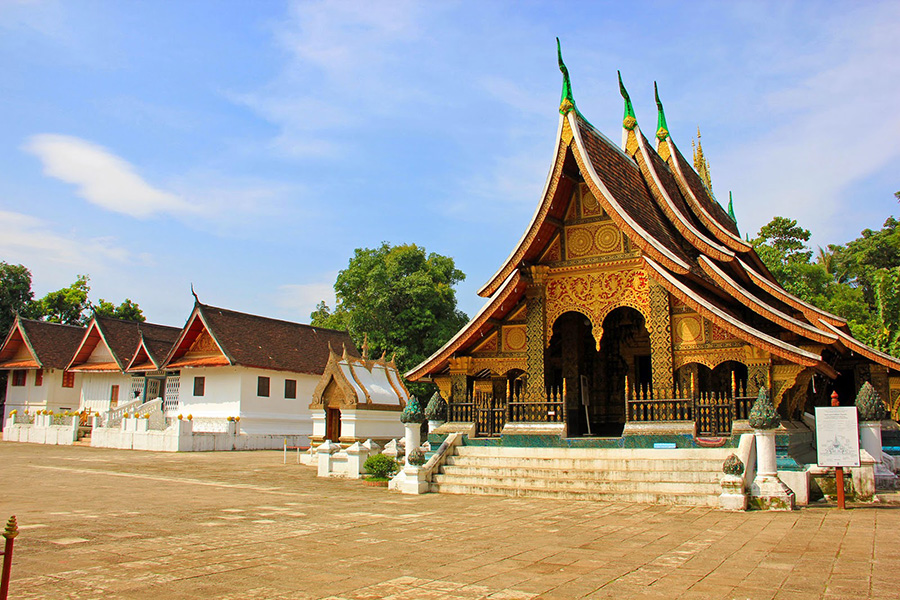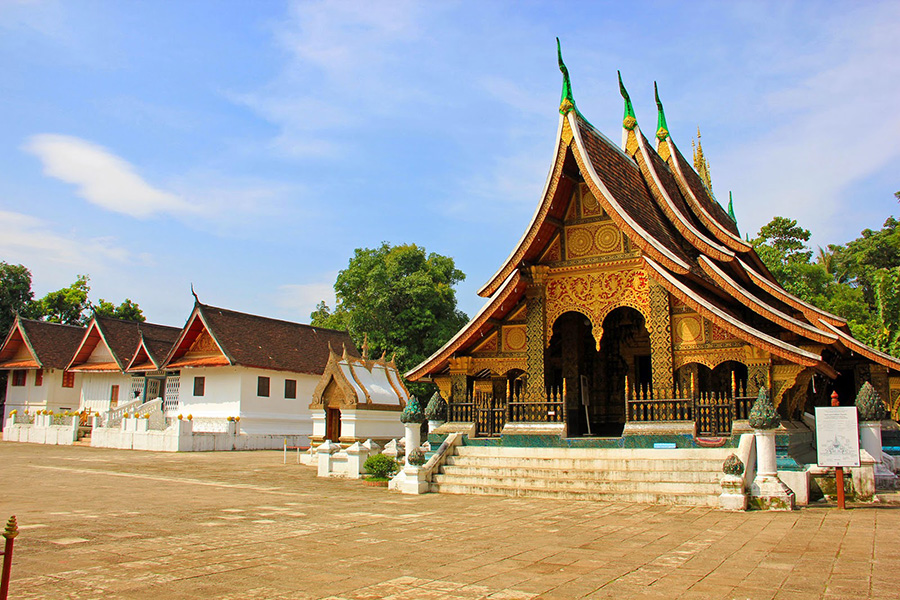 Wat Xieng Thong or the "Temple of the Golden City" is a Buddhist shrine located on the northern tip of Luang Phrabang. It is one of the most important of Lao monasteries and also one of the most beautiful and richly adorned temples in Laos. Construction of this royal structure was commissioned by King Setthathirath in 1559, along the banks of the Mekong river. It is of significant value because it is one of a handful of temples that were not decimated during the Black Flag Army invasion of 1887.
The Wat's most impressive structure is the sim or the congregation hall. Both the interior and exterior of the sim are extensively embellished with gold stenciling on black lacquer. This majestic temple is built in the distinctive Luang Prabang style highlighted by a sweeping roof that extends almost to the ground. The roof is composed of a massive, three-tiered central section fringed by several two-tiered segments. At the highest point of the central part is a gilded "Dok so faa" with miniature stupas covered by seven-tiered parasols.
Khone Phapheng Falls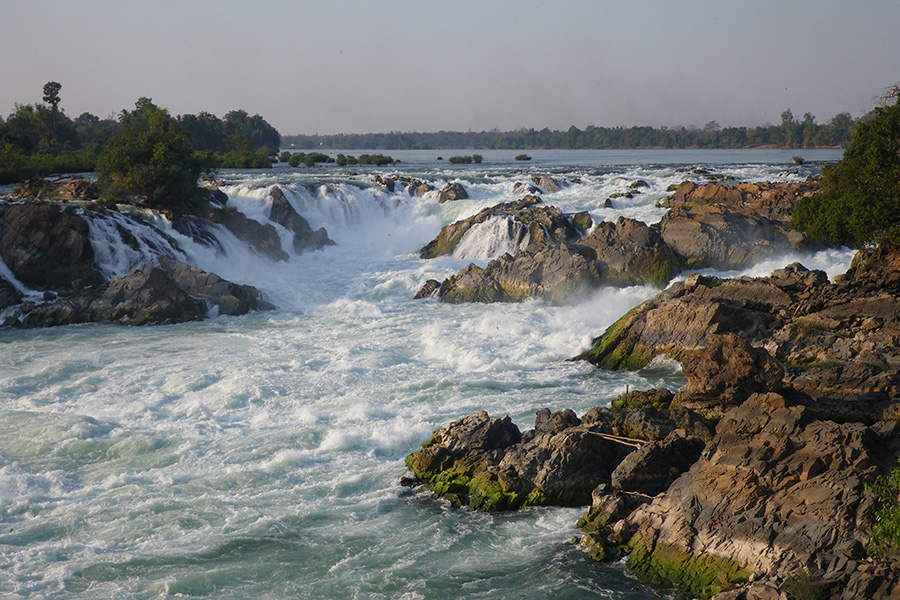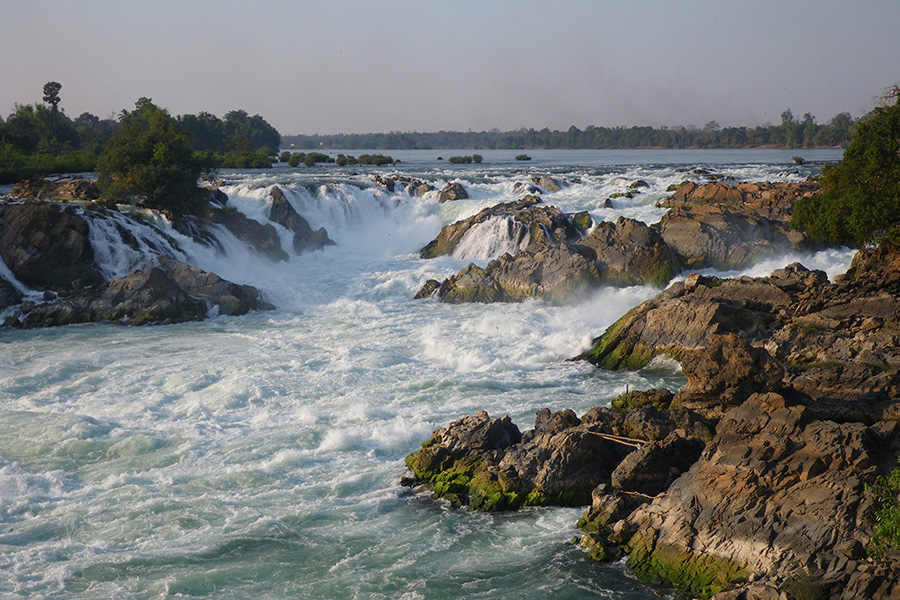 The Khone Falls and Pha Pheng Falls together form a waterfall on the Mekong River in southern Laos. It holds the record as the widest waterfall in the world, stretching 10783 meters wide and extending over a length of nearly 10 kilometers downstream.
The Khone Falls are the largest by water volume in Southeast Asia. The cascading falls feature countless waterways and thousands of islands, giving the area its name Si Phan Don, which literally translates to 'the 4,000 islands'.
The highest falls rise to 21 meters while the average discharge is almost 11,000 m3/s. The falls are most spectacular during the dry season. When the rains come, much of the falls and rapids disappear due to the raised water level in the river.
Wat Phu Champasak
Rustic Wat Phu is a Khmer Hindu temple complex at the base of mount Phou Khao in southern Laos. The ruins rest in graceful infirmity, and while it lacks the enormity of Angkor in neighboring Cambodia, these small decrepit temples elicit a more soulful response, thanks largely to the more dramatic natural setting and less number of visitors.
While some structures are over a thousand years old, most date back to the 11th to 13th centuries. The area is divided into six terraces on three tiers connected by a frangipani-fringed stairway that ascends the mountain to the main shrine at the summit. Try to visit in the early morning for cooler temperatures and to see the ruins in the best light.
Mount Phou Si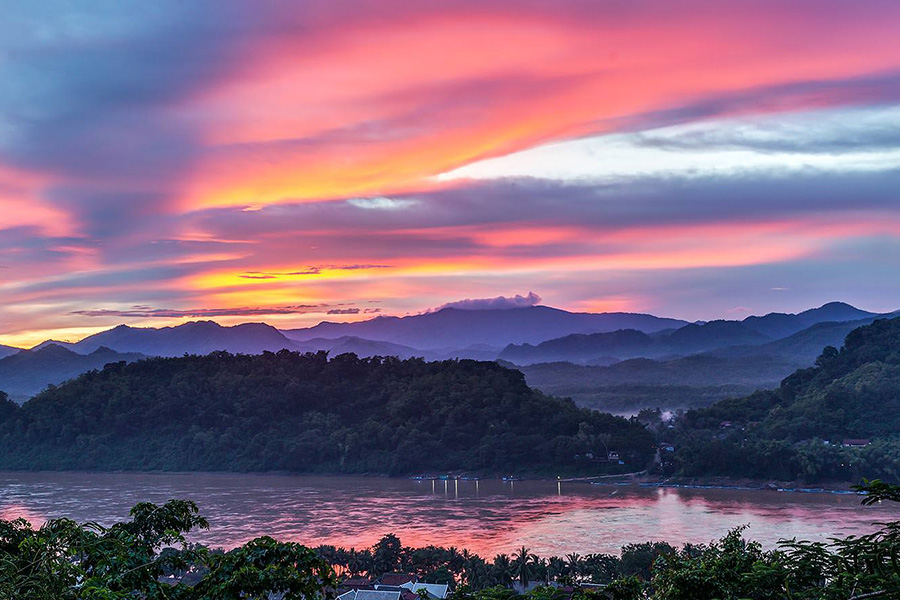 Mount Phou Si is a 100-meter high hill located at the heart of Luang Prabang. It is flanked on one side by the Nam Khan River and the Mekong River on the other side. The hill is a religious site and serves as home to a number of Buddhist shrines.
Ascend halfway up the hill and you'll find Wat Tham Phou Si, a Buddhist temple in a small cave overlooking the River Khan. At the top of the hill is Wat Chom Si, another Buddhist temple and a tourist highlight of Luang Prabang. From here you can take in a picturesque panorama of the historic town and the tranquil valley where it lies. In the distance, the jungle-clad mountains tower above the free-flowing rivers, and the entire landscape is absolutely breathtaking!
Wat Si Saket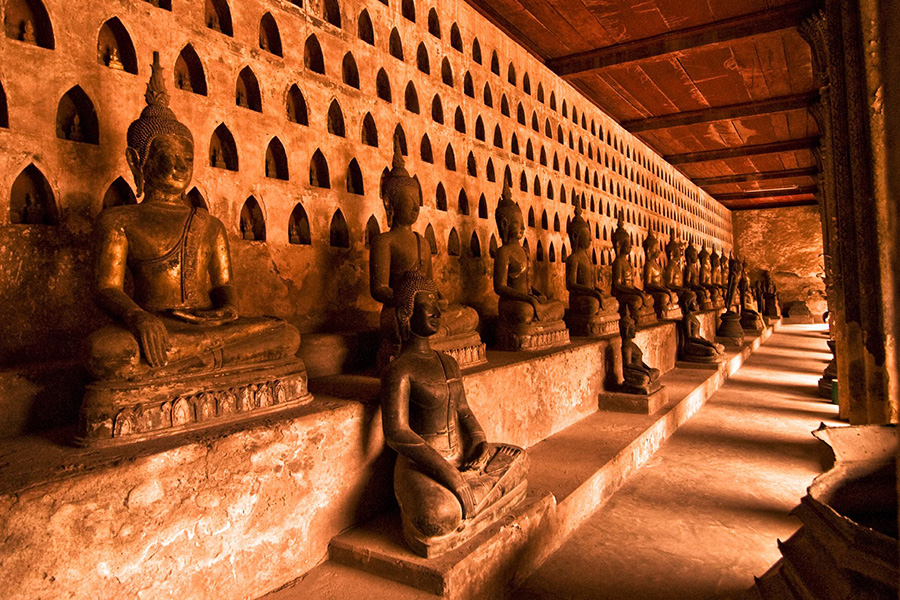 Constructed between 1819 and 1824 by King Anouvong who ruled the last dynasty of Laos' monarchy, Wat Si Saket is believed to be Vientiane's oldest surviving wat. But it is definitely the oldest one that managed to retain its original structure and plays an integral role in local religious belief. This is where they bring offerings every morning and on special occasions.
Although the temple is built in Laos, its main architecture adheres to the Siamese Style of Buddhist Architecture, making it even more special. The main structure is very impressive with an elaborate five-tiered roof and surrounded by a colonnaded terrace.
However, the specialty of Wat Si Saket is not just its unique architecture but also its ornament. It is renowned for thousands of silver and ceramic Buddha trinkets. In the courtyard galleries, you'll find another interesting feature – 6,840 Buddha statues representing various stages in Buddha's life.
Tat Kuang Si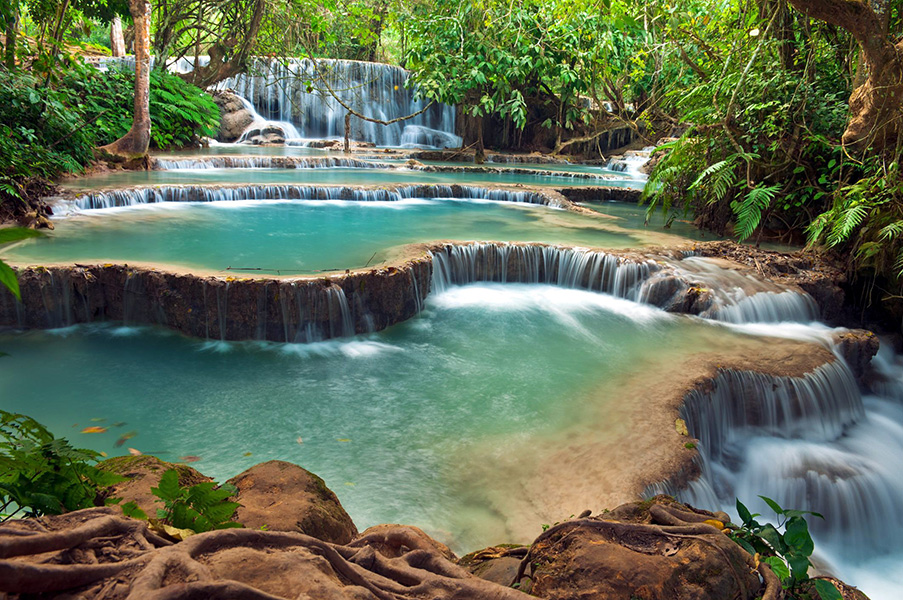 Located about 30 km southwest of Luang Prabang, Tat Kuang Si is a multi-tiered waterfall gushing over limestone formations into several cool, turquoise blue pools. It is very popular for day trips with both locals and foreigners. Especially on weekends and holidays, it gets crowded with droves of tourists.
The best thing about the falls is that aside from being mind-blowingly beautiful, you can also swim in the tiered pools. In the main area and at the very top, there are some pools where you can take a dip, but take note of the signs saying no swimming, as some pools are sacred to the local population.
When you're done swinging off ropes into the water, drop by the Tat Kuang Rescue Centre, where more than 20 Asiatic Black Bears are given a new lease on life after being rescued from poachers.
Pak Ou Caves
The Pak Ou Caves are composed of two caves, the Tham Ting (lower cave) and the Tham Theung (upper cave), both overlooking the west side of the Mekong River around 25 kilometers north of Luang Prabang. They are roughly two hours upstream from the center of the town and can be reached by road or boat.
The caves are known for their miniature Buddha sculptures. In the lower cave, hundreds of Buddhas are silhouetted against the remarkable riverine backdrop. The revered sculptures are mostly damaged wooden Buddhist effigies arranged over the wall shelves. Some have chipped faces or have missing hands, while others lean to the side or have been replaced by newer versions that are less worn out from ages of devotion. They take various presentations including meditation, peace, teaching, rain, and nirvana.
Ock Pop Tok
Ock Pop Tok, meaning 'East Meets West' in the local language, is a partnership between Lao weaver Veomanee Douangdala and British entrepreneur Joanna Smith. Established in Luang Prabang in 2000, it symbolizes the fusion of conventional Lao craftsmanship with modern design and fair trade principles. This beautiful, traditionally-styled workshop is set serenely near the Mekong, where batik makers, spinners and weavers produce world-class fabrics. It offers free tours to boost the profile of Lao textiles globally while creating economic opportunities for the local artisans.
Ock Pop Tok's activities are concentrated on the Living Crafts Centre which includes weaving studios, a dye garden, an exhibit, and teaching spaces. There is also the riverside Silk Road Cafe serving sumptuous Lao food and the surprisingly palatable worm-poo tea, a unique blend made from silk-worm droppings. Visitors can participate in workshops in Hmong batik, loom weaving, and natural dyeing.
Living Farm Land Experience
When you visit Luang Prabang, you can not only see but experience first hand the quintessential life of a local rice farmer. Rice is the foundation of daily life in Asia and yet it's still a brain-teaser for many visitors. In this unique activity, you'll be able to learn how to plow the land, select the seeds, plant rice, harvest, thresh and cook up a traditional Lao meal! Everything is set in a farmland located 20 minutes from town. It is serene yet buzzing with life as different kinds of plants and animals coexist in a thriving ecosystem. Aside from farming, you'll also get to see other traditional trade like blacksmithing and bamboo weaving, as well as crafts such as bird traps and ethnic musical instruments.
The Elephant Village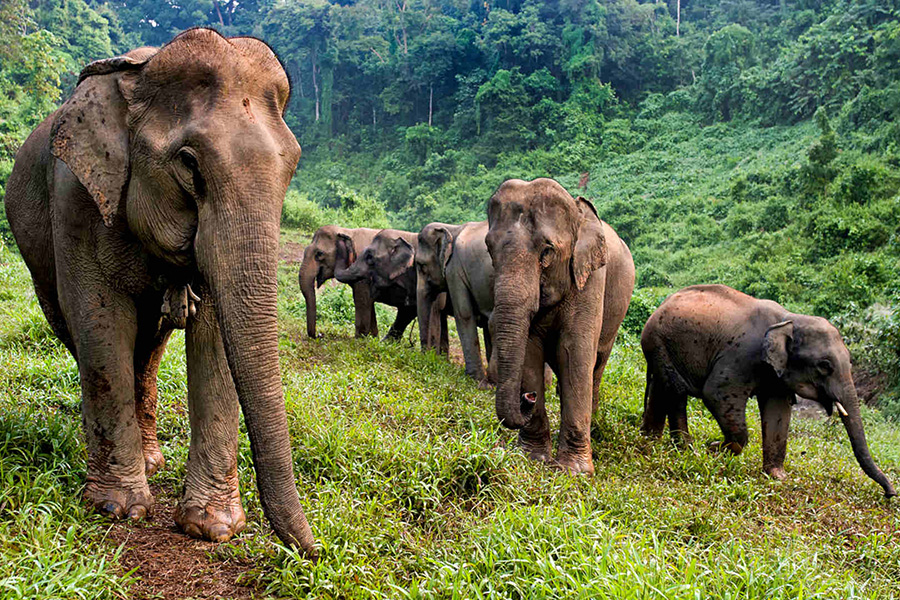 Established by Markus Peschke in 2001, the Elephant Village is an elephant sanctuary and a popular tourist destination in Luang Prabang. Upon arrival, you will be greeted by the camp manager and participate in a briefing about the elephants. Then you'll get to spend some one-on-one experience with the world's largest land animal. During this time, you can observe your new pachyderm friend, feed it and learn to communicate with it for the most intimate elephant encounter! Afterward, you'll begin basic mahout training which includes elephant care and husbandry, and ultimately you'll learn how to control an elephant by yourself!
The Elephant Village is one of the popular elephant sanctuaries in Luang Prabang, but there are other notable ones like the MandaLao Elephant Conservation and the Luang Prabang Elephant Camp.
Pha That Luang
Anyone who visits Vientiane should not miss the stunning golden building, the Pha That Luang. Since its construction, which is believed to be in the third century, the stupa has seen a number of renovations as recently as the 1930s because of foreign intrusions into the region. It is considered by many as a national symbol and the most important national monument in Laos.
Rooted in Buddhism, the Pha That Luang consists of three levels to convey the different elements of Buddhist teachings. Its cloister is packed with paintings, sculptures, and effigies of Buddha. There are several altars, where people offer flowers and gifts. There are also lush gardens, magnificent monuments, and smaller stupas where monks still live, pray, and study today.
Haw Phra Kaew
Also known as Ho Phra Keo, Haw Phra Kaew is one of the most revered temples in Laos. It was first constructed in 1565 by King Setthathirath when he transferred the capital of the Lan Xang Kingdom to Vientiane. The opulent structure was intended for the Laos Royals and to house the Emerald Buddha, which resided there for more than 200 years.
The Haw Phra Kaew was destroyed in 1827 when the Siamese army invaded Vientiane. Since then it has been renovated multiple times and is currently the country's leading museum of religious art. On display are Buddha images, a gilded throne for the Emerald Buddha, wood carvings, inscribed Khmer stone steles, and ancient Buddhist manuscripts. The temple is surrounded by well-manicured gardens, one of which features a 2,000-year-old stone relic from the Plain of Jars.
Xieng Khuan (Buddha Park)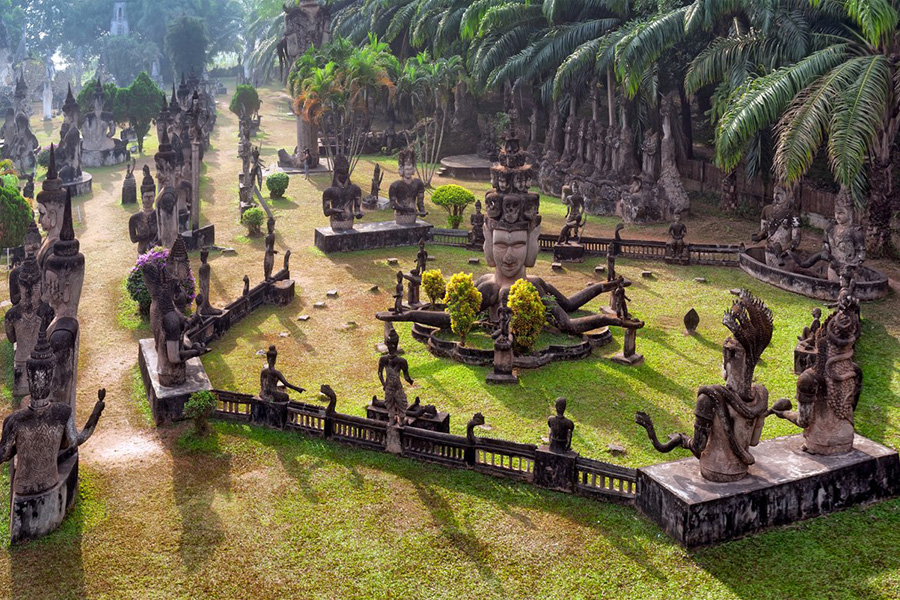 Buddha Park, also known as Xieng Khuan, is a sculpture garden in a meadow located 25 kilometers southeast from the capital Vientiane. It was constructed in 1958 by Luang Pu Bounleua Sulilat and houses more than 200 Buddhist and Hindu sculptures. He later resided in Thailand and built a similar park called Sala Keoku in Nong Khai.
The sculptures in the park are made of reinforced concrete and appear to be centuries old, though they're not. There are sculptures of gods, humans, demons, animals, numerous Buddha effigies, characters of Buddhist beliefs, and characters of Hindu lore including Arjuna, Shiva, and Vishnu.
The park has three stories representing Heaven, Earth, and Hell. Visitors enter through the mouth of a 3-meter-tall demon head and ascend staircases from hell to heaven. At the top, there is a section where the entire park can be viewed. The socialist government manages the park as a tourist attraction.
How to Get Around Laos
Domestic Flights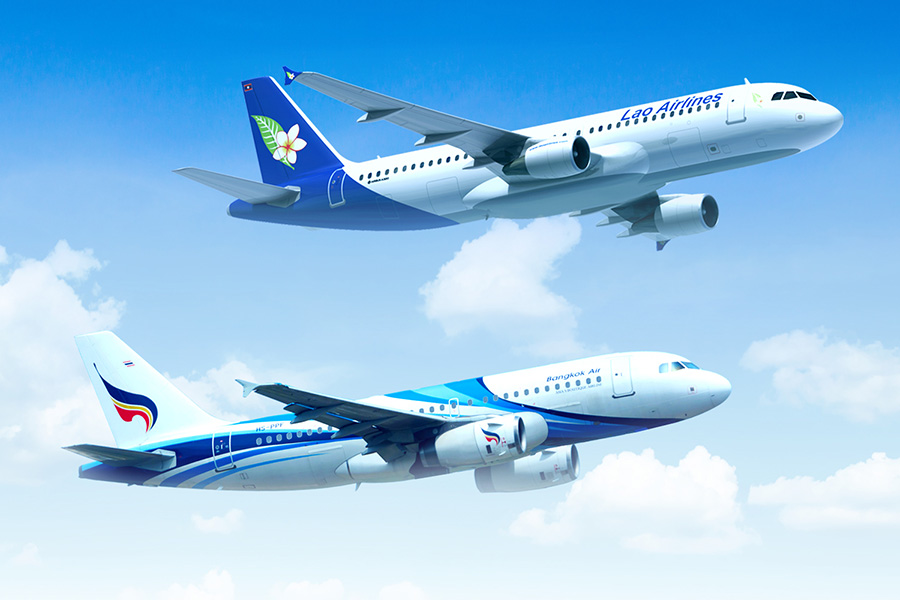 This is your best option especially if you are pressed for time and want to cover more ground. Note, however, that domestic flights suffer from frequent cancellations because of fog and dense smoke during the slash-and-burn season. It is best to confirm that your flight is still on time a day or two before your scheduled departure. If you plan to travel during the holiday season, try to book well in advance as flights can fill fast.
Laos has two airline companies: Lao Airlines which handles domestic flights including between Vientiane and Luang Prabang, Luang Nam Tha, Pakse, Phonsavan, Savannakhet, and Udomxai. The other is Lao Skyway, a newer domestic carrier with flights from Vientiane to Luang Prabang, Huay Xai, Luang Namtha, Phonsavan, Phongsali, Sam Neua, and Udomxai.
City Transportation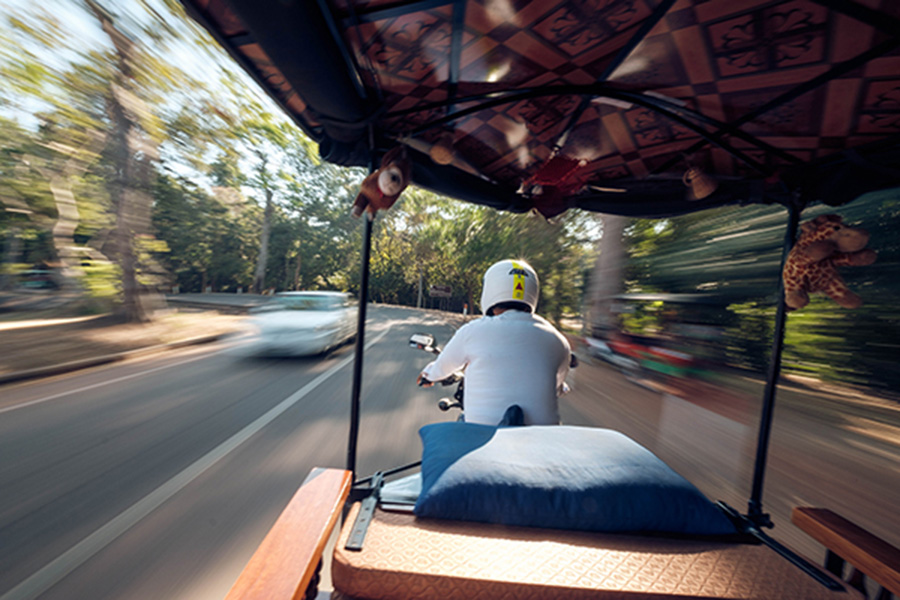 Public transportation starts at $0.25 USD (2,000 LAK) and goes up depending on the distance. Taxis and tuk-tuks cost a tad more and may require some haggling skills. If you already have a specific destination, ask the staff at your hotel how much you are likely to pay.
Long-distance public transport is either by bus or sŏrngtăaou, which are converted trucks or pick-ups with benches down both sides. On some busier routes, private operators have rolled out VIP buses that offer faster and more upscale air-con services that cost a tad more than normal buses. Sŏrngtăaou typically services shorter routes in the provinces, though they are gradually being phased out and replaced by minivans.
Traveling by Boat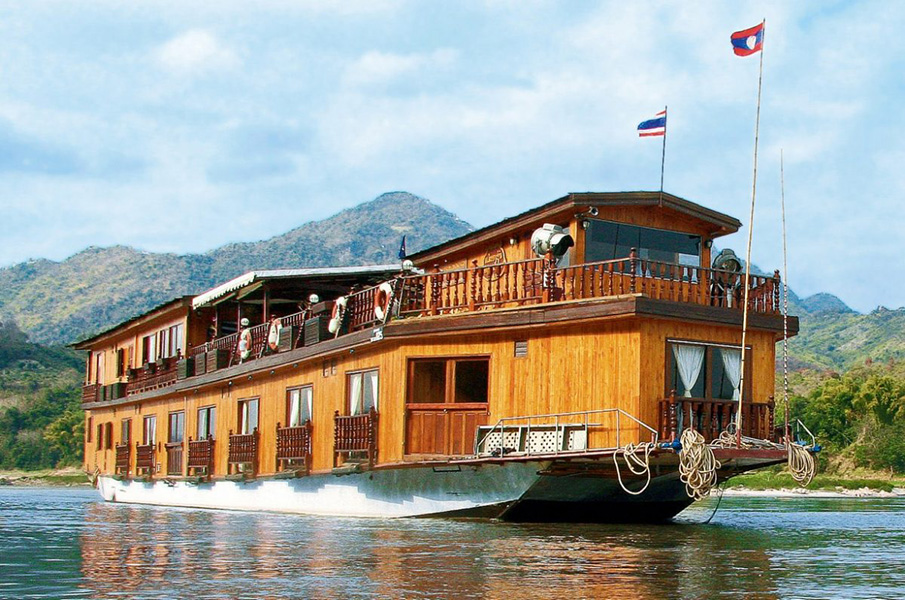 One of the most popular ways to explore Laos is via boat between Luang Prabang and Huay Xai on the Mekong River. The trip takes two days and costs about $30 USD (250,000 LAK) per person. Laos has over 4,600 kilometers of navigable rivers, with the main thoroughfares being the Mekong, Nam Khan, Nam Ou, Nam Ngum, Nam Tha, and Se Kong. The Mekong is by far the most important route and it is passable all-year-round between Huay Xai and Savannakhet.
Smaller rivers are traversed by a range of smaller boats, from dugout canoes made from hollowed tree trunks to 'bomb boats' made from military rubble. At any rate, whether you are traveling on a tourist boat or on a local boat, it is still worth experiencing at least one river excursion during your visit to Laos.