When people think of traveling to Cambodia, the first thing that comes to mind is Angkor Wat. While Angkor Wat is truly magnificent, there's so much more that Cambodia has to offer. With spectacular temples, beautiful islands and beaches, and a rich cultural heritage, it's a shame to miss out Cambodia. In this travel guide you'll realize why it's a gem tucked in the middle of Southeast Asia.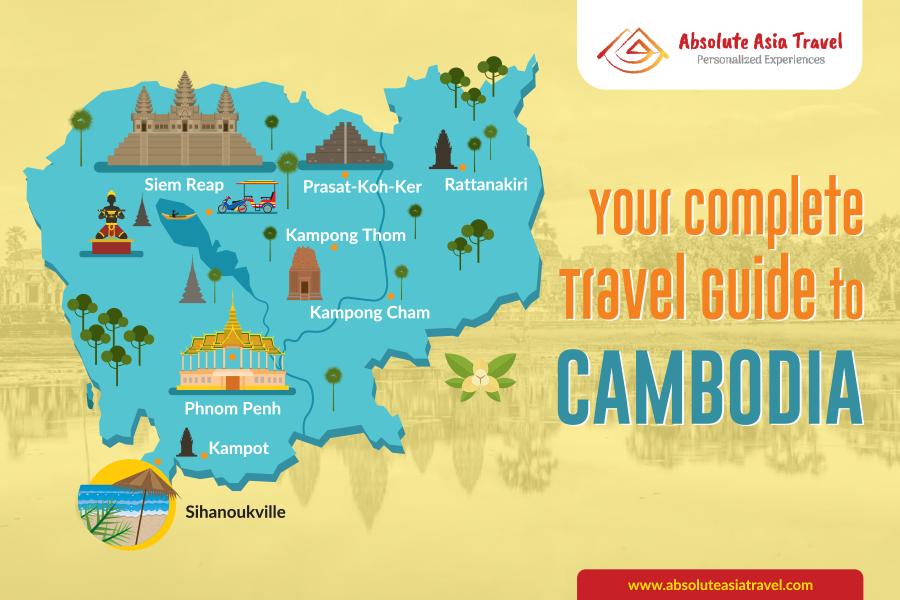 Quick Information
Visa: All travelers heading to Cambodia are required to have a 30-day tourist visa, which can be obtained on arrival for $30 in Phnom Penh, Sihanouk Ville, and Siem Reap. The website of the Cambodian government also offers e-visas, so visitors can apply beforehand to speed up entry into the country. With the e-Visa, travelers can enter Cambodia and stay for up to 30 days without any visa issuance at consulates abroad or in local airports.
E-visas take three days to process and cost an additional $6. Check out this link on how to apply for Cambodian eVisa. Citizens from ASEAN nations can apply on arrival for a free visa which lasts for 30 days.
Language: Khmer is Cambodia's official language. It is spoken by more than 90% of the population. There are slight regional differences in the dialect, but majority of the locals speak central Khmer, which is by far the most common in the country.
In recent years, Cambodia has witnessed a significant rise in tourism which has resulted to an increase in the use of English. The locals in small villages may not understand you, but you'll surely be able to get by using English in the larger towns and cities.
Currency. The main currency in Cambodia is the riel, followed by the US dollar, which is widely accepted. Businesses usually quote prices in riel or US dollars, but in towns and cities bordering Thailand, the Thai baht is sometimes used.
ATM machines are available, including in all major tourist hubs. You will be given the option of withdrawing in either riel or US dollars and single withdrawals of up to $500 are possible as long as your account can handle the transaction. Most of the hotels and restaurants in big cities accept credit card payments.
Electricity Socket: The standard voltage is 230V and the frequency is 50 Hz. Power outlets are two-prong round sockets and they accommodate plugs ****with two flat pins. In order to spare yourself the hassle of buying new adaptors everywhere you go, we suggest investing on a Universal Travel Adaptor before you travel.
Your electric appliances can be used in Cambodia if the standard voltage in your country is 220 – 240 V, which is the case in Australia, Europe, the United Kingdom and most of Asia and Africa. On the other hand, if the standard voltage in your country is 100 – 127 V, as is in the United States, Canada and most countries in South American, you'll need to use a voltage converter or a combined power plug adapter/voltage converter.
When is the Best Time to Visit Cambodia?
If you are planning to visit Cambodia, it is nice to know that there is no wrong time to travel. The weather is warm all year, but there is a monsoon season that creates two climate conditions, rainy and dry. The best time of the year to visit Cambodia will depend on what you want to do during your stay and if you want to avoid the rainy season.
Between November and April, Cambodia sees very little rain so it is perfect if you wish to enjoy a relaxing trip to the southern coast. Outside this period, humidity rises and the rains come. However, you must not be discouraged from traveling because the temples are tranquil, the rivers are free-flowing, and the countryside is lush and green. This is the ideal time to visit the outer-lying temples because they are no longer crowded.
When summer ends, The Tonle Sap comes to life. This is one of Cambodia's true natural wonders and the biggest freshwater lake in Southeast Asia.
November is popular with tourists because the average temperature is around 25°C. It's the perfect time to visit if you intend to wander around the temples, monuments, and markets. December and January are also busy months because they are dry and ideal for visiting the southern islands. Temperatures start to rise in March and April and they can be very humid for sightseeing. However, the festivities for the Khmer New Year take place in April. It is one of the most important festivals in Cambodia that coincides with the end of the harvest season.
What to Pack When Travelling to Cambodia
Regardless of when you plan to travel to Cambodia, it's going to be warm and humid. Pack several lightweight, light-colored clothing to reflect the sun. The country's tropical climate means it's pretty hot and humidity is high all year round. However, it can get cool at night, particularly during the winter months, so it's advisable to bring along a sweater. While ponchos are available in most places, you'll be better off a rain jacket, especially if you'll be traveling during the wet season.
Other things to bring include a sturdy travel water bottle, an RFID travel wallet, an unlocked mobile phone, a pair of comfortable travel sandals, and a sand proof beach blanket if you'll be visiting any of the islands. You will also need a sun hat and a powerful sunscreen especially when strolling around Angkor Wat. Key cities like Phnom Penh and Siem Reap will have most of the amenities that you'll need, so there's no cause for concern if you forget to pack something. You will be able to find all the essential items there.
Key Towns and Cities
Phnom Penh. Formerly known as Krong Chaktomuk Serimongkul or the "The City of the Brahma's Faces", this is the bustling capital and the most densely populated city in Cambodia. Once dubbed as the "Pearl of Asia," it was regarded as one of the most glamorous French-built cities in Indochina. It exudes provincial charm and serenity with French colonial chateaus and tree-lined boulevards set in the midst of enchanting Angkorian architecture. Phnom Penh offers a plethora of fascinating touristy sites. Aside from the Royal Palace, the National Museum, the Silver Pagoda, the Choeng Ek Killing Fields, the Toul Sleng Genocide Museum, and Wat Phnom, there's a menagerie of market places selling antiques, carvings, paintings, silver, silk, and even precious gems. Phnom Penh also serves as the portal to an exotic land – the world's biggest religious complex, the majestic temples of Angkor in the west, the ethnic minorities of the northeastern provinces, and the pristine beaches of the southern coast.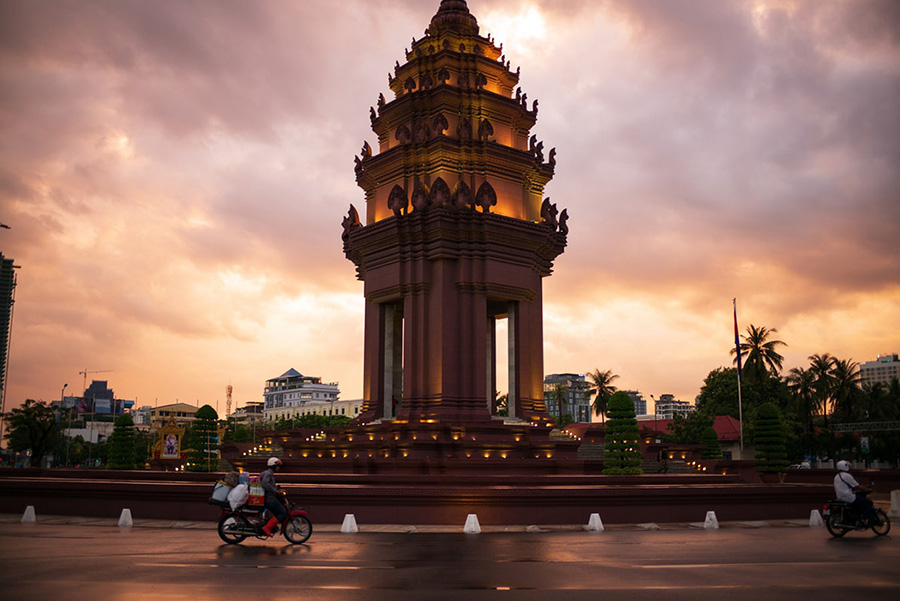 Siem Reap. This is a popular resort city and a portal to the Angkor region. It features colonial and Chinese-style architecture around the Old Market and in the Old French Quarter. There are museums, silk farms, souvenir and handicraft shops, traditional Apsara dance performances, fishing villages, rice paddies in the countryside, a bird sanctuary, and a cosmopolitan dining and drinking scene.
As a world-renowned tourist destination, Siem Reap has plenty of hotels, resorts, cafes, restaurants, and businesses that are closely linked to tourism. This is largely due to the city's close proximity to the Angkor temples, the most sought after tourist attraction in the region. It is said that more than a million travelers pass through Siem Reap each year, making it Cambodia's second fastest growing city, next to the capital Phnom Penh. This is no surprise as Seam Reap has reinvented itself from merely a temple-dominated area to one that boasts hip hotels, great shopping, tours that suit adventurers, a rich cultural scene, and world-class dining across a range of cuisines.
Battambang. Also known as or Krong ,Battambang, this is a city located along the banks of the Sangkae River in northwest Cambodia. It's a popular tourist destination because of its ancient temples, colonial buildings, and the infamous bamboo railway. Tourists love it here because of its eclectic mix of modern city, small-town hospitality and well-preserved colonial architecture, which blends seamlessly together to give Battambang its unique charm.
Banlung. Located in the northeastern section of Cambodia, this is the capital city of Ratanakiri Province. Its central Phsar Banlung market has baskets, carvings, and jewelry made by local tribes. On the nearby Phnom Svay hill is the Eisan Ratanaram Pagoda which overlooks the city and is famous for its huge reclining Buddha. To the east is Banlung's most popular landmark, the Yeak Lom Volcanic Lake which is home to several species of parrots and other exotic birds. It is therefore perfect for bird watching and enjoying the picturesque views of the surrounding area.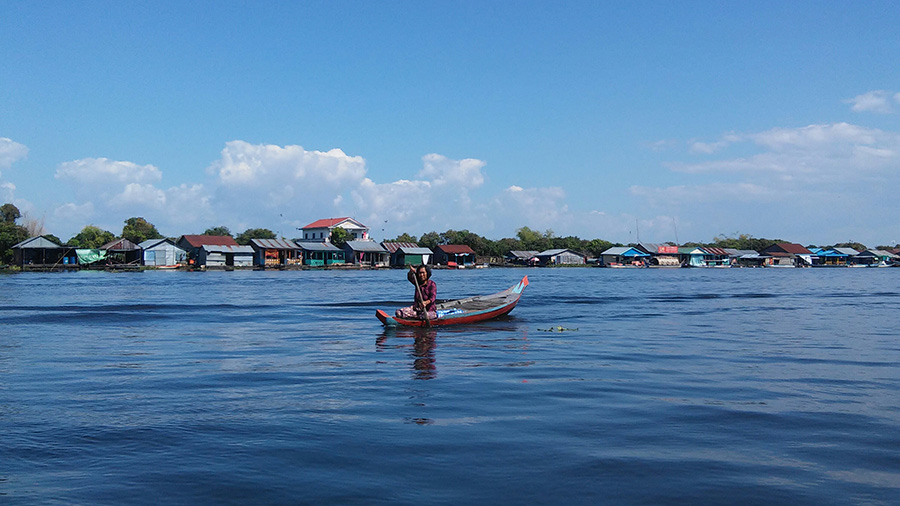 Kratie. This supremely mellow city sits on the banks of the mighty Mekong River. Red flowered trees thrive along the riverbank and there are massive islands with powdery white sand beaches within the Mekong itself. The section of the river north of Kratie is home to an endangered group of Irrawaddy dolphins – the city's top tourist attraction. You'll also find a rich heritage of French-era architecture, as the buildings were spared during the wartime bombing that flattened other provincial centers in the country.
Kampot. This laid back city is located on the languid Preaek Tuek Chhu River in southern Cambodia. It's not difficult to understand why tourists become entranced with this riverside city. Its streets are lined with dilapidated shophouse architecture which conveys a dreamy ambiance; as if the entire city was frozen back in time with little or almost nothing changed for decades. Many structures date back to the colonial era, including the Governor's Mansion which has been converted into a museum. Kampot has lots to offer, whether you're into art, outdoor adventure, or you love sampling the food as you tour Cambodia's best destinations, this amazing city has something for you.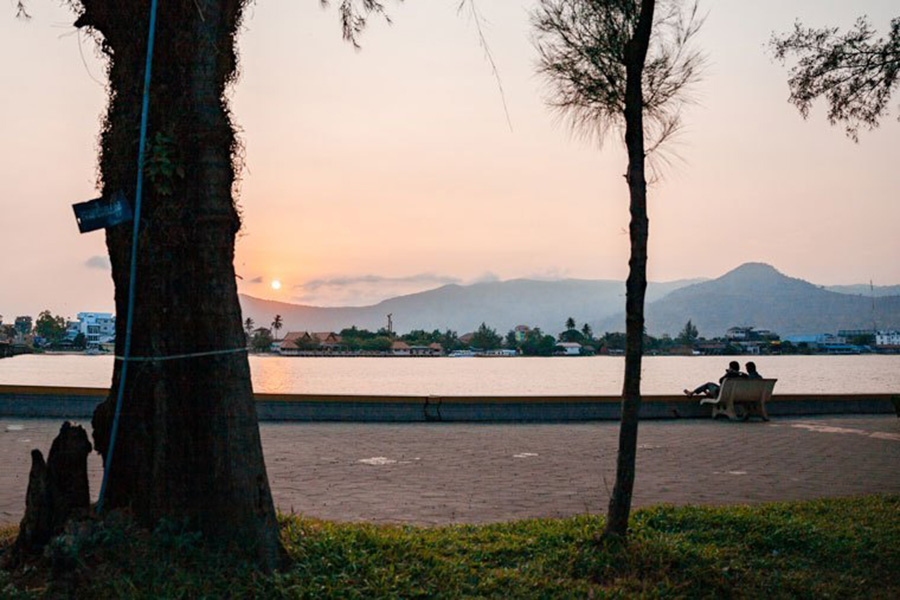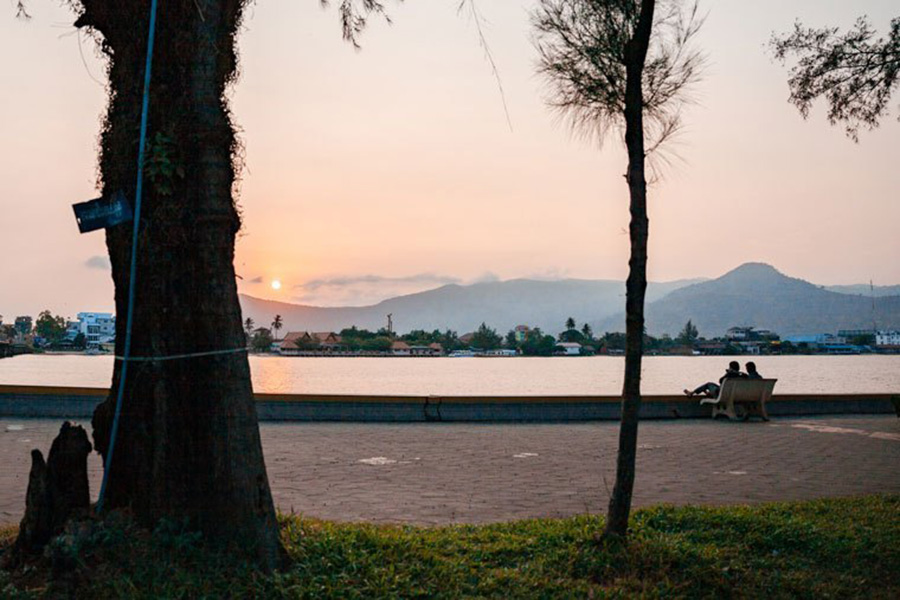 Sihanoukville. Also known as Kampong Som, this is a coastal city and the capital of a southwestern province with the same name. It is flanked by a string of beaches along its entire coastline bordering the Ream National Park in the east. The many white-sand beaches and nearby castaway islands make Sihanoukville the top seaside resort in Cambodia, with steadily rising numbers of domestic and foreign visitors since the late-20th century. The most notable beaches include Victory, Serendipity, Independence, Sokha and Otres. The good thing about these is that they are comparable to their counterparts in neighboring Thailand. Nowadays, Sihanoukville is dominated by Chinese tourists so travelers from other countries opt to use it only as a stopover for connecting to the equally beautiful beaches in Koh Rong Island.
Koh Rong Island. This is the biggest and fastest-developing island in Cambodia. Situated close to the coast of Sihanoukville, this idyllic island is famous for its stunning natural sights and exciting man-made facilities. Travelers often describe it as an 'island paradise' because of its sugary white sandy beaches, warm crystal-clear waters, and a pleasantly warm tropical climate.
Many people visit Koh Rong for the awesome beach experience alone, but there are many spectacular locations on the island including the Royal Sand Koh Rong and the Sok San Beach Resort. The pristine beaches create a vibrant party ambiance, with lots of chic hotels, bars, and night clubs. This is definitely a vital stop on any Cambodia itinerary.
Top Cambodia Attractions
Angkor Wat. This Hindu temple complex is the biggest religious monument in the world, covering 162.6 hectares. It was built in the early 12th century by Khmer King Suryavarman II in Yaśodharapura, the second capital of the Khmer Empire. It is the best-preserved temple at the entire complex, with the bas reliefs, intricate carvings, baths, corridors, towers, libraries, and moats withstanding the test of time. In 1992, the Angkor Archaeological Park was bestowed the title of World Heritage site as it serves home to the ancient capitals of the Khmer Empire and houses some of the ancient world's most remarkable architectural and artistic accomplishments. Angkor Wat has become a symbol of Cambodia and the country's top attraction for visitors.
Bayon (Angkor Thom). This was the last capital city of the Khmer Empire and was founded in the late 12th century by King Jayavarman VII. A common mistake made by visitors to Cambodia is that Angkor Thom is just 'another temple'. It's actually an entire city covering 10 square kilometers. At the center is Jayavarman's state temple known as the Bayon which can be distinguished by the dozens of serene and smiling stone faces on towers that jut out from the upper terrace. To the northern section of the ancient city are the other major sites that surround the Victory Square.
Ta Prohm (Temples of Angkor). Originally called Rajavihara, this temple in Siem Reap Province was constructed in the Bayon style during the late 12th and early 13th centuries. Khmer King Jayavarman VII ordered the construction of the entire complex as a Mahayana Buddhist monastery and university. It rose to fame when it was used as one of the locations for Angelina Jolie's film Tomb Raider. One of the most popular spots in Ta Prohm is the so-called 'Tomb Raider tree', where Angelina picked a jasmine flower. One of the main reasons why it was chosen as a filming location is that unlike other Angkorian temples, Ta Prohm managed to retain much of its original features – the photogenic combination of trees sprouting out of the ruins and the vibrant jungle surroundings. In 1992, UNESCO inscribed Ta Prohm on the World Heritage List.
Banteay Srei. This 10th century Hindu temple goes by many nicknames including 'the Lady Temple', 'the Pink Temple', and 'the Tiny Temple'. The name Banteay Srei is actually a modern one which means 'citadel of beauty' or 'citadel of the women'. Regarded by many as the jewel in the crown of Angkorian art, Banteay Srei was constructed mostly from red sandstone, a medium featured in the intricate decorative wall carvings which are still visible today. The structures at the site are miniature in scale, which is quite unusual when measured by the standards of Angkorian construction. These factors made Bantay Srei extremely popular with travelers from across the globe.
Beng Mealea. A stunning sight to behold, this is one of the most peculiar temples at Angkor, as nature has literally run riot. Located 68km northeast of Siem Reap and constructed to the same layout as Angkor Wat, Beng Mealea is the ultimate 'Indiana Jones' experience. It is enclosed by an enormous moat covering an area of 1.2km by 900m.
Visitors entering from the south wend their way over heaps of sandstone blocks, through dark chambers and lots of hanging vines. The temple's central tower has totally collapsed, but tucked among the foliage and rubble are impressive carvings and a well-preserved library. Beng Mealea is certainly a special place and it's worth the time and effort to tour it thoroughly. Allow a half-day to visit, including the travel time from Siem Reap.
Prasat Preah Vihear. This is an ancient Hindu Temple that sits atop Poy Tadi, a 525-meter cliff in the Dangrek Mountains. Built during the reign of the Khmer Empire, the temple is dedicated to the great god Shiva. It consists of sanctuaries connected by a network of pavements and stairwells over an 800 meter long axis. The complex dates back to the first half of the 11th century, but its history can be traced to the 9th century. The site is quite remote so it has been well preserved. It stands out because of the quality of its architecture and the remarkable quality of its carved stone ornamentation. In July 8, 2008 the World Heritage Committee listed Prasat Preah Vihear as a UNESCO World Heritage Site.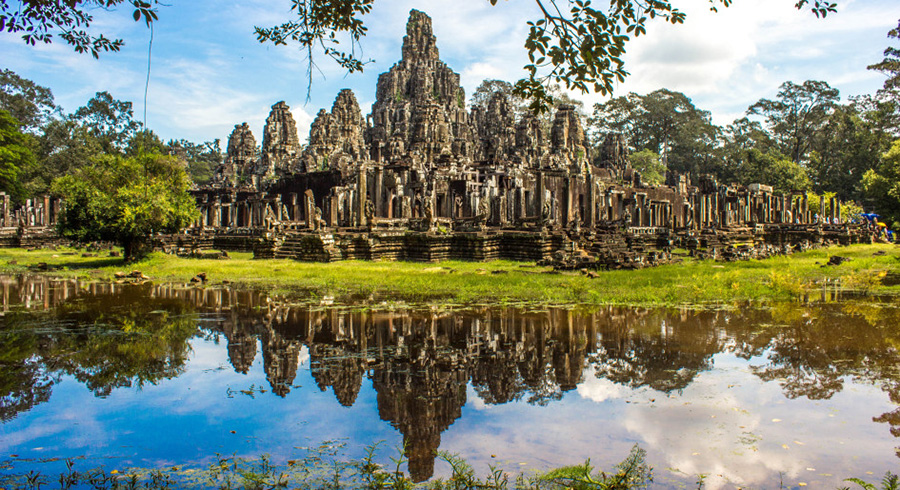 Top 10 Things to Do in Cambodia
Angkor Wat – Stroll along the world's largest temple
Ta Prohm – Traverse the temple of 'Tomb Raider'
Apsara Dance – Witness the Khmer performance
Biking – Wander across Siem Reap on a bike
Cruising – Spot the Irrawaddy river dolphins and enjoy the sunset
Cuisine – Indulge on fresh seafood and Amok
Beaching – Chill out and relax at the laid-back beaches
National Parks – Engage with the wild
Kampot River Excursion – Go for a swim or hop on a kayak
Shopping – Grab unique souvenirs from the local markets
Finding the Best Hotel Accommodation in Cambodia
There are a variety of options for accommodation in Cambodia, including everything from basic guesthouses to top notch international and boutique hotels. In major cities like Phnom Penh, Battambang, and Siem Reap you'll be able to find the best of luxury international chains.
Average Hotel Ranking
Cambodia has lured more global hotel chains in the past few years and mid-range to luxury accommodation is thriving. In the major cities, luxury accommodation is frequently the best option for travelers who wish to experience the local culture along with the comfort and convenience that luxury hotels provide.
Mid-range hotels usually go for $60-90 a night and are stylishly furnished. Most of them include breakfast and airport transfers for free. Luxury accommodation normally costs $120 or more a night. Options range from boutique hotels to international 5-star hotels and all-inclusive resorts. Because competition in the accommodation market is so high, travelers are likely to find prices that are lower than in many other Asian countries.
Hotel Styles and Service Features
Most of the mid-range and luxury hotels are embellished in enchanting Khmer style to enrich travelers' experience. Particularly in Siem Reap, where the economy is anchored around tourism, the hotels are chic with lots of pomp and grandeur. In Phnom Penh, most of the hotels are business-based and therefore more subtle, while the beautiful boutique hotels are mostly located near the Royal Palace.
In general, the hotels are known for delivering exceptional services. Check-in time is quite flexible, from noon to late in the evening, while check-out is often on or before 2 pm. The rooms are spacious with 3- and 4-star hotels offering floor areas of 25 to 35 square meters. 5-star hotels usually offer bigger and more open rooms.
Bear in mind that when choosing accommodation, you must consider the location, amenities, length of stay, and possible deals. To help you out, kindly check this post about hotels in Cambodia.
Getting Into and Around Cambodia
Getting to and around Cambodia is all part of an awesome adventure. Note that there is no direct flight from Europe, Australasia, North America, and South Africa, so you'll need a connecting flight from elsewhere in Southeast or East Asia. You'll arrive either at Phnom Penh (PHN) or Siem Reap (REP) International Airports.
You can also enter Cambodia from neighboring nations through its land borders with Thailand, Laos and Vietnam. For instance, you can cross into Cambodia via the Vinh Xuong/Kaam Samnor border crossing located northwest of Chau Doc in An Giang Province, Vietnam. There are several companies in Chau Doc selling boat trips and cruise packages from Chau Doc to Phnom Penh via the Vinh Xuong border. Alternatively, you may get into Cambodia via speedboat from Song Tien Port.
The best ways to explore Cambodia are by plane and private car. Booking a flight between cities is a cost-effective and popular option among travelers, while hiring private cars offer the most convenient and comfortable means of transportation. Other options like buses, taxis, motorbikes, and bicycles are available, but they are often inconvenient and time-consuming.
Domestic Flights
One flight is all you need to be able to visit the major tourist destinations, including Battambang, Phnom Penh and Siem Reap. The flight typically takes 1 hour. Basaka Air offers at least one flight daily between Phnom Penh and Siem Reap, and Siem Reap and Sihanoukville. The three operational airports in the country are well connected and the flights are very cheap. Airlines come and go, with newer ones cashing in on the booming tourism market.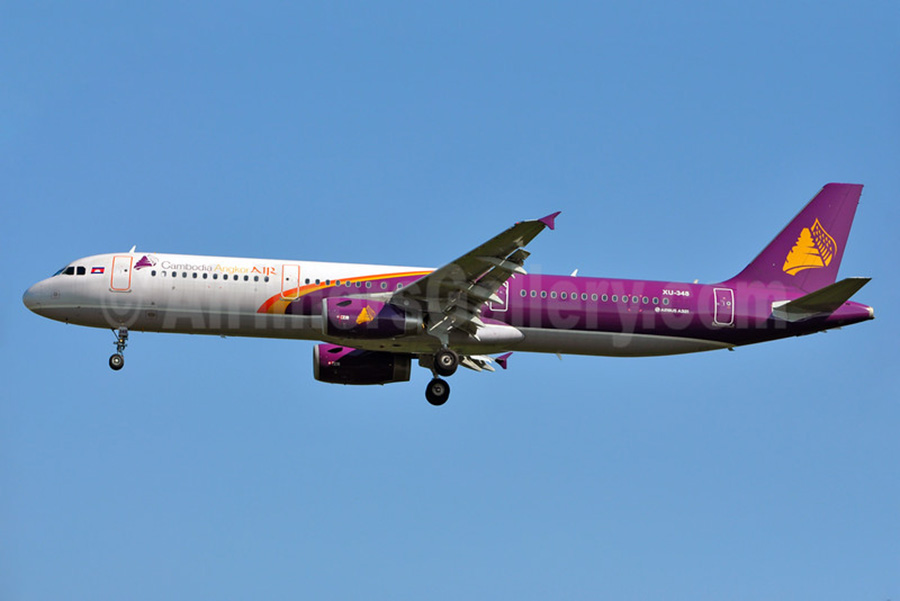 Private Cars
Renting is the most convenient and flexible way for travelers to visit Phnom Penh and Siem Reap. Both are warm almost all year round, with the annual average temperature of around 84ºF (29ºC) in Phnom Penh and about 86ºF (30ºC) in Siem Reap. The weather therefore makes it a near-necessity for visitors to travel in an air-conditioned car.
Your guide speaks English and knows which attractions you need to see. You can spend as much time as you want at any given destination, and you'll have the opportunity to explore the different attractions at your own pace. All these make traveling by private car the best option when in Phnom Penh, Siem Reap, and other major cities. All you need to do is sit back, relax, and let your driver/guide take care of everything for you!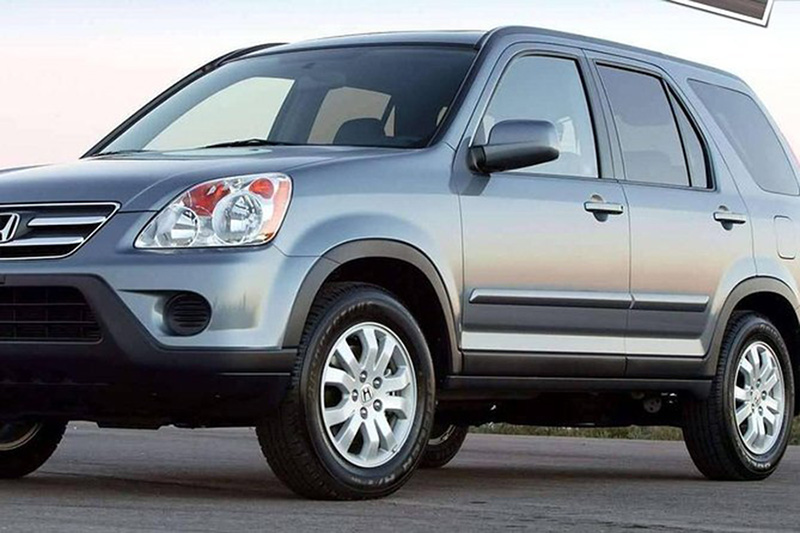 TIP: If you wish to experience Cambodia's public transport system, take a bus from Giant Ibis, a popular company serving the Saigon-Phnom Penh-Siem Reap and Bangkok to Siem Reap routes. They offer complimentary pickup service for passengers staying at partner hotels and guesthouses. The company is considered the best bus operator in Cambodia and according to the Ministry of Public Works and Transportation, it has the safest record of any passenger transport company in the country.
Cambodia by Train
The colonial-era railway system of Cambodia was severely damaged during the Khmer Rouge period but is currently being gradually restored and reopened. In 2016, the line between the capital Phnom Penh and Sihanoukville reopened, with stops at Kampot and Takeo. Trains now run once a day from Phnom Penh to Sihanoukville every Friday, Saturday and Sunday, and twice in the opposite direction every Saturday and Sunday. The full route takes approximately seven hours and costs $7.
The second section of the railway system, between Phnom Penh and Poipet, is undergoing renovation. The reopening of the entire line that passes through Battambang, Phnom Penh, and beyond, plus the dream of a railway connecting Bangkok, Ho Chi Minh City, and Phnom Penh, is most likely years from completion. In the meantime, if you wish to ride the trains in this part of Cambodia, you may take a trip on the bamboo railway in Battambang.
Cambodia by Boat
For years, the underdeveloped roads in Cambodia meant that traveling by boat was the primary means of getting between Phnom Penh and Siem Reap. Fortunately, it has now become faster and easier to travel by road. Even so, boats carrying 30 passengers still sail daily between Phnom Penh and Siem Reap. The trip end at Phnom Krom, a hill located near the dock at Chong Khneas 12 km south of Siem Reap. Travel is best during the wet season, which runs from June-November. Boats also operate daily along the Mekong between Phnom Penh and Chau Doc in Vietnam. From Sihanoukville, ferries and speedboats depart to Koh Rong several times a day.
What to Eat in Cambodia
The food may not be as popular as those in neighboring Thailand or Vietnam, but it is a unique cuisine packed with vibrant flavors and is definitely a must-try when you're in the country. Cambodia is a superb destination for food lovers who wish to enjoy a culinary adventure. Let's take a quick look at the country's must-try dishes that will surely get your taste buds tingling!
Fish Amok. This is one of the most popular dishes in Cambodia. In fact it is considered as the country's signature dish and can easily be found on menus in most tourist hubs. Diced fish fillets are smothered in coconut milk, eggs, and palm sugar. To achieve layers of flavor, a paste called Kroeung is added. It is prepared by pounding spices and other ingredients like kaffir lime, lemongrass, turmeric root, and shallots. The traditional way of cooking fish amok is by steaming it in a banana leaf that's shaped into a bowl.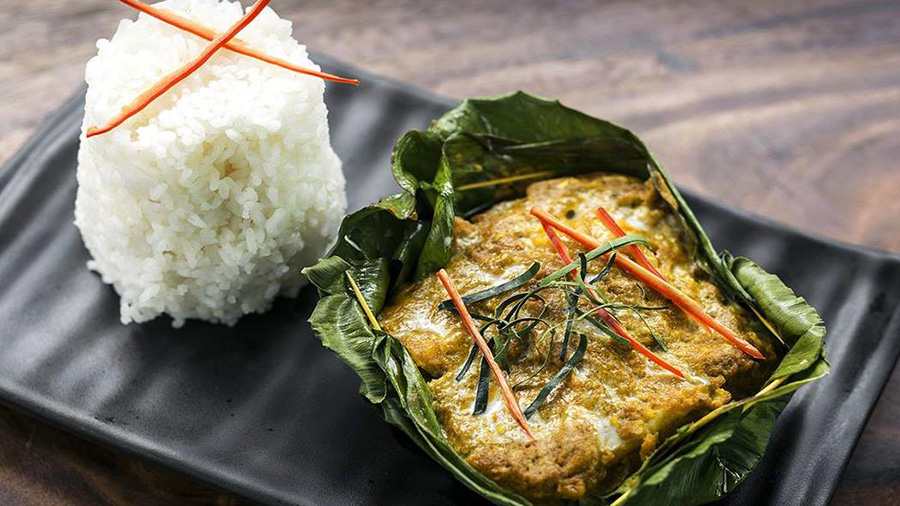 Bai Sach Chrouk (rice and pork). This is a simple dish that will certainly satisfy even the most discriminating taste buds. Thinly sliced sweet pork is grilled and marinated in coconut and garlic, then served over warm rice with a side of radishes, pickled cucumbers and broth. This dish is commonly prepared for breakfast and can be found everywhere, from the streets to first-rate restaurants. The beef is tender and really flavorful because of the coconut milk.
Nom Banh Chok. While noodle soup is a good lunch or dinner meal in other countries, it's actually more popular for breakfast in Cambodia. The dish consists of rice noodles topped with a green fish curry sauce with lots of bean sprouts, shredded banana leaves/flowers, cucumbers, mint, basil and a wide variety of green vegetables. Although it looks strange, this dish is flavorful and is one of the must-try food while in Cambodia.
Lap Khmer (Lime-marinated beef salad). Similar to ceviche, this dish features thin slices of beef marinated in lime juice and with plenty of basil, mint, garlic, bell pepper, shallots, and fish sauce. Sometimes the beef is lightly singed first then topped with lots of chilies. This is certainly not a dish for people with sensitive palates. Because of the spices, it almost always comes with a kick!
Lok Lak. This Southeast Asian treat traces its roots in Vietnam, but when it reached Cambodia, it became so popular. This emblematic dish features juicy stir-fried beef served in colossal portions and topped with a salad of lettuce, tomato, cucumber, and onion. It is usually accompanied by rice, fried egg, and a traditional peppery lime dip on the side. Lok Lak is one of the staple dishes in Cambodia and is quite popular among Westerners.