TRIP OVERVIEW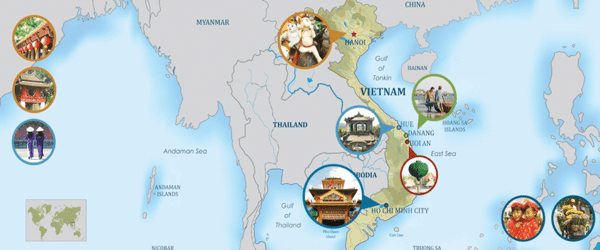 tour map
speak to your local travel expert
Start planning your trip by getting
in touch with our Travel Specialist
+84 24 3927 6076
Destinations:
Siem Reap - Koh Rong Island - Phnom Penh
Starts in/Finishes in:
Siem Reap/Phnom Penh
Highlights:
– Spend 3 nights in Siem Reap to explore the Temples of Angkor Wat and Angkor Thom, and other ancient ruins
– Watch the sunset from the upper level of an ancient Angkorian temple at Angkor Wat
– Spend 3 nights on the stunning beach of Koh Rong Island – Visit the key attractions in Phnom Penh which explain the history and culture the country
Travel Style:
Classic & Culture , Featured Tours
Suitable:
First timers, Culture seekers
TRIP IN DETAILS
Upon arrival at Siem Reap airport, you will be welcomed and transferred to your downtown hotel.
Afternoon you will explore Angkor Wat that is the most impressive Hindu temple complex and the largest religious monument in the world. Breaking from the Shaivism tradition of previous kings, Angkor Wat was instead dedicated to Vishnu. As the best-preserved temple at the site, it is the only one to have remained a significant religious centre since its foundation – first Hindu, dedicated to the god Vishnu, then Buddhist. The temple is at the top of the high classical style of Khmer architecture. It has become a symbol of Cambodia, appearing on its national flag, and it is the country's prime attraction for visitors. As dusk nears, a walk to the summit of Phnom Bakheng Hill will afford a panorama of the whole complex lit by the rays of the setting sun, weather permitting of course.
Meals: None
Overnight in Siem Reap.
Meals:
Accommodation: Hotel
Transportation: Private vehicle
You will start your day with half-an-hour hiking with our guide through the jungle from East Gate to the Victory Gate. East Gate, famously known as Death Gate, is not one of the Angkor temples, but rather one of the gates to the city of Angkor Thom. It is not one of the main thoroughfares on a typical tour of Angkor Thom, and for this reason is considered by many to be a more pleasant site to visit due to the lesser volume of people. This also means better photo opportunities especially in the early morning. Although it is in a slightly more 'crumbly' state than some of the other gates, they were constructed identically so share nearly all the same features such as statues of gods, nagas on the approach, and carved faces at the top. Legend has it that it was the gate through which the army would bring guilty convicts to be executed. The guide will narrate the story about the death gate while you are walking. When you reach the victory gate, our driver, who is waiting for you there, will take all of you to continue visiting Angkor Thom, where you will start with the Bayon, a bizarre structure of several architectural changes reflecting a switch from Hinduism (the foundations) to Buddhism (the superstructure). Your next visit will be to the Elephant and Leper King Terraces followed by the Baphoun Temple. You will continue to see Ta Prohm, strangled by massive tree roots and typical of the condition of the whole complex when it was discovered in 1860 by French naturalist Henri Mouhot. After lunch, the remainder of the day will be your own!
Meals: Breakfast, Lunch
Overnight in Siem Reap
Meals: Breakfast, Lunch
Accommodation: Hotel
Transportation: Private vehicle
Today you will drive about 35km south of Angkor Wat temple to visit the famous temple of Banteay Srey "Citadel of Women," This small pink sandstone temple (late 10th century) is considered as the crown jewel of classical Khmer art with the delicate beauty of its carvings. Continue to Bantey Samre, whose style of the towers and balustrades bear strong resemblance to the towers of Angkor Wat. You will spot villagers making sugar from palm juice on your way to Banteay Srey. If you wish, you could visit them.
Afternoon, you'll be picked up and transferred to Siem Reap River for a boat trip on Tonle Sap Lake to visit the village of Kompong Pluk where you can 'go native' aboard a dugout canoe for a paddle through the flooded forest near the village. You will return to your hotel late afternoon.
Kampong Pluk is a cluster of three villages of stilted houses built within the flood-plain of Tonle Sap about 16km southeast of Siem Reap. The villages are primarily Khmer and have about 3000 inhabitants between them
(Note: due to the reason that Kompong Pluk floating Village is dried during the period from Mar – Aug, we reserve our rights to change the visit of Kompong Pluk floating village to the floating village of Chong Kneas instead)
Meals: Breakfast, Lunch
Overnight in Siem Reap
Meals: Breakfast, Lunch
Accommodation: Hotel
Transportation: Private vehicle
You will be your own until being transferred to Siem Reap airport for your afternoon flight to Sihanouk Ville, also known as Kampong Saom, which is a province of Cambodia on the Gulf of Thailand.
Upon arrival, you will be picked up and transferred to Koh Rong Island.
Meals: Breakfast
Overnight in Koh Rong Island
Meals: Breakfast
Accommodation: Hotel
Transportation: Private vehicle
You will be free at your own time and overnight at hotel in Sihanouk Ville
Meals: Breakfast
Overnight in Koh Rong Island
Meals: Breakfast
Accommodation: Hotel
Transportation:
A free day of leisure!
Meals: Breakfast
Overnight in Koh Rong Island
Meals: Breakfast
Accommodation: Hotel
Transportation:
You will be driven about 230km to Phnom Penh, the Capital City of Cambodia.
After hotel check in, you will you will visit the Royal Palace. This palace dates back to 1866 and houses the Silver Pagoda, named for the over 5,000 heavy silver tiles that cover its floors. Its original name is Wat Prakeo, meaning Temple of the Emerald Buddha. In this temple you will view a collection of Buddhas in gold, silver, crystal, and bronze. Continue to the National Museum, then head along the riverside area of Phnom Penh, a pleasant French style promenade that is great for people viewing. Overnight at hotel in Phnom Penh
Meals: Breakfast, Lunch
Overnight in Phnom Penh
Meals: Breakfast, Lunch
Accommodation: Hotel
Transportation: Private vehicle
You will be free at your own time until you are picked up to airport for your flight to another destination.
Meals: Breakfast
Meals: Breakfast
Accommodation:
Transportation: Private vehicle
PRICE & INCLUSION
From: US$ per person for a private tour of minimum 6 guests traveling together
Valid till October 30, 2022

Meals:
7 Breakfasts, 3 Lunches

Transportation:
Private vehicle

Accommodation:
7 Nights
Breakfast and accommodation sharing a twin or double room.
Pick-ups and transfers by private air-conditioned vehicle as specified in the itinerary above (Please note: pick-ups will be by a guide and driver or, where a guide is not necessary, a driver only. All unaccompanied drivers will be briefed in advance, and will carry a mobile phone to ensure smooth transfer arrangements)
Travel in an appropriate private air-conditioned vehicle with an experienced safe driver.
The services of experienced English-speaking guides as indicated in the itinerary (please note: guides will be on hand from pick-up until guests' return to their hotel or reaching their destination). Free days or part days will not include the services of a guide unless requested and included in the final itinerary.
Where necessary, entry fees for all visits.
Lunches and dinners (as specified in the itinerary) in the best local restaurants, or picnics where no suitable restaurant is available.
Tourist wooden Boat cruise as specified in the program
VAT and other taxes
Drinking water during tour
International flight tickets and airport tax.
Domestic flights Siem Reap to Sihanouk Ville, Phnom Penh – Siem reap, including airport taxes.
Visas
Dinners except as specified above.
Compulsory meal (if any)
Alternative in blue
Supplement during peak season 15 Dec – 31 Jan
Drinks, gratuities and personal expenses.
Camera fees (if any)
Insurance.
BEST TIME TO VISIT
Jan
Feb
Mar
Apr
May
Jun
Jul
Aug
Sep
Oct
Nov
Dec
START PLANNING YOUR TRIP
Provide us with a few starting details about your travel plans, and one of our Vietnam specialists will be in touch to give you suggestions and ideas.